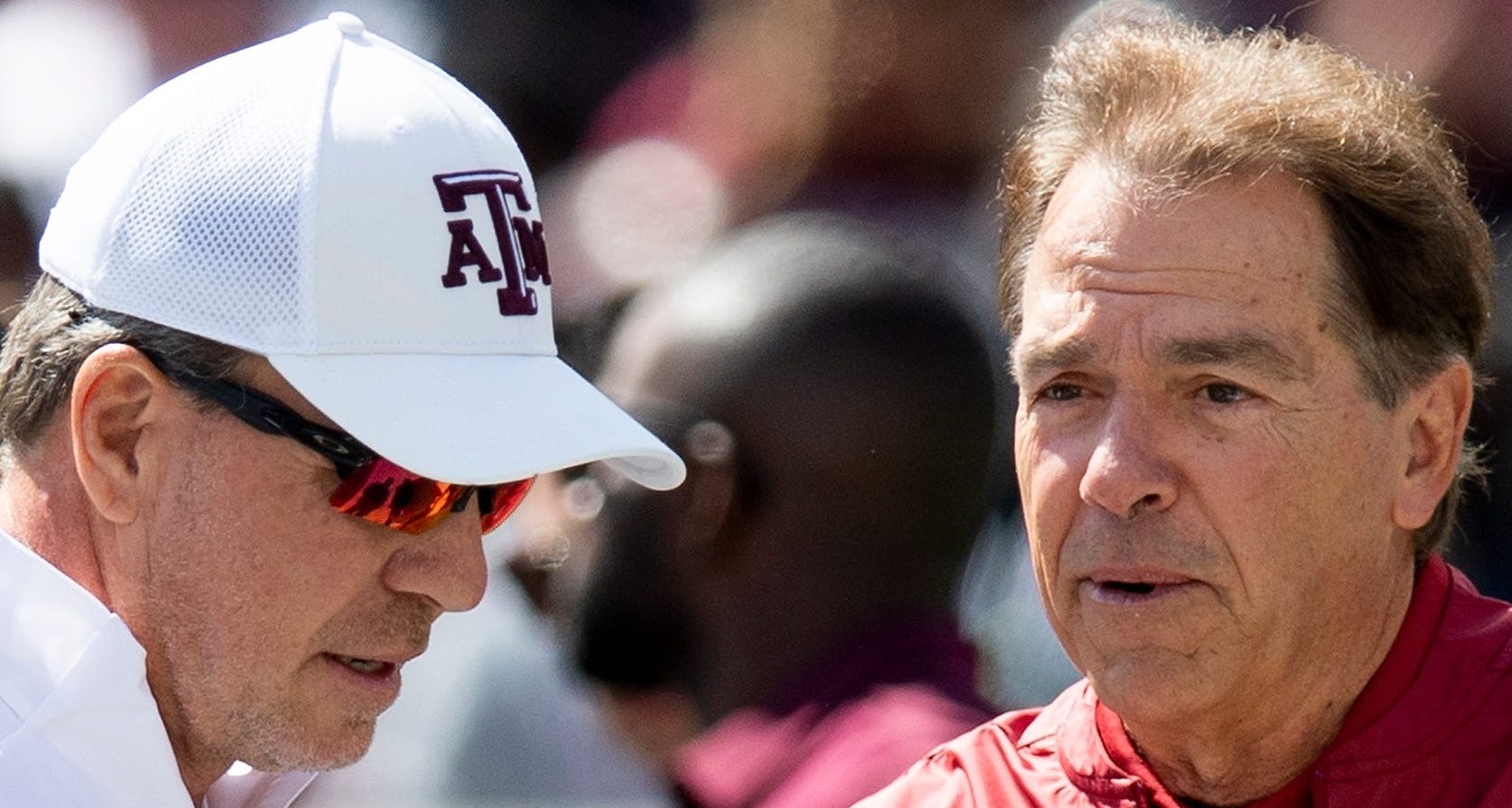 SEC
First impressions of every SEC game in Week 6
Did you hear that sound? That's the sound of 7 SEC games coming to a living room near you, just as the good Lord intended.
Sorry, didn't mean to get preachy. I do enjoy the calendar flip to October knowing that we're finally at that point in the season.
For the first time in 2022, we've got nothing but intra-conference battles. And dare I say, Week 6 is shaping up to be the SEC's best week yet.
Let's break down why that's the case:
Auburn vs. Georgia — UGA needs A.D. Mitchell back
He was looking like he was going to play against Mizzou, but for the third consecutive week, Georgia was without arguably its top receiver. That's partially why I think the Dawgs passing game hit a bit of a snag these last 2 games. Against a veteran corner like Nehemiah Pritchett, UGA needs someone who can get separation and make guys miss in space. As great as the Georgia tight ends are, you still need those playmakers on the outside to make the Todd Monken offense hum.
We've seen a whole lot of frustrating moments from Auburn so far in what feels like the beginning of the end for Bryan Harsin, but quietly, the Tigers only allowed 6.5 yards per attempt and 2 passing touchdowns all year. If UGA is going to avoid a third consecutive letdown showing, it needs Mitchell and the wideouts to step up.
Texas A&M vs. Alabama — It's a bummer that this game didn't turn out to be what we hoped it could … at least I don't think
Wasn't the summer fun? We got to watch Nick Saban and Jimbo Fisher get into a war of words about whether A&M "bought" its historic recruiting class. What everyone said after the public dispute was "I can't wait until Oct. 8." Well, Oct. 8 is here and College GameDay is going to … Kansas. That's right. You could make the case that there are 2-3 SEC games that are more interesting than the one that'll be played in Tuscaloosa.
Why? Well, the Aggies have 2 losses already. Even if Bryce Young misses this one, the oddsmakers have Alabama as a 23.5-point favorite. Shoot, we don't even know if A&M will have Max Johnson, who injured his throwing hand on Saturday in Starkville. So even if this game winds up being competitive, it still won't have the feel it could've had because the Aggies are out of contention and a lifetime away from that preseason No. 6 ranking. Will history repeat itself? Unless Jalen Milroe is out there and Alabama's passing attack sputters, I wouldn't bank on it.
Tennessee vs. LSU — Cedric Tillman's presence is more important for this one than Florida
As much as I love what Tillman brings to Tennessee's offense, I thought the Vols had a pretty good shot of overcoming his absence against Florida. That game was in Knoxville against a Florida team who really didn't have those proven pass-rushers. Against BJ Ojulari and the LSU defense in Death Valley, that's a different story. Hendon Hooker is gonna need his go-to receiver in this one.
We don't know Tillman's status after he had the "tightrope" ankle surgery to expedite his recovery. Josh Heupel made it seem like it would depend on how he responded to the procedure. The good news for Tennessee is that with Jalin Hyatt and Bru McCoy, there's depth at the receiver position. The bad news for Tennessee is that just like we saw in a hostile road atmosphere at Pitt, Hooker trusted Tillman more than anyone. If he's not a go, that could be the difference in the Vols keeping their unbeaten start going.
Arkansas vs. MSU — This MSU defense isn't exactly what the doctor ordered for Arkansas' offense
The Hogs are off to an 0-2 start to SEC play, and for their first road game of 2022, they'll travel to face an extremely experienced MSU defense who just forced 4 turnovers against A&M. Oh, they'll have to do that without knowing the status of KJ Jefferson, who suffered a head injury late in Saturday's loss to Alabama. That's not ideal. It's also not ideal that the well-documented questions about the pass-catchers in the post-Treylon Burks world have been inconsistent.
With the cowbells rocking, this matchup looks a lot more daunting than what some might've thought just a couple weeks ago. Hence, why Arkansas is a 5.5-point underdog. I know that Cade Fortin entered for Jefferson, and Malik Hornsby is no longer the backup quarterback after he started getting reps at receivers. But if Jefferson isn't able to give it a go, Kendal Briles might have to get a little bit creative with Hornsby against this confident MSU defense.
Mizzou vs. Florida — Don't assume Anthony Richardson is in for a cakewalk
Why? Go ask 24-year-old Stetson Bennett. Blake Baker's defense shouldn't be slept on. The Tigers pressured Bennett and for the second consecutive week, I thought they showed they were a long ways away from last year's disappointing group. Isaiah McGuire and Trajan Jeffcoat can force Richardson into some bad decisions if they're able to win that battle up front. Richardson might actually struggle with the Mizzou front more than the Tennessee front, who really didn't have much of an answer for him for the majority of the day.
RIchardson is also coming off a weird short week after the Eastern Washington game was pushed back to Sunday because of Hurricane Ian. It wouldn't be surprising at this point if Richardson was inconsistent against air. But against a Mizzou defense that just held the Georgia offense without a touchdown until the 4th quarter, this might be a dangerous spot for a Florida offensive letdown after 2 encouraging showings.
Ole Miss vs. Vandy — It's wild to be that Quinshon Judkins is this good already … so how does Lane Kiffin manage that?
If you haven't seen Judkins play yet, well, here's what you need to know. The 3-star recruit entered a crowded backfield with transfers Zach Evans and Ulysses Bentley, and already, Judkins might be the best player in that group. To be fair, Evans and Bentley have both dealt with injuries to start the year. But this stat is telling:
Five Fun Facts, #OleMiss beat Kentucky edition:

1. RB Quinshon Judkins already has the most rushing touchdowns in a season by any SEC freshman since 2019.

He has played five games.

— Nick Suss (@nicksuss) October 2, 2022
If you're Kiffin, you've got a problem that most coaches would love to have. Obviously Judkins needs steady work. He's PFF's highest-graded tailback through Week 5. But splitting snaps in that backfield isn't easy, especially when Evans is the more complete player because of what he offers in the passing game. Judkins played 40 snaps in the Kentucky game compared to 29 for a banged up Evans. Does that get closer to even between the two of them in a favorable matchup like this? Time will tell. Whatever the case, all signs point to the Ole Miss ground game rolling past Vandy.
South Carolina vs. Kentucky — Which one of these quarterbacks will avoid turnovers?
We know that Will Levis and Spencer Rattler have NFL traits. What else do they have? A propensity for turning the football over. Kentucky has 8 turnovers on the season while South Carolina has an SEC-worst 13 turnovers through 5 games. Yes, not all of those were on Rattler, but that's been an all-too-familiar theme so far for the Gamecocks. And if not for turnovers late against Ole Miss, Kentucky is waltzing into Saturday unbeaten with possibly a top-6 ranking.
The Cats are double-digit home favorites, and understandably so. They have more balance with the return of Chris Rodriguez, and defensively, it's still a top-20 scoring unit. Kentucky can win a game in which it turns the ball over twice, which we found out repeatedly with last year's group. But it's Rattler who has less margin for error on the road. I wonder if that means Marcus Satterfield will lean a bit more on MarShawn Lloyd to move the sticks and wear down Kentucky's front after a physical game against the Ole Miss ground attack. Both Rattler and Levis need to show that they can get rid of and take care of the football in what should be a good battle in Lexington.