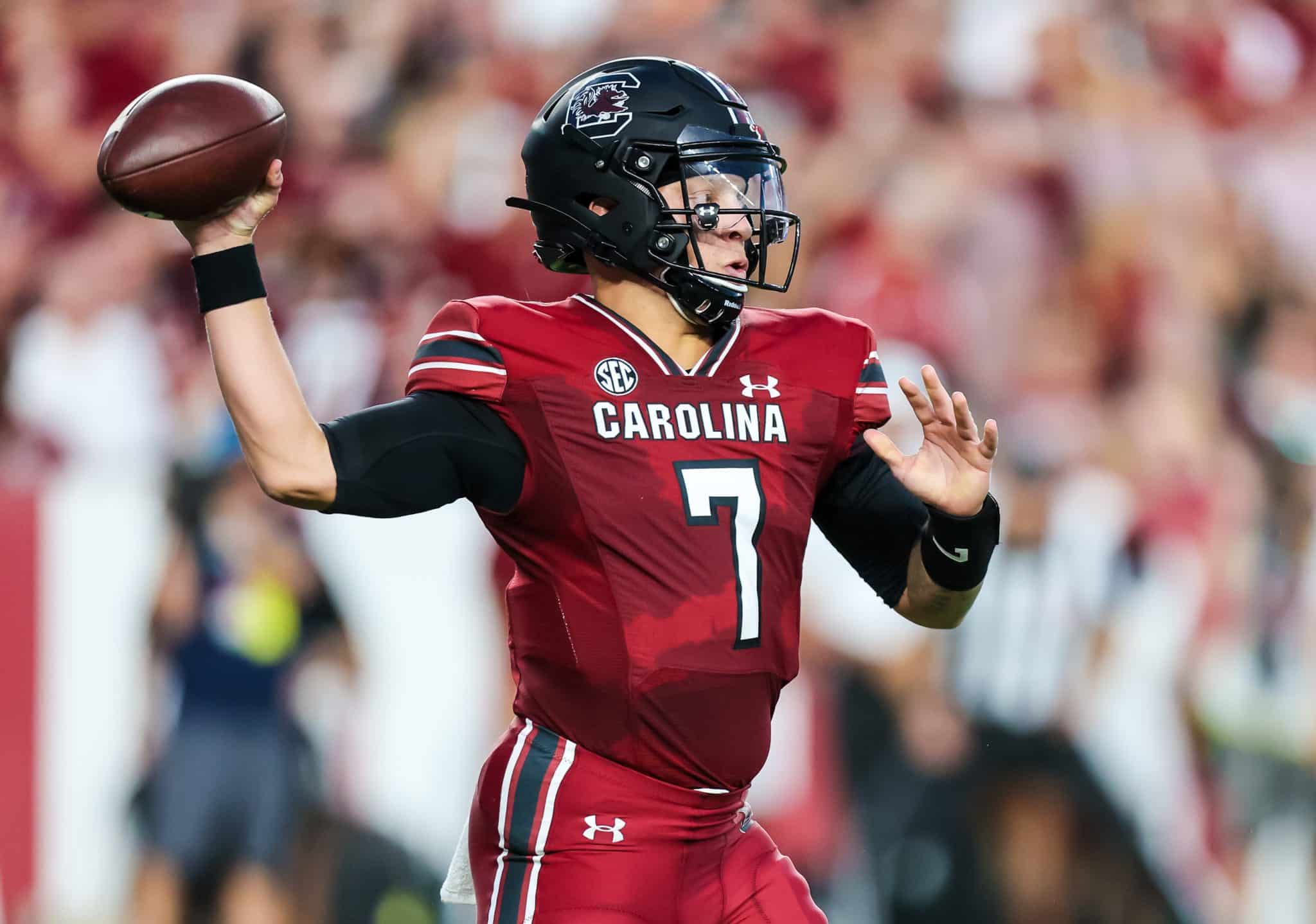 SEC
First impressions of every SEC game in Week 2
Loaded.
That's how I'd describe the Week 2 slate in the SEC. We've got huge nonconference showdowns like Alabama-Texas and Tennessee-Pitt. We've got key intraconference battles between South Carolina and Arkansas, as well as Kentucky and Florida. Shoot, the slate is so good from start to finish that we've even got Mike Leach returning to #Pac12AfterDark for an 11 o'clock ET start at Arizona.
It's phenomenal. It's the type of day where you can watch highly entertaining SEC football for 14 hours straight. That's a beautiful thing.
Let's dig into some first impressions on each matchup:
Alabama vs. Texas
When — Noon ET
TV — FOX
My goodness, the QB talent in this one. It's not every day that 2 of the highest rated quarterback recruits ever square off. That's what Bryce Young and Quinn Ewers are. They're 2 of the top 7 quarterback recruits in the 247sports rankings era, though obviously 1 has a Heisman Trophy and the other is just trying to show he can become an elite college starter. Both got off to promising 2021 starts. I'd expect both to play with some tempo to try and capitalize on some scorching conditions with the early kick in Austin.
Will this feel at all like Justin Fields vs. Trevor Lawrence? Probably not, though that might be more apparent because of the roster talent surrounding Young and Ewers. Either way, don't miss a second of this one.
South Carolina vs. Arkansas
When — Noon ET
TV — ESPN
In theory, you'd think that Arkansas potentially being without Jalen Catalon would benefit a strong-armed quarterback like Spencer Rattler. In actuality, not having Catalon to patrol the back end might not be quite as significant against South Carolina. Why? Rattler didn't really have a whole lot of time to let routes develop against the Georgia State defense, so I can't imagine will suddenly improve against an Arkansas front that now includes Drew Sanders. If South Carolina's offensive line doesn't make some drastic improvement, Rattler will spend too much of the afternoon running for his life and unable to test the banged up Arkansas secondary.
Wake Forest vs. Vanderbilt
When — Noon ET
TV — SEC Network
Wait, does a game with a backup quarterback and Vandy actually have legitimate fun shootout potential? Absolutely. Even though Wake Forest lost Sam Hartman indefinitely, it's still a Wake Forest offense who returned 8 starters off last year's top-10 group … against a Vandy defense who surrendered 31 points to Elon. I don't want to put too much stock into a 44-point performance against VMI. I will, however, say that Vandy averaging 50.5 points per game after having the SEC's worst offense is a step in the right direction. Mike Wright is off to an electric start, and against a Wake Forest defense that didn't stop a soul in 2021, that could continue.
Mizzou vs. Kansas State
When — Noon ET
TV — ESPN2
Shutting down a Louisiana Tech offense in its first game with a new coaching staff was one thing. Shutting down a Kansas State offense headlined by Deuce Vaughn is another beast. Vaughn and former Nebraska quarterback Adrian Martinez will be a fantastic test for the Isaiah McGuire and the Mizzou run defense. That was an obvious Achilles' heel last year, and there was hope that Mizzou would make significant strides in that area with Blake Baker. Now seems like as good of a time as ever for the Tigers to show that improvement in a tricky road matchup.
Appalachian State vs. Texas A&M
When — 3:30 p.m. ET
TV — ESPN2
Appalachian State was an overthrown 2-point conversion from being unbeaten with a win against UNC. So yeah, A&M's defense has a major question to answer. No, I don't think we can assume A&M will remain steady after shutting down Sam Houston. The ageless Chase Brice looked awfully comfortable dicing up the porous UNC defense. If A&M can't get pressure on him with that new-look defensive line, that's not the best formula. Alternatively, perhaps an Appalachian State defense that couldn't stop a nosebleed might be just what the doctor ordered for Haynes King and an A&M offense that needs to find its identity.
Tennessee vs. Pittsburgh
When — 3:30 p.m. ET
TV — ABC
Yes, I'm fired up for this one after watching the way these teams looked on Thursday night. It's a good thing that Pitt got some extra time off after the Backyard Brawl because that was a hard-nosed, physical game. I want to see if Tennessee's offense, which looked nearly flawless in the opener outside of a couple missed throws, can keep its foot on the gas for 60 minutes against Pat Narduzzi's defense. Can Hendon Hooker and Co. put pressure on Kedon Slovis to win in a shootout? This game will have a different feel than last year when Hooker was forced into action for the injured Joe Milton. Alternatively, Slovis ain't Kenny Pickett. At least not yet. Let's see if that favors the road team.
Samford vs. Georgia
When — 4 p.m. ET
TV — SEC Network
In Georgia's opener, Stetson Bennett IV delivered a career-high in passing yards and quietly, UGA was out-rushed by Oregon. Of course, that didn't matter. It would, however, be nice for UGA's offensive line and running backs to get some momentum going against an FCS foe. Granted, it's the same FCS foe who hung half a hundred in The Swamp. That's no pushover. Just kidding. It is. UGA will roll. Getting that stable of tailbacks some big running lanes and letting Bennett have an early rest would be beneficial ahead of the SEC slate.
Kentucky vs. Florida
When — 7 p.m. ET
TV — ESPN
This is the beauty of the SEC in 2022. Almost every week, we're going to get elite quarterback matchups. A week after Anthony Richardson had to show he could go blow for blow with a proven quarterback like Cameron Rising, he'll have to keep pace with Will Levis. Then again, maybe it's Levis who'll have to try to keep pace with Richardson, who had a blistering debut in Billy Napier's system. We still haven't seen Richardson string consistent starting performances together because, duh, he's a first-year starter.
Kentucky now gets a full 60 minutes from Utah on the dos and don'ts of how to defend Richardson. Like, maybe don't turn your back on him in man coverage without a spy because he can turn that into a long touchdown run. It'll be interesting to see which one of the incredibly talented quarterbacks is more mistake-prone.
Central Arkansas vs. Ole Miss
When — 7 p.m. ET
TV — ESPN+/SEC Network+
Will the real Ole Miss quarterback please stand up? Luke Altmyer is expected to get the start after Jaxson Dart had a somewhat lackluster debut, though that would've been the plan even if he had lit the world on fire. Call it what you want. I call it Lane Kiffin trying to manufacture competition in actual games with favorable circumstances. I'm eager to see Altmyer as the starter, and not what it looks like with him entering the middle of a game, which has been his only action in an Ole Miss uniform so far. Dart might've opened the door for Altmyer to play the hero in Week 2.
San Jose State vs. Auburn
When — 7:30 p.m. ET
TV — ESPNU
How much Robby Ashford is too much Robby Ashford? Asking for a friend/me. He's worth the price of admission. He got a total of 26 snaps, all but 1 of which were at quarterback. How much does Bryan Harsin want to incorporate him into the offense? And if he continues to play that well, will this turn into a situation like what we saw last year between Anthony Richardson and Emory Jones? It's still too early to tell. But if Ashford, who just played in his first FBS game, continues to look the part, it'll be hard to deny him the right to get a full game's worth of reps.
Southern vs. LSU
When — 7:30 p.m. ET
TV — SEC Network
LSU's strengths are in trouble. A lot. You couldn't watch that beautiful disaster of a game and not think that. Lost in the shuffle of that stumbling fiasco was the fact that LSU lost Maason Smith after he injured his knee celebrating a defensive stop AND Ali Gaye was ejected for the most blatant targeting ever. One would think Smith's return is questionable at best and Gaye will be out in the first half. That's for an LSU team on short rest coming off the Sunday night shenanigans, which also saw Kayshon Boutte held without a catch until the final 5 minutes of the game. The good news? Southern ain't Florida State. Consider that a prime opportunity to get some good vibes back after an embarrassing Week 1 ending.
Mississippi State vs. Arizona
When — 11 p.m. ET
TV — FS1
Mike Leach in Pac-12 after dark? Sign me up. Those who can stay awake for this one will be rewarded to an awfully intriguing combination. That is, Zach Arnett's defense with the Will Rogers-led Bulldog offense. At times last year, that was a dynamic combination. Of course, MSU wasn't exactly a model of consistency from week to week. Winning convincingly at Arizona would be a step in that direction.
As bad as the Wildcats were last year, they went into San Diego State as a 5.5-point underdog and won by 18 in the opener. In their first game without ex-defensive coordinator Don Brown, Arizona held SDSU to just 62 passing yards. Rogers is hitting the over on that, but can he help MSU play a complete game for the 2nd consecutive week? That'd be a welcome sight ahead of the gauntlet that awaits.