SEC
Florida college in hot water after more than 100 fake football scholarship offers were sent out
Florida Gulf Coast University (you may remember them from an NCAA Tournament run back in 2013) doesn't have a football program.
It does have a club football team, though, and now the school is in hot water after more than 100 fake football scholarship offers were sent out.
Per a release from the school, the offers came from a volunteer with the football club, causing confusion for everyone who has received one of the fake offers:
Florida Gulf Coast University Statement on Football pic.twitter.com/rRUfNitVxb

— FGCU (@fgcu) November 20, 2019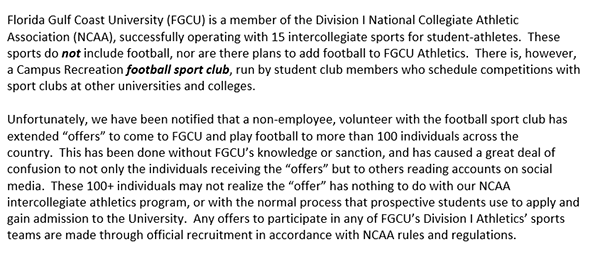 It's clear the volunteer was just trying to pump up the club football program, but offering fake scholarships is obviously not a great idea.
Now, FGCU has a headache on its hands as it tries to sort this bizarre situation out.