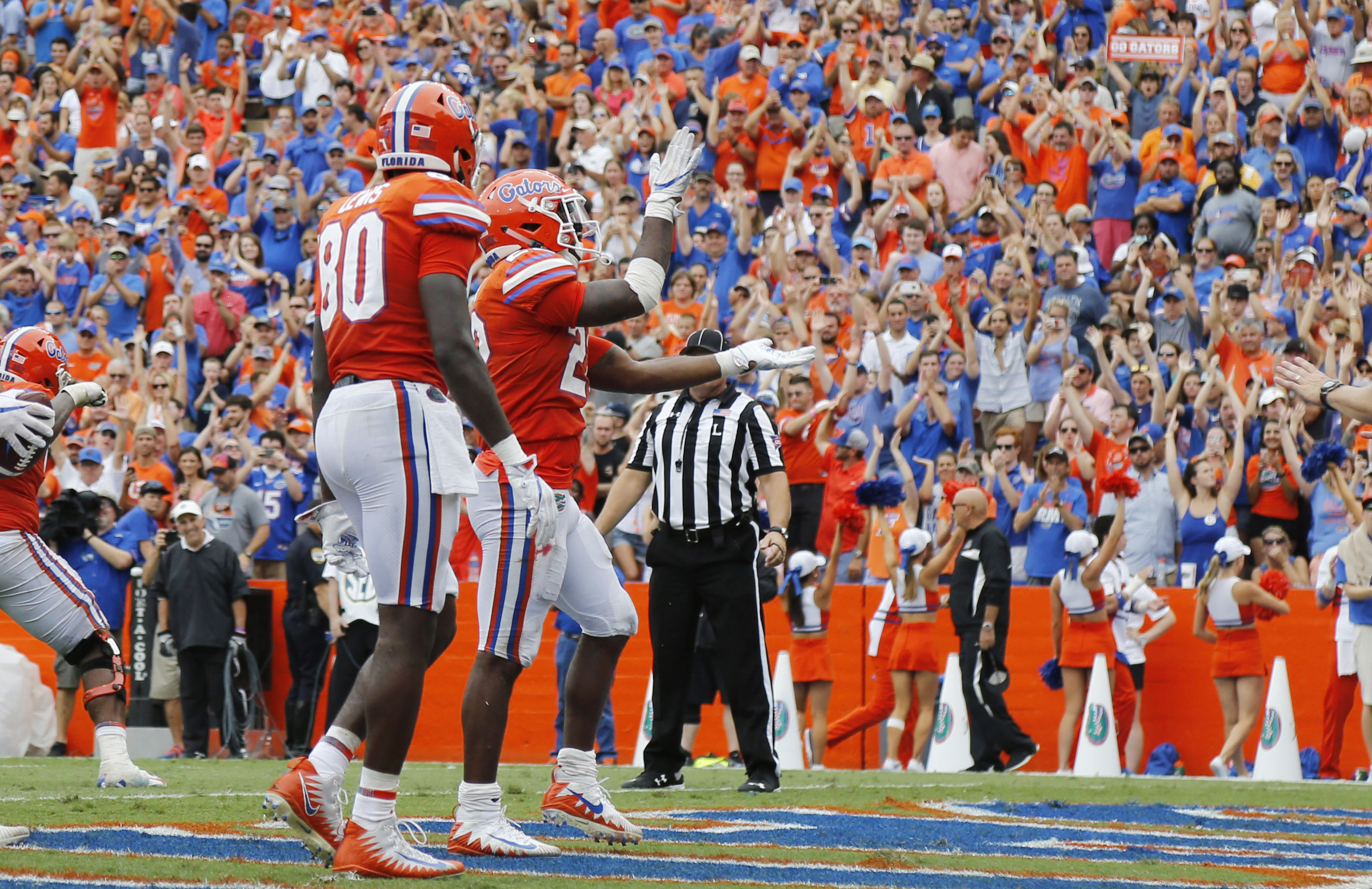 SEC
With Florida in the Top 25, the SEC ascendancy narrative still reigns
I perused the Top 25 rankings this week. One glaring question jumped out. Why is Florida ranked? The Gators are tied with Notre Dame for 21st in the AP Poll. The Coaches Poll places them 20th. Sure, Florida is 3-1. But what have the Gators done to warrant that billing? Let's look further.
The Gators beat Tennessee 26-20 on a Hail Mary. That seemed momentous at the time, as Tennessee was loitering around the back end of the Top 25. But we're five weeks into the season. Tennessee's one FBS win in regulation is 17-13 over UMass. The 41-0 Georgia debacle was Tennessee's worst home defeat since the college football introduced the forward pass. Florida is even, barely better than a Tennessee team that looks like it will get Butch Jones canned.
Florida then came back from 13 down in the fourth quarter to beat Kentucky 28-27. That Wildcats team has one-score wins against Southern Miss and Eastern Michigan outside the conference. Kentucky trailed Eastern Kentucky in the third quarter. Florida is about even with that Kentucky team.
The Gators did beat Vanderbilt 38-24, pulling away on a late touchdown. That was a solid win. They are better than Vandy. Of course, that was a team Alabama curb stomped 59-0.
None of this is to say Florida is having a terrible season. Its schedule seems to be softening. Another 9-3 year is feasible. But why are they getting equal or more credit than Notre Dame?
The Irish lost 20-19 on a late field goal to Georgia. That Georgia team is now No. 5 in the AP Poll and No. 6 in the Coaches Poll. The Irish have won their four other games by an average margin of 29.25 points. The closest was a 20-point win against a decent Michigan State team in East Lansing. That's less impressive than Florida's season so far?
It's unfair just to pick on Florida. Looking further down the rankings. This isn't just a Florida phenomenon. In the "Dropped from rankings" section this week were Mississippi State (No. 24 AP, Coaches) and LSU (No. 22 Coaches, No. 25 AP).
Why was Mississippi State ranked? The Bulldogs were there because it beat LSU 37-7. The resonance from that win was enough to keep Mississippi State in the Top 25 after Georgia comprehensively dismantled them 31-3 in Athens the next week. Another evisceration by Auburn knocked them out.
LSU was ranked because … well … there's no clear reason why LSU was ranked. The Tigers beat BYU 27-0 in the opener. We've had weeks to process that BYU, 0-4 vs. FBS, was not a quality win. The Tigers' other FBS games were against Syracuse (was 28-26 in the fourth quarter before a late touchdown) and the aforementioned manhandling by Mississippi State. Folks were starting to discuss whether it was worth it to pay off Ed Orgeron's $12 million buyout clause before the loss to Troy.
The SEC's college football supremacy has been questioned this year. Alabama lost the CFP championship, giving the ACC a cute little argument to make about the Heisman and two recent national titles. SEC schools that are not Alabama stunk last season and do not look much better this year. Multiple underwhelming coaches are on the hot seat.
Two teams at most – Auburn and Georgia – look like they could hang within single-digits of the Crimson Tide for significant portions of a game. Even that may just be wishful thinking.
But, despite all that narrative, the notion of SEC ascendancy is still firmly entrenched in the college football subconscious. We can't fathom a world where only three SEC teams would be worthy of being in the Top 25. Up steps the fourth, Florida.
We still believe in SEC teams before the season. We believe in them before we see it. We believe in them when it's manifest we are not going to see it. We will believe in them again after they hit the soft portions of their schedule and drift up while teams in front of them lose.