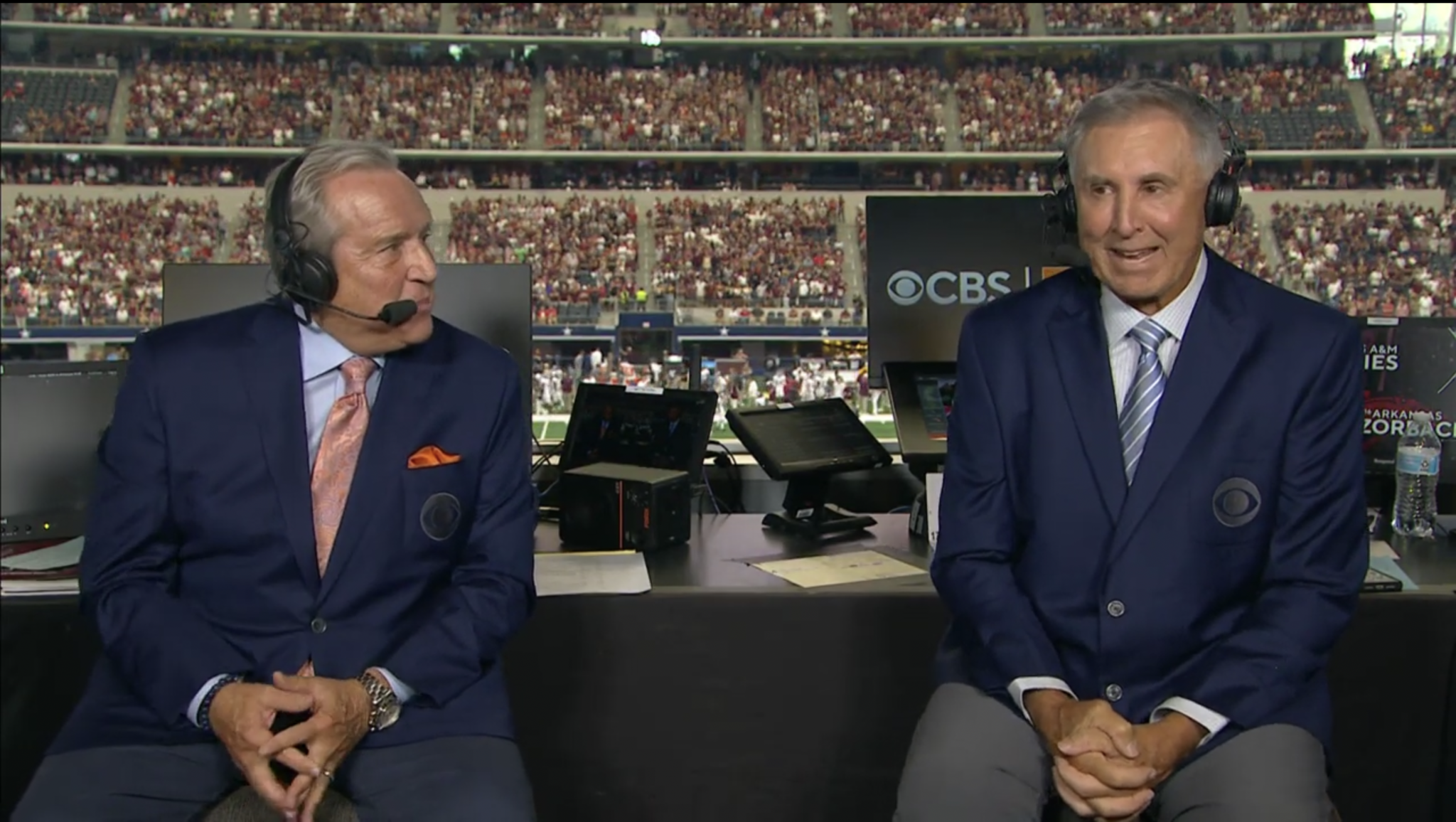 SEC
Gary Danielson getting called out for CBS broadcast of Arkansas vs. Texas A&M
Gary Danielson was again the target of fans' ire on Saturday afternoon during the broadcast of the Arkansas-Texas A&M game from Arlington, Texas.
As Arkansas rang up a big lead over the Aggies, Texas A&M fans immediately pounced on Danielson's perceived bias against the Aggies, and called him out for a play along the sideline that questioned whether a receiver was out of bounds.
Aggie fans also didn't appreciate how Danielson called out Zach Calzada for missing a seemingly open receiver by reviewing Danielson's own career stats.
Some fans just now realized why so many SEC fans have a negative feeling toward Danielson, while others figured he was biased on either side, depending on the fan's rooting interest.
Here's a sampling of some of the reaction:
Please help me not cuss Gary Danielson. Please help me not cuss Gary Danielson. Please help me not cuss Gary Danielson. Amen.

— Just Lil Ol Me ❤️🐗 (@schaney209) September 25, 2021
The only problem with watching @AggieFootball on @CBSSports is having to listen to Gary Danielson.

— mike connor (@mikeconnor85) September 25, 2021
Gary Danielson is the Reggie Miller of SEC coverage.

— RIP NIPSEY HU$$LE (@iTWEET_FromMarz) September 25, 2021
Please help me not cuss Gary Danielson. Please help me not cuss Gary Danielson. Please help me not cuss Gary Danielson. Amen.

— Just Lil Ol Me ❤️🐗 (@schaney209) September 25, 2021
If Gary Danielson don't quit pickin on my guy Blake Kern, I'm gonna open up a can!

— All-American Hog (@AllAmericanHog) September 25, 2021
Please Gary Danielson, retire. You've been paired with 2 great play by play guys and you ruin it.

— Volstorm (ejected for Targeting) (@volstorm00) September 25, 2021
I don't care what teams are playing, I always, ALWAYS hate Gary Danielson.

— K (@kamartenn) September 25, 2021
Things I'd rather hear than Gary Danielson commentate a game: pic.twitter.com/4hyEpHfIeT

— Nick (@NQS88) September 25, 2021
On the plus side don't have to listen to Gary Danielson call a Bama game. #CollegeFootball

— AJ (@chaosledger) September 25, 2021
As usual every time we're on @CBS that low life halfwit Gary Danielson refuses to say anything even remotely decent about either team because they're not Alabama. Wish he would retire or something.

— CWJHost (@CwjHost) September 25, 2021
@AggieFootball not a great start yaal. Gary Danielson is rooting for Arkansas. He hates The Texas A&M Aggies. This is every broadcast. It's a joke

— Jimgoode95@gmail.com (@jimgoode95) September 25, 2021
It wasn't the same receiver, Gary Danielson; yes, one receiver got pushed out, but a different receiver caught the pass. #SEConCBS #Arkansas #TAMU

— Wes — Generally amused but unimpressed (@CrimsonTideWes) September 25, 2021
@AggieFootball not a great start yaal. Gary Danielson is rooting for Arkansas. He hates The Texas A&M Aggies. This is every broadcast. It's a joke

— Jimgoode95@gmail.com (@jimgoode95) September 25, 2021
Does Gary Danielson want to put on a striped shirt and go call penalties on Arkansas

— Fake Wally Hall (@FakeWallyHall) September 25, 2021
Gary Danielson might be the dumbest person on the planet.

— staffnasty (@staffnasty25) September 25, 2021
Gary Danielson had 81 touchdowns and 78 interceptions in his pro career, in case you're wondering about his judgement of what an "open" receiver looks like#wps

— Jay | BLM (@JBellEoL) September 25, 2021
Gary Danielson, why do you hate Arkansas? So biased in your color commentary. #wps

— Jason Thai Huynh (@jasonhuynh) September 25, 2021
Again, Gary danielson has no clue what he's watching

— 🎯🎯 (@RayRichx) September 25, 2021
I now fully understand the Gary Danielson hate.

— Michael Lagrasta (@Lagrasta) September 25, 2021