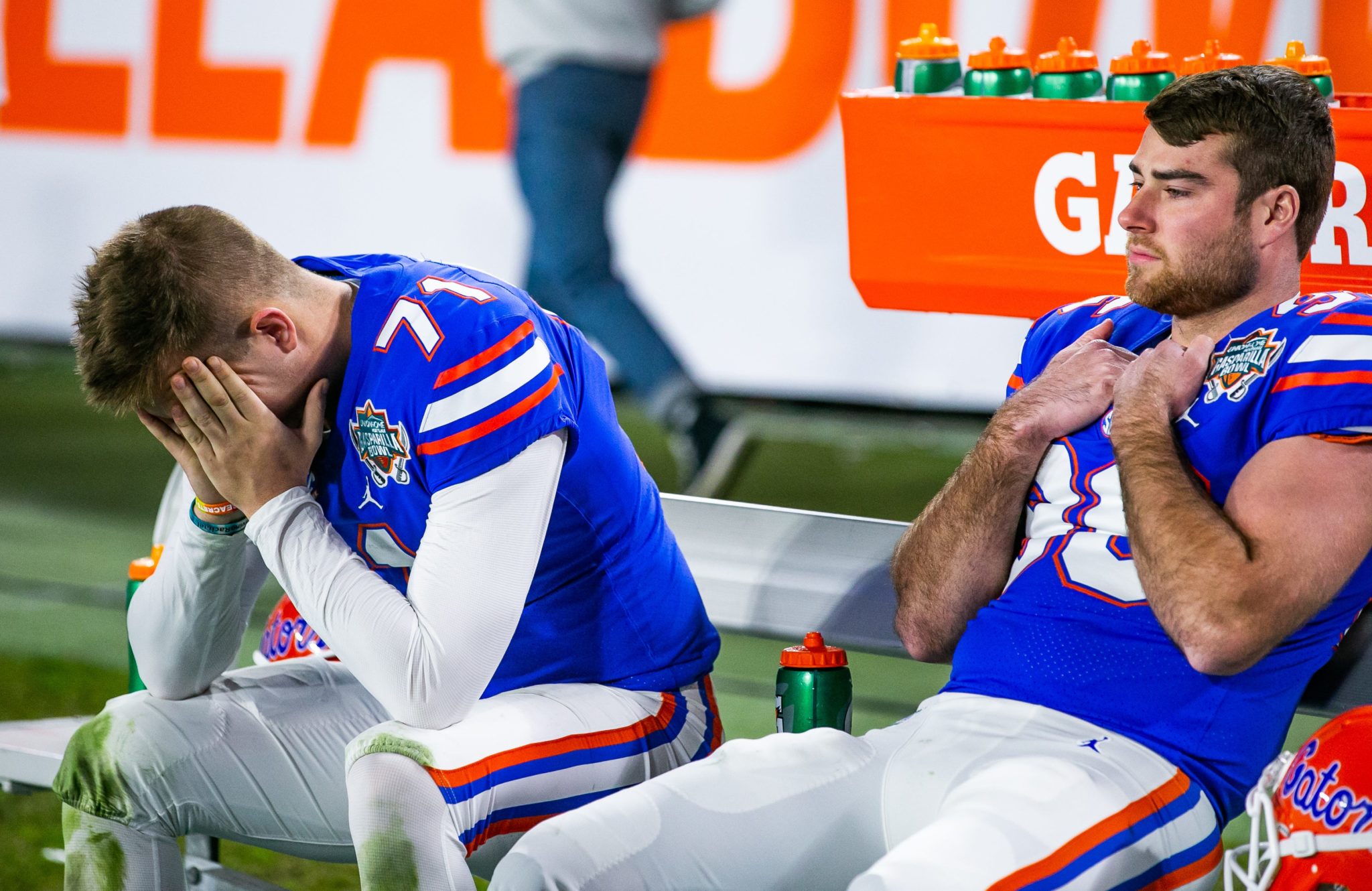 SEC
Gasparilla Bowl loss to UCF a cruel reminder Billy Napier's Florida rebuild will be a cultural overhaul
TAMPA — UCF defeated Florida 29-17 in the Gasparilla Bowl on Thursday night.
The Gators led 10-9 at halftime and 17-16 midway through the third quarter but were undone by mistakes and consistent big plays from UCF wide receiver Ryan O'Keefe, who earned well-deserved Gasparilla Bowl MVP honors. It was the 50th win for the Knights in the past 5 seasons, 9 more than any other program in the state of Florida in that span – a span that covered the entirety of the Dan Mullen era, which included 3 New Year's 6 bowls for Florida.
In a way, the game was a microcosm of all that failed Florida this season.
The Gators simply couldn't get out of their own way, committing costly mistakes and failing to capitalize on repeated opportunities to seize the initiative in the football game.
Emory Jones missed open receivers all night, including two wide-open downfield touchdown throws, one to Trent Whittemore in the first quarter and another to Justin Shorter with the game still in the balance in the third quarter. Another wide-open shot, to senior Rick Wells, was well-thrown but foiled when Wells lost his footing and dropped the football.
Florida also made curious coaching decisions, like attempting a 51-yard field goal well outside kicker Chris Howard's range rather than attempting a 4th-and-short in the first half. The kick was blocked and a promising drive came up empty.
Florida also oddly elected to continue throwing the ball on a night Jones was wildly inaccurate, completing just 14-of-36 passes for 171 yards.
The worst decision, however, was interim coach Greg Knox's bizarre choice to limit senior running back Dameon Pierce to just 5 carries after he proved to be a force in the first half, scoring Florida's lone first-half touchdown and helping Florida move the ball effectively on the ground against an undersized UCF front seven. Pierce graded out as the nation's best running back in the 2021 regular season, per Pro Football Focus.
Florida averaged almost 7 yards a rush on the evening, but for whatever reason, the Gators staff, even as lame ducks, refused to turn the ball — and offense — over to Pierce or his senior teammate Malik Davis, who also gashed the Knights throughout the game's first 3 quarters.
It's hard to win when coaches don't put you in a position to be your best, and Florida's interim staff, the bulk of whom will not be retained by the new regime, failed to do that Thursday evening.
Florida's offense wasn't the only unit that faltered.
As was the case all season, Florida's special teams weren't special.
Howard missed 2 field goals and the Gators failed to take advantage of a favorable bounce on a kickoff in the third quarter, allowing UCF to recover a deflected kick that would have set the Gators up with the ball in Knights' territory.
Meanwhile, the Gators defense played well for a half, but collapsed under the weight of its own mistakes, whether they were missed tackles or mindless penalties, in the second half.
Amari Burney dropped an interception on a 3rd-and-goal with the Gators clinging to a 1-point lead. Had he caught the ball, he had a clear path to the Florida end zone 100 yards away. Instead, UCF kicked a field goal to take the lead for good on the next play.
Brenton Cox Jr. was all over the field, even looking like a man possessed against the run. But he committed a dreadful roughing the passer penalty to extend a UCF drive in the second half – a pointless hit on a play Florida had covered downfield.
Ty'ron Hopper, a sophomore linebacker who had emerged late in the season, was all over the field in the first half but ejected early in the second half after committing a senseless personal foul after UCF scored on its opening possession. In Hopper's defense, his ejection was a poor call, as replays showed Hopper simply threw a UCF player to the ground, rather than throwing a punch as alleged. But it was still a poor decision by Hopper, a mental mistake that deprived Florida of its best run stopper in the second half. UCF dominated the game on the ground after the half, punishing the Gators for 288 yards rushing, over 160 of which came after Hopper was ejected.
As a team, the Gators committed 3 personal foul penalties in the third quarter alone, each of which either extended a UCF drive that had stalled or altered field position.
These are the types of mistakes that don't just cost a team games; they reflect the culture, one that new head coach Billy Napier will need time to clean up.
There are excuses aplenty to be had for Florida and, if Twitter on Thursday night was any indication, Gators fans were ready to make them.
Yes, this was the final game under the remnants of the Mullen coaching staff.
Yes, Jones missed throws all night. Jones is in the transfer portal now, and this disappointing performance was likely his Gators swan song. Had Anthony Richardson, Jones' backup most of the season, been available, he likely would have replaced Jones early in the second half.
Yes, Florida had its best defensive player missing due to an opt out and was missing key pieces of its front seven, even before the Hopper ejection.
And yes, it's hard to get excited about a bowl game before Christmas.
All of that, even the losing season this loss guaranteed, will quickly be forgotten as Napier rebuilds.
The mental mistakes — undisciplined penalties, missed tackles and missed assignments — however, provide a larger takeaway from Thursday night's bowl game.
Skeleton, lame-duck staff or no, Florida ultimately fell short against a better-coached, more prepared UCF football team that, unlike the Gators, took advantage of its chances.
Those types of mistakes are cultural, and Napier's rebuild will be, too.
Florida's new coach knows this.
When Napier took the job, he pinned a tweet from Super Bowl-winning coach Bill Walsh to his Twitter profile.
"Culture precedes positive results," the quote begins. "Champions behave like champions before they're champions; they have a winning standard of performance before they are winners."
The Gators weren't winners Thursday night, and as Napier rebuilds Florida's culture, the Gators won't be winners again overnight.
But Napier's build has already begun, and tomorrow, Florida football gets an early Christmas present: a much-needed clean slate.
The future can't come quickly enough.