SEC
The Hangover: Nuggets and tidbits from Week 3 in the SEC
Week 3 was another wild one in the SEC, as all 14 teams in the best conference in America took to the field.
Among the four intra-division matchups, the most highly anticipated was Alabama at Ole Miss. Challenged for the first time this season, the Crimson Tide came back from a 21-point deficit to break their losing streak to the Rebels.
Elsewhere in league play, Texas A&M took care of Auburn at Jordan-Hare Stadium, LSU held on to beat Mississippi State in Death Valley and Georgia engineered a thrilling comeback victory over Missouri at Faurot Field. For the Bulldogs, freshman Jacob Eason delivered the first of what will likely be many signature moments.
Injuries were a part of the Saturday discussion, too. Tennessee players were dropping like flies in a sloppy win over Ohio, while Florida lost Luke Del Rio for the foreseeable future late in a shutout of North Texas.
Program by program, here are some of the more memorable nuggets and tidbits that I scribbled into my Week 3 notebook.
It truly is amazing to realize just how much Alabama coach Nick Saban has turned his team over to a true freshman quarterback.
Jalen Hurts was the focal point offensively for the Crimson Tide from beginning to end, throwing for 158 yards and rushing for an additional 146 — most of it coming on designed QB runs. The Blake Barnett era is officially over.
For the most part, the 'Bama receiving threats were held in check Saturday. Calvin Ridley reeled in a 45-yarder but only totaled 36 yards on his other 7 receptions. ArDarius Stewart exited after 4 catches for 2 yards due to concussion-like symptoms. O.J. Howard was only targeted on two occasions despite his physical gifts.
Nevertheless, Hurts (above) proved to be the Alpha and the Omega for the Tide both in the air and on the ground. Yes, Damien Harris was big with 144 yards on 16 carries, but Hurts shouldered an incredible amount of weight for a rookie.
This isn't your father's Alabama. It's not even your older brother's Alabama. Saban has adjusted to his new personnel beautifully.
Arkansas running back Rawleigh Williams III continues to be one of the feel-good stories in the SEC so far this season.
Returning from a scary injury in 2015, Williams ran 19 times for 121 yards and 2 touchdowns against Texas State. He has now rushed for 96, 137 and 121 yards in three games as the primary back for the Hogs and is third in the conference in rushing.
The Razorbacks are a surprising 3-0 to open the campaign, in large part due to the way they've been able to replace star players from a year ago. Austin Allen looks just as good as his older brother, Brandon Allen, at quarterback. All-American tight end Hunter Henry may be gone, but Jeremy Sprinkle already has 3 TDs.
Perhaps the biggest question mark of the three prior to 2016, Williams has been just as productive as the departed Alex Collins.
Even if Sean White was struggling at quarterback, coach Gus Malzahn made the wrong call taking a shot with John Franklin III.
Incredibly limited as a passer, it was evident very quickly that Franklin could do little more than run the read-option portion of the offense. Once Texas A&M was able to make that adjustment, Auburn didn't have much of a chance to move the ball. There was no reason to show his erratic arm any sort of respect.
The Tigers offer no explosive element in their passing game. That's not all on the QBs, though. Eventually, a receiver has to make a play.
After quarterback Luke Del Rio left the game with a knee injury, things got chippy in Gainesville the rest of the way. Still, there was no evidence to suggest that the hit in question could be interpreted as dirty.
Nevertheless, the absence of Del Rio (above) will be a huge component in Week 4, when Florida travels to East favorite Tennessee. He was just beginning to settle into the offense. Now the Gators must start over with backup Austin Appleby.
It's going to take awhile for Georgia coach Kirby Smart to make this defense his own. Lost in the jubilation of a 28-27 come-from-behind victory was the Bulldogs surrendering 376 yards passing to Missouri's Drew Lock.
Not only did UGA fail to sack Lock, but not a single defender managed to so much as knock him to the ground. The Dawgs haven't generated much of a pass rush and are feeling the losses of Leonard Floyd and Jordan Jenkins.
Even if Kentucky put up a basketball-like 62 points in victory, giving up 42 to New Mexico State at home is an embarrassment.
The Aggies are arguably the worst program in all of FBS, having posted a losing record every year since 2002. In that time, NMSU has been responsible for half a dozen double-digit loss seasons and an 0-12 run in 2005.
Yes, Stephen Johnson was 17-of-22 passing for 310 yards with 3 touchdowns and 0 interceptions taking over for an injured Drew Barker at quarterback. Sure, Stanley "Boom" Williams and Benny Snell combined to carry the ball 35 times for 317 yards and 5 TDs. The offense desperately needed to pad some stats.
But New Mexico State came into this contest ranked 110th in the country in total offense at 326 yards per game, and that's after facing UTEP and New Mexico. The Aggies racked up an even 500 against UK.
Fourth-year coach Mark Stoops came to the 'Cats with a reputation as a sound defensive mind. That rep is no longer intact.
LSU had a hard time getting off the field a season ago on third down because of its inability to rush the passer consistently.
Saturday against Mississippi State, a talented Tigers front finally started to produce the kind of pressure expected from all those blue-chip recruits. The Bayou Bengals sacked Bulldogs quarterbacks six times, including two from Arden Key. His second — he crushed an unsuspecting Damian Williams from behind — ended MSU's last gasp late.
Mississippi State's Nick Fitzgerald, who set a school record for rushing yards by a QB seven days prior, found very little daylight.
Being able to spread defenses out and throw the ball all over the place is great, but sometimes you've just got to get one yard.
Down 27-24 in the third quarter, Ole Miss had first-and-goal at the Alabama 1-yard line. Instead of lining up under center and running the ball behind a fullback and a couple of tight ends, Chad Kelly dropped back into shotgun formation.
Predictably, the Crimson Tide blew up a running play to Akeem Judd that took way too long to develop given the circumstances. Before the next snap, the Rebels were whistled for a false start — back 'em up to the 6. The drive sputtered and ended in a tying field goal when a lead-taking TD should have been the result.
You can't be a finesse offense from the 1-yard line. Certainly not against a 'Bama D. The sequence said a lot about both programs.
When you have a once-in-a-lifetime player like Dak Prescott operating the offense, you can cut some corners elsewhere.
Fitzgerald is not a once-in-a-lifetime player. Neither is Williams. While they've both done some good things this season, Mississippi State coach Dan Mullen simply expects too much at the quarterback position.
Any sense of a traditional rushing attack has been missing in Starkville for quite some time. Tailbacks Brandon Holloway and Ashton Shumpert totaled just 11 carries for 49 yards between them — neither had a single run go for longer than 9 yards. The ground game revolves around read-option QB keepers and the like.
Fitzgerald, who ran wild in Week 2 against a bad South Carolina defense, didn't see the same gaping holes against LSU.
Even in defeat, the Missouri defensive line we heard so much about throughout the preseason made its presence felt in a loss to Georgia.
The Tigers sacked Eason four times and hit him hard on several more occasions. Pass rusher Charles Harris (above), who had gotten off to a slow start in 2016, registered a trio of sacks and drilled Eason at least once more. Space eater Terry Beckner Jr., rounding into form following last year's torn knee, was credited with half a dozen tackles.
They also deserve credit for throwing a net on Nick Chubb, limiting him to 63 yards rushing on 19 carries. That was Chubb's lowest output in a game with at least 12 carries.
East Carolina matched the Gamecocks on the ground and doubled them up through the air, but it wasn't enough to win.
More than any other statistic, turnovers tend to determine the outcomes of football games. South Carolina managed only 312 total yards — 217 less than the visiting Pirates — behind Brandon McIlwain, who started and finished the game at quarterback while Perry Orth watched from the sideline.
However, ECU turned the ball over four times to zero for the 'Cocks. Credit the freshman passer for taking quality care of the pigskin.
Another game, another shaky performance from Tennessee in the passing attack. We see that pattern on a weekly basis.
Early in the contest, quarterback Joshua Dobbs was throwing the ball quite well. But with Ethan Wolf dropping a sure touchdown and Preston Williams letting a pass bounce right off his hands for an interception, Dobbs wasn't getting much help from his skill-position players. Eventually, Dobbs started missing throws himself.
Aside from Josh Malone, who caught a pair of TDs from Dobbs, the rest of the receiving corps refuses to bail out its QB.
One of the MVPs for Texas A&M in its win over Auburn on The Plains was kicker Daniel LaCamera, who was a perfect 5-for-5 on field-goal attempts. He's now 9-for-10 in his first year taking over for Taylor Bertolet.
Since Bertolet was only a 71-percent kicker in 2015, that's yet another area of improvement thus far for the Aggies. Throw in a better rushing offense to go with improved rushing defense, and A&M is much more balanced.
Once tied 7-7 in the first quarter, Vanderbilt proceeded to get shut out the rest of the way in a 38-7 humiliation at Georgia Tech.
Even with some of the playmakers in Nashville on the defensive side of the ball, the Yellow Jackets ran it consistently with their triple-option scheme. Linebackers Zach Cunningham (above) — arguably the best defender in the league through two weeks — and Oren Burks combined for only one stop behind the line of scrimmage.
Any sense of momentum the Commodores might have had following Week 2's win was stopped dead in its tracks in Atlanta.
Sweet Tweet
I've written it before and I'll write it again: There's zero upside for a college football player to be on Twitter. Appleby, who will take over for the injured Del Rio as Florida's quarterback for the foreseeable future, didn't exactly come off like a concerned teammate when he fired off this message about two minutes after the final gun: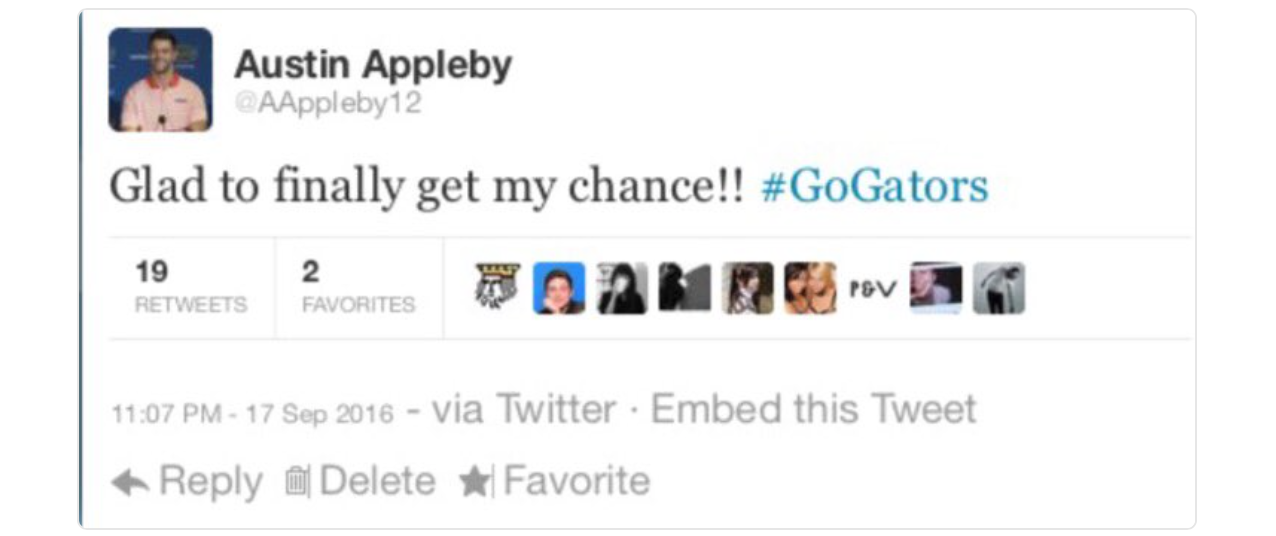 Appleby quickly deleted the tweet, although probably not before at least one member of the Gators' media relations staff smacked his forehead in disbelief.
Sweet Stat
Before Saturday, the last time Alabama came back from a 21-point deficit to win was Oct. 7, 1989. The opponent? Ole Miss. The venue? Vaught-Hemingway Stadium.
Bonus: Before Hurts on Saturday, the last Crimson Tide quarterback to both throw and run for 100-plus yards in the same game was Tyler Watts on Oct. 13, 2001. The opponent? Yep, Ole Miss. The venue? Yep, Vaught-Hemingway Stadium.
Sweet Quote
"Jacob did a great job, showed great poise. That's incredible for a freshman. The kid's most comfortable when he's slinging it. He played a great game. I'm proud of him."

— Georgia C Brandon Kublanow on QB Jacob Eason
Pick Six
Kelly doesn't take good enough care of the football under pressure. His fumble vs. Alabama was a mirror image of a Week 1 play against Florida State, when what could have been a forgivable sack instead became an unforgivable turnover.
Florida sacked the quarterback seven times, with six defenders responsible for those QB takedowns. Considering how much trouble the Tennessee offensive line is having, that's a major advantage for the Gators going into next week's SEC East showdown.
Curiously only given 9 carries in the first two games combined, Tennessee's Alvin Kamara was handed the ball 11 times and gained 67 yards against Ohio. There was a clear effort to get him more involved with the offense.
Texas A&M's Trevor Knight continues to be a bit of a low-percentage passer, putting together a 20-of-40 performance through the air against Auburn, but he's spreading the ball around to all those pass-catching weapons effectively and showing great mobility with his legs.
LSU's Leonard Fournette ran the ball well coming back from his ankle injury with 147 yards and 2 touchdowns on 28 carries, although he did fumble twice.
Louisville quarterback Lamar Jackson, the frontrunner for the Heisman Trophy after tearing FSU limb from limb, was only a three-star recruit coming out of South Florida. He was offered a scholarship by five SEC schools: Auburn, Florida, Georgia, Mississippi State and South Carolina. While the Gators were considered the favorites to sign him, he opted for the Cardinals.
---
John Crist is the senior writer for Saturday Down South, a member of the FWAA and a voter for the Heisman Trophy. Send him an e-mail, like him on Facebook or follow him on Twitter.