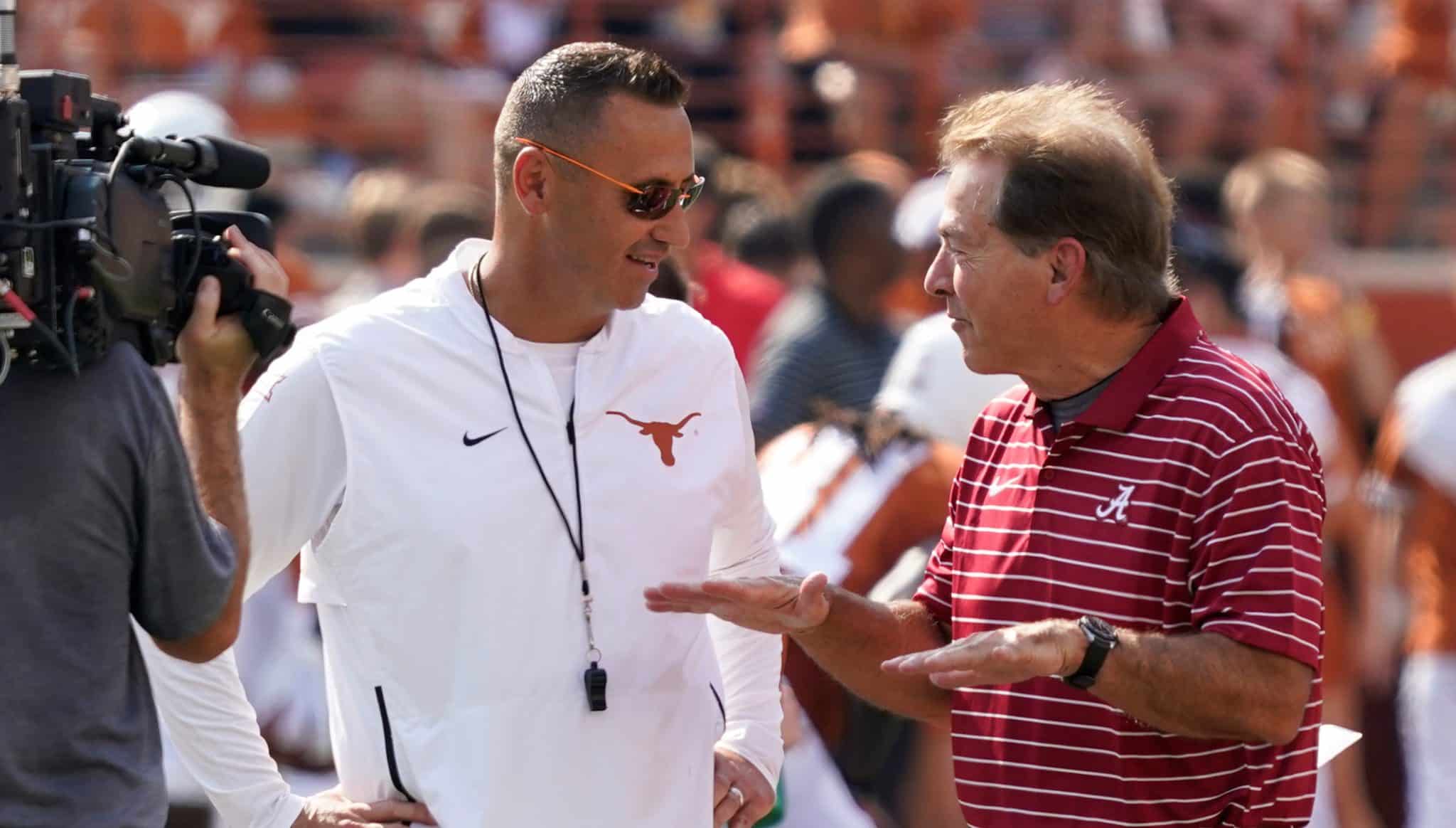 SEC
Hayes: For Texas, first step to 'being back' is beating Alabama
They're a year away from official change and 2 months from an early statement.
Want to show that Texas truly is back? It's not about winning the Big 12.
It's about beating Alabama.
It's about rolling into Tuscaloosa in Week 2, and leaving with a shot across the bow that will reverberate well into 2024 — when Texas and Oklahoma leave the Big 12 and join the SEC.
"I know there's been so much talk about the SEC and what's happening in 2024," Texas coach Steve Sarkisian said Wednesday during Big 12 Media Days. "But I think 1 thing that I love about this team that we have this year is their focus on 2023, and the opportunity we have here in the Big 12."
Look, winning the Big 12 on the way out would be a nice parting gift to the conference. A fitting "we're back" in the final stages of the love/hate relationship.
It's no coincidence that Big 12 commissioner Brett Yormark, when asked during Media Days about Texas and Oklahoma carrying the conference in recruiting, responded, "They haven't been in our championship game the past few years."
Oklahoma, of course, has won 6 of the past 8 Big 12 championships — something Texas hasn't done since 2009. The college football program with the largest budget, the 1 that generates the most revenue — that should be among the elite of the game — hasn't been nationally prominent in 13 years.
So before we starting talking about winning the final version of the Big 12 with Texas and Oklahoma aboard, the Longhorns should focus more on beating SEC king Alabama.
Because no matter has happened over the past 2 years, no matter how Georgia has wrestled control of the crown from Alabama, the Tide are still the team to beat in the SEC and college football. Beat Alabama and instantly earn respect.
Like Tennessee and LSU last season, and like Georgia in the 2021 national championship game. No team reaches its potential, is recognized as a legitimate threat, until it beats Alabama.
Now look at the 2023 season through that lens, and see how important the game in Tuscaloosa is.
Texas is loaded on offense, with skill and speed, and receivers who will win individual battles on the outside. Just like Alabama when Sarkisian was the offensive coordinator from 2019-2020.
They're more active and smarter on defense, and can pressure off the edge. Just like You Know Who.
"We have to embrace the moment and understand what that moment is," Sarkisian said. "Thought we played them well a year ago. We didn't play well enough. We have to play better than we did last time, and I think we can."
But this thing only works — and Texas does what only 1 other nonconference team (Louisiana-Monroe!) has done since Alabama coach Nick Saban arrived in Tuscaloosa in 2007 — if Longhorns QB Quinn Ewers finishes what he started in last year's 1-point loss in Austin.
Ewers barely played a quarter in last year's game before he was knocked out with a sprained clavicle. When he was in, Texas traded blows with Alabama and he threw for 134 yards.
The Alabama defense didn't have an answer for the Texas pass game, and Ewers was on his way to a breakout game. Then he took a big hit after a throw, injured his clavicle and it may as well have been an indicator of things to come for both he and Texas over the remainder of the season.
There were highs (a 49-0 shutout of OU) and lows (4 losses by a combined 18 points) and too much uneven play from Ewers, the former No.1 overall recruit who redshirted as a freshman at Ohio State in 2021 and played for the first time in 2022.
You don't earn a perfect score as a high school recruit — 1 of 2 given out in the history of the 247Sports composite — and not be held to a higher standard. You don't play at Texas with those credentials and not be held to an elite standard.
The only other recruit to earn a perfect score played quarterback at Texas and won a national championship. It took Vince Young 3 seasons to get Texas to the mountaintop in 2005, before leaving for the NFL.
This could be Ewers' last season at Texas. He's a draft eligible sophomore, and with a breakout season, could be a Day 1 selection in the 2024 NFL Draft.
What better parting gift for Texas than a victory over SEC heavyweight Alabama, and following that signature moment by winning the Big 12 before heading into the SEC horizon.
The fact that Sarkisian is talking openly about the Alabama game — nearly 2 months before the game, and knowing it doesn't impact Texas' chances of winning the Big 12 — is strange enough.
But he knows what it means, and what a win could do for his program that's not far from putting it all together. From being back.
"I think we'll have the mental fortitude to go do it," Sarkisian said. "They're a big, physical football team that will be very well-coached, and we just have to make sure they get our best shot."
It's not about winning the Big 12. It's about beating Alabama.
And setting the tone for 2024 and beyond.