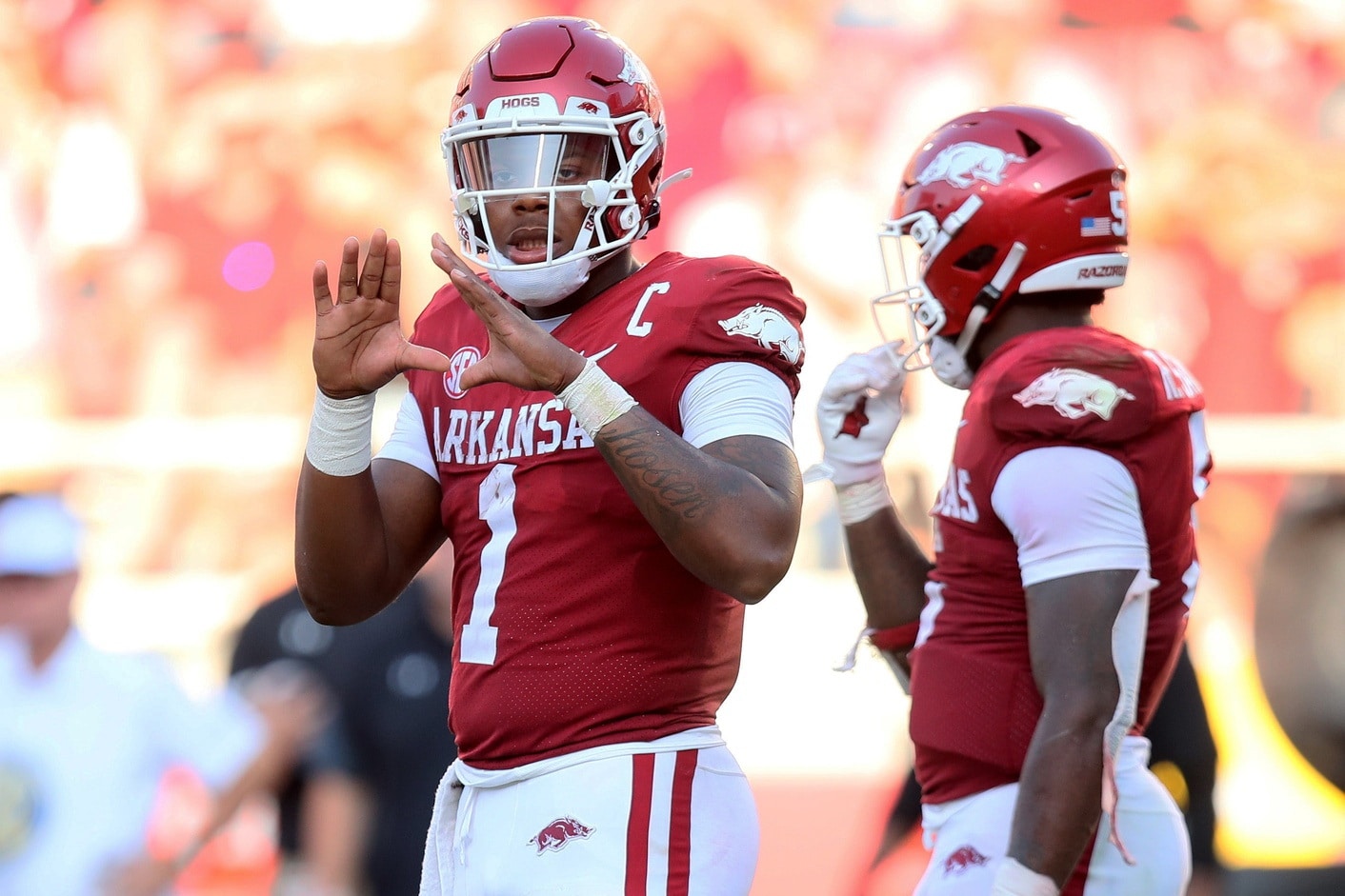 SEC
Hayes: Here's 1 team in every Power 5 conference that isn't getting nearly enough love
They know it's coming. The more they win, the more attention turns their way.
The more expectations increase.
"We're building for something much greater," Arkansas linebacker Bumper Pool said.
Forget about the same teams at the top of every Power 5 conference, year after year. It's boring, and there's no drama with the inevitable.
There is, however, plenty of intrigue in the overlooked and unwashed, the teams we're not showing nearly enough attention.
So hop on the bandwagon early, everyone. Arkansas, and 4 other Power 5 programs, are on the verge of breaking out.
It should come as no surprise that all 5 teams are on the verge of doing so because all 5 have quarterbacks primed for huge seasons.
SEC: Arkansas
The Week 1 physical win over Cincinnati was wildly undervalued.
This is the same Cincinnati program that had won 33 of its previous 38 games, nearly beat Georgia in the Peach Bowl in 2020 and played Alabama tight for three quarters in last year's Playoff semifinal.
And this is the Arkansas program that won 9 games in 2021 and put everything in 2022 on the shoulders of QB KJ Jefferson to make the next big step. His team, his offense — and his ability to move from a run-first quarterback to an accurate thrower on intermediate passes.
Jefferson then went out against one of the nation's best defenses and completed 69 percent of his passes — including 8 of 10 on 3rd-down throws. He had 3 TDs and 0 INTs, and still rushed for 56 yards and another touchdown.
And those intermediate throws? Jefferson was 4-of-4 in 3rd-and-9-plus situations. He had 7 throws of at least 15 yards, and 2 of 25-plus.
That's how you change an offense and take a team from a rising factor in 2021 to a team that can win any game in 2022.
"This program is still on the rise," Jefferson said. "We're headed in the right spot."
Big Ten: Michigan
That's right, Michigan. The same team that advanced to the Playoff last season.
While everyone was fawning over Ohio State (again), the only thing that put Michigan in the headlines was coach Jim Harbaugh's strange QB competition.
But this Michigan team is better than last year's team — even without star edge rushers Aidan Hutchinson and David Ojabo. Because this team has a legitimate force at the most important position on the field.
Watch what happens after Saturday's game against Hawaii. Watch how quickly the narrative turns to QB JJ McCarthy and how he gives Michigan a rare and true dual-threat talent at the position and something it hasn't had since … Denard Robinson's electric dual-threat seasons. With apologies to Shoelace, McCarthy is a far superior passer.
McCarthy is an elite athlete, among the top 3 fastest players on the team. He has elite arm talent and can make every throw.
He played a few series in last week's opener against Colorado State, after Cade McNamara got his chance to start a game in this unique competition. McCarthy completed 4-of-4 passes and ran for 50 yards and a TD before he sat for third-stringer Alan Bowman. Watch what happens against Hawaii.
McCarthy will put up huge numbers, and the Michigan offense will look as balanced and sleek and dynamic since … maybe ever?
Pac-12: UCLA
Dorian Thompson-Robinson has been around Westwood for 4 years, the one player tied to the hip of coach Chip Kelly.
His first big recruit. The 4-star quarterback who could turn around the fortunes of UCLA.
Kelly said Thompson-Robinson reminded him on Marcus Mariota, whom he coached at Oregon — and who won a Heisman Trophy.
"I envision being that guy," Thompson-Robinson said of walking on the field at the Rose Bowl, UCLA's home stadium — but doing so to play in the Rose Bowl game.
The talent has always been there, and he has, for much of his career, had solid production. Even in last week's opener, he threw for 298 yards, ran for 87 and had 4 total TDs.
But we've seen those numbers in games that don't matter for 4 seasons. The Bruins, which play FCS Alabama State Saturday, should begin the season 5-0 before playing host to Utah and finding out exactly what they are.
That's where the problems begin for Thompson-Robinson. In 4 previous seasons, he's 3-5 vs. ranked teams and his erratic, inconsistent play has been part of the problem in Kelly's rebuild of the program.
Now Thompson-Robinson is the answer. He says it, Kelly is preaching it — and a fortunate schedule that includes 2 of UCLA's toughest 3 games at home (Utah, USC) sets up the possibilities.
Big 12: Kansas State
Don't let the numbers fool you. It was an opener against an overmatched FCS school (South Dakota), and Adrian Martinez wasn't needed, anyway.
So while Nebraska fans see the limited production from Martinez — their star-crossed QB over the past 4 seasons — against South Dakota (53 yards passing, 39 rushing) and exhale and move on, Kansas State believes it has the perfect fit for its run-based offense.
Wildcats coach Chris Klieman won 4 FCS national championships at North Dakota State running an offense built around a quarterback who can run the ball with power, and throw off play action.
K-State made huge strides defensively last season (21 ppg.), and now Klieman believes he has the quarterback to push the Wildcats to the top of the Big 12. In fact, he might have 2: Martinez and redshirt freshman Jake Rubley, Klieman's biggest recruit since he arrived in Manhattan in 2019.
K-State gets a good test Saturday against Missouri, and then plays host to Tulane before traveling to Oklahoma on Sept. 24. It won't take long to see if Klieman has a quarterback to supplement dynamic TB Deuce Vaughn and a stout defense.
ACC: Florida State
Watch the LSU game. See the difference in how QB Jordan Travis commands the offense and has become a legitimate thrower.
Now look again at the FSU schedule, and suddenly the team that looked prior to the season like it would struggle to reach bowl eligibility could make a run at 9 or 10 wins.
Yep, 10 wins.
The Noles have 3 fast and athletic options at tailback (Treshaun Ward, Trey Benson, Lawrence Toafili), and added 2 legitimate options at receiver with transfers Johnny Wilson (Arizona State) and Mycah Pittman (Oregon).
FSU coach Mike Norvell said Travis needed help, and he went out and got it, including 3 starting offensive linemen (1 has already sustained a season-ending injury). Travis is a different player, and he showed it in the win over LSU.
He's a thrower, and he no longer leaves the pocket early and tries to make throws off schedule. It's a remarkable transformation in 2 games, but a clear response to what happens when a talented quarterback suddenly is surrounded by better talent around him.
"He's a heckuva player," LSU coach Brian Kelly said. "He was impressive."