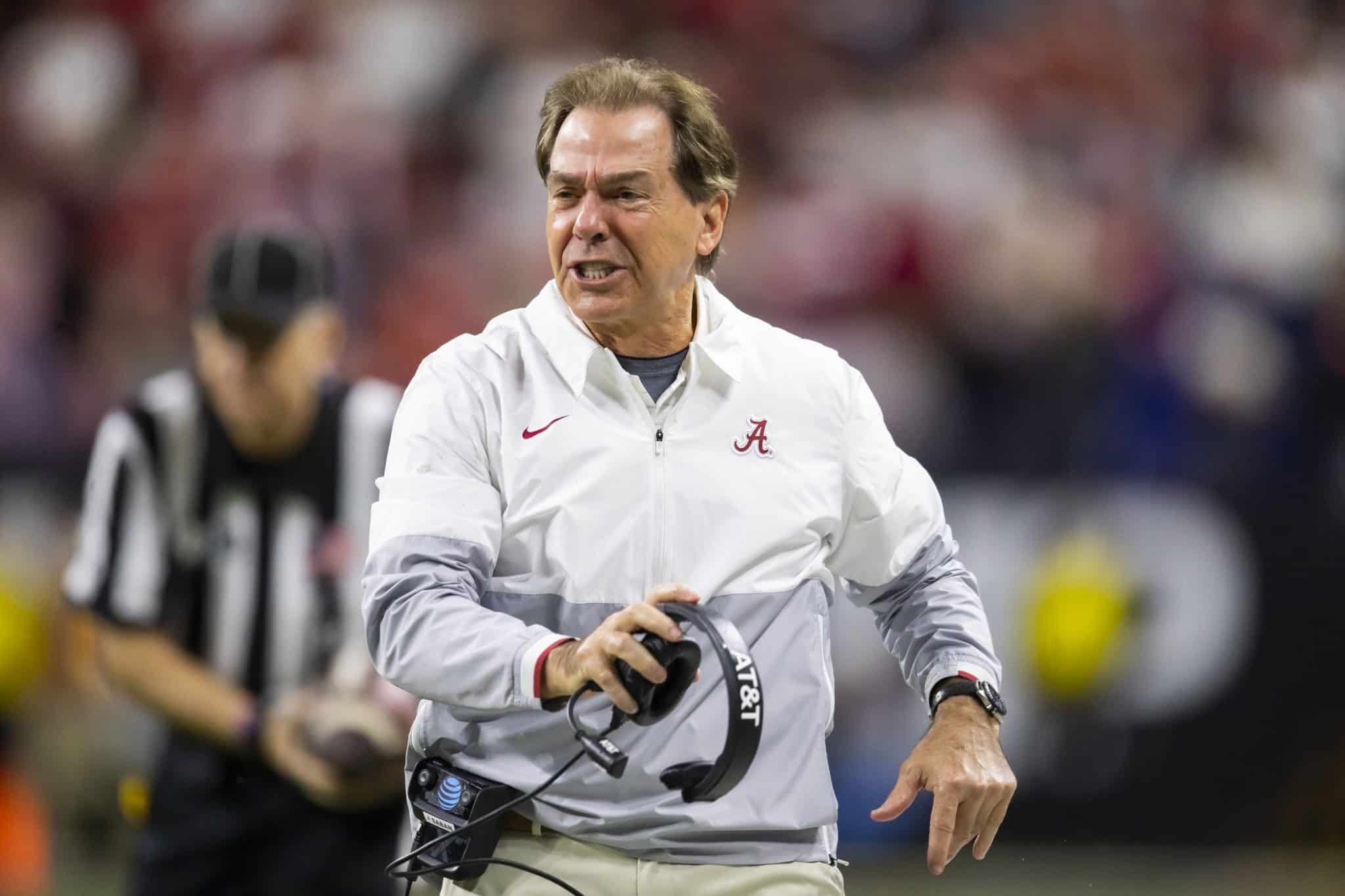 SEC
Hayes: Nick Saban knows the end is here. Just look at his final, desperate ballot
He just can't leave well enough alone. Not even for a damn day.
College football coaches are asked to submit their vote for the final USA Today coaches poll within 24 hours of the national championship game. Alabama coach Nick Saban is 1 of 63 coaches who voted in the poll.
You can see where this is going.
Fresh off Georgia's back-to-back national titles, a day removed from the reality of a new king in college football, Saban — the former king of all things college football — voted like this:
1. Georgia
2. Alabama
3. TCU
4. Michigan
5. Ohio State
I mean, how transparent can one be?
Honestly, this is the stuff of petulant children. This is a temper tantrum of the highest order, a statement so shameless, he may as well have held a press conference to explain the vote.
You want me on that wall, you need me on that wall!
We should've seen this coming all along. Saban stood at the podium after Alabama's meaningless bowl win over an equally meaningless opponent and declared that the game proved Alabama should have been selected to the Playoff.
You want should have? I'll give you should have.
Alabama should have not blown 4th-quarter leads to both Tennessee and LSU, which both came back on the last play of their respective games to get critical wins.
Alabama should have recruited and developed and coached better in the secondary, where it couldn't consistently cover in nearly every game that mattered.
Alabama should have run the ball on the last drive against Tennessee, when it had 1st-and-10 at the Vols' 32 with 34 seconds to play. Three straight incompletions and a missed field goal left 15 seconds on the clock for that same Alabama secondary to defend.
Alabama should have been more disciplined in losses to Tennessee and LSU, where it committed a combined 26 penalties for 222 yards.
The Tide finished the season 126th out of 131 FBS teams in penalties (103) and 124th in yards (893).
Alabama should have recruited and developed better on the offensive line, where rare quarterback talent Bryce Young was sacked 63 times over the past 2 seasons — the same line that allowed 167 tackles for loss over that span.
"I don't even know what to say to that," an SEC coach told me Wednesday night. "What, is he trying to tell the (Playoff selection) committee I told you so? Is he trying to show them up?"
I'll take it one step further: This isn't just about Saban declaring we should have been there. This is Saban feeling threatened by Kirby Smart and Georgia.
When ESPN analyst David Pollack looked at Saban and the rest of the College GameDay crew after the national championship game and said Georgia owns college football, Saban looked like he wanted to jump Pollack.
It was all he could do to not scream at Pollack, "Look, we beat their ass last year in the SEC, and if we don't have 2 injured wide receivers, we beat their ass again in the national title game, a'ight?"
Now, ladies and gentlemen, I'm going to expose this vote one final, disturbing turn.
Look at the vote. Really, look hard at the vote.
Ohio State was a missed 50-yard field goal from beating Georgia. The Buckeyes' losses this season were to the No. 2 team in the Playoff, and the No. 1 team in the Playoff.
Saban has Alabama at No. 2 and Ohio State at No. 5.
Five!
Ohio State lost 2 games. Alabama lost 2 games — and by Saban's own rankings, Ohio State's losses were significantly better than Alabama's (Saban ranked Tennessee 6th, and LSU 17th).
But there was Roll Tide in his final poll, holding strong at No. 2 — just in case anyone forgot them. Just in case Smart relaxes this offseason (he won't; Saban taught him the process), and the Georgia players get distracted (they won't), Nick just wanted Kirby to see, beyond the shadow of a doubt, that You Know Who isn't going anywhere.
In the history of Saban tantrums, this might be the best — just on sheer ballsy-ness.
Claiming Jimbo Fisher last year "bought" his entire recruiting class was incredibly childish.
Minimizing Utah and Oklahoma beating Alabama in bowl games was classic Little League.
But this one — oh, boy, this one — is unique. Because I actually think it's much more than what's so clearly transparent.
Saban believes he has the better team.
And if that shortsighted Playoff committee couldn't see that Alabama was better than Tennessee and LSU, and wasn't so hell-bent on keeping 2 SEC teams out of the Playoff, then the Tide would've beaten Georgia in the Peach Bowl — and then dusted off Ohio State or Michigan in the national championship game.
You want should have?
We should have had that, a'ight?