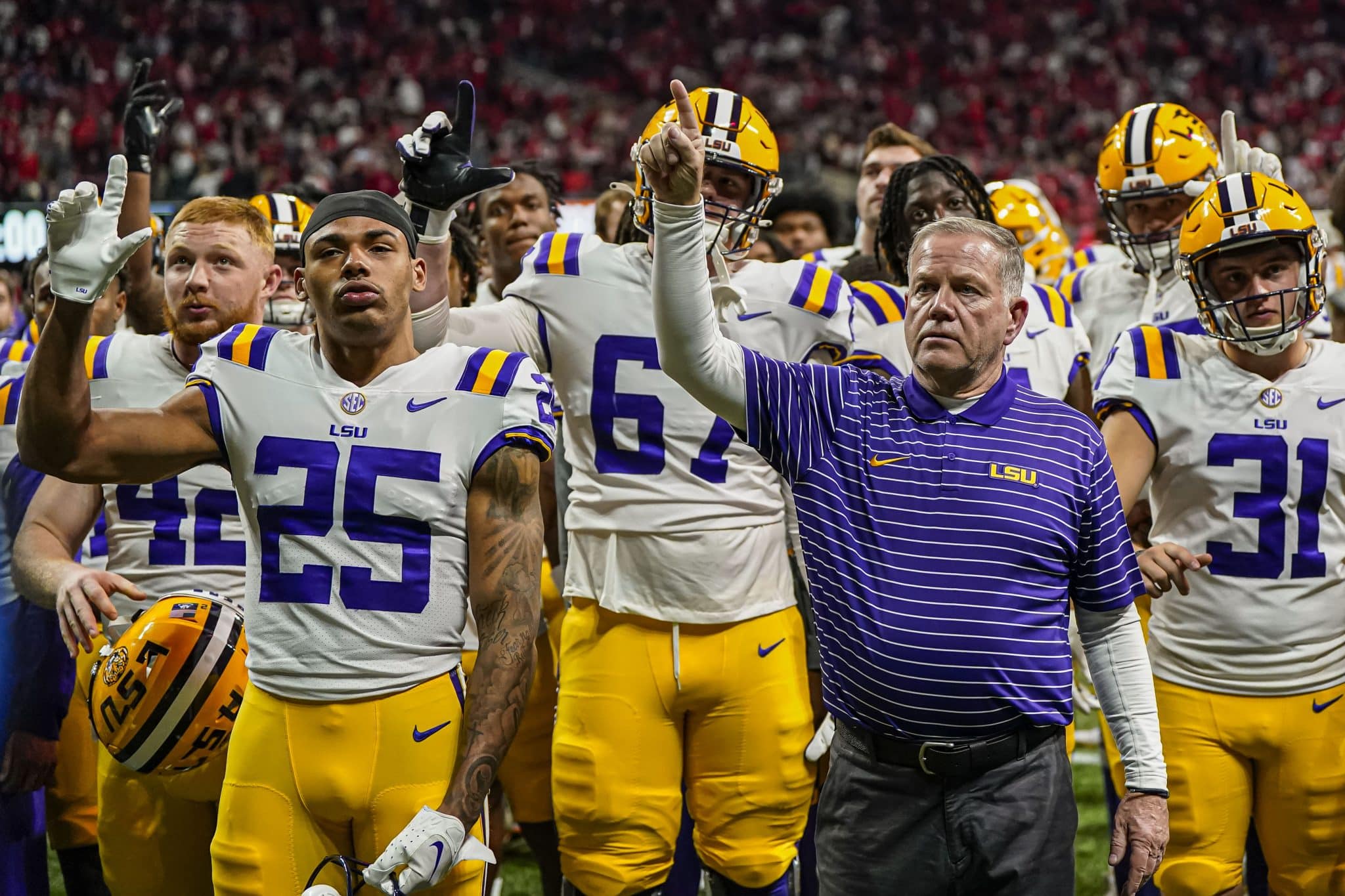 SEC
Hayes: Put the rest of the SEC on notice -- LSU takes on favorite role in Year 2 under Brian Kelly
We're not that far away, a mere 3 weeks from everyone jumping on the LSU hype train.
I've been trying to avoid it all offseason, trying to convince myself that Georgia and Alabama have better talent. Or that Texas A&M might just be the most dangerous team in the SEC if that Fisher/Petrino thing works.
But I'm not sure anyone beats LSU this season.
"We've got some work to do, but I really like this team," LSU coach Brian Kelly said.
It's only a matter of time before everyone else does, too.
When the SEC convenes in Nashville next month for its annual Media Days circus, there are a few undeniable storylines at the ready:
Georgia's quest for 3 straight national titles.
Alabama coach Nick Saban's latest complaint, or a reset on the previous talking points this offseason (NIL, parity, the Playoff committee, 3 permanent opponents in the proposed 9-game SEC schedule).
All things Lane Kiffin (because he has a sneaky good Ole Miss team, and because he's Lane Kiffin).
But guess who strolls to the stage on Day 1, right out of the box? The coach who built the program that, in 2 short years, will transform from the depths of dismantlement to winning the SEC championship and advancing to the Playoff.
It wasn't that long ago that LSU had 38 scholarship players available for a bowl game against Kansas State at the end of the 2021 season.
It wasn't that long ago that then freshman quarterback Garrett Nussmeier opted out of that bowl game because he didn't want to burn a redshirt season — and the Tigers were left with a wide receiver (Jontre Kirklin) playing quarterback.
It wasn't that long ago that it all unraveled for coach Ed Orgeron, who 2 years earlier had won the national championship and should've been stockpiling for more trophies. Instead, the final embarrassing loss to Kansas State in 2021 closed down an ugly and quick fall from grace with a 7-loss season — the most losses for LSU since 1999.
It was then that LSU athletic director Scott Woodward went to work. The names in the barrel were easy to connect.
Woodward hired Jimbo Fisher at Texas A&M, and Chris Petersen at Washington, and either of those coaches would fit nicely — even though one had a $95 million contract and the other was retired.
Then it was Kiffin or Luke Fickell or Mario Cristobal or the young guy from up the road at Louisiana, Billy Napier. Hell, Urban Meyer was deep in the mud already in the NFL. Maybe he wanted out.
Woodward instead zeroed in on the coach no one believed would leave his current job. When you're the winningest coach in the history of the most storied program in college football, why would anyone leave Notre Dame?
When the NFL couldn't get Kelly out of South Bend, how could Woodward?
"Because at the end of the day, I wanted to challenge myself," Kelly said. "I wanted to compete against the best in college football."
Now here we are, 5 weeks from the opening of camp to begin Kelly's 2nd season at LSU, and he already has cleared 1 of 2 huge obstacles in returning the Tigers to the top of college football. He showed last season that LSU can beat Alabama again.
The next step is winning the SEC championship, which more than likely means beating Georgia — and avoiding a group of talented teams that now see LSU as a legitimate threat rather than a team in rebuild mode.
It also means navigating what could be the most difficult schedule in college football. LSU isn't strolling into the season with home games against Tennessee-Martin and Ball State, for the love of UGa.
The Tigers are headed directly into prove-it mode with a game against Top 10 Florida State in Orlando. Then there's the West Division gauntlet, and East Division crossover games against Florida and Missouri — where LSU lost the last time it rolled into Columbia in 2020.
But when you've reached the elite of college football, the schedule is more of a road map. When you've declared in the offseason that your quarterback has dedicated himself to be among the best in college football in 2023, the idea of what could be begins to unfold.
The team is loaded, from QB Jayden Daniels to the best tackle combination (Will Campbell, Emery Jones Jr.) in the SEC on offense. To the best defensive player in college football (LB/Edge Harold Perkins), the return of the most talented interior defensive lineman (Maason Smith) in the SEC, and the addition of star Oregon State LB Omar Speights.
The last 2 top-5 recruiting classes are paying off, and another reshuffle with the transfer portal has left the roster with a majority of Kelly players. He recruited them, or he signed them from the portal.
This is his ride, his team — including the latest iteration of new starters from the transfer portal: RB Logan Diggs (whom he recruited to Notre Dame), S Duce Chestnut (Syracuse), Edge Ovie Oghoufo (Texas) and CBs Denver Harris (Texas A&M) and Zy Alexander (Southeastern Louisiana).
This is his quarterback, whom he plucked from the emotional scrapheap at Arizona State and patiently reworked his physical mechanics and mental fortitude until he became a clear talent and the undisputed leader of a team that hit its stride in the last month of the season.
From playing a wide receiver at quarterback with 38 available scholarship players, to 11 months later beating SEC heavyweight Alabama on a gutsy 2-point conversion call — and eventually playing in the SEC Championship Game and winning 10 games.
"We've got a long way to go," Kelly said. "This conference can humble you quickly."
It can also bring out the best in you.
Welcome to the LSU hype train, everyone. Get onboard before everyone figures it out next month.