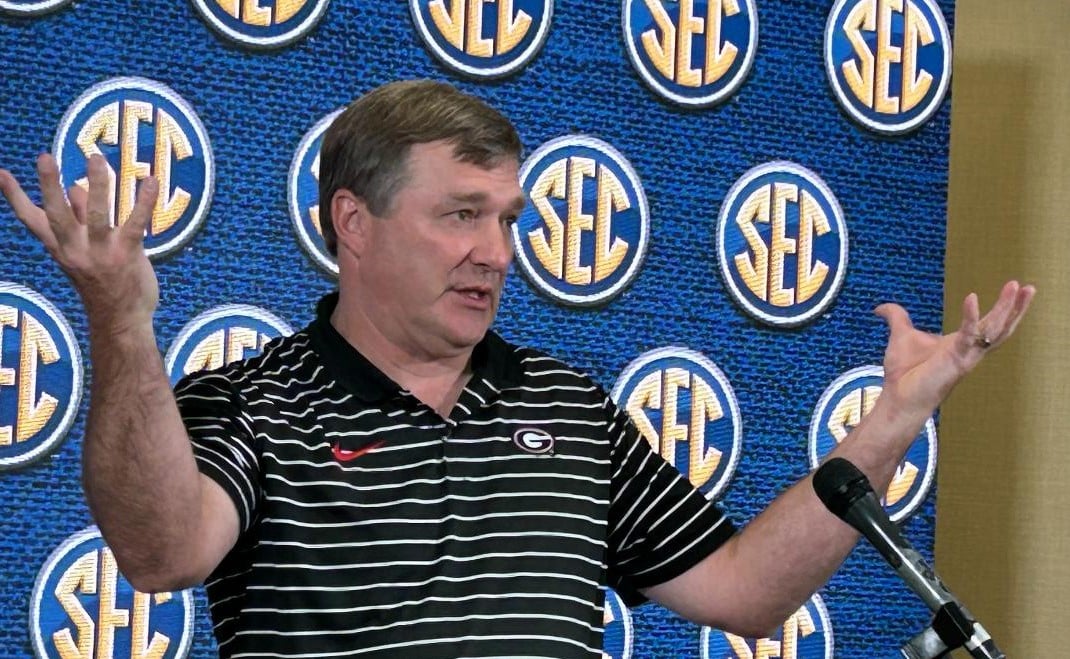 SEC
Hayes: 'We are the NFL right now.' What that means for the SEC and everybody else
MIRAMAR BEACH, Fla. — Forget about scheduling debates. The buzz at the SEC spring meetings is the NFL.
Or more specifically: How college football is careening toward the NFL pay-for-play model.
"Why are we playing around? Why are we acting like that's not what this is?" Missouri coach Eli Drinkwitz told SDS.
Make no mistake, it's not about need, it's about necessity. This is about saving a sport that has gone completely off the rails with the addition of NIL and free player movement.
Third-party negotiators taking advantage of players. Tampering with coaches and players and programs. NFL-level money and NIL contracts for high school players who haven't stepped on campus.
For the past 2 years since NIL and free player movement ushered in de facto free agency — with no rules — college administrators and coaches have begged for guardrails. Now there's only 1 way out, 1 way to build and keep a competitive balance and eliminate the rich getting richer.
A pay-for-play NFL model.
The initial NIL idea 2 years ago, the Pollyanna pipe dream, was players earning off their name, image and likeness would allow more programs to break into the elite of the sport. The rising boat of NIL would lift all ships.
Instead, only heavy-hitting programs are truly seaworthy. The parity ideal quickly has become a parody.
"You think (parity) is here?" Alabama coach Nick Saban said after stepping away from the press conference podium. "I think the way Southern Cal, Texas and Texas A&M are spending money … it hasn't hit yet. What are you willing to spend?"
More to the point: What are university presidents willing to do to fix the game?
It was those same presidents who had more than 16 months to figure out a specific plan of dealing with players earning off NIL — the states of Florida and California passed laws with start dates 16 months out — and did nothing. By the time the Florida and California laws went into effect, a majority of states had NIL legislation passed or were in the process of passing it.
So the NCAA opened the door on NIL without specific rules (see: no guardrails), and then added free player movement to create the perfect storm of discontent throughout college football. Now university presidents are left with 2 options: keep the current system and watch it spiral into 2 conferences (SEC, Big Ten) separating from the rest of college football and forming their own league.
Or completely dismantling and eliminating the amateur model, and going straight pay-for-play.
"We are the NFL right now," Auburn coach Hugh Freeze said. "We just don't have (player) contracts."
There's a reason the NFL is the most successful sports league in the world. The goal is parity, and every rule and movement from owners and the Players Association is designed to reach parity — or as close as they can get.
Everyone with the same salary cap. Everyone following the same rules. Everyone with the same opportunity to procure players and win.
"If that's what you want, unionize it," Saban said. "Make it like the NFL."
We're not far away from that groundbreaking move. Last month, the National Labor Relations Board filed an unfair labor practice complaint against USC, the Pac-12 and the NCAA, asking that athletes at the school be classified as employees.
A November hearing has been set, and the charge calls for parties to "cease and desist from misclassifying the players as non-employee 'student-athletes.'" It asks that those athletes be reclassified as "employees" in "handbooks and rules."
Looming over that hearing — and all things pay-for-play — is the 9-0 Alston ruling from the Supreme Court in 2021 that kneecapped the NCAA and eliminated limits on education-related payments to players. In that ruling, Justice Brett Kavanaugh wrote for the majority that, "Traditions alone cannot justify the NCAA's decision to build a massive money-raising enterprise on the backs of student-athletes who are not fairly compensated."
But for this week and these SEC spring meetings, it's about football — and how the league's coaches move forward with the ever-changing landscape. How the process of procuring players, and developing and retaining players evolves through free player movement — and with NIL constantly refueling the engine.
There are currently 3 ways to build a roster: high school recruiting, transfer portal recruiting and roster retention.
None have guardrails pertaining to NIL.
"My only question is why are we the only sport that considers all other (college) sports in defining how we run our sport?" Drinkwitz told SDS. "We're a billion dollar, 12-team Playoff and we're considering how that's going to affect other sports on our campus. Whatever the model is, there's got to be some sort of establishment of rules, because right now it's open chaos."
It's not about need, it's about necessity.
And the NFL model that can make it work.