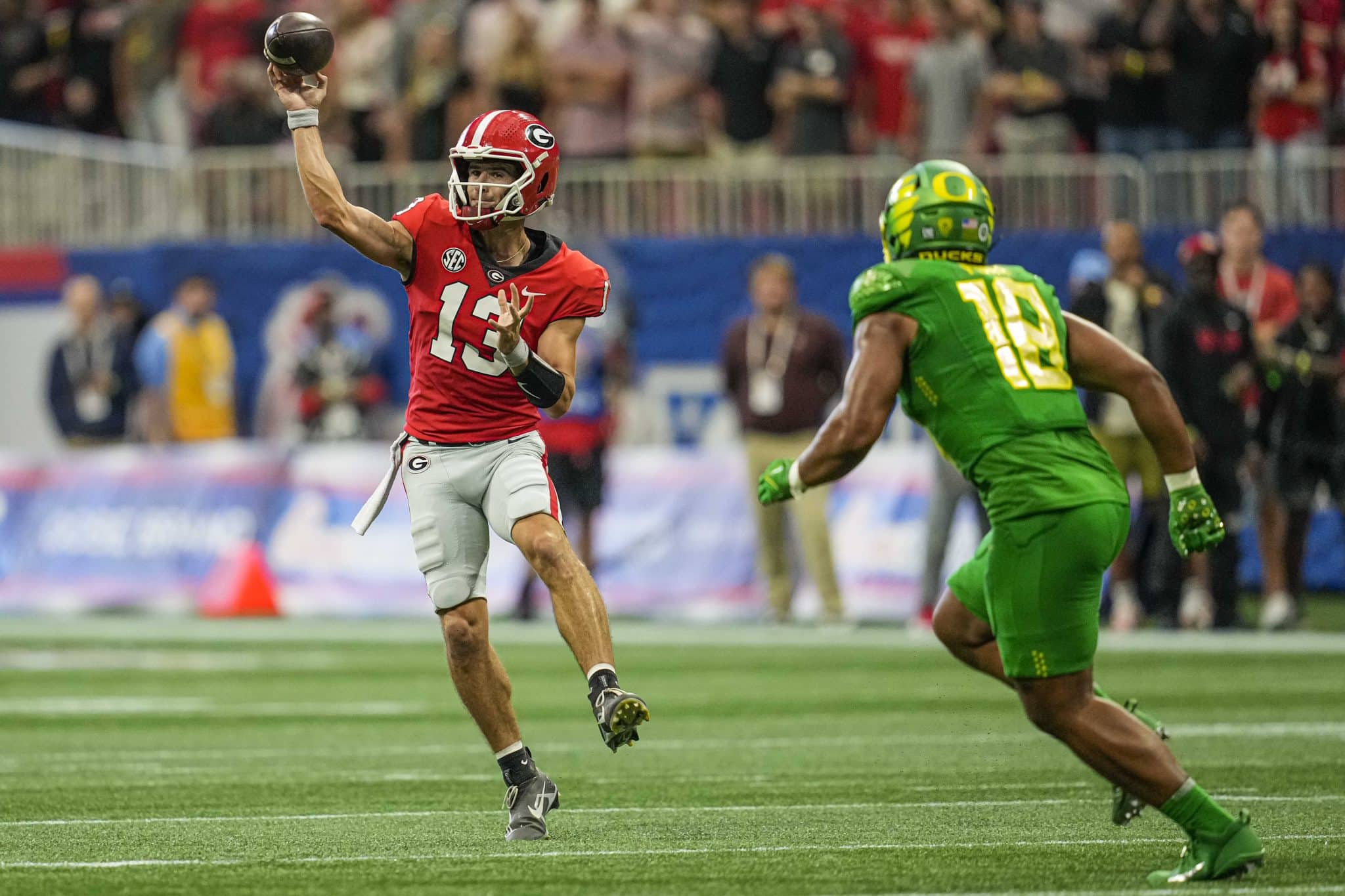 SEC
Hayes: Your complete guide to Week 2 in and around the SEC
The worst part is we're now immune to it. He can make remarkable plays, and he's still just little ol' Stetson Bennett.
Imagine if CJ Stroud or Anthony Richardson or Bryce Young or Quinn Ewers did what Bennett did last week against Oregon.
If they rolled right and away from pressure, read 2 receivers covered and a third on the way to covered, reversed field directly into pressure, escaped it by flinging one defender to the ground, and threw a strike to a fourth receiver, Ladd McConkey, standing alone in the left corner of the end zone.
ESPN would still be replaying it, the college football world would still be talking about it.
Instead, it was just another highlight in a game full of them for the defending national champions, who look like they have another championship defense.
Meanwhile, Stetson Bennett will win games for Georgia this season. Important, save-the-season type wins.
He'll put up huge numbers, and when Georgia is sitting at 12-0 and playing in the SEC Championship Game for a spot in the Playoff, Bennett will also be playing to win the Heisman Trophy.
He'll play 2 quarters (maybe) this week in a blowout of FCS Samford before the real games begin next week.
Let's get into the Weekend Primer …
Fear the Mullet
Imagine an entire fan base judging your impact on a program, in the second start of your career, against the best team in college football.
Welcome to the world of Texas QB Quinn Ewers.
From getting run out of town before his first start (hello, Arch Manning in 2023), to not playing perfectly against lowly Louisiana-Monroe in his first career start, the clock is officially ticking. Now here comes Alabama, with its best defense since coach Nick Saban and DC Kirby Smart's 2011 unit prevented LSU from crossing midfield until the second half of the national championship game.
That was 2011, this is 2022, and let's not focus on the former No. 1 overall recruit. Instead, focus on his coach. Steve Sarkisian, the former Alabama assistant, is 6-7 in 13 career games at Texas and 1-3 vs. ranked teams (the lone win vs. Billy Napier's Group of 5 Louisiana team last season).
The goal Saturday for Sarkisian: Don't get blown out. Don't get humiliated so badly, that a young and potentially fragile team goes belly-up early with 3 winnable games ahead (UTSA, at Texas Tech, West Virginia) before the annual Red River Shootout with bitter rival Oklahoma.
Mario's impact
It was a lost moment in a nothing game during a weekend of anticipation, but did you see Mario Cristobal go off on his Miami team on the sidelines early in a rout of Bethune-Cookman?
If you ever had any doubt of Cristobal's impact on the Miami program, of the Cuban-born and Miami-raised alum's fiery desire to return the Canes to the national elite, watch his response to Miami's lackluster start in a game they won by 57 points.
Check out the 24:07 mark and think of this: Earlier this spring, I had Cristobal on my radio show In Jacksonville, and he made it clear that the previous 2 lost decades are dead and gone. "We are not going backward," he declared.
Now watch how much better Game 2 looks this weekend against Southern Miss, another tuneup mark for a program that next week will see how far it has come in 1 offseason under Cristobal with a game at Texas A&M.
Miami tried everything the past 2 decades to find the magic again. It didn't try an alum with ties to glory days — and a track record as a successful head coach. Everything changes with Cristobal.
It starts this week against Southern Miss, but it gets serious next week in College Station.
Big Orange gut check
We've spent an entire offseason soaking in Tennessee's projected emergence among the college football elite.
If it begins anywhere this season, it's Saturday at Pittsburgh, the defending ACC champions. The same Pitt that won at Tennessee last year, and is rebuilding offensively with a new quarterback (USC transfer Kedon Slovis) and new coordinator (Frank Cignetti Jr.).
If Tennessee truly is a factor in the SEC race, it can't get overwhelmed by a Pitt pass rush that accounted for the most sacks in college football over the previous 3 seasons (151), and it must attack the Pitt cornerbacks, who had problems last week against WVU. Jalin Hyatt and Bru McCoy give Tennessee more options at wideout and will prevent Pitt from consistently rolling a safety to help cover star WR Cedric Tillman.
Last year's game was the first significant action for Tennessee QB Hendon Hooker, who replaced injured Joe Milton in the second quarter with Tennessee trailing 17-13.
The Vols have been a different team since Hooker stepped in last season but stayed vanilla in last week's opener against Ball State. Hooker ran the ball only 5 times for 12 yards (and 2 short TDs), but expect him to be more involved in the run game against Pitt's aggressive front 7 to slow pursuit.
If it ain't broke …
Iowa coach Kirk Ferentz has decided he's sticking with QB Spencer Petras, who led the Hawkeyes' offense to fewer points (3) than the defense (4) in the opener against FCS South Dakota State.
The numbers were hideous: 166 yards (105 passing), 4-of-17 on 3rd down (24 percent), 4.4 yards per attempt, 2 turnovers, 2.7 yards per play.
Iowa typically plays significantly better in Week 2 over the years — and at times (like Saturday) against rival Iowa State, which hasn't beaten Iowa since 2014.
As bad as the Iowa offense has been under OC Brian Ferentz — and it has been next level bad — the Hawkeyes won 10 games last season with Petras (10) and Alex Padilla (3) starting games.
But last week was a different kind of ugly: 1.6 yards per carry and 7 3-and-outs.
The Hawkeyes were 121st out of 130 teams in total offense last season, and 87th in the nation in total offense in 2020. It should come as no surprise that they're 129th out of 131 teams in total offense this season — and still a 3.5-point favorite against their rival.
That's why, despite the awful offense in Week 1, Ferentz reiterated this week, "Spencer gives us the best chance to win."
As easy as it is to criticize Ferentz for his (and his OC/son Brian's) handling of the offense, the object is winning. Iowa's defense is strong again, and as long as Petras doesn't make game-turning mistakes (see: turnovers), the game will get to the fourth quarter — which is exactly where Iowa wants it.
Time to get tough
Let's go back to Stanford coach Jim Harbaugh running up the score on Pete Carroll's fading USC dynasty in 2009, and Harbaugh's infamous "What's your deal?" comment moments after a 55-21 win.
That game was the beginning of Harbaugh's winning with "character and cruelty" — a mantra David Shaw embraced when he replaced Harbaugh. Stanford wants to maul USC; it's Stanford's brute strength vs. USC's athleticism.
Here we are 13 years later — after Stanford has won 9 of the 14 games between the teams since — and it's the same annual question: Can USC deal with Stanford's ability to control the lines of scrimmage?
New USC coach Lincoln Riley made huge strides in the offseason to upgrade skill positions on offense, but the offensive and defensive lines are still a work in progress. And these are games Stanford eats alive.
Want a true indicator of how far USC has come in 10 months under Riley? Watch this game. Watch the lines of scrimmage.
USC QB Caleb Williams wasn't exactly working with a clean pocket last week in a rout of Rice — the same Rice that ran for 146 yards.
Game of the Week
Take a nap in the afternoon, get your rest. Mississippi State at Arizona kicks at 11 p.m. ET, and there could be as many as 100 combined passes in the game.
End of game ETA: 3 am Sunday morning.
Two elite quarterbacks (MSU's Will Rogers and Arizona's Jayden de Laura) and two coaches (Mike Leach and Jedd Fisch) whose offenses thrive in tempo systems.
It's also a reintroduction of sorts for Fisch, the longtime college and NFL assistant who got his shot last season with a struggling Power 5 program at Arizona and went 1-11. The Wildcats had lost 23 of 24 going into last week's game against Group of 5 blue-blood San Diego State.
Then won by 18 against one of the nation's best defenses.
The thought of not only beating San Diego State but scoring 38 points on a defense that gave up 20 points a game last year, was inconceivable considering the past 3 seasons.
But that's where Fisch's recruitment of de Laura paid off. He sold de Laura, who could've played at numerous other Power 5 programs, on his system and de Laura's NFL development.
SDSU returned 7 starters from last year's defense and added 3 key additions from the transfer portal. Yet Arizona, which scored less than 20 points in 10 of 12 games last season, ran 74 plays and had 469 yards (de Laura threw 4 TD passes).
Then there's Rogers — in his third season as a starter — who completed 78 percent of his passes and had 5 TDs. And still thought he played poorly.