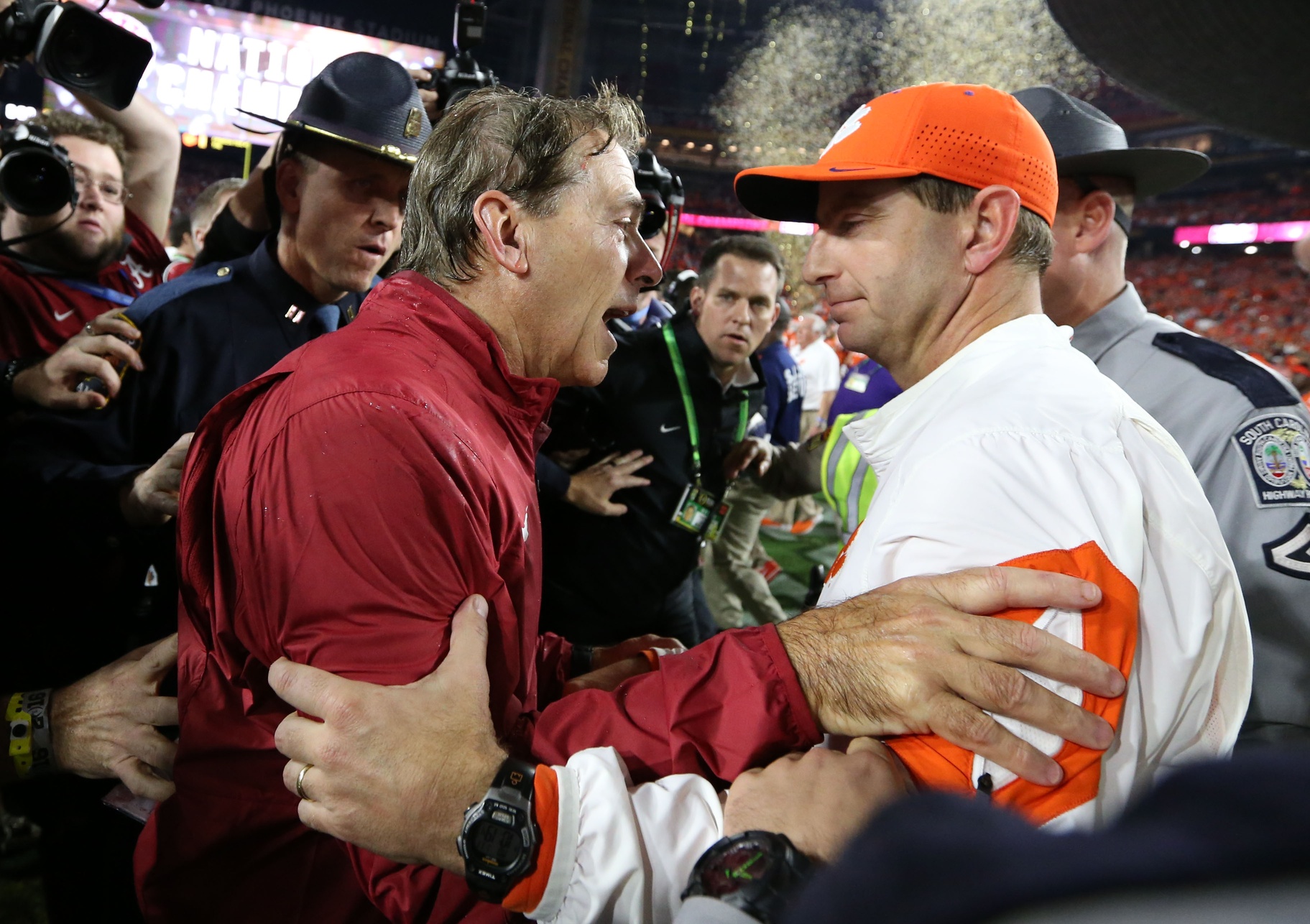 SEC
History shows national titles without elite recruiting over 4 years is rare
It's not rocket science: Great recruiting spawns success. However, the two are more closely related than you might think.
National Signing Day is only a day away, bringing its hoopla with hats, parents, fax machines and all that jazz that arose in recent years. Even though recruiting reforms might be coming soon that will take some of the spotlight away from NSD, recruits — and all their "stars" — are still the stars of the show, and the growing popularity around their decisions will only continue to swell.
That's because it's only gotten more and more clear that leading the way on the recruiting trail means that you're on the path to a national championship.
However, let's be clear here. We're not just talking about "good" recruiting. We're talking elite recruiting over a sustained period of time.
I like using 247Sports' Composite Ranking because it takes into account all major recruiting services. When looking at the average recruiting rank over the four-year period that preceded each national champion since 2003 (247Sports' database goes back to the turn of the century), it's become clear that top-tier recruiting is the precursor to the ultimate prize.
Note: The average ranks below were rounded to the nearest whole number.
| SEASON | NATIONAL CHAMPION | AVERAGE RANK |
| --- | --- | --- |
| 2003 | LSU | 12th |
| 2004 | USC (Vacated) | 8th |
| 2005 | Texas | 8th |
| 2006 | Florida | 5th |
| 2007 | LSU | 8th |
| 2008 | Florida | 5th |
| 2009 | Alabama | 8th |
| 2010 | Auburn | 16th |
| 2011 | Alabama | 3rd |
| 2012 | Alabama | 2nd |
| 2013 | Florida State | 6th |
| 2014 | Ohio State | 4th |
| 2015 | Alabama | 1st |
| 2016 | Clemson | 13th |
Here are a few takeaways from the data above:
-11 of the 14 national champions averaged a top 10 recruiting class in the four years leading up to them winning the crown.
-Nearly half (six of 14) averaged a top five class.
-Five of the last six have averaged a top six class or better.
It makes you realize why schools go to such great lengths to reel in the best and why recruiting violations are sometimes committed as head coaches/assistants push the envelope.
We can use more recent data to make an even stronger case, while narrowing our focus to only the most highly touted prospects (according to those stars anyway).
This chart shows the schools with the most 5- and 4-star recruits combined since 2012 (Urban Meyer's first season in Columbus).
| SCHOOL | 5 STARS | 4 STARS | TOTAL |
| --- | --- | --- | --- |
| Alabama | 24 | 71 | 95 |
| Ohio State | 6 | 80 | 86 |
| LSU | 8 | 73 | 81 |
| Florida State | 14 | 58 | 72 |
Three of these four teams (sorry, LSU) have received four of the last five national championships (Alabama 2, Ohio State 1, Florida State 1). This certainly explains why former Tigers coach Les Miles had so much pressure to achieve more given the talent that has consistently streamed into Baton Rouge.
Forget national championships. What about just winning? Well, the Buckeyes (.910), Crimson Tide (.901) and Seminoles (.868) hold three of the top four overall win percentages, with the exception being Clemson.
Dabo Swinney's 2016 squad was one of those three teams that didn't average a top 10 recruiting class yet still won a national title, along with 2003 LSU and 2010 Auburn.
Each of those teams got it done in different ways.
The outliers to the rule
2003 LSU: Nick Saban took the Tigers to the big stage and beat Oklahoma 21-14 after putting Heisman-winning QB Jason White through a miserable day that saw him go 13-for-37, 102 passing yards, 0 TDs and 2 INTs.
Although LSU only had recruiting classes that averaged 12th in the nation in the four years prior, the school hauled in one group that ranked second in 2001 and third in 2003, surrounded by a pair of classes in 2000 and 2002 that both ranked 21st.
And LSU sent seven players into the NFL Draft that immediately followed that win over Oklahoma. Only Ohio State (14), Miami (nine) and Purdue (nine) had more that year. The Tigers' group of draftees included WRs Michael Clayton and Devery Henderson along with DE Marquise Hill, who were all taken in the first two rounds. QB Matt Mauck was taken in the seventh round.
The defense also included standouts in Corey Webster, LaRon Landry and Marcus Spears.
2010 Auburn: Of course, there was this QB named Cam Newton, a JUCO transfer from Blinn College after originally being a 4-star commit for Florida.
Newton, who led Auburn to an undefeated season while winning the Heisman, was ranked as the third-best dual-threat QB in his class behind Tyrod Taylor (Virginia Tech) and Willy Korn (Clemson).
Korn also ended up playing in the national championship in 2010 … that is, the NCCAA (National Christian College Athletic Association) national championship with North Greenville University.
Auburn had a 10th-ranked class in 2007 before failing to crack the top 20 in 2008 or 2009. However, Gene Chizik — in just his second season on The Plains — enjoyed a sixth-ranked class in 2010 that also included Michael Dyer (143 rushing yards vs. Oregon in the national title game), Shon Coleman and Corey Lemonier.
Newton was drafted first overall and Nick Fairley went 13th overall in the ensuing NFL Draft.
2016 Clemson: And the only ones since that Auburn team to go against the trend just won the national championship about three weeks ago.
In fact, Swinney's club did it against the school that's set the standard for elite recruiting. According to 247Sports' composite rankings, Alabama has had the top-ranked class for six straight years and are poised to bring in the top class yet again as it stands right now.
Saban is one of only three head coaches with multiple "recruiting titles" since 2000, along with Urban Meyer and Pete Carroll. However, Saban has taken that title six times while Meyer and Carroll only did it a pair of times.
But the Tigers got revenge and took down the Tide despite having classes that ranked 15th (2013), 17th (2014), ninth (2015) and 11th (2016). While Clemson had five 5-star signees over that entire period, Alabama had a whopping 21 in that same span.
To put that into perspective, Alabama had more 5-star recruits in each year from 2013-15 than Clemson had total.
QB Deshaun Watson was a 4-star prospect in the Class of 2014, but he was ranked as the top dual-threat QB in that cycle. What about all those incredible weapons around Watson?: WR Deon Cain (5-star), WR Mike Williams (4-star), WR Artavis Scott (4-star), RB Wayne Gallman (4-star).
It's worth noting that Hunter Renfrow (combined for 17 catches, 180 yards, 4 TDs vs. Alabama in last 2 title games) was listed as a dual-threat QB in the same class as Watson, and Clemson was his only offer from a Power 5 school.