If you still haven't finished your Christmas shopping by this point, and lets be honest, who has, then this list is for you. We have taken some of our favorite items from the shop that you might not have seen yet, all which can ship your way in time for Christmas morning.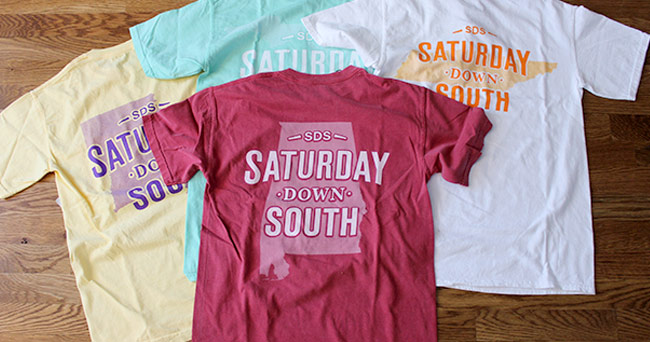 This is the classic Saturday Down South shirt with just enough touch to remind you of your team. These shirts are short-sleeved pocket T-shirt by Comfort Colors, one of the sofest around and only get better with time.
 
Whether you are a bourbon drinker or more of a beer man, we've got a way to make it clear which conference you think is best. These brushed metal flasks are lazer cut with the Saturday Down South logo. Both of these items are under $15 with the holiday discount, which make it a great Christmas gift or stocking stuffer.

If you grew up in a certain generation in the South, homemade spirits were just a part of life. These Clearly Southern Gameday Spirit and Southern Born and brewed shirts are short sleeve Comfort Colors shirt that feature the state of your choosing on the front left chest.

For the woman that cares as much about their team as the next guy, we have the long sleeve Saturday Down South Sweeper Jersey that has become all the rage on campuses in the SEC. These oversized, long sleeve shirts are 100% cotton and have the SDS logo from shoulder to shoulder across the back as well as on the left chest.
And finally, if you don't know this person you are buying a gift for well enough to know if they like pocket tees or hats, bourbon or beer, or even just what size they are, you can always buy them a digital gift card. These are emailed to the purchaser and can be forwarded to whomever you choose. (You could of course send them directly, but that would kinda ruin Christmas morning wouldn't it?
Make sure to purchase your gifts by Friday, December 19, 5:00 AM EST to receive by Christmas morning!
Happy Holidays!