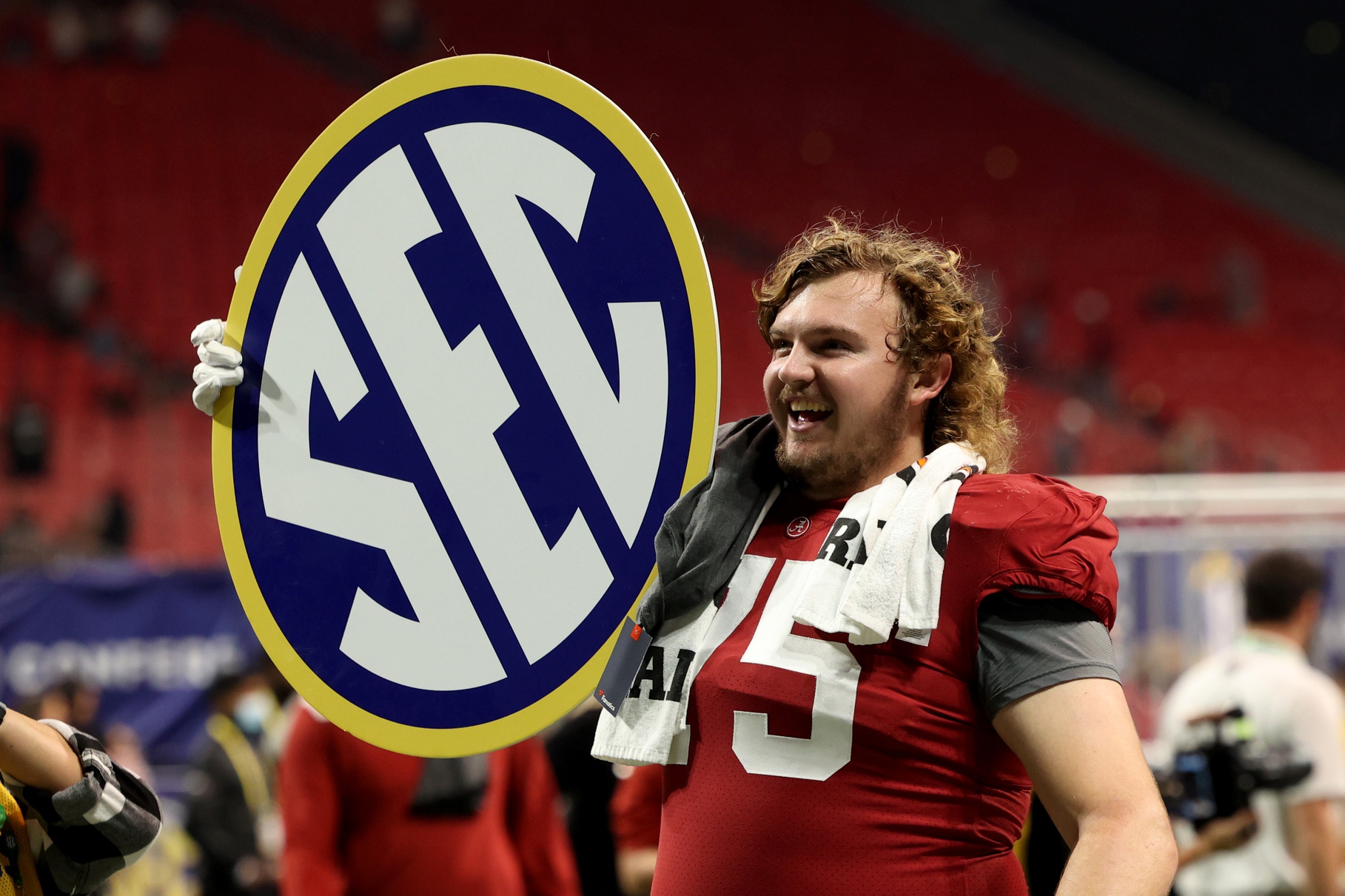 SEC
How I plan to vote at SEC Media Days
Wouldn't you like to know?
That's how I plan on answering every single person who asks me the question "hey, how do you plan on voting at SEC Media Days?"
Just kidding. That'd be rude. Also, I've had people ask me that question for months. It's about time that I made it official instead of just talking about how much of a crapshoot I think it'll be after 1st place in each division.
Let's dig into that, shall we?
How I'll pick the East
Georgia
Tennessee
Kentucky
South Carolina
Florida
Mizzou
Vanderbilt
How I'll pick the West
Alabama
Arkansas
Texas A&M
MSU
Ole Miss
LSU
Auburn
How I'll pick the SEC Championship
Alabama beats Georgia
Why will Tennessee and Arkansas finish in 2nd place in their respective divisions?
I figured we could start here because nobody — and I mean nobody — starts by asking me who I think will finish the season in Atlanta. It's Alabama, it's Georgia. I have no reason to pick against either team after they played for the SEC and national title last year. The fact that they return their starting quarterbacks only helps that argument.
Speaking of starting quarterbacks, I love me some Hendon Hooker and some KJ Jefferson. I think Bryce Young is the only SEC quarterback who is better than those 2, both of whom are top-10 quarterbacks nationally. They finished in the top 10 in quarterback rating and rushing yards by a Power 5 quarterback. Both give their teams that missing ingredient. While I like Hooker's pass-catching options better than Jefferson's, Arkansas could easily have the No. 1 rushing attack in the SEC again.
Speaking of missing ingredients, Drew Sanders has the ability to be just that for Arkansas. A program desperate for a pass-rusher should pair well with Bumper Pool and Jalen Catalon, both of whom surprisingly announced they were returning for another year in Barry Odom's defense. Arkansas got over the A&M hurdle to end that skid and played every divisional foe tough. That bodes well for a potential 5-3 or 6-2 mark in SEC play.
Tennessee's hurdle is the same as it has been for the past decade-plus. That is, the fact that it has Alabama, Florida and Georgia on the schedule. In the post-Phillip Fulmer era (dating to 2009), Tennessee is a combined 4-35 against those rivals. That includes a current losing streak that dates to 2016 when half of those wins happened in an 8-day stretch. Since that Oct. 1 win against Georgia — the Dobbs Nail Boot game — the Vols have lost 16 consecutive matchups against their 3 biggest rivals.
While I think the Vols have a legitimate chance to win 2 of those 3 games (Florida and Georgia), they could theoretically go 1-2 in those rivalry games and still earn a 5-3 SEC record to finish 2nd in the East. Going to Baton Rouge in Year 1 of the Brian Kelly era is much different from playing in Death Valley in the 2010s, and while a late-season game at South Carolina will be no picnic, Tennessee can light up the scoreboard against any non-Alabama defense it'll face (I think the Vols score a lot at Georgia).
It won't result in a trip to Atlanta, but Arkansas and Tennessee fans will end 2022 feeling encouraged about how their team hung tough in the SEC.
Bro … what's with the Mississippi State love?
Yes, predicting a team to finish 4th in the toughest division in the sport is indeed showing "love." MSU has 1 season with a winning record in SEC play in the 21st century, and I don't think it's crazy to say that this could be Year No. 2.
MSU returns more production than anyone in the SEC. Will Rogers returns the vast majority of his offensive weapons, though obviously the Bulldogs need to figure out how to keep him protected in a post-Charles Cross world. Year 3 of the Mike Leach offense should see another step up and perhaps a bit more consistency after 2021 was bookended with some maddening offensive droughts.
But even if the offense doesn't become a top-20 unit, my love for MSU stems from my belief in Zach Arnett's defense. It's easy to forget that group ranked No. 3 in the SEC against the run, and it would've been better against the pass had its pass-rushers stayed healthy. I think that's a different story this year. Jett Johnson will plug a bunch of holes at linebacker, and Emmanuel Forbes is ready to be a lockdown corner.
MSU has the experience to keep its head above water in the West and pull off another upset or 2 in divisional play.
So, not crazy about the first-year coaches, are ya?
Not this year.
While I love that Brian Kelly and Billy Napier recognized the need to dig into the transfer portal, I'm skeptical about how they can get to an 8- or 9-win regular season. What's the thing that they'll hang their hat on?
For LSU's defense, you could say that the pass rush will be the biggest weapon. Having BJ Ojulari and the promising Ali Gaye is a nice combination for new defensive coordinator Matt House. That'll make life easier on a new-look secondary, which is loaded with transfer portal pieces. And offensively, we know the receivers are in position to be the best in the SEC … if Kayshon Boutte plays a full season. Multiple ankle surgeries, questions about his relationship with Kelly and whether he'll mesh with a non-Max Johnson quarterback are all potential grenades to his 2022 season. It's not great that I have so many questions about a 6-win team's best returning player.
With Florida, my questions stem more from the lack of depth. Replacing Kaiir Elam and Zachary Carter will be a significant challenge, though obviously returning a healthy Ventrell Miller should solidify the middle of that defense. Florida should have one of the better ground games in the SEC, but outside of that, I worry about dealing with Anthony Richardson's mistakes in the passing game. Napier's priority No. 1 is coaching that out of Richardson, which could certainly happen. But even if he cuts down on the interceptions, do I think he's about to lead an above-average passing game? Not with Florida's lack of proven pass-catchers.
Predicting that LSU and Florida will finish in the bottom half of the division doesn't mean I'm out on Kelly and Napier. In fact, history tells us that Year 1 records are vastly overblown. I just tend to think that both are more in the 6- or 7-win range in 2022.
If Auburn finishes last in the West, is Bryan Harsin out of a job?
Short answer? Yes.
Long answer? There are so many unknowns with this Auburn team. It seemed like they lost a defensive lineman every day for 3 months, the offensive line doesn't look like it's anything to write home about, the lack of receivers who can separate is troubling and the quarterback situation is one of the worst in the SEC.
The good news for Auburn and specifically Harsin is those reasons are why expectations will be low. The margin for error in the SEC West is small, and in a division full of teams looking like they got better in the offseason, Auburn is going to get the short end of the stick. That's what happens when you finish the season on a 5-game losing streak.
There's a path for Harsin to go 8-4 with a couple of "how do you like me now" wins to keep his bosses happy (I call those "Toby Keith games"). Am I predicting that? No, not with the questions at quarterback and the gauntlet that awaits.
When can we see a full breakdown of this?
I'm glad you asked.
I pick every single game an SEC team plays this year. Our Crystal Ball series will launch on Aug. 15. I'll give a breakdown for every game that's played and explain why I picked the way I did. Barring significant injuries in the next month, I won't be changing my order of finish in either division. Or if I'll do, I'll make sure I offer up a detailed explanation.
Until then, well, feel free to call me an idiot.