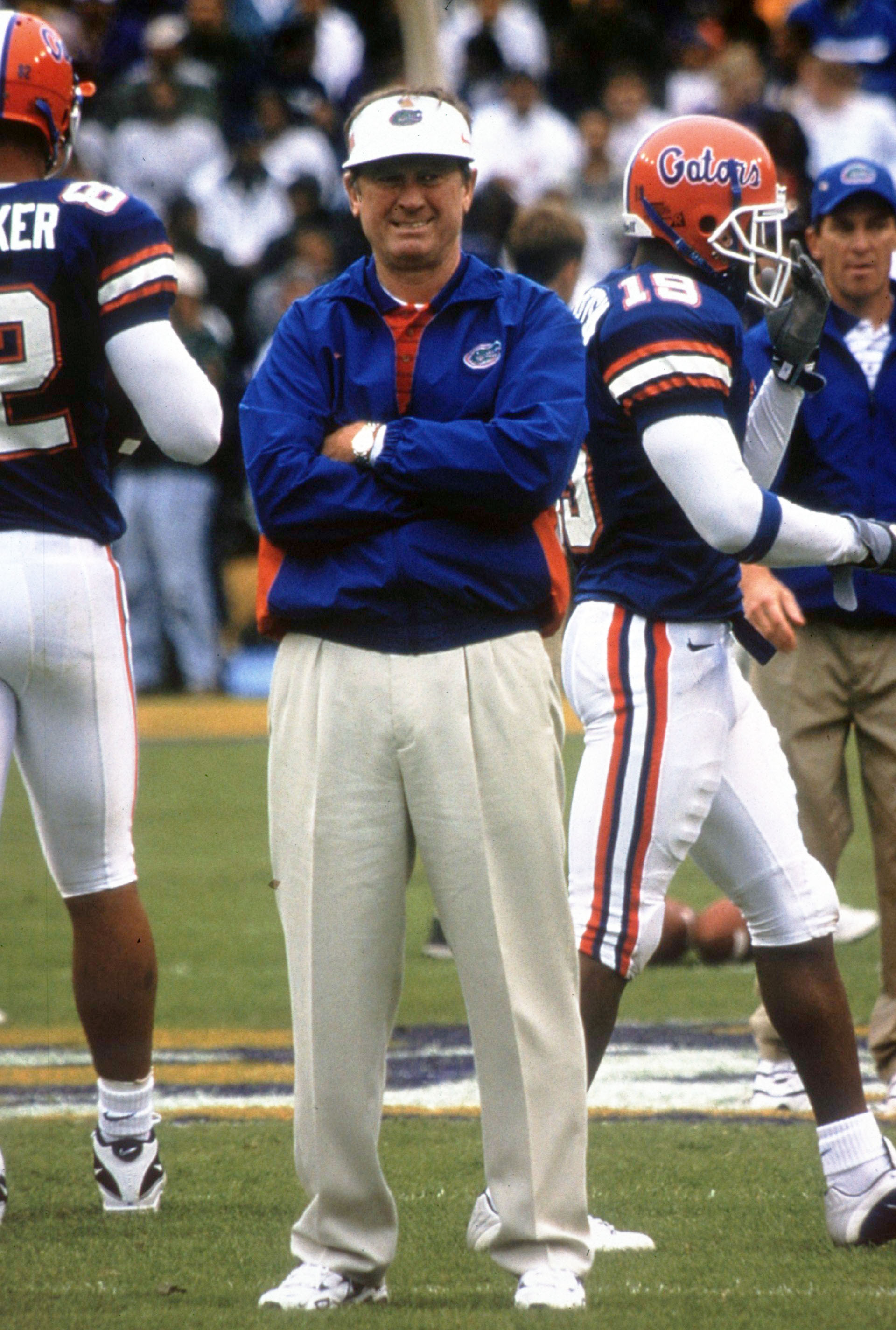 SEC
How is Steve Spurrier received in his East Tennessee hometown?
On June 9, the University of Florida honored its greatest living football figure, Steve Spurrier, by naming the playing field after him.
The Gators will now play at the somewhat wordy "Steve Spurrier-Florida Field at Ben Hill Griffin Stadium," making Spurrier the sixth coach to have a Southeastern Conference stadium (or field) named after him.
But Florida is a little late, for the Gators' field will be just the third one named after Spurrier.
Back in Spurrier's hometown of Johnson City, Tenn., Science Hill High School named both the field at their former home, Roosevelt Memorial Stadium, and the one at the current yard, Kermit Tipton Stadium, after their most luminary athletic figure.
It seems like a typically worthy gesture from the Hilltoppers. Heisman Trophy winners don't grow on trees.
But because Johnson City is 100 miles north of Knoxville and in the heart of Vols country, the gesture wasn't universally received as positive by the locals.
"It's the comments through the years. He's so anti-Vol," said Pam Verran, the office manager at the Johnson City Best Western when asked why Spurrier can be a polarizing figure in his hometown.
Still, she's somewhat respectful of the hometown … hero.
"You can't take away from him (that) he's a fabulous coach."
The Johnson City Best Western was once owned by Rocky Stump, who went to Science Hill with Spurrier. During the years the Head Ball Coach coached at South Carolina, Stump kept a Gamecocks visor in his office.
Which explains the dichotomy of Spurrier's popularity in his hometown. To a certain generation of Johnson Citians, Spurrier is one of them. They went to school with him, played ball with him, cheered for him, maybe even heard a sermon from his father, Graham Spurrier, who was the minister at Calvary Presbyterian Church.
But to a younger generation in Johnson City, no matter what Spurrier did, like telling the media he was "a Gator, and a Hilltopper!" at the first naming ceremony or delightedly referencing Kiwanis Park prior to the 1996 Fiesta Bowl telecast on CBS, Spurrier is a villain.
To them, Spurrier is a Muhammad Ali-type character. Never mind the fact Tennessee was running the single wing when Spurrier was being recruited or that he was born in Florida, choosing to play for the Gators instead of the Vols more than a half-century ago was sacrilege.
Heck, Spurrier was shunning Tennessee for Florida before Doug Dickey did!
Now move a generation forward in time to Spurrier's coaching career at Florida. Throw in his famous one-liners that Verran touched upon, such as "You can't spell Citrus without U-T." Back it up by beating Tennessee in seven of eight seasons at one point, and Spurrier made the Volunteers seem very Joe Frazier.
High school athletic accomplishments aren't recorded as well as professional or college ones and are played against lesser competition. While a younger fan can have a bond with an athlete of a previous generation through watching video, looking up statistics and reading and listening to stories, these things are not easily attained from a high school career.
So even in a place like Johnson City, where high school sports are such a big deal that FCS East Tennessee State University actually plays football and basketball on the Science Hill campus, there isn't going to be a bond to high school accomplishments unless you were a part of them.
Sonny Heiges, who owns "The Cottage," a venerable restaurant-bar that opened not far from Spurrier's boyhood home a year after he moved to town in 1957, is one of those people. His clientele is older — in fact Steve's big brother Graham III usually stops by on Wednesday nights — and Heiges rejoices in telling the forgotten pieces of local sports lore that might be a bit embellished, but still fun to hear.
"Steve was undefeated as a baseball pitcher at Science Hill."
In fact, the Head Ball Coach's favorite memories of his prep athletic career are not necessarily on the gridiron, but the pitcher's mound.
"His dad coached him and never was an adage of the line 'it's not whether you win or lose but how you play the game.'"
A somewhat surprising youth coaching philosophy coming from a minister, but knowing his father coached his sons this way at an early age is a window into Spurrier's competitive spirit.
"Nobody around here had ever seen anyone dribble behind his back before Steve came to town."
One can be a bit skeptical of this claim considering the New York Celtics made an appearance in Johnson City in 1941. Still, it's not unheard of for locals to bring up the fact Spurrier was offered a basketball scholarship by Tennessee men's basketball coach Ray Mears.
"I think I made the right choice," Spurrier told me in 2002, confirming the obvious.
The Cottage's clientele is a bit older, and at one time Heiges hung an autographed picture of Spurrier up at the bar among all the Volunteers memorabilia in the establishment.
But the picture hasn't been up for public display for some time.
Heiges, wearing a bright orange Tennessee shirt, insists this isn't some sort of ploy to attract younger patrons, or to appease petty Vols fans.
"No, the picture was from his days with the Redskins," he says, fetching it from the back for Saturday Down South to photograph. "I just never got a South Carolina picture."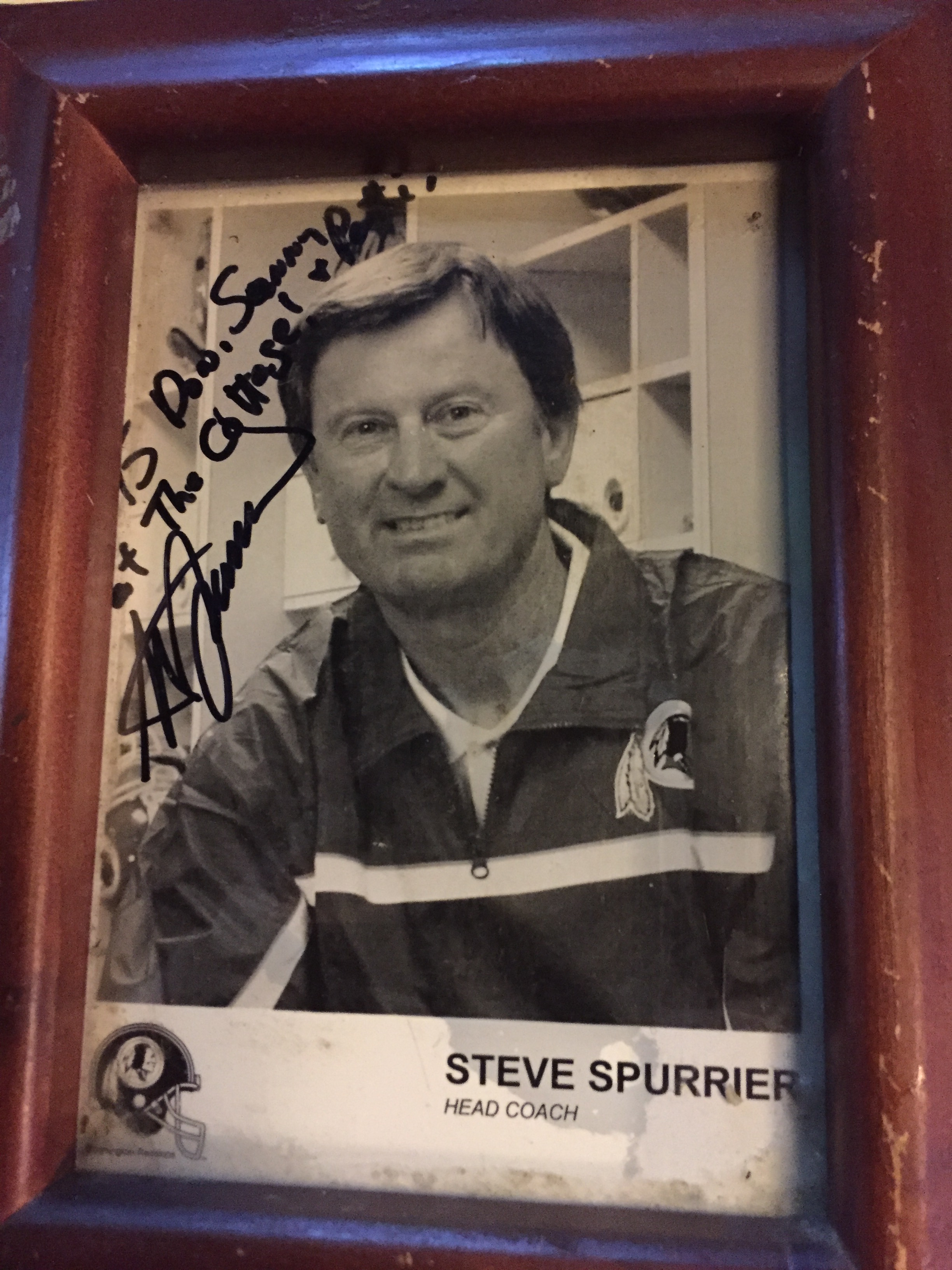 Which probably pleased the regular caller to Bill Meade's "Sportsline" talk show, a local institution for the past 26 years, who went by the handle "Anti-Gamecock." Prior to that, he was "Anti-Gator."
Or the message board poster on this old thread dealing with the events of the Hilltoppers' move from their old stadium to their new on-campus one.
"Steve Spurrier is a punk-assed baby that wouldn't dare show is weaselly (sic) face in this town," wrote "Spurrier Spanker."
"People here don't like him, in case you hadn't heard."
It's a shame "Spurrier Spanker" wasn't at The Cottage the day Spurrier came back to see family and friends several years ago. The Head Ball Coach found a booth, held court and won over everyone in the house.
Maybe "Spurrier Spanker" could have even been included in the list of old Johnson City friends whom Graham and Steve got sideline passes for at Neyland Stadium whenever one of his teams played in Knoxville.
Of course, those passes were for the visitor's side of the field.
The Florida-Tennessee rivalry is many things. Influential. One-sided. Passionate.
But if you wish to find its roots, they're not in Gainesville or Knoxville.
They're in Johnson City.