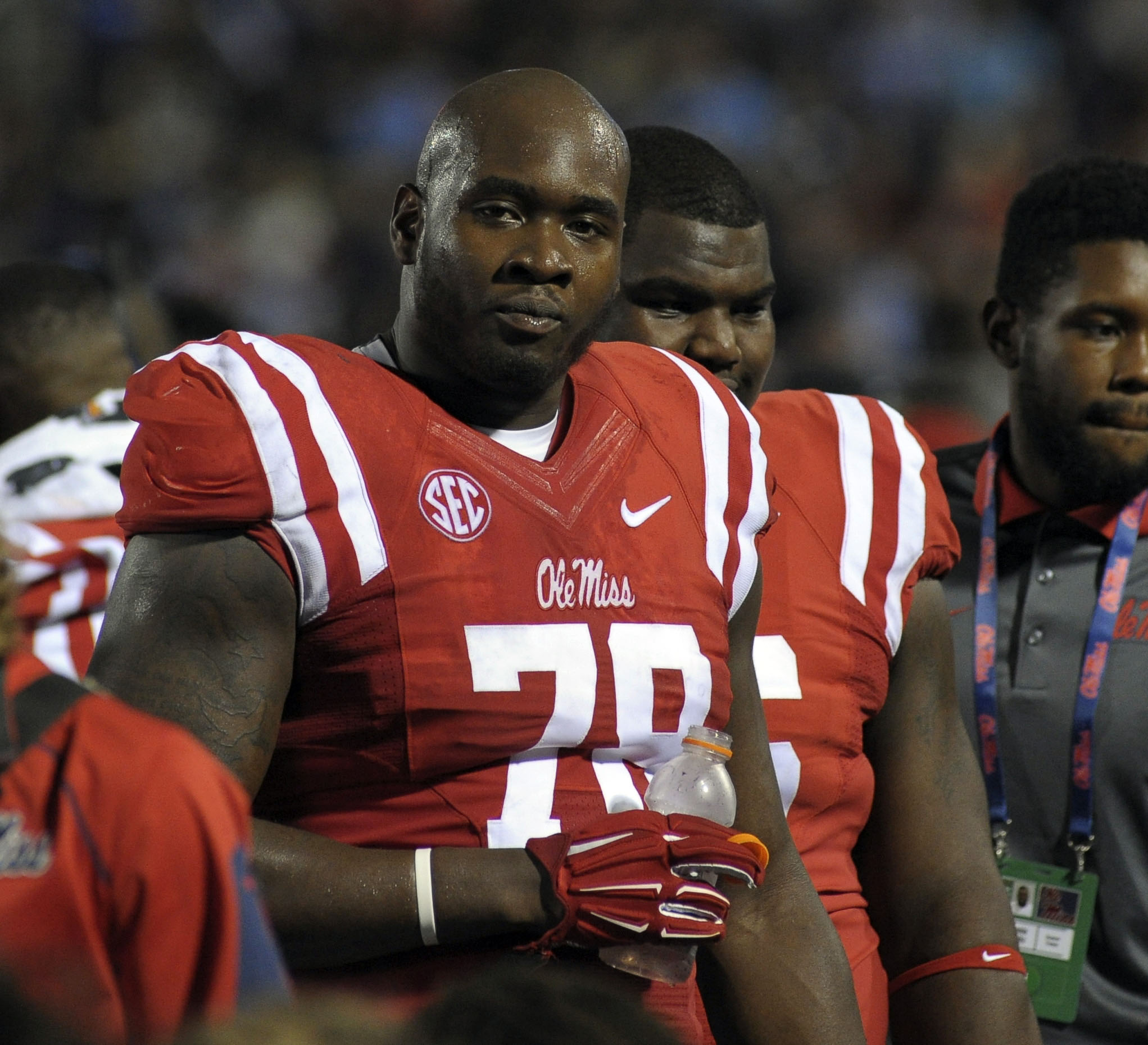 SEC
How the NCAA should handle Laremy Tunsil, Ole Miss
Ole Miss' late afternoon holiday weekend news dump was classic PR play-calling.
About as surprising as, say, LSU handing off to Leonard Fournette on third-and-whatever.
RELATED: Hugh Freeze reacts to allegations, self-imposed sanctions
Rather than get worked up about what was in the Notice of Allegations (NOA) or the manner in which Ole Miss released it Friday, it's better to focus on what wasn't part of this NCAA investigation. ("This" being the operative word because there will be another.)
Laremy Tunsil's NFL Draft nightmare and the bigger issue of impermissible benefits.
Ole Miss received the NOA in January, three months before Tunsil's damaging video and text messages requesting cash were released. The NOA Ole Miss released Friday related to previous transgressions, including some tied to Tunsil. The details make for some interesting reading if you haven't been following along, but as bombshells go, there weren't many.
ICYMI | Here are the 28 violations against Ole Miss: https://t.co/C8Ja7nD8tY

— Daniel Paulling (@DanielPaulling) May 28, 2016
After Tunsil's draft-night text messages were made public, much was made about the measly dollar amount requested — $305 to help mom pay the light bill.
As if that were the only time an Ole Miss player had his hand out.
The NOA pretty plainly put that illogical thinking to rest with charges that players accepted numerous impermissible benefits, from lodging to loaner cars.
Regardless, it's minor stuff in the grand scheme of the billion-dollar goliath that is college athletics, but still bulletin-board material if you're a fan of a rival school.
The NCAA's problem with punishing impermissible benefits cases like this is figuring out where to set the bar. These benefits occur at a lot of places, and even more schools are accused of it.
Sally Jenkins, an award-winning columnist with the Washington Post, blames the NCAA and its restrictions against paying athletes for creating this mess. Soon after the latest Tunsil saga, Jenkins wrote that the NCAA's rules have created a black market for college athletes.
She basically concludes that it's already a free market among the power schools and best players and "to formalize it would be healthy, not unhealthy."
It's impossible to argue the handouts aren't happening regularly.
It's also impossible to argue that the NCAA catches everybody or even punishes those they do catch equally. It's a flawed system at best, unfair at worst.
Miami's football program was hit hard by the Nelvin Shapiro scandal. Yahoo! Sports reported Shapiro reported impermissible benefits to 72 players. Those numbers seemed too large to ignore. Miami self-imposed two bowl bans, and the NCAA tacked on the loss of scholarships.
The NCAA punished UNC's football program after players accepted impermissible benefits totaling more than $31,000 from an agent. UNC suspended and ultimately dismissed basketball player P.J. Hairston after it discovered he accepted multiple loaner cars provided by Haydn "Fats" Thomas, a felon.
Just months before helping Duke win the 2010 NCAA championship, former basketball player Lance Thomas somehow gave a New York jeweler a $30,000 downpayment for a piece of custom jewelry. Thomas was sued after failing to pay the $67,000 balance, which is how everybody found out about the loan.
The questions about how Thomas, a college senior, procured such a huge loan were loud, obvious and ultimately unanswered. Neither Thomas nor the jeweler spoke to the NCAA, so there was no way to prove wrongdoing.
The NCAA and Duke quickly considered the case closed.
That isn't a bad way to go about these types of things, actually, especially with so many far more important issues facing college sports. In fact, it wouldn't bother me if the NCAA spent every second it had policing serious matters such as sexual misconduct and considered every impermissible case closed.
It certainly wouldn't be the first time the NCAA yo-yoed on a nonsensical no-no. Not long ago, they hammered Indiana basketball and coach Kelvin Sampson for sending too many text messages to recruits. Now? Coaches can send as many as they'd like.
Loaner car? Light bill? Have at it, boys. As Jenkins correctly pointed out, they already are.
Chris Wright is Executive Editor at SaturdayDownSouth.com. Email him at cwright@saturdaydownsouth.com.