SEC
How the BCS rankings would have compared to this week's College Football Playoff rankings
College football switched from the Bowl Championship Series (BCS) to College Football Playoff in 2014, but many fans are still curious to see how the BCS formula's rankings compare to the CFP selection committee's Top 25.
BCSKnowHow.com provides that service. This week, the site's Twitter account shared how the simulated BCS would compare to the first CFP poll of 2020, crunching the numbers with the Associated Press Top 25, Coaches Poll and four of the BCS computers: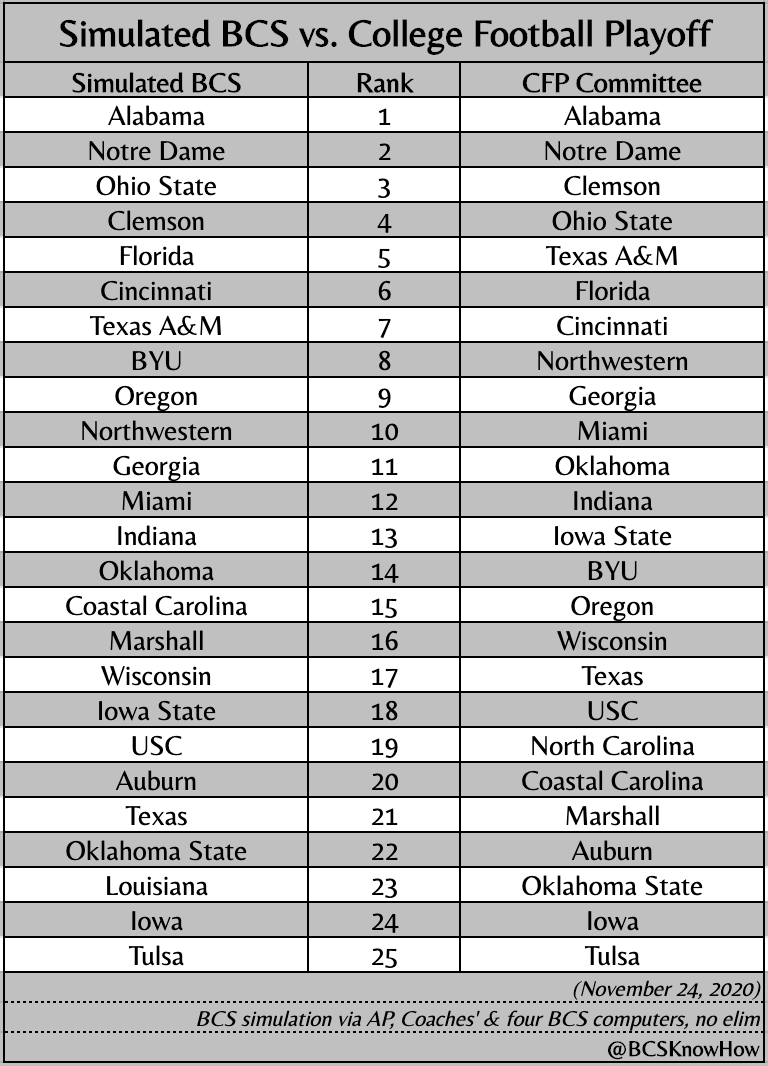 For those wondering, BCSKnowHow.com did the math to see which teams were favored by more the BCS and which were favored more by the committee.
Most favored by the #BCS:
BYU, Oregon (+6 spots)
Coastal Carolina, Marshall (+5)

Most favored by the @CFBPlayoff:
North Carolina (+7 spots)
Iowa State (+5)
Texas (+4)
Oklahoma (+3)

— BCSKnowHow.com (@BCSKnowHow) November 25, 2020
While the group of teams tweeted above did not include any teams from the SEC, but that's not to say there weren't notable differences with multiple conference teams.
As you can see in the side-by-side graphic, the BCS formula is more favorable for Florida (No. 5 instead of No. 6)  and Auburn (No. 20 instead of No. 22) while the selection committee is higher on Texas A&M (No. 5 instead of No. 7) and Georgia (No. 9 instead of No. 11).
Both polls have Alabama at No. 1 overall with Notre Dame at No. 2.