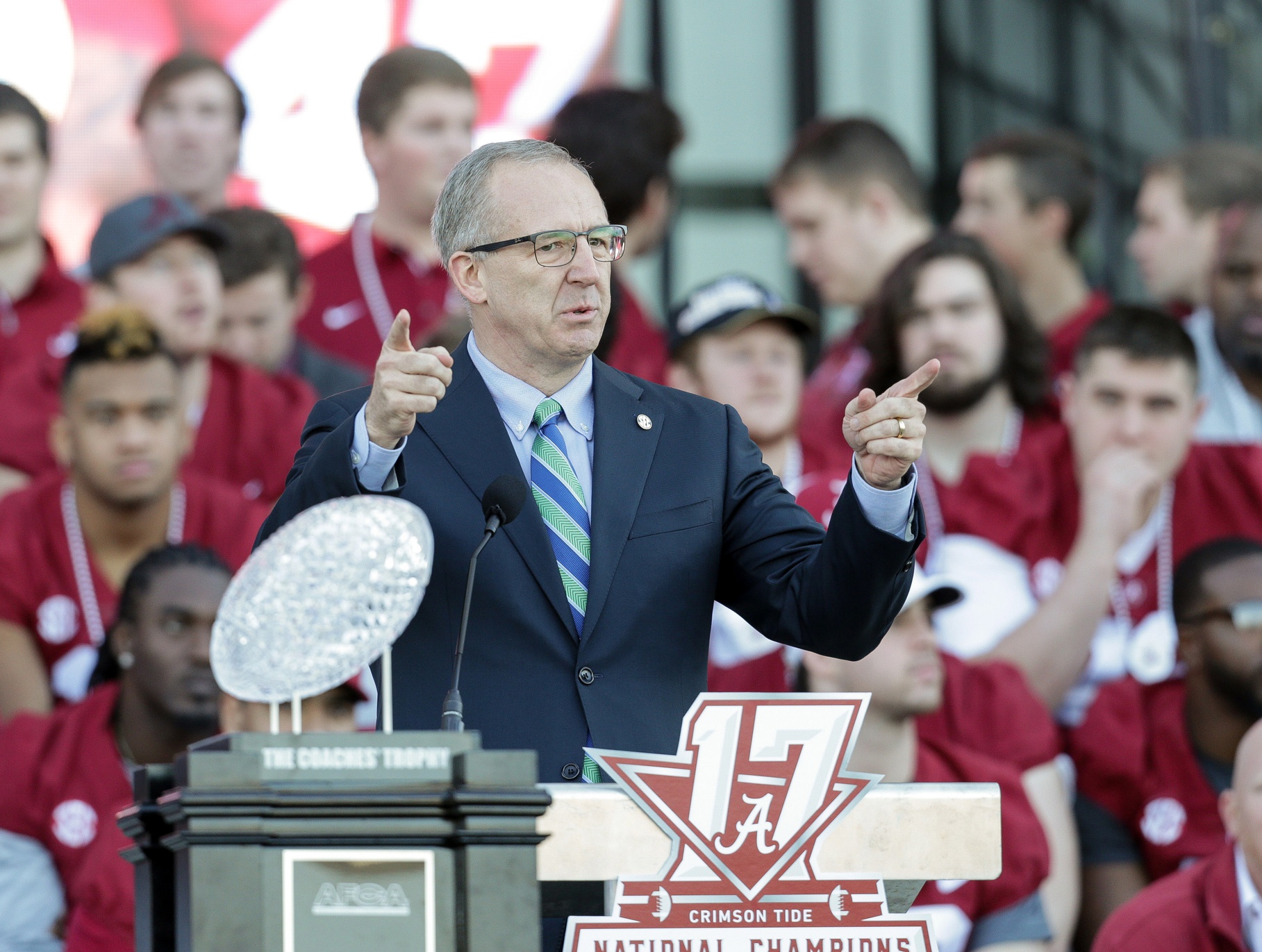 SEC
A separate SEC Playoff? I'm skeptical about what that could yield
On Monday afternoon, Greg Sankey continued the mission that he's been on for the past 4 1/2 months.
That is, tell the world that the SEC is content to take its ball and go home.
ESPN's Pete Thamel reported that the SEC will discuss the idea of creating its own College Football Playoff when it meets in Destin next week.
That came on the heels of multiple instances in which Sankey outlined that the SEC is not going to give into Playoff expansion at all costs. That was in response to The Alliance, AKA the Pac-12, ACC and Big Ten, voting against Playoff expansion last January when the proposed 12-team model had initial support from the Power 5 conferences, including the SEC.
"We can stay at 4. This conference will thrive at 4 … period," Sankey said earlier in the month per Nubyjas Wilborn with AL.com. "That's not healthy for the rest of college football, but we can stay at 4."
Sankey said in January that he felt that the other Power 5 commissioners didn't take him seriously when he said that they could stay at 4. After all, he's the conference commissioner who watched his teams win the past 3 national titles and 5 of the 8 in this current 4-team format. That's leverage in itself.
But now, as Thamel reported, Sankey has more leverage by floating this notion of an intra-SEC Playoff once the current 4-team Playoff contract runs out after the 2025 season (Oklahoma and Texas are set to join the SEC at the start of the 2025 season).
Would it be a ratings bonanza? There's no doubt. You could tell SEC fans that their programs were playing "Rock, Paper, Scissors" and they'd treat it like Game 7 of the World Series.
(Actually, let me file that idea away. I'd watch that, too.)
That's not really the issue, though. It's not just about eyeballs or what that TV contract would be. To use Sankey's words, would it be healthy for the rest of college football to have the SEC playing in a separate Playoff? No chance.
And to be clear, I'm referring to a system in which there would be an SEC champion and a non-SEC champion that would not meet. If those parties meet, that's really not different than the current system. The SEC champion made it to the national championship in the past 7 years. Shoot, if we want to take it back even further, the SEC champ made it to the national championship 15 of the past 16 years.
In a separate Playoff system, we're essentially regressing to a pre-BCS world in which we'd crown multiple national championship winners. Instead of getting more clarity about the real champion, we'd get more debate about whether the non-SEC champ could've beaten the SEC champ. The sport hasn't had a split national champ since 2003, but at least that had a true national championship game between LSU and Oklahoma.
This system would create that 1997 scenario all over again. The fans didn't benefit from having Michigan and Nebraska not play for a national title. It felt like we were deprived something just because we didn't have the right system in place.
That's what it would feel like to watch the SEC conduct its own Playoff.
Besides, the SEC's biggest flex in the past 16 years is how much it dominated other conferences. In the Playoff era alone, the SEC is 12-3 in those games, excluding the all-SEC matchups. The SEC hasn't lost a Playoff game to a team outside of the conference since the Alabama-Clemson title game at the end of the 2018 season. Sure, maybe that scenario would change in an expanded field. You'd have more potential variance. But the SEC would still be set up to dominate in an expanded field, perhaps even more with Oklahoma and Texas joining the conference.
At the same time, Sankey is wise to float out this possibility. There's a reason this leaked before the SEC meetings in Destin. Shoot, Sankey himself quote-tweeted Thamel's report (Peter Burns quote-tweeted Thamel).
For the record…we haven't had an SEC Spring Meeting since 2019…which is a long, long time… https://t.co/Al3KrIDBpj

— Greg Sankey (@GregSankey) May 23, 2022
It's a power move. Do I think Sankey now prefers this model? No, but at the same time, this is about negotiating.
This is about not giving into The Alliance's demands that an expanded Playoff include automatic qualifiers for the Power 5 champions, as well as the highest-ranked Group of 5 conference champion. It's about not bending over backward to appease the Rose Bowl's desired New Year's Day time slot.
Sankey is right to stand his ground. We have 16 seasons worth of data to show us that not all conferences are created equally. Why should the Pac-12 champion have the same reward as the SEC champion when we've now gone 5 years without seeing the former even make the 4-team Playoff?
But at the same time, the SEC is its best version of itself because it gets to flex in the postseason. It already appears that we're heading into an era wherein The Alliance will only play Power 5 nonconference games amongst each other (sort of). As non-Playoff bowls decrease in national relevance, a Playoff with all conferences eligible could be the only real measuring stick left.
Take this year for example. What if Ohio State went 13-0 in the regular season and then won 2 games in a Playoff that excluded the SEC while Alabama did the same thing, but it won 2 games in a Playoff that was SEC-only? Imagine not getting to watch that matchup to decide a champion. As fun as a potential SEC Playoff would be, that would still feel like an incomplete season.
Besides, the SEC regular season already has a Playoff-like feel to it. Not to be the "it would diminish the regular season" guy, but you can't tell me that LSU-Alabama would have the same juice in November if we knew they were both making an 8-team SEC Playoff.
Sankey and the SEC athletic directors have an important next move to make. Their final decision — which likely won't be settled on in Destin — could be what determines if we get an expanded Playoff when the current contract ends in 2025. Remember that the vote among the 10 FBS conferences and Notre Dame doesn't have to be unanimous, but it does need to meet the following requirements (via Ross Dellenger):
3 Power 5 conferences vote in favor of expansion
Agreed upon by summer/fall of 2024
The clock is ticking on the future of the sport. It appears there's more division than ever within the Power 5. There is no obvious solution, which is perhaps why this all-SEC Playoff idea is on the table. It sounds like something that came from a message board.
Could it come to life in a few years? Anything is possible.
Here's hoping there's a more inclusive resolution.