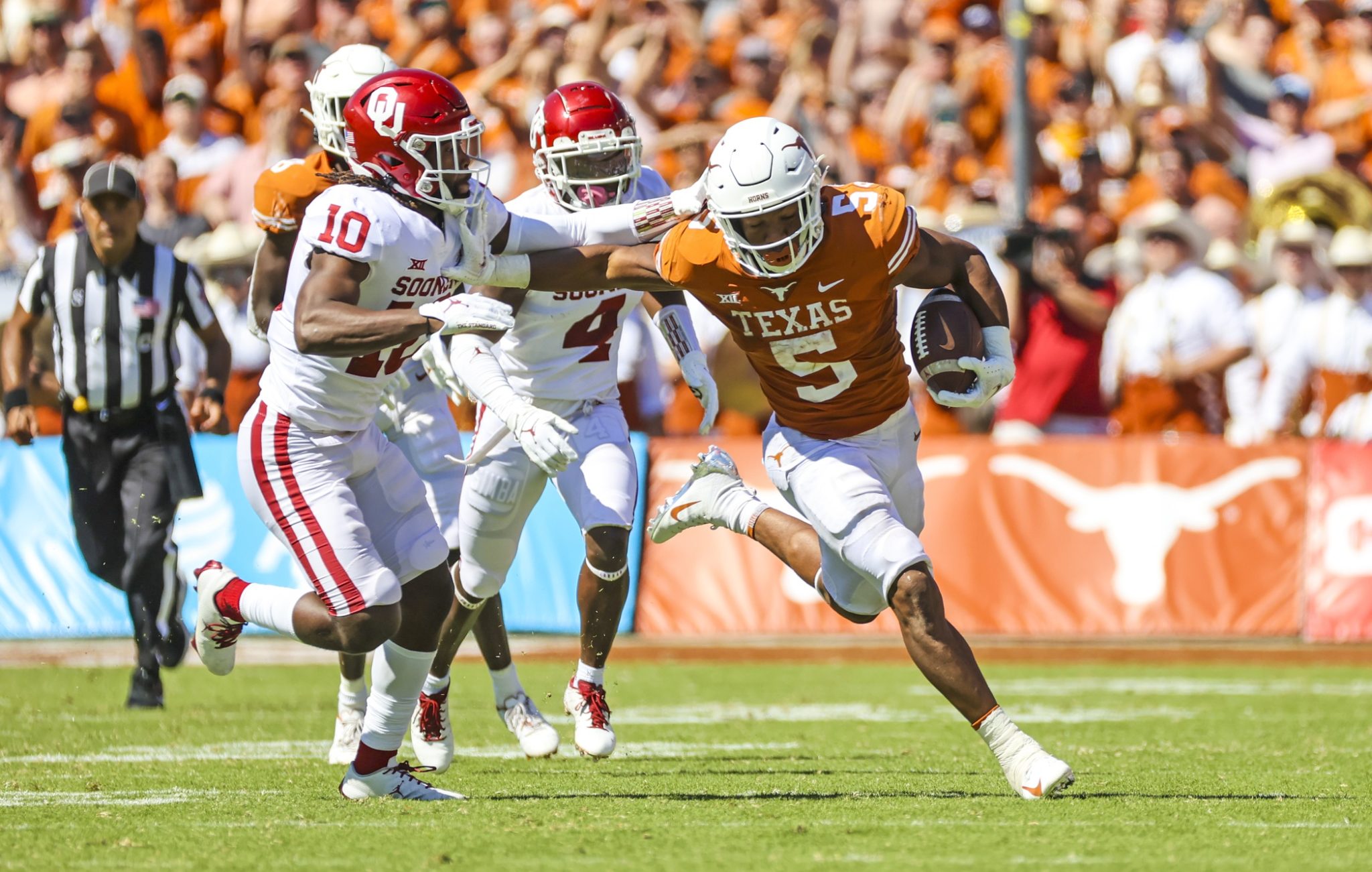 SEC
If Texas and Oklahoma join the SEC in 2023, here are 7 things that would be impacted
The cause and effect of conference realignment is back and better than ever.
Of course, last summer when Oklahoma and Texas stunned the college football world with their move to the SEC, The Alliance happened in an effort to not be bullied by the SEC with future big-picture negotiations. Instead of seeing the Playoff expand from 4 to 12 teams, The Alliance nixed that possibility for the near future.
On Tuesday, Action Network's Brett McMurphy reported another potentially significant cause and effect. The Big 12 could be adding Cincinnati, Houston and UCF as soon as 2023 if they can reach a settlement to leave the AAC.
Cincinnati, Houston & UCF negotiating $17-$20 million settlement to join Big 12 next year, sources told @ActionNetworkHQ. AAC commish Mike Aresco initially sought $35 million from the schools. Also, buyout info on teams leaving C-USA for AAC & Sun Belt https://t.co/WWH2yGIXAJ

— Brett McMurphy (@Brett_McMurphy) May 3, 2022
Remember, independent BYU is also set to join the Big 12 in 2023.
It's possible that Oklahoma and Texas stay in the Big 12 through the 2024 season, as is currently scheduled per their agreement. The Big 12 would just have a strange, 2-year scheduling model that would need to be changed immediately after Oklahoma and Texas head to the SEC after the 2024 season. If that's the scenario, the Big 12 would have 14 teams in 2023 and 2024.
But what's also possible is the new Big 12 is born. Oklahoma and Texas could negotiate buyouts with the Big 12, and we could see both teams enter the SEC in 2023.
If that scenario plays out, here are 7 impacts of that.
1. The Texas-Alabama game in 2023 would be __________.
I'm guessing it would still be played, but it would be treated as a nonconference game. Canceling it doesn't make sense because by then, Alabama will have already played against Texas; they meet in Week 2 this season. We don't know what future divisions would look like, so there is the possibility that this matchup would be played as a conference game. But it was scheduled as a home-and-home nonconference series, so any tweak on that would go against the contract that both teams agreed on.
In all likelihood, we'll get Nick Saban vs. Steve Sarkisian Part II. Depending on how much hype Texas has entering 2023 — my guess is top-10 buzz — it'll be Sark's highly anticipated return to Tuscaloosa.
2. The Oklahoma-Georgia game in 2023 would be __________.
Potentially canceled. You see, this series is different because unlike Texas-Alabama, 2023 is the beginning of the series. Alternatively, you could also treat this series as a nonconference matchup. Where it gets messy is if Oklahoma and Georgia are in the same pod/division. Geographically, that doesn't make sense, but hey, Mizzou spent a decade in the SEC East so how much does that really matter?
The 2017 Rose Bowl rematch is scheduled to be played in Norman in 2023. But interestingly, it isn't set to return to Georgia for the other half of the home-and-home until 2031. That might mean both matchups are treated as nonconference games if they're played at all.
Also keep in mind that Oklahoma is set to face Tennessee in 2024. The Josh Heupel Bowl could also keep its nonconference tag and be played as scheduled. Remember that we still don't know how many conference games the SEC would play when Oklahoma and Texas join the league. If that number stays at 8, we'd see Oklahoma and Texas have to add another nonconference matchup to their future schedules for as early as 2023 (they currently play a 9-game conference slate in the Big 12).
3. An A&M-Texas matchup would finally be on the calendar
Speaking of juicy matchups, A&M and Texas will finally be forced back into a matchup. Divisions would dictate how soon that matchup would be. We don't know if A&M and Texas would face each other in an annual crossover. It could be Oklahoma and Texas that get the annual crossover.
Either way, A&M and Texas could end the petty war of words and actually play again at some point. Even if it isn't an annual matchup — what a disappointment that would be — they could still face each other at least twice per decade. That's better than going potentially 12 years between matchups like they're currently set to do.
A 2023 matchup would be ideal, especially with the timing for both programs. We know that A&M just signed a historic recruiting class in 2022. In all likelihood, the Aggies will have a true championship window in 2023-24. Texas, on the other hand, could enter 2023 with its best preseason ranking since 2010 … when a No. 5 ranking turned into a 5-win season. But 2023, with Quinn Ewers in his pre-draft season, would have a different feel than 2010 when Texas was fresh off a national runner-up season.
Speaking of Ewers …
4. Welcome to the SEC, Quinn Ewers
I know, I know. I need to slow my roll on the Ewers hype train. I can't keep drooling any time I watch him effortlessly sling it 60 yards. The fact that I listed Ewers as my favorite Heisman bet at 40-to-1 suggests I'm all in on the country's highest-rated quarterback recruit since Vince Young.
But Ewers joining the SEC ahead of his pre-draft season would be fantastic entertainment. If he looks the part in 2022, he'd get off-the-charts hype coming into the SEC in 2023. Ewers could evolve into a villain of sorts, in part because he's Texas' best shot at national relevance in the SEC, and also because his NIL earnings could be through the roof by then (he already reportedly earned north of a million dollars at Ohio State before he left for Texas).
Something tells me the mullet-rocking prized signal-caller could become a polarizing SEC figure in a hurry.
5. The Arch Manning factor
Where will Arch end up? That's perhaps as intriguing of a question as any in 2023. Texas, Alabama, Georgia and Ole Miss all appear to be significantly in the mix with others like Clemson, Florida, LSU and Virginia also vying for the 2023 quarterback's services.
If we found out in the next month that Oklahoma and Texas negotiated a buyout and they were set to join the SEC in 2023, would that impact Manning's decision either way? It could. If there's skepticism about joining the league that his uncles and grandpa once dominated, that could theoretically push Manning to a place like Clemson or Virginia.
Alternatively, Texas' move to the SEC could turn it into an all-SEC battle. For all we know, Manning wants to play in the conference that he grew up watching and Texas' current spot in the Big 12 is the only thing working against the Longhorns (another thing working against the Longhorns could be that they haven't had an offensive player drafted in Round 1 since Vince Young in 2006). If Texas doesn't join the SEC until 2025, Manning could play his first 2 years against Big 12 defenses.
Or, I guess, this could all be totally irrelevant and Manning won't consider conference affiliation at all. Manning spending anywhere from 1-3 years in the SEC seems most likely.
6. Etch the NFL Draft streak in stone
I mean, 16 consecutive years of NFL Draft dominance won't stop by adding Oklahoma and Texas even though the Longhorns somehow got skunked in 2022. Sarkisian will change that. Well, I suppose he doesn't have to. The SEC has 8 consecutive years of 50-plus NFL Draft picks while no other conference reached that feat during that stretch.
If Oklahoma and Texas join the SEC next year, it might not be fair to even consider NFL Draft records anymore. The SEC's total mark of 65 will inevitably be shattered, as will the SEC's first round feat of 15 players selected in 2020.
If you're doubting that, remember the caliber of head coach we're talking about here. Sarkisian is the guy who had 9 offensive players picked in the first round in his 2 years at Alabama. Brent Venables is the guy who had 24 defensive players drafted at Clemson from 2015-22. Sure, that was as assistants, but both coaches had total autonomy on their respective sides of the ball, and they were both worthy of being considered top assistants in the sport. Hence, why they got their current big-time jobs.
So yeah, expect the SEC to force the college football world to stop even tracking the draft picks by conference because it won't be a fair fight (not that it is now).
7. If the 4-team Playoff remained through 2025, we'd have 3 years in which the SEC would deserve half the field
There's some pushback on this notion, but there shouldn't be, and here's why. The "SEC bias" narrative has been proven wrong in the Playoff era. The SEC's record in Playoff games — excluding SEC vs. SEC matchups — is 12-3. On top of that, the league won 5 of the 8 titles. Twice it put 2 teams in the field, and in those years the SEC went 4-0 in semifinal matchups. There's no debate about conference supremacy during the Playoff era.
Mind you, that was before this Oklahoma-Texas move. Those 2 teams won 6 of the last 7 Big 12 Championships and earned a Playoff berth on 4 of those occasions (I realize Texas contributed as much as you and I contributed to that total).
In other words, the SEC deserves to have 2 spots until the field expands. The irony is that The Alliance blocked Playoff expansion so that the SEC wouldn't have the possibility of putting 4-5 teams in a 12-team field. At least in that scenario, the majority of the field is non-SEC teams. If the SEC adds Oklahoma and Texas in 2023 and the Playoff remains at 4 through the 2025 season, we could easily see the SEC have 2-team bids every year, which would essentially mean that only 2 non-SEC spots would be available.
I guess that wouldn't be much of a change at all.