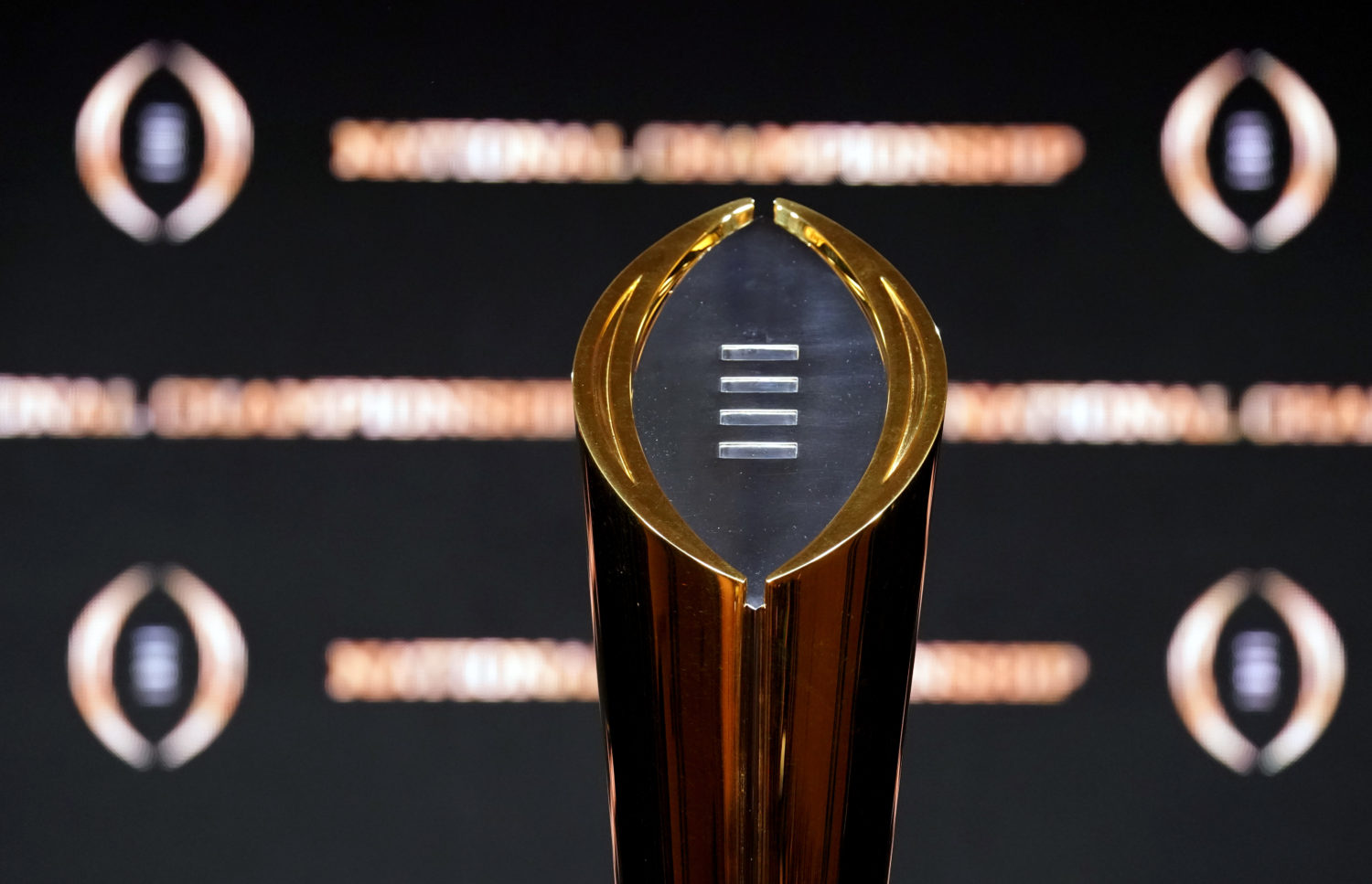 SEC
Is it possible that Playoff expansion doesn't even happen in 2026? It's starting to feel like a real possibility
When Greg Sankey speaks, it's best to listen.
When the SEC commissioner spoke about stalled Playoff expansion talks at the Alabama Sports Hall of Fame museum on Monday, the college football world should've listened.
"We can stay at 4. This conference will thrive at 4 … period," Sankey said per Nubyjas Wilborn with AL.com. "That's not healthy for the rest of college football, but we can stay at 4."
Facts.
No longer will the Playoff expand to 12 teams before the 4-team Playoff contract runs out at the end of the 2025 season. The Alliance, AKA the leaders of the ACC, Big Ten and Pac-12 who looked each other in the eyes and agreed to walk stride for stride with one another moving forward, nixed that once favorable possibility. Why? Well, it certainly felt like a petty reaction to the SEC pulling off a heist to lure Oklahoma and Texas away from the Big 12.
The 4-team contract could've only been ripped up if the 10 FBS conferences and Notre Dame supported the move. The vote in January had to be unanimous, and it wasn't. It was only an 8-3 vote in favor of expansion with the 3 opposed being The Alliance.
In order for that to change after the 2025 season, the vote doesn't need to be unanimous, but it does need to meet the following requirements (via Ross Dellenger):
3 Power 5 conferences vote in favor of expansion
Agreed upon by summer/fall of 2024
In theory, that's not a massive hurdle to overcome. But when you consider the sticking points like automatic bids for Power 5 champs and special treatment for the Rose Bowl, well, that hurdle grows.
When you consider Sankey's stance, that hurdle might prove to be too tall to clear for Playoff expansion in 2026.
Yes, it's starting to feel like we could see a world in which the 4-team Playoff continues through the 2020s. Never mind the fact that the Big Ten and Pac-12 need expansion more than any of the Power 5 conferences. Sankey admitted the SEC originally wanted to stay at 4, but later pivoted and said it would be best for college football to see the field expanded because when the SEC has half the Playoff field and both teams in the title game, yes, the non-Southeast crowd feels left out.
But based on Sankey's comments since that January vote, that certainly feels like the SEC's "yes" vote for expansion could turn into a "no" if proposed Playoff includes automatic bids for Power 5 champs and that special date/time slot for the Rose Bowl. As Sankey said, the SEC is just fine with 4. Adding Oklahoma and Texas would only add to the belief that a 2-team bid is possible on an annual basis.
Believe it or not, the conference that won the past 3 national championships and 5 of the 8 total in this current format has a whole lot of leverage. It doesn't need to compromise on those sticking points from The Alliance. The SEC will still have a monumental TV package with Oklahoma and Texas on board and be set up well to continue to win national titles.
And to be fair, any new media rights contract is going to break the bank. The question is how much. Obviously, though, more Playoff games equals a bigger purse for the respective leagues. Currently, that contract pays out about $600 million annually. USA Today had sports firm Navigate come up with an estimate for the 12-team model that would be worth more than $2 billion.
That lucrative Playoff TV package, however, is getting more and more complicated because of the NFL and its own expanded postseason. The 2021 season was the first time the league had the "Super Wild Card weekend," which included a Saturday, Sunday and Monday night game. That 3-day stretch in mid-January complicates the available dates for an expanded CFP. Why?
"One thing that the College Football Playoff has said from the jump is that they are never going to go head-to-head with the NFL," Action Network's Brett McMurphy said on the latest episode of The Saturday Down South Podcast. "That's why the New Year's 6 games are never on Sunday and they're on Saturday or Monday. That's something to keep your eye on because the NFL is already scheduling out several years and they're grabbing up a lot of these dates and times that would be perfect for an expanded College Football Playoff.
"So these commissioners, you've gotta figure out how many teams you want, but you've also gotta figure out these dates so that you're not playing the national title game on Wednesday at 11 a.m. or some funky time like that."
In the current 4-team model, that's not an issue because the season won't extend into mid-January.
Consider that just another reminder of why it looks like the decision-makers in college football aren't aligned. If they were, last summer's 12-team Playoff model would be going into effect for the 2022 season. Instead, it's seemingly getting messier and messier.
If there was once a notion that conferences were going to need even more money to supplement the pay-for-play era, perhaps some of that is on the back burner with collectives essentially orchestrating their own version of that with NIL. Maybe another year of being left off the championship podium will force The Alliance to compromise and move on from the automatic qualifiers.
Clearly, though, Sankey is standing his ground. Looking at this through his eyes, it's not difficult to see why a 4-team field doesn't need to be expanded by any means necessary.
"I was sitting there watching the National Championship, and I thought they just thought I wasn't serious when I said we can leave it at 4," Sankey said. "People apparently didn't take me seriously. I don't think people heard me when I said we are fine with it staying at 4."
It might be wise for The Alliance to start listening. Well, unless they'd prefer to continue to get left out in the cold every January.