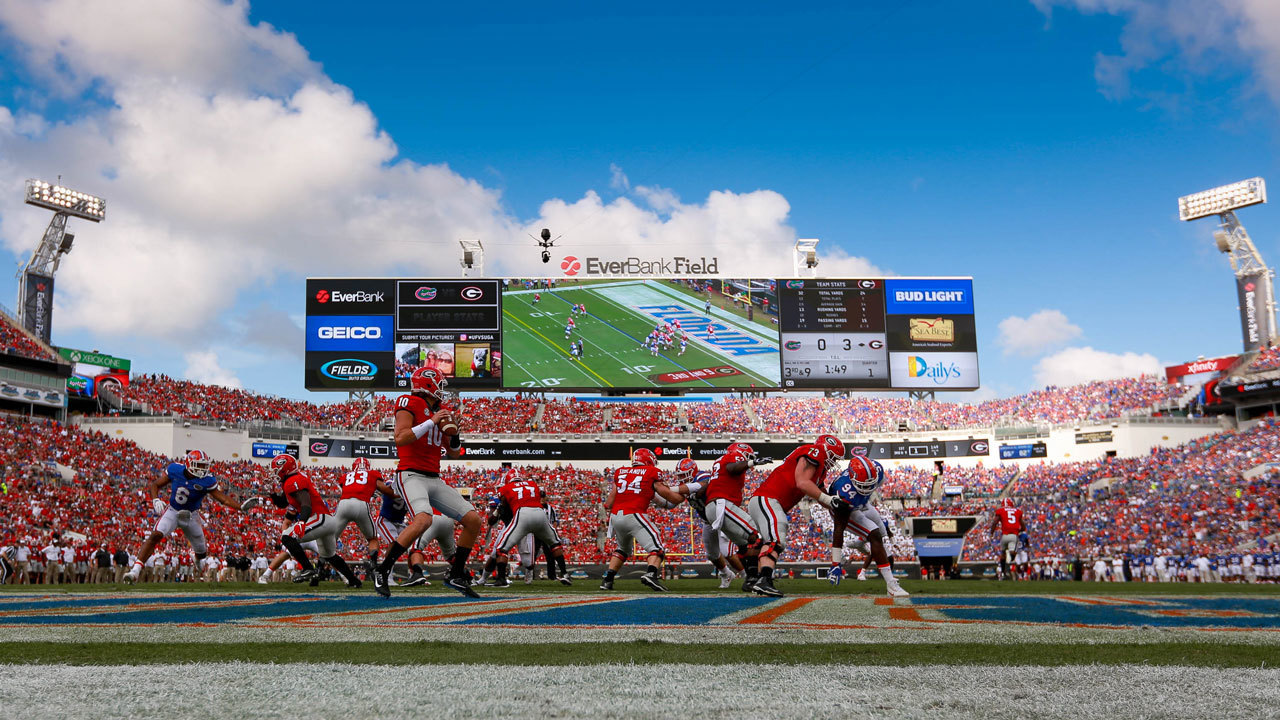 SEC
It will always be 'World's Largest Outdoor Cocktail Party.' Deal with it, Jacksonville
Even though I'm a Florida State guy, I went to high school in the Jacksonville area. I'm well versed in the Florida-Georgia game.
As far back as I can remember, and that goes to the early-1980s for this particular matchup, it has been referred to as "The World's Largest Outdoor Cocktail Party." While neutral-site games are more common now, this is one of the originals.
According to legend, the nickname came courtesy of Bill Kastelz in the 1950s, when he was the sports editor at The Florida Times Union — I used to cover preps in Jax for that newspaper. The city thought it was catchy and eventually starting using the moniker as a way to draw even more eyeballs to the annual border war between the Gators and Bulldogs.
But political correctness took over after some infamous alcohol-fueled incidents in the late-1980s. The tag was officially dropped.
I've been to UF-UGA on several occasions, first as an impartial fan and later as a member of the media. It's a way of life in Jacksonville. There isn't much to do there, but that weekend is guaranteed to be a ton of fun from start to finish.
Last season, goody-goody decision makers started calling the game "The River City Showdown" — Jax is known as the River City, specifically for the St. John's River — and cued eye-rolling from those with closets full of orange-and-blue and red-and-black gear alike. Sales of paraphernalia with the new slogan were, in a word, disappointing.
It's the Cocktail Party. It has always been the Cocktail Party. It always will be the Cocktail Party. Embrace it already.
"I just know it's a great game," Florida coach Jim McElwain said Wednesday on the SEC's weekly coaches teleconference. "It's one that it doesn't matter where you're from. It's one that they know that the Gators are going to play the Dawgs in Jacksonville. That's what makes it so unique. I know the thing that really hit me the first year we played in it, coming over that Hart Bridge and just seeing the fans for both sides, it's something pretty special."
From beach-bum locals to frat-boy out-of-towners, dudes of every name, rank and serial number are boozing ... heavily.
"I'll be honest with you, I don't get into that part of it," Dawgs coach Kirby Smart said. "That's not for me to really concern myself. Our No. 1 objective is to play our best game, play our best football. I think it's a very unique setting. I think that's awesome. As far as what they call it? It's the Georgia-Florida game to me."
Naturally, disassociating itself from the Cocktail Party heritage has done nothing to curtail rowdy behavior from both fan bases. There are just as many guys puking into trash cans. There are just as many girls crying into cell phones.
The tailgating experience outside EverBank Field — it dwarfs a Jaguars game, obviously — is nothing short of mythical. The Florida coeds are so dressed down with their cutoffs and flip-flops. The Georgia coeds are so dressed up with their sundresses and wedges. From beach-bum locals to frat-boy out-of-towners, dudes of every name, rank and serial number are boozing … heavily.
Organizers can call it "The World's Largest Outdoor Lemonade Stand" if they want, but it would do nothing to lessen alcohol intake.
At FSU, adult beverages aren't available inside Doak Campbell Stadium. It goes without saying that it's prohibited to bring beer, wine or liquor through the turnstiles. This stops no one from imbibing enough to kill a small farm animal, if one is so inclined.
Football and alcohol go together like gin and tonic. The SEC loves to advertise the passion of its fan base — remember, "It just means more" — and gratuitously celebrates its tailgating ticket-holders that set up shop first thing in the morning, even for a prime-time kickoff. This is one thing college does so much better than the NFL.
"It's neutral. It's half red, half orange and blue. You know it's going to be that way coming over the river on the buses coming into the stadium. I think it's really unique." -- Kirby Smart
The overwhelming majority of those tailgaters aren't washing down their pulled-pork sandwiches and chicken wings with club soda.
No, it's gallons upon gallons of lifestyle beer. It's bottles upon bottles of Tennessee sour mash. Whatever they fail to consume in the parking lot, they pour into flasks, stuff down their pants and then dump into souvenir cups upon entry.
However, because bureaucracies are run by the PC police these days, the city and schools alike believe that removing themselves from any usage of Cocktail Party vernacular — CBS isn't even allowed to use the phrase on the broadcast — means they're not responsible for any booze-related ugliness that ensues when things inevitably get out of hand.
No matter what the Gators or Bulldogs say, like most everyone with ties to Jacksonville, nothing will stop me from referring to this game as the Cocktail Party.
"That's a lot over my head," McElwain said. "I just know it's a great rivalry and a lot of fun to participate in."
"The fact that you come out the tunnel, it's 50-50," Smart said. "It's neutral. It's half red, half orange and blue. You know it's going to be that way coming over the river on the buses coming into the stadium. I think it's really unique. It's a really nice facility. The pro stadium is really nice. I think that part makes it special."
Yes, there are going to be a few fights in the upper deck. Sure, cops will arrest their fair share of kids drinking underage. Of course, a window or two may be broken in the parking lot. All of that will happen Saturday in Oxford for Arkansas-Ole Miss, too.
As far as college football rivalries go, Florida-Georgia — with only two exceptions, it's been played in Jax since 1933 — is equal parts historic and heated. The neutral-site nature has a lot to do with that, as does the beloved brand. Instead of caving to puritanical pressure, the city should be trumpeting its Cocktail Party tradition.
Fortunately, the River City Showdown stunt was laughed off a year ago. Just relax, Jacksonville. Here, have a drink.