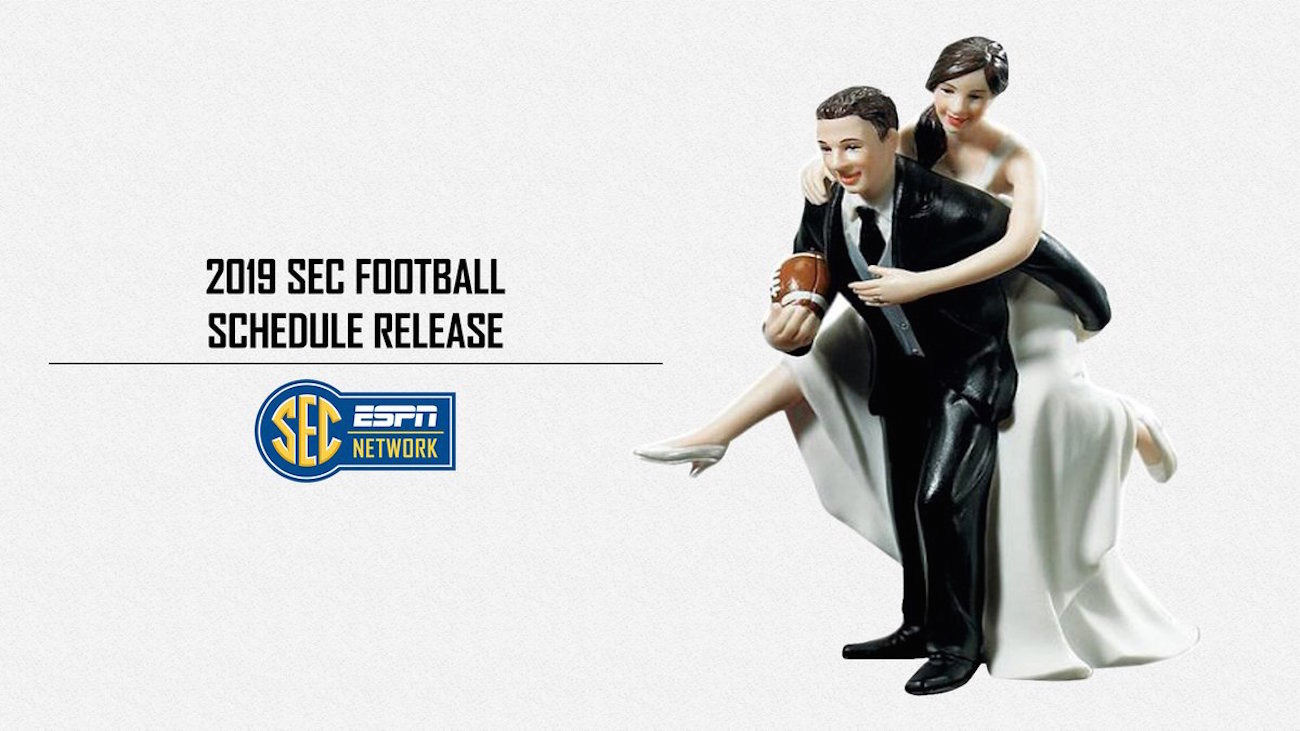 SEC
#ItMightMeanTooMuch: A rant on fall weddings that's different from what you've heard
If there were an SEC bible, I feel confident that somewhere in its 10 commandments, we would see the following message. And yeah, it'd probably be in Brady Hoke-style all caps.
3. THOU SHALL NOT SCHEDULE A FALL WEDDING.
Well, if that's a commandment of the SEC bible, I've got a confession. I am a sinner.
I indeed had a fall wedding.
I know. Crucify me. Hurl insults about that being "a yankee move" and how "friends don't let friends plan fall weddings," which must mean that I have no friends because WHO WOULD ALLOW ME TO DO SUCH A THING?!
But I've had something on my chest for a while that I need to get off. I'm just going to come out and say it.
I will not fault you for having a fall wedding.
I realize this is an unpopular opinion and goes against everything SEC fans preach about. No, really. That's why the SEC announces its schedule ahead of time.
Actually, we here at SDS have long since had a belief that fall weddings are as bad as Big Ten noon kickoffs and tofu.
https://twitter.com/SDS/status/1033823713425285120
Fun fact: The dude in that fake wedding invitation is my SDS Podcast co-host Chris Marler, who about fell out of his chair when I told him that I had a fall wedding.
Actually, I got married opening weekend of 2016.
WHAT?!?!?!
Let me explain.
You see, when my now-wife and I set our wedding date for Sept. 4, 2016, it was back in 2014. I'll confess something else. At the time when that date was set in 2014, I was not working for SDS or for an outlet that required me to work a full slate of college football games.
But notice that I said "opening weekend" and not opening day. We actually got married on Sunday, Sept. 4, 2016.
Why? In case you've never been married or paid for your own wedding, Sunday is way, way, way cheaper than Saturday. That's the case at virtually every wedding venue in America. Plus, getting married on Sunday of Labor Day weekend for our out-of-town wedding meant that people didn't have to take a day off work because Monday was a holiday.
So yeah, we spent Saturday night in the best bar in town, where we ended up watching LSU-Wisconsin and Georgia-North Carolina.
HOW'S THAT FOR A YANKEE MOVE.
Here's the thing. If you're dead set on a fall wedding and you can do the Sunday of Labor Day weekend, I recommend it. We got nearly perfect weather for our outdoor wedding without forcing people to even have to travel on a work day. If you can do that or a Sunday wedding on Columbus Day weekend, you'll appease everyone and save yourself some money.
Timing is everything. There are two reasons why fall weddings make a lot of sense:
Outdoor weddings are the best
It's the best weather season of the year
I've been to outdoor weddings in the summer where I sweated my face off, and I've been to outdoor weddings in the winter where I froze my face off. I haven't been to an outdoor wedding in the spring yet, which is probably because rolling the dice on the increased chance of rain isn't something that a ton of people want to do.
With that in mind, fall is the safest, most comfortable wedding season there is. Period. The fact that it conflicts with the college football regular season is about the last thing on the mind of plenty of couples. I realize that's not true for many in the Southeast, but you'd be surprised how little the potential fall wedding/college football conflict thing gets discussed elsewhere.
I mean, did any other conference tweet out an image like that for its schedule release?
https://twitter.com/SECNetwork/status/1042120144145838082
The fact that so many people cannot stomach the idea of missing one regular-season game — that they'll still end up following on their phone the whole time — speaks to the nature of the sport.
Let me be clear. I LOVE, LOVE, LOVE how much the college football regular season matters. It's awesome. But you mean to tell me that you're really not going to survive if you miss the Arkansas-Texas A&M game?
I've long since had a theory of my own when it comes to missing sports games. Because of what I do for a living covering sports, I missed my beloved Chicago Cubs playing games in the playoffs. Boo hoo. We all know what it's like to miss games as a fan.
But what I believe is that if your team loses, you end up wishing you didn't build your day around it. And if your team wins and you miss it, you're still happy at a wedding — assuming it's not a cash bar — and you can soak in all the highlights and reactions when you get home. Shoot, you can even DVR the game and watch it on replay without the stress of wondering how it plays out.
Don't get me wrong. If I was an LSU fan and I got an invitation in the mail from one of my good friends who was getting married Alabama weekend, it'd be brutal. That's a circle-the-calendar game for everyone, and not just LSU or Alabama fans.
And yeah, if you live in the state of Alabama and schedule your wedding for Iron Bowl weekend, you're basically asking people not to show up.
Still, I refuse to put people on blast if their wedding coincides with that Mizzou-Kentucky game that I just cannot miss. Fall weddings aren't as bad as they're chalked up to be, and if that take makes you question my college football fandom, so be it.
In fact, I'll be traveling to see one of my good friends get married this November. But don't worry, SEC fans.
She scheduled it for Cupcake Week.