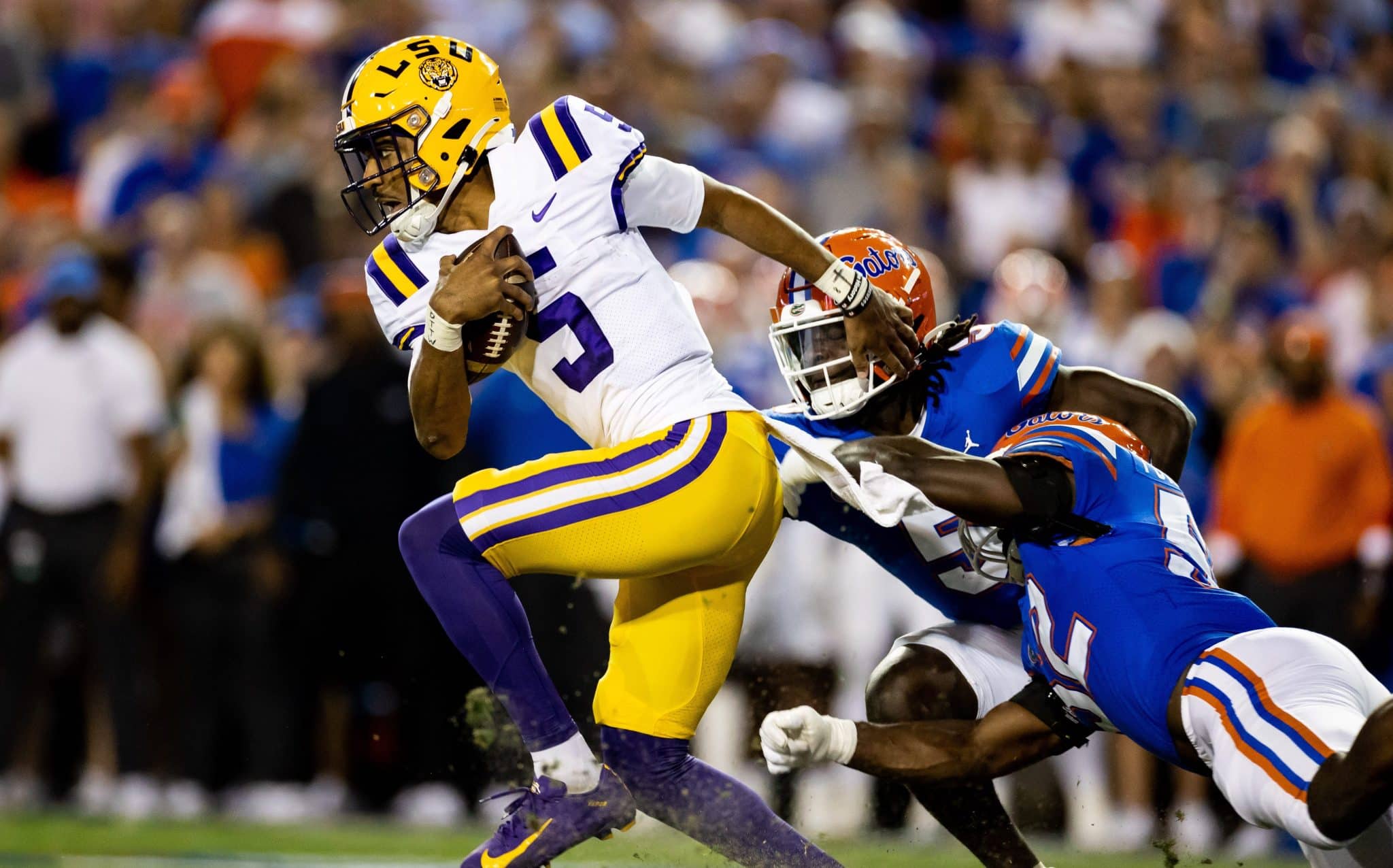 SEC
Hayes: Jayden Daniels is surging, and that makes LSU dangerous
Brian Kelly was explaining this sudden metamorphosis of offense, the move from plodding to proficient and how it unfolded.
And how it couldn't have come at a better time.
"We were trying to fight for every blade of grass," Kelly said of his LSU offense over the first 6 games of the season. "And sometimes, you just got to make some plays."
Or more to the point: Quarterback Jayden Daniels started making plays.
Game management plays. Game-changing plays. Game-winning plays.
"The offense is coming to him," Kelly said.
It should come as no surprise that it has taken this long.
It has nothing to do with Daniels, or Kelly or anything other than a quarterback playing on a new team, and for his 3rd offensive coordinator and quarterbacks coach (and 3rd system) in 4 years.
Daniels showed up at spring practice and was immediately thrust into a quarterback competition with Garrett Nussmeier and Myles Brennan. He didn't get a majority of the first-team reps, and that had a direct impact on developing chemistry with the first-team offense.
He battled Nussmeier throughout fall camp, and didn't begin receiving all of the first-team repetitions until game week of the season-opener. So when it looked off in the loss to Florida State, when Daniels threw for 209 yards and 2 TDs but the ball never went downfield or was thrown into a tight window, there's an easy answer.
"The last thing I would say from scouting (Daniels) at Arizona State was that he didn't like to take chances," an NFL scout told me. "He certainly was a guy who needed more work going through progressions and finding throws. But he was never a timid thrower. That's what I saw (against FSU). Now you go forward a half a season, and he was a different guy (against Florida)."
Two weeks ago, Kelly said Daniels needed to take more chances. Needed to improve the offense's ability to throw intermediate and stretch the field. He made a slight improvement in a loss to Tennessee (LSU was chasing double-digit points all game), and then it all clicked against Florida.
The ball went downfield. Throws were made into tight windows. He took chances, he benefited from those chances.
He threw for 349 yards and 3 TDs and 0 INTs (and ran for 3 more TDs) against Florida, and the LSU offense never looked better under Kelly. It had rhythm, it had explosion plays, and more than anything, it finally found and incorporated preseason All-American wideout Kayshon Boutte (5 catches, 115 yards).
Daniels and Boutte have had a unique relationship since Daniels arrived, and it was clear in the opener that work had to be done. At one point against FSU — after Boutte stormed to the sidelines and was visibly upset because the ball wasn't coming his way — Daniels put his arm around Boutte and tried to console him, spending extended time with him on the sideline during the game.
Practice and repetition in the offseason are critical for quarterbacks and the connection it brings the entire offense. Quarterbacks and receivers, quarterbacks and offensive linemen.
Audibles and checks, protection changes and route adjustments. Those critical aspects of every game don't magically appear when a quarterback joins a program. It takes time.
"He looked like a guy who was afraid to commit a turnover for the first half of the season," the NFL scout said. "You're talking about a guy who has shown he can throw accurately, and make plays off schedule. He has that ability. That was never an issue. It was always, does he see (coverage)? We're going to be able to tell more of that over the next half of the season."
That begins this week against Ole Miss, the second top-10 team to visit Death Valley in the past 3 weeks. The offense has more confidence in Daniels, and he has more confidence in the receivers and the game plan. Again, it doesn't happen overnight.
And before the narrative turns to Florida's porous defense as the reason for Daniels' jump in play, consider this: Tennessee has the 129th-ranked pass defense in the nation, and Daniels wasn't exactly feeling it against the Vols.
Unbeaten Ole Miss is No. 33 in the nation in pass defense (202 ypg.), and No. 2 in the SEC in sacks (19). This will be as good a test as Daniels will get until next month's Alabama game.
"Can he start stacking these efficient games? That's the big question now," the scout said. "Building on one, then growing from each one. This is when it gets fun for quarterbacks."
There was a moment during the first drive of the Florida game where LSU faced 3rd-and-15 from the Gators' 27, and the progression of Daniels began to take hold. Protection sagged, he went off schedule and threw a dart into a tight, double-coverage window to Boutte for 14 yards.
LSU converted a 4th down run, and 2 plays later, Daniels hit John Emery Jr. with a 7-yard touchdown pass for the first of 6 total touchdowns.
"Assertiveness is confidence in who you're throwing to, and confidence in yourself," Kelly said. "It's just the maturation that's occurring."
It couldn't have come at a better time.