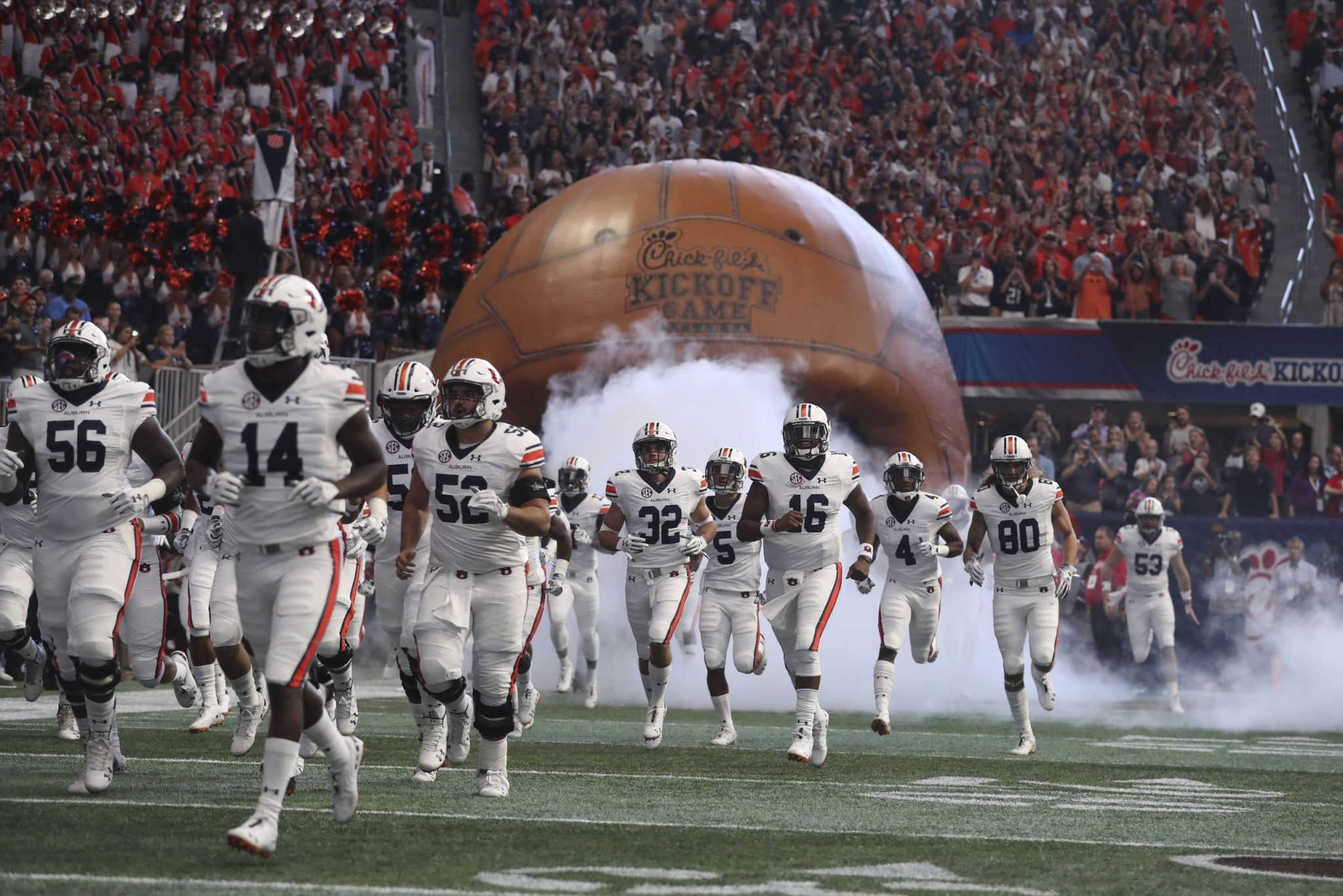 SEC
Neutral-site kickoff games and bowls are adapting to COVID-19, and that's good for the SEC
In this COVID-19 world we're living in, Chick-fil-A Peach Bowl CEO and president Gary Stokan finds that he's in a different sort of role. Rarely in the dozens of interviews that he has been doing does he talk about actual football, which the Chick-fil-A Kickoff Game is scheduled to host more of than it ever has with 3 September matchups at Mercedes-Benz Stadium in Atlanta.
Stokan is, in his own words, Harry Houdini.
That doesn't mean he's disappearing with all eyes on him. Rather, he's figuring out new ways to take on Houdini's best trait — flexibility.
"You have to be flexible and you have to be prepared to play the games either on the back side of the season, which we have talked to Mercedes-Benz to get allocated dates so we have that flexibility," Stokan told SDS. "Or if they pushed back to October, we could play them at the start of October, or we could play them at the end of the year.
"Either side of the season we're flexible enough, like Houdini."
That's the good news from Stokan, who runs the annual Chick-fil-A Kickoff Game and the Chick-fil-A Peach Bowl. Flexibility is the name of the game. Kickoff games can be moved. Bowl games can be moved. Pivoting, Stokan admitted, is inevitable.
The SEC, ACC and Big 12 are reportedly monitoring COVID-19 trends and waiting until the end of July to make a decision on what their 2020 schedules will look like. The announcement from the Big Ten and Pac-12 — neither of which have teams in the Chick-fil-A Kickoff Games — that they adopted the conference-only model for the 2020 football season was met with a startling realization.
"I said, 'Well, we better come up with a solution here and promote it because if the SEC, ACC and Big 12 go in that direction, then we're not gonna have any Chick-fil-A Kickoff games,'" said Stokan, who has been talking to conference athletic directors on a weekly basis.
Stokan might have avoided an initial setback with that announcement because the matchups (Auburn-UNC, Georgia-Virginia and Florida State-West Virginia) all feature teams from the ACC, Big 12 or SEC, but there are still several scenarios in which those games won't be played as scheduled.
If those leagues adopt the conference-and-1 model to preserve some of the traditional ACC-SEC rivalries, that would impact the Chick-fil-A Kickoff Game. Why? Georgia would keep its game against Georgia Tech and Florida State would keep its game against Florida. Stokan's easy solution for losing Georgia and Florida State would simply be to shift West Virginia and Virginia into a matchup while Auburn-UNC could be played as scheduled. Two games are certainly better than none.
Ideally, Stokan would have that 3rd kickoff game filled. He threw out the idea of Alabama, which had its kickoff game against USC in Dallas canceled as a result of the Pac-12's conference-only slate, playing Notre Dame in Atlanta. But that was quickly squashed by Alabama athletic director Greg Byrne. If there's a potential ACC-SEC matchup for a couple of teams scrambling with an adjusted schedule, Stokan is open to making that work. There just needs to be an ACC team filling the Monday night slot.
Again, that potential shuffling is only if a conference-and-1 model is agreed upon by the ACC, Big 12 and SEC. If there's a conference-and-2 model with 2 nonconference games, the current slate of matchups can continue.
As for when or how many fans they'll be played in front, that remains to be seen. Stokan said they worked with Ticketmaster for software to calculate proper social distancing in Mercedes-Benz Stadium. The idea of 25%, 30% and 50% capacity has been discussed.
"Our contingencies have contingencies right now," Stokan said.
One contingency that isn't in place is a Chick-fil-A Kickoff Game in an empty stadium. Neutral-site games in empty stadiums, Stokan said, can't happen because of how their revenue models work (teams would have to figure out a way to play on one of their campuses). They don't make money off the TV contracts. It's sponsorships and ticket sales. The former depends on the latter.
With limited capacity, the Chick-fil-A Kickoff game won't have things like bands and cheerleaders. They're also eliminating things like VIP receptions, fan fests prior to the game and team walks. Those 3 things are all sponsored, which make them important assets for a kickoff game. Scratch that for 2020.
Instead of generating that revenue, they'll now take on more costs to make sure the proper safety measures are in place. Masks will be required, and those additional safety protocols weren't part of the original contracts that were agreed upon for participating schools.
"I've been in business for 42 years. The only way I know how to successfully run a budget is you've gotta raise more revenue or you've gotta cut expenses, or you've gotta do both," Stokan said. "In this case, we're going in the wrong direction."
The stadium capacity that's decided will dictate how the revenue will be distributed. For example, Florida State was scheduled the receive a $4.25 million payday from the kickoff game, but that was dependent on selling the allotted 30,000 tickets for nearly $4.6 million. The same is true of Auburn's expected $5.2 million payout.
Now, that's all up in the air. The stadium capacity decision will be based on the advice of the medical experts in the Georgia Governor's Office, who will meet with Stokan's team on Aug. 4 (it was scheduled for July 23, but the NFL and the Falcons are still working through their safety protocols at Mercedes-Benz Stadium).
"Once we have that approval, we'd have to go back to the 2 schools and say, 'Here's the capacity, here's how many tickets we can allot you,'" Stokan said. "Unfortunately for us with this COVID-19, we were gonna sell out all 3 games. We were gonna create $100 million of economic impact, which translates to about $7.5 million going back into the local community … we'll just have to look at what the capacity is and go back and say, 'OK, instead of giving you X number of tickets, we can only give you Y number of tickets, and instead of an X million dollar payout, we can only give you this kind of payout.'"
That's the regular-season reality that Stokan came to grips with. The Chick-fil-A Peach Bowl, which is part of the New Year's 6 but doesn't host a Playoff game this year, is facing a similar new potential reality — bowl games are also at the mercy of these new scheduling plans.
Would bowl executives like Stokan be willing to move their games to late January? Better yet, what about late May? Yes and yes.
While not every one of the 42 bowl games has the luxury of a 71,000-capacity indoor stadium like the Peach Bowl — some won't even have the luxury of choosing from a field of teams with 6-plus wins if the schedules are shortened across Power 5 — Stokan said there has been a consensus during the monthly conversations with the Football Bowl Association.
"As New Year's 6 Games, as the whole (FBA) and the CFP, we've all talked and said that flexibility and adaptability is the key this year. Whatever the conference commissioners come up with, we'll be ready to play our bowl games whenever they need us to," Stokan said.
Speaking of the Playoff, one scenario that gained momentum in the college football world is the idea of expansion in 2020. As in, would the Playoff treat this atypical regular season as a trial run for expansion and try to recoup some of that revenue loss by expanding the field beyond 4 teams?
After all, someone like Stokan would seemingly stand to benefit from that scenario because this isn't a year in which the Peach Bowl is scheduled to host a Playoff game. One would think the Peach Bowl would get first crack at an opportunity like that.
But that's an area where there isn't much (or any) flexibility.
"There's never been any discussion about that," Stokan said. "Obviously, that's not our say. That's up to (CFP Executive Director Bill Hancock) and the presidents and the commissioners who make those decisions. But there's never been any hint or any discussion or any conversation about going in that direction."
Why couldn't that happen? ESPN is under contract with the College Football Playoff for a 12-year deal that runs through the 2025 season. That deal totaled a reported $5.64 billion, which breaks down to $470 million annually that ESPN pays for the rights to those 3 games.
"ESPN isn't one year just gonna say, 'We'll pay ya another X million dollars to do this,'" Stokan said.
Still, if there's any Playoff to watch this school year, that'll be a win for college football fans.
Stokan finds himself in that camp, as well. He admitted it's been strange not talking much about things like the quarterback matchup of Bo Nix vs. Sam Howell, or that it'll likely be a pair of Top 25 teams facing off. Meetings with medical experts and regular calls with athletic directors talking safety protocols in the midst of a global pandemic are certainly not the norm.
But he remains hopeful that there will be a time and place for football in 2020. Safely.
"I'm an eternal optimist, so I think we're gonna play the kickoff games and the bowl games," Stokan said. "But to do that, we have to remain as flexible and as adaptable as we can to help our partners, the conferences and the CFP."
Like Houdini.