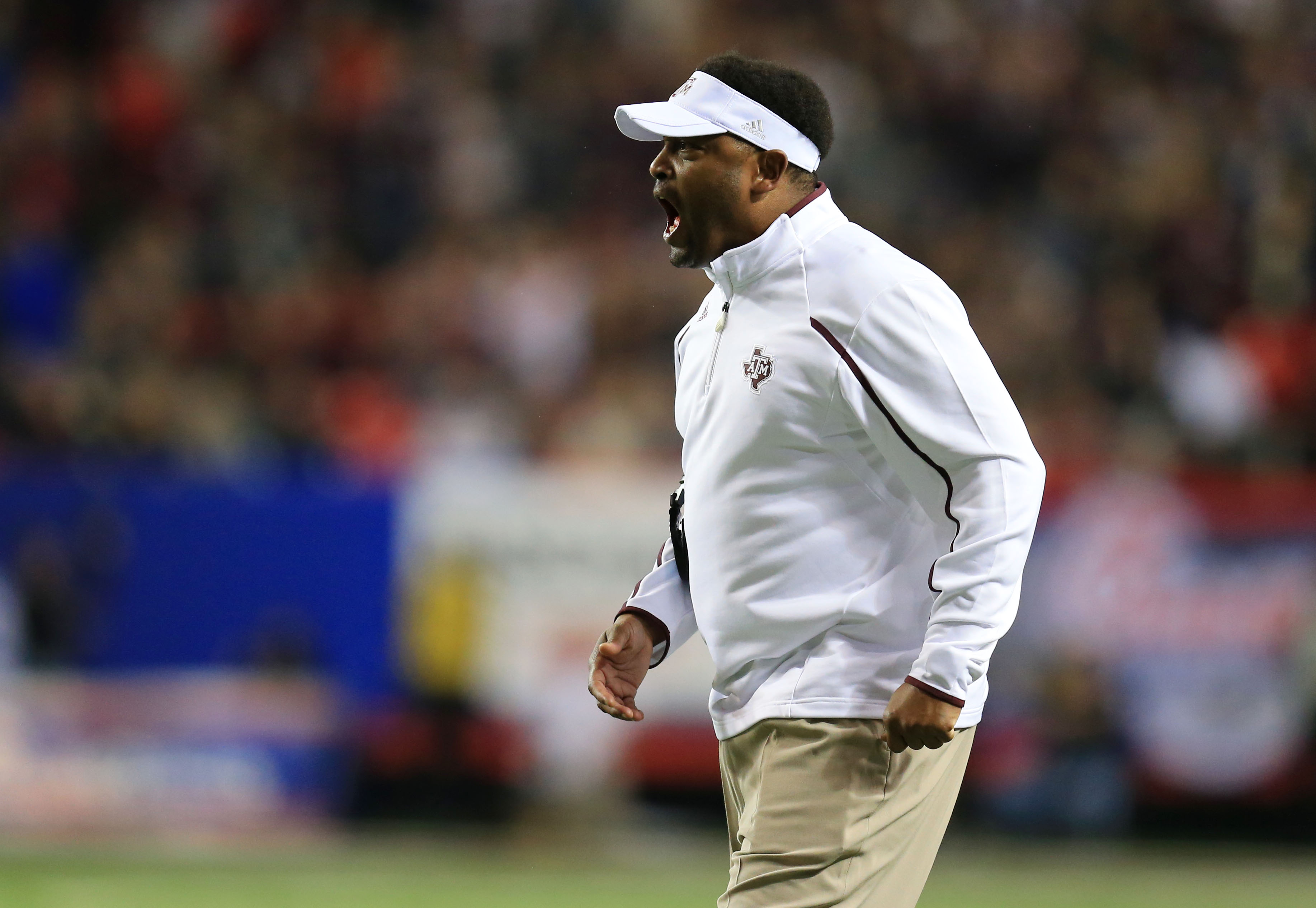 SEC
How many games does each West coach need to win to avoid the hot seat?
Coaching is a fickle business. If we've said it once, we've said it a hundred times: if you're not getting hired, you're either getting a raise or getting fired. At some point in just about every job stop, a coach will find himself on the hot seat. What do the West's coaches have to do to avoid that in 2015?
Nick Saban, Alabama
2014 record: 12-2
Record at school: 91-17
Wins to avoid hot seat: N/A
Good joke, right? Saban has three national titles at Alabama to go along with three SEC titles. He has a statue on campus. At 63 and having already tried out the NFL, Saban is a sure bet to retire at Alabama. If he has a few subpar seasons in a row or Alabama runs into trouble with the NCAA, the school might look to convince him to retire or resign. That's years in the future, though.
Bret Bielema, Arkansas
2014 record: 7-6
Record at school: 10-15
Wins to avoid hot seat: 8
The Razorbacks took a major leap forward in 2014, finishing the season as strong as any team in the SEC — a 3-1 stretch that saw the defense allow just seven points in the three wins. If Arkansas stagnates or regresses, whispers will start about Bielema. But a seven-win regular season coupled with a bowl win should be seen as the team trending in the right direction.
Gus Malzahn, Auburn
2014 record: 8-5
Record at school: 20-7
Wins to avoid hot seat: 10
Auburn has all the tools to make a run at the SEC title and the College Football Playoff, especially with Will Muschamp taking over a talented if thin defense. After a subpar followup to Auburn's national title game run in Malzahn's first season, the Tigers will need to bounce back in a big way or there will be whispers about Malzahn's job security in 2016.
Les Miles, LSU
2014 record: 8-5
Record at school: 103-29
Wins to avoid hot seat: 9
Last year was disappointing for LSU, as the underclassmen exodus from the 2012-13 teams came back to bite the 2014 edition. The defense shouldn't be an issue, but if the offense sputters anywhere near as badly as it did last year (with the same two quarterbacks vying for the starting job), folks are going to start to get restless when it comes to the coach who is No. 2 on the school's wins list.
Dan Mullen, Mississippi State
2014 record: 10-3
Record at school: 46-31
Wins to avoid hot seat: 7
Even though the Bulldogs are coming off their best season since the 1940s, it would be unrealistic to expect a repeat in 2015, even with the SEC's best quarterback in Dak Prescott. As long as Mullen finishes better than .500, there shouldn't be any issues in Starkville.
Hugh Freeze, Ole Miss
2014 record: 9-4
Record at school: 24-15
Wins to avoid hot seat: 9
Expectations are rightfully high for the Rebels. Ole Miss has some of the best top-end talent in the conference, with as many as four or five potential first-round NFL picks on the 2015 team. If the Rebels aren't in contention for the SEC West title, there could be some trouble for Freeze.
Kevin Sumlin, Texas A&M
2014 record: 8-5
Record at school: 28-11
Wins to avoid hot seat: 9
Sumlin is the coach with the most to lose in 2015. His biggest scapegoat, the defense, won't have excuses this year with John Chavis in town. After winning big with the previous regime's talent, Sumlin has seen a dip in performance as more and more of his recruits have filled the roster. Now, the team is entirely made up of players Sumlin has brought in. If this team struggles like it did last year, that would not be good for Sumlin's job security.