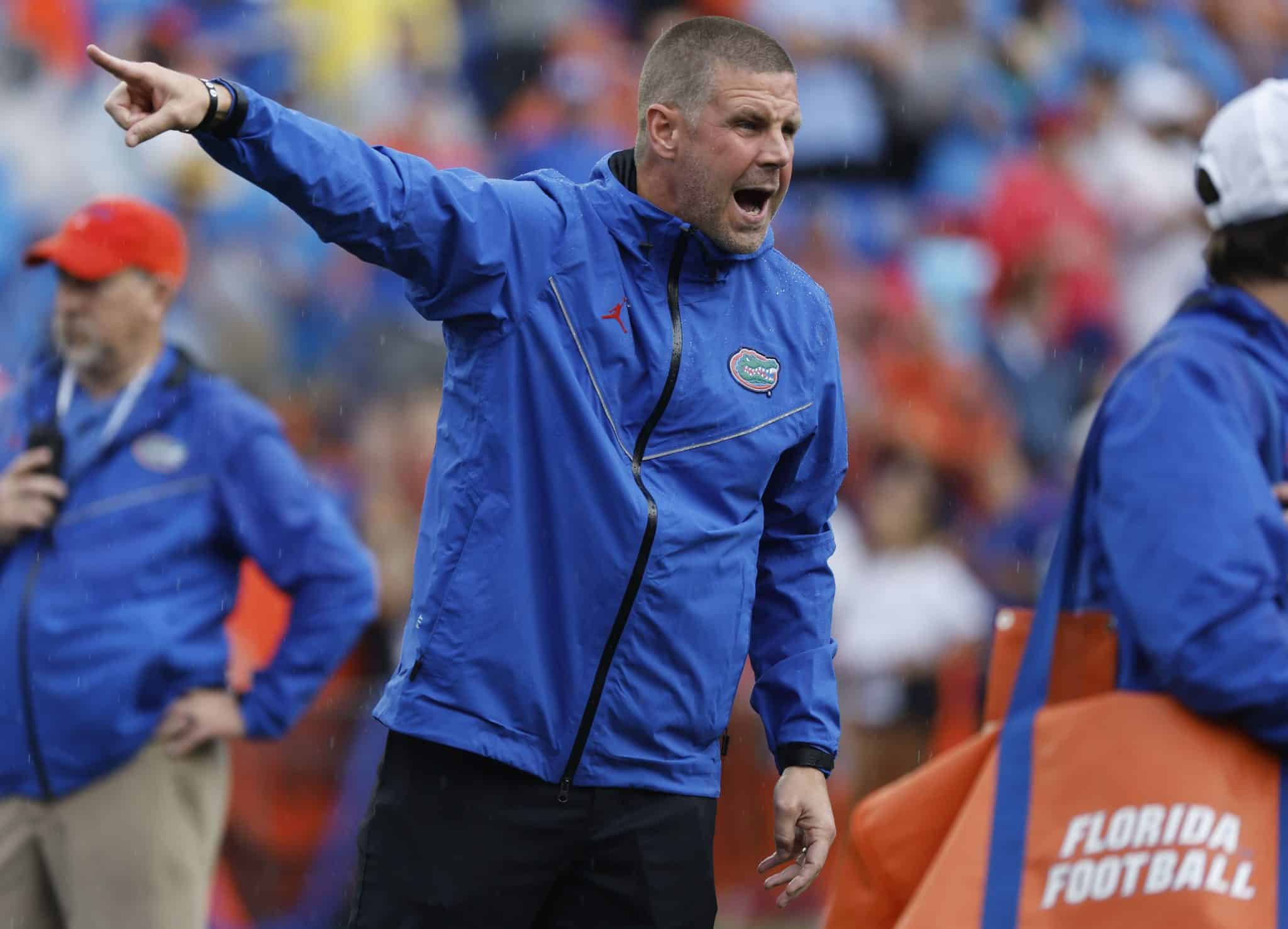 SEC
Hayes: Guide to Week 7 in and around the SEC
Two coaches, 2 programs, and the drama within the game. The fight within the fight.
Welcome to LSU vs. Florida, a rivalry more spicy, more impactful at a granular level, with the undercard of Brian Kelly vs. Billy Napier.
"I don't know that it's something you talk publicly about," Napier said this week.
But understand this: LSU didn't interview Napier, who had built a monster Group of 5 program at Louisiana-Lafayette, not even 60 miles from the Baton Rouge campus.
LSU fans were clamoring for the young, charismatic and southern fit of Napier. They got Kelly, the hard-charging, wildly successful Northeasterner who won big everywhere he coached — from the NCAA lower divisions, to Group of 5 schools, to the most pressure-packed program of all, Notre Dame.
Now both programs sit at 4-2, and for the most part they are secondary players in the race for the SEC championship. The different is — real or not, and fair or not — perception.
Neither coach can afford a loss in this game, but a loss for Kelly reflects directly on LSU athletic director Scott Woodward's decision to swing big on the hire and not interview Napier.
Kelly signed a $95 million deal; Napier's deal was worth $51 million. Woodward had interest in other potential hires (see: Jimbo Fisher), while Napier was Florida AD Scott Stricklin's 1st choice from the jump.
Stricklin knew Napier could've left in previous seasons for other SEC jobs. He turned down both Auburn and South Carolina the previous 2 years.
Napier was waiting for the right job, and he didn't wait for an LSU interview or to see where Woodward was in the process. Florida offered, he accepted.
Or as one Florida source told me, "We weren't going to let it get to (late interest from LSU). We were very clear we wanted him."
Both LSU and Florida are likely 1-2 years away from winning November SEC games that matter, and 2022-23 could be the last time they play as annual rivals. When the SEC moves to 16 teams (expected in 2024 if the Playoff expands), a schedule change likely means 3 permanent rivals and 6 rotating — and there's no guarantee Florida and LSU will continue the annual rivalry.
This game and next year will go a long way to determine, on the field and head-to-head, which program won the coaching hire.
To change or not to change
Here we are again, in another big spot for Penn State QB Sean Clifford.
On the road in Ann Arbor, against a top 5 team and a chance to definitely turn both Penn State and his career toward the elite of college football.
Twice already this season, we've seen coaches who stuck with quarterbacks too long get fired. While James Franklin isn't close to being fired — he just signed a long-term contract extension at the end of last season — the parallels are eerily similar.
Scott Frost stuck with QB Adrian Martinez at Nebraska for 4 seasons, and by the time his 5th — and make-or-break — season rolled around, it was already too late. He was fired before the end of September.
Paul Chryst stuck with Graham Mertz for a 3rd season this year, and it took all of 1 month for Mertz to play poorly in a big game (a 52-21 loss to Ohio State) and a game Wisconsin should have won (a 34-10 loss to Illinois) before Chryst was fired.
Welcome to the world of Franklin, a fiercely loyal coach who believes he has the right player for the job. The same thing he has believed since Clifford's breakout 2019 season (23 TD, 7 INT), when the Lions won 11 games.
The problem: Penn State is 16-11 (10-10 in the Big Ten) since, and Clifford's TD-INT ratio since 2019 is 49-19. While those numbers are respectable for Clifford, they've led to a .500 record in the Big Ten.
Franklin didn't have an option other than Clifford (Will Levis was not the player he is at Kentucky when he was at Penn State) in the previous 3 seasons. He does now.
Freshman Drew Allar is the most physically gifted quarterback Franklin has had at Penn State, and the most gifted at the program since Christian Hackenberg.
Franklin has avoided talk of Allar playing minutes of significance this season, and he has zeroed in on Clifford's solid start to this season. But Michigan, in Ann Arbor, is another story — and much more of a heavy lift than playing at Purdue or Auburn.
If Clifford struggles against Michigan, Franklin can't ignore Allar much longer with a game in Happy Valley against Ohio State looming (Oct. 29), and a winnable schedule the remainder of the season.
A big test
You won't hear him mentioned with Hendon Hooker or Jalin Hyatt or Bru McCoy or Jabari Small.
But an undervalued factor to Tennessee's unbeaten start to the season has been the play of left tackle Gerald Mincey. A transfer from Florida, Mincey struggled early in the spring and eventually won the job after the first 2 games of the season — and he hasn't given up a sack or a QB hit in 252 snaps.
Now here comes Alabama edge rusher Will Anderson Jr., the nation's best pass rusher in the biggest game of the season. If Mincey can continue to play at a high level — against Anderson or Alabama's other elite edge, Dallas Turner — Hooker and the Tennessee wide receivers will have success throwing on a shaky Tide secondary.
Nearly every NFL team will have scouts at Saturday's game to see Hooker and Anderson, among many others. Mincey is a redshirt sophomore and eligible for the NFL Draft.
Should he play well against Anderson and Turner, it will quickly elevate his draft stock.
"He's got a nasty streak and he's athletic," an NFL scout told me. "He went from a guy who barely played at Florida, to a guy that looks very comfortable at the position. I'm excited to see how he handles maybe the 2 best edge guys in college football."
Taking a stand
The development of FSU quarterback Jordan Travis as a thrower over the first 3 weeks of the season was remarkable.
His play in the last 2 games has been deflating, leading to losses to Wake Forest and North Carolina State and all but eliminating the Noles from the ACC Atlantic Division race.
Up next: Atlantic heavyweight Clemson, playing better than it has since it last advanced to the Playoff in 2020.
"We all have to play better," FSU coach Mike Norvell said. "It's not 1 person or 1 area. It's all of us."
But FSU is a more complete team when Travis is completing a high percentage of throws, and stressing defenses with his ability to make plays (run and pass) off schedule.
In wins over LSU, Louisville and Boston College, Travis completed 68 percent of his passes and had 5 TDs and 1 INT. In losses to Wake and N.C. State, he completed less than 60 percent of his passes with 4 TDs and 3 turnovers (1 fumble).
The interception in the end zone against the Wolfpack with less than a minute to play was a gut punch. The Noles needed only a field goal to win, and they were at the N.C. State 8.
Both of Travis' interceptions were on the final 2 drives of the game for FSU, the 1st coming at the N.C. State 23 — when a field goal would've given FSU the lead, too.
The 1 potential bright spot Saturday is Clemson's pass defense, which is 95th in the nation. For all the good of the Clemson D-line — and it's probably the best in the nation — the secondary gives up big plays in coverage.
FSU's fast and dynamic receivers — Johnny Wilson, Ontaria Wilson, Mycah Pittman — will have opportunities with 2nd-level and deep throws. Clemson has given up 10 plays of 30-plus yards this season.
Change in venue
Forget what you saw from Utah against UCLA. Or Florida.
Those games were on the road. The Utes are a different team at Rice-Eccles Stadium in Salt Lake City.
Utah is 81-25 under coach Kyle Whittingham at home, including 11 straight wins and 22 in the past 23 games. The only loss: USC in 2020 — the 1st game of the COVID season.
So when USC rolls into town Saturday, expect a different Utah team. The Utes' average margin of victory over that span in 13 home wins vs. Pac-12 opponents is 27.6 points.