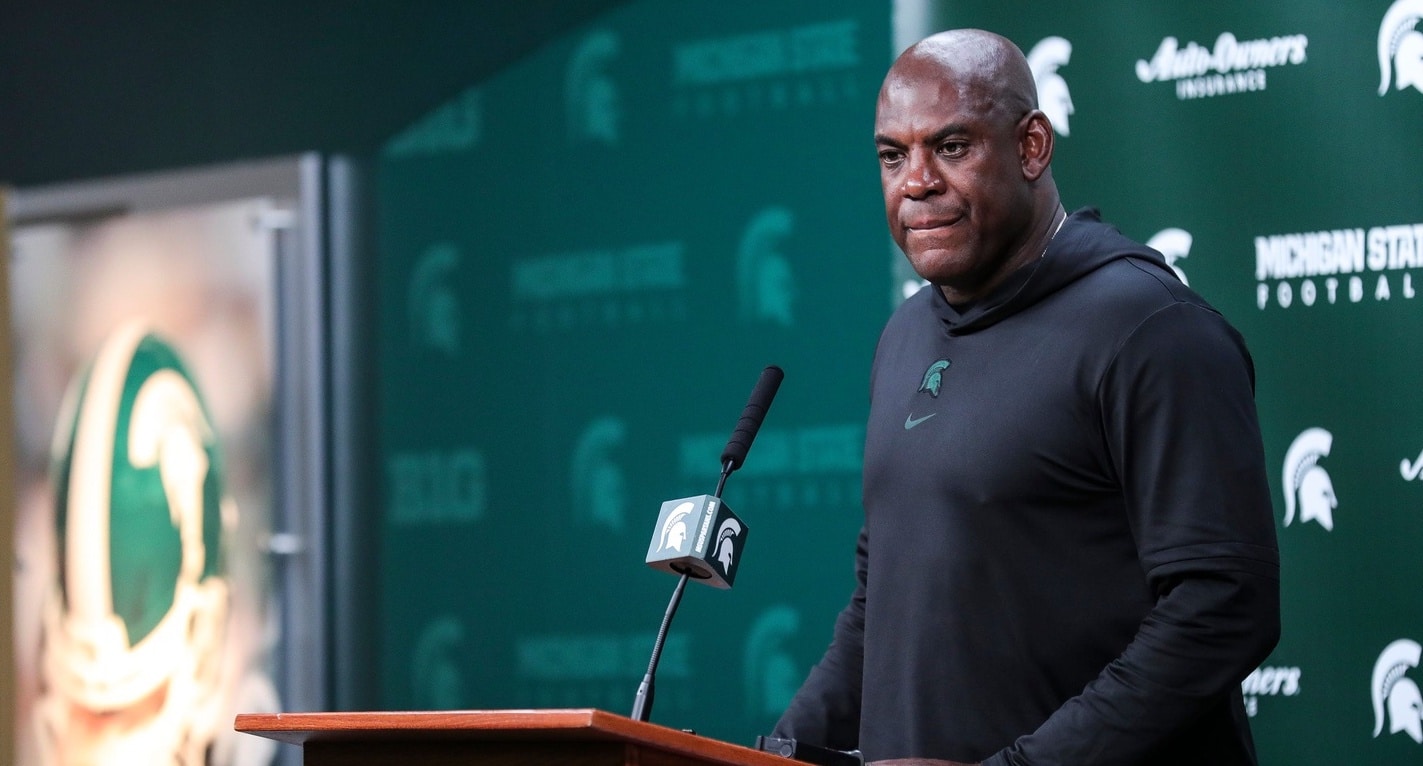 SEC
Michigan State reportedly makes decision on Mel Tucker's future as head coach
Mel Tucker's Michigan State tenure has reportedly come to a close.
College football insider Brett McMurphy reported Sunday afternoon that Tucker has been fired by MSU.
Mel Tucker fired as Michigan State's coach, sources told @ActionNetworkHQ. Secondary coach Harlon Bennett will be MSU's interim coach w/former coach Mark Dantonio expected to assist in an undefined role. MSU investigating allegations Tucker sexually harassed activist/rape…

— Brett McMurphy (@Brett_McMurphy) September 10, 2023
***UPDATE***
As of 4:09 pm ET, McMurphy has since issued a clarifying report, saying Michigan State will wait until the investigation is concluded to make the move official. Tucker is still expected to be fired with cause when that investigation is wrapped up.
Michigan State will wait until Title IX investigation is completed, to make Tucker's move official, sources said. MSU will claim dismissal w/cause to get out of paying Tucker's $70-plus million buyout. School expected to disclose more information in 5 p.m. news conference. https://t.co/LwcMXKSjaD

— Brett McMurphy (@Brett_McMurphy) September 10, 2023
Tucker is being dismissed as he faces allegations of sexual misconduct. Details of his alleged inappropriate conduct with Brenda Tracy, a rape survivor and sexual assault prevention educator, emerged in a USA TODAY report Sunday. MSU announced Sunday that Interim President Teresa K. Woodruff and Director of Athletics Alan Haller will hold a press conference at 5 p.m. ET to address "an update on the football program."
Michigan State hired Tucker as its head coach ahead of the 2020 season. It was his second head coaching job after 1 season at Colorado. Tucker had previously worked at MSU under Nick Saban as a graduate assistant in 1997-98. Saban reportedly played a crucial role in getting Tucker the MSU head coaching job.
After a 2-5 showing in the shortened 2020 season, Tucker's Spartans were 1 of the biggest stories of the 2021 college football season. MSU went 11-2 in 2021, earning a New Year's Six bowl invitation, defeating Pittsburgh in the Peach Bowl.
Tucker's name was floated for numerous coaching jobs in 2021 and he signed a 10-year, $95 million extension in November. Tucker was named Big Ten Coach of the Year for the season.
Michigan State is 2-0 in 2023, giving Tucker a 20-14 record in his tenure after the Spartans' 5-7 showing in 2022. He is 25-21 overall as a head coach.
Chris Solari with The Detroit Free Press and Nicole Auerbach with The Athletic were first to report that Tucker will be suspended with pay while the investigation is ongoing.
MSU coach Mel Tucker has not been fired, a source told @TheAthletic.

Here's this from the Detroit Free Press: https://t.co/OFulDzpFX6

— Nicole Auerbach (@NicoleAuerbach) September 10, 2023