SEC
Monday Down South: Alabama looks unstoppable. Nick Saban looks like he can't stand to watch
Alabama's 51-14 pasting of Louisville on Saturday night was vintage Bama, a start-to-finish beatdown that reinforced everything we expected to see from the 2018 Tide, specifically – breaking: it's Tua; in further news: yeah, it's Tua – while recalling some of the most indelible opening-day romps of the past decade. The Tide looked like like … well, like the Tide: As relentless as ever on defense, as explosive as ever on offense, and like mortal locks to retain their No. 1 ranking into the foreseeable future. They scored touchdowns in all three phases, witnessed the emergence of a bona fide Heisman candidate behind center, and covered the spread with ease en route to their 74th consecutive win over an unranked opponent. And, as much as ever, Nick Saban looked like he hated every second of it.
The direct object of Saban's postgame scorn was ESPN's Maria Taylor, who had the bad luck of being the first reporter obliged to ask a dead-obvious question about his quarterbacks. This was not the coach's finest moment, to say the least: It wasn't "the media" that made the call to bench one of the most successful signal-callers in school history on the sport's biggest stage, and his impatience with the Tua/Hurts dynamic hasn't made it any more avoidable. Taylor broached the issue as broadly and blandly as she could have. ("What answers did you have after watching both of your quarterbacks play tonight?'') Asking that question is her job. But Saban's exasperation in the wake of another chest-thumping performance is part and parcel of his obsessive pursuit of perfection.
The ebbs and flows of his mood have always run reliably against the current of his team's success — the better the result, the surlier the Saban. The closer the Tide come to perfection, the more frustrated he seems by their failure to actually achieve it. The more inevitable the triumph, the more fiercely he feels the necessity of waging war on complacency. Not in the performance of some kind of elaborate motivational Jedi mind game. He feels it sincerely, organically, the result of a philosophy so deeply internalized it emerges as a gut response. And in that context, Taylor and the rest of us who talk about the Crimson Tide for a living routinely commit the cardinal sin: We continue to insist on acknowledging that Bama is, you know, good.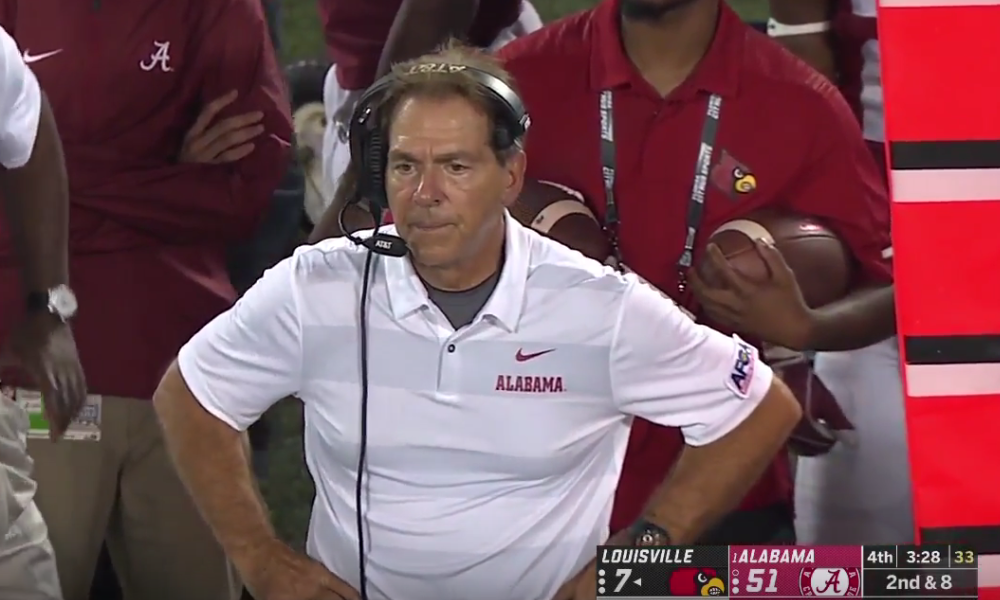 Good is not perfect, especially in September, and most certainly not in Week 1. So yes, the offense found the end zone on five of its first six possessions with a quarterback making his first career start; it also allowed a sack on its first possession, fumbled on its second, and stalled out on the possessions that Tagovailoa yielded to Jalen Hurts.
Sure, the defense nearly pitched a shutout with a lineup featuring eight new starters; it also allowed 250 yards and two touchdowns passing to an unproven QB and gave up five first downs via penalty. Louisville's first scoring drive was facilitated by a pair of personal-foul flags against Bama on 3rd-and-26 and 4th-and-13, respectively. (Who cares that by that point the Cardinals were already in a 34-0 hole?) The new kicker — a legitimate concern coming in, given the Tide's sketchy track record at that position — missed an extra point and a field goal. What kind of team commits penalties and leaves points on the field? One with room to improve.
So it goes. Reporters attending Saban's weekly Monday press conference may as well brace themselves for the latest variation on the "Rat Poison" lecture, a tried-and-true Saban tradition on the heels of a dominant, reaffirming early win. It's not personal; soft-around-the-middle scribes looking for a quote just happen to be convenient scapegoats in the never-ending campaign against rust. The enemy is rust.
Under different circumstances, Saban is more approachable. There are occasional signs that he has mellowed over the years. He typically defends his team after close, hard-fought wins. He seems to appreciate the moments at the top of the mountain more than he used to; after January's wild, come-from-behind win in the national title game he was (by his standards) downright giddy. And from his perspective, the main point of allowing ESPN's cameras inside the program during training camp was to help soften his humorless, workaholic image in the eyes of prospective recruits.
In the end, though, the enduring image is still, perpetually, of the control freak — the man who'd rather be watching film, who dwells on losses, who reacts to celebratory Gatorade baths with scowling indignation. Who makes a point of berating players and assistants in the course of lopsided blowouts. Who goes on insisting there's nothing out of the ordinary about his quarterback situation and lashing out at any suggestion to the contrary. That's the baseline Saban, and the one that came out swinging on Saturday night, right on schedule.
A less venerated coach who responded as hostilely to a simple question in the aftermath of a routine thumping of a lesser opponent might have been dismissed as a jerk or a bully, or, at best, tone-deaf. For one as untouchable as Saban, it's all just part of the process.
NOTEBOOK
Around the conference.
ALABAMA 51, LOUISVILLE 14: Anyway: Tua. Obviously, it's Tua.
Tagovailoa's final stat line (12-of-16 passing, 227 yards, 2 TDs, plus a third TD rushing) isn't the stuff of legend, or, usually, of Heisman campaigns. But whatever lingering doubts existed after his messianic turn in the national title game were put to bed immediately and did not stir thereafter. The results speak for themselves: Tua's six possessions as QB1 yielded five touchdowns, on drives covering 65, 55, 75, 25, and 62 yards, respectively, and it likely would have been 6-for-6 if not for a DeVonta Smith fumble at Louisville's 20-yard line. It was the most efficient performance of the weekend by any passer against a major conference defense, and earned a sky-high grade from Pro Football Focus.
With the great ones, though, seeing is believing, and Tagovailoa's combination of arm strength, accuracy, and mobility won over more converts than his stat line alone ever could. His first touchdown pass was a marvel of athleticism and awareness, a whirling, improvised heave to Jerry Jeudy that might have seemed ill-advised if it weren't so reminiscent of his first TD pass against Georgia in the Playoff, which also seemed to be the result of the same innate sixth sense. He flashed next-level accuracy and touch on a variety of routes — a quick slant to DeVonta Smith that gained 28 yards via run-pass option; a perfectly placed wheel route to H-back Irv Smith Jr. for a gain of 32; a gorgeous deep post to true freshman Jaylen Waddle, good for 49. His second touchdown pass, an over-the-shoulder, 3rd-and-10 teardrop to Jeudy, may have been the prettiest of all.
9/1/18 — 25-yard touchdown pass from Alabama's Tua Tagovailoa to Jerry Jeudy vs. Louisville pic.twitter.com/KXHgXXhc5R

— College Football Clips (@CFB_Clips) September 3, 2018
If you put together a highlight reel of the best throws of Jalen Hurts' career it would be hard to come up with a selection as impressive as Tagovailoa's highlights from the past two games alone. (Which, considering he only played for roughly one half in each, effectively amounts to just one game.) He can do everything Hurts can do as a runner and adds a downfield element as a passer that has been sorely missing since the days of AJ McCarron.
For what it's worth, Hurts didn't make much of a case for himself on Saturday, finishing 5-of-9 passing with minimal impact on the ground and just three points to show for his five possessions at the helm. But it's safe to say that by the time he set foot on the field the question was already moot. This is Tua's team.
That still leaves the question of how to handle Hurts' high-profile presence on the sideline going forward. Initially, the blueprint looks the same as it did last year, only with the roles reversed — Tua will go as long as necessary to build a comfortable lead, leaving Hurts to play cleanup in what figures to be a succession of blowouts, continuing this weekend against Arkansas State. That can work as long as Hurts is comfortable with his diminished role. If not, the new redshirt rule could allow him to limit his appearances to break-glass-in-case-of-emergency status without forfeiting a year of eligibility.
Either way, whether anyone is willing to acknowledge it publicly or not, the writing is on the wall: As long as Tua is healthy, it's hard to imagine a scenario from this vantage point in which Hurts is back in an Alabama uniform in 2019. He's reportedly in a position to graduate this winter, at the same time Tagovailoa's younger brother, Taulia, is set to enroll as the heir apparent. If he opted to take his talents elsewhere, Hurts would instantly become the most coveted QB on the grad transfer market since Russell Wilson. Barring another dramatic turn of events between now and January, the real question now is whether he'll have one year of eligibility remaining when the time comes, or two.
AUBURN 21, WASHINGTON 16: The game of the week was defined by missed opportunities, on both sides: Out of a dozen red-zone trips, just three terminated in the end zone, leaving both offenses feeling repeatedly like they left their best selves somewhere around the 25-yard line. Auburn settled for three field goals, missing two others; Washington connected on three field goals, as well, pushed a fourth wide right after having a touchdown erased by penalty, and suffered the day's most obvious calamity when QB Jake Browning fumbled the ball away just shy of the goal line.
The Huskies needed this one more, in terms of long-term Playoff positioning and national respect, and although they're heavily favored to win every game the rest of the way none of them will be on the kind of high-profile stage Auburn regularly enjoys in the SEC. Their margin for error has been reduced to zero.
Even if it wasn't pretty, though, the game did have the look and feel of a high-stakes slugfest, and even if it didn't necessarily vault Auburn into the top tier of championship contenders overnight it ought to pay big dividends for the Tigers' résumé as the season goes on. Defensively, the secondary was victimized for 296 yards passing on 16.4 per attempt, nearly double its worst yards-per-pass performance in 2017.
Usually that's the kind of number that sets off alarms. In this case, it probably says more about Washington's unsung receiving corps, which hauled in a surprising number of difficult, contested, and outright spectacular catches in coverage, than it does about the guys who were covering them; their performance is going to be difficult to replicate by future opponents, and still resulted in a single U-Dub touchdown. More relevantly for the rest of the season, the front four generated consistent pressure, sacking Browning five times.
If there's a lingering concern for Auburn coming out of this one, it must be the absence of an obvious, go-to weapon on offense. Last year that was Kerryon Johnson, but Johnson's successor at tailback, Kam Martin, averaged just 3.6 yards per carry with a long of 19 yards. The offense as a whole averaged just 3.3 per carry. Quarterback Jarrett Stidham was efficient, successfully avoiding any glaring mistakes, but didn't really challenge the Huskies downfield, either. (His longest completion gained 24 yards.) Again, knowing what we know about Stidham and his next-level arm strength, that speaks primarily to the level of competition. But the road to an SEC championship and/or playoff bid is not about to get any easier.
LSU 33, Miami 17: Look closely, and LSU didn't quite dominate this game to the extent the score suggests — Miami actually outgained the Tigers overall, 342 yards to 296, and on a per-play basis, ceding the edge mainly as a result of turnovers. The offense (and the passing game, especially) did not look appreciably different from the attacks that have persistently driven LSU fans crazy over the past few years. To suggest that Ed Orgeron is suddenly on solid ground, or that the long-term, big-picture outlook for the rest of the season looks dramatically different than it did last week, would be an overreaction.
But it is very obviously true that LSU needed this win to have any chance at exceeding its middling expectations, and on that level it's hard to imagine the night going any better. For a lineup as green as this one, the Tigers looked reassuringly like their usual, swaggering selves: Physical on the line of scrimmage, opportunistic on defense, willing and able to grind out a living on offense behind a marble slab of a tailback. On Sunday that role was filled by senior Nick Brossette, a 6-foot, 221-pound Baton Rouge native who finished with more yards (125) and touchdowns (2) against the 'Canes than he did in all of 2017. Nearly half of that total came on Brossette's first career touchdown, a 50-yard gallop at the end of the first quarter that opened the floodgates; the rest came in steady, cloud-of-dust installments.
So LSU has a defense and a ground game; what else is new? Going forward, the answer to that is going to depend heavily on the growth of grad-transfer QB Joe Burrow, whose first start yielded a classic LSU stat line (11-of-24 passing, 0 TDs, 0 INTs) and not much insight into his potential against the top teams in the division. He didn't screw things up, and on more than one occasion appeared to audible into a successful play, most notably on Brossette's long TD run. When everything else is going right, that's more than enough.
When everything else isn't going right, well, that remains to be seen. In the meantime, the Ohio native is well on his way to becoming one of the most popular figures on caps, sensible diet be damned:

He'll be a full-blooded Cajun by Halloween.
WEST VIRGINIA 40, TENNESSEE 14: Considering the shipwreck he inherited from Butch Jones, there's not much point in dwelling on the first big flop of the Jeremy Pruitt era. Make no mistake, a 26-point beating at the hands of an outfit that went 7-6 last year most definitely qualifies as a flop: The Volunteers might be starting over from square one, but aside from QB Will Grier it's hard to make a case that West Virginia was somehow more talented. And the offensive line, in particular, looked like a disaster in the making early on. Six of Tennessee's first 13 plays from scrimmage went for negative yardage.
On the other hand, Grier and Co. are going to burn a lot of opposing secondaries to a crisp this season, and as a committed rebuilding effort the Vols are better off focusing on the few positives in the ledger — a four-quarter, turnover-free performance from sophomore QB Jarrett Guarantano; a 100-yard rushing day for unheralded RB Tim Jordan; a busy day for gifted WR Marquez Callaway (7 catches for 85 yards), who was inexplicably ignored for most of 2017. Even the O-line got its act together on a pair of sustained, 70-plus-yard touchdowns drives. You know, it could have been worse.
That doesn't brighten the immediate outlook much in terms of wins and losses: Tennessee is still a likely underdog in seven of eight SEC games, per FPI, including a season-ending trip to Vanderbilt. (UT is slightly favored to beat Kentucky — hooray?) But there are at least some tentative answers for some of the biggest question marks on the depth chart, beginning with Guarantano, who looks like he has the coaches' trust to hold down the job over grad transfer Keller Chryst. Qualifying for a bowl game would be an achievement; for now, the next step against the Floridas and South Carolinas on the schedule is just looking like they belong.
Ole Miss receivers showing off their #nwo belt. It's gonna get a lot of airtime this season. pic.twitter.com/B8gnmNvjxT

— Sam Khan Jr. (@skhanjr) September 1, 2018
OLE MISS 47, TEXAS TECH 27: Ole Miss' receiving corps came into the season hyped as the best in the nation and looked every bit the part in Houston: As a group, A.J. Brown, DaMarkus Lodge, D.K. Metcalf, and Braylon Sanders hauled in 21 passes between them for 330 yards, two going for touchdowns. Standard caveats apply re: Texas Tech's oft-scorched defense; the Rebels still have much to prove against the upper echelon of the SEC after getting more or less shut down last year by Alabama, Auburn, and LSU. Nevertheless: The "Nasty Wide Outs" did exactly what a gang of imposing, NFL-ready targets should do against an outmanned secondary from the Big 12. They took 'em to school.
This game is like a WR clinic. pic.twitter.com/luNOVAX1AG

— Sam Monson (@PFF_Sam) September 1, 2018
On top of their own accolades, the Rebels' high-octane performance also paid off big for their head coach, Matt Luke, whose contract calls for him to take home a $150,000 bonus for any regular-season win over a Power-5 conference opponent outside of the SEC — a drop in the bucket compared to his $3 million base salary, but not bad all in all for a coach whose full-time/non-interim record now stands at 1-0. Within the conference, Luke will earn an addition $150k for each SEC victory beyond win no. 3. Nice work if you can get it.
SUPERLATIVES
The best of the week…
1. Alabama DB Deionte Thompson. Technically, Thompson qualified as one of the "new" starters on Alabama's defense after moving into the lineup due to injury for the final two games of 2017. But he more than held his own in the postseason, and against Louisville he was arguably the best player on the field — per PFF, he was the only player on either side of the ball who posted a higher grade than Tua Tagovailoa, finishing with five total tackles (including two for loss), three passes broken up, and an interception that halted Louisville's only scoring threat of the first half. That puts Thompson a) in the running for Defensive Player of the Week nationally, and b) right on schedule to continue Bama's run of All-American defensive backs on Saban's watch.
2. LSU DB Grant Delpit. Delpit did a little of everything against Miami, and did it all well, flashing as both a downfield cover man and a capable, Honey Badger-style blitzer in the Tigers' nickel package; he notched two tackles for loss, a sack, and a QB hurry on the Hurricanes' side of the line of scrimmage alone. With multiple injuries in the LSU secondary, Delpit was the constant on the back end and already looks like an entrenched leader as a true sophomore.
3. Auburn DL Nick Coe. Coe registered two TFLs against Washington — one of them a sack — but was a much more familiar presence in the Huskies' backfield than the box score suggests. His forced fumble in the third quarter was arguably the biggest non-scoring play of the game, thwarting one of U-Dub's best scoring opportunities of the day on third-and-goal from the Tigers' 3-yard line; without it, the outcome and the outlook for the rest of Auburn's season might be very different.
9/1/18 —Auburn's Nick Coe forces fumble vs. Washington's Jake Browning pic.twitter.com/K4PUmOh6lm

— College Football Clips (@CFB_Clips) September 3, 2018
4. Ole Miss RB Scottie Phillips. As a group, the spotlight against Texas Tech belonged to the Rebels' receivers. But no skill player supplied more bang for the buck in Week 1 than Phillips, a JUCO transfer who went for 204 yards on just 16 carries in his D-I debut — the lion's share of that total coming on a pair of breakaway scoring runs from 39 yards out in the first half and 65 yards in the second, the latter effectively putting the game on ice. Yeah, it's Texas Tech's defense; it's also been a while since Ole Miss boasted a consistent rushing threat to complement its up-tempo passing attack. If defenses have to pick their poison between Phillips on the ground and his more celebrated counterparts on the outside, this offense is going to be even more fun than we thought.
5. Kentucky LB Josh Allen. Allen, a junior, is an under-the-radar playmaker off the edge, but more stat lines like the one he delivered in Kentucky's 35-20 win over Central Michigan (10 tackles, 3 TFLs, 1 sack, 1 QB hurry) will get him noticed in a hurry. As a team the Wildcats held CMU to a paltry 255 yards of total offense on 3.9 per play, their best effort on both counts since 2015.
Fat Guy of the Week: Garrett Brumfield, LSU: Another Baton Rouge native, Brumfield has the distinction of being both the only fifth-year senior on LSU's offense and the only returning player who was singled out by league coaches in 2017 as an All-SEC pick (2nd team). He's also nicknamed "Bruiser." Against Miami, he made good on all of the above, supplying the key blocks on both of Nick Brossette's touchdown runs from his left guard position and generally anchoring a front that exceeded expectations its first time out. If that's going to continue, Brumfield may be the most indispensable reason why.
Catch of the Year of the Week: Deebo Samuel, South Carolina: Carolina badly missed its all-purpose dynamo last year after Samuel broke his leg in the third game. Saturday's 49-15 win over Coastal Carolina was his first game back, and he wasn't about to let it pass without getting in on the fun:
https://twitter.com/espn/status/1035965738488672256
Missed ya, Deebo.