SEC
Monday Down South: Finally, Fournette is all the way back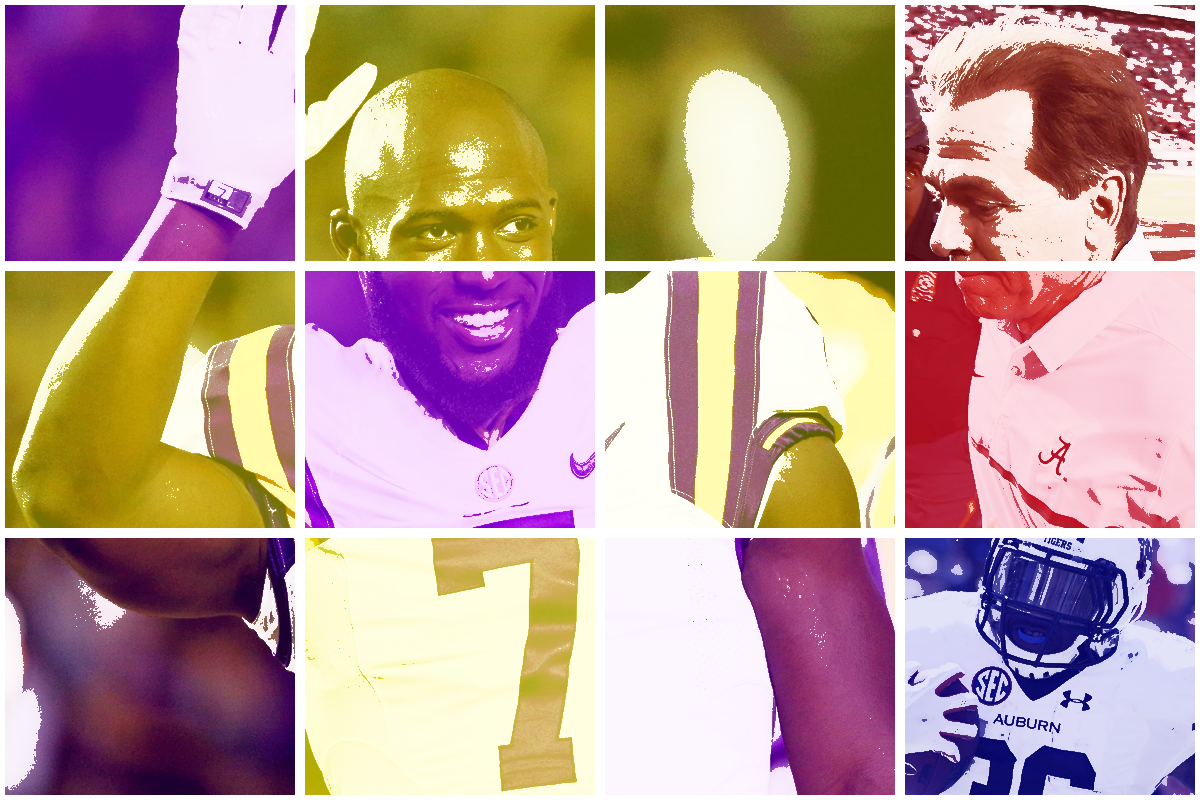 Monday Down South
Finally, Fournette is all the way back
By Matt Hinton
October 24, 2016
What was more absurd: Leonard Fournette's record-breaking, jaw-dropping, career-defining, 284-yard romp against Ole Miss on a bad ankle? Or that so many of us had quietly given up on the prospect of seeing that kind of performance from Fournette in an LSU uniform again?
Honestly, by last week the doubts weren't really even that quiet. Sometimes they came in the guise of career advice, but the subtext was the same: This guy's season is kind of a bust. And as an unabashed Fournette fan, I'll admit, while the prospect of the most gifted player in college football cynically packing it in for the sake of preserving his draft stock was (and still is) a miserable idea, the Clowney-like vibe hovering over the first half of his season was unmistakable.
Fournette hasn't been 100-percent healthy at any point, including LSU's season-opening at Wisconsin; he sat out three of the next five games, and when he did play he looked increasingly worn down by the burden of carrying the Tigers' hopelessly one-dimensional offense.
He continued to grind out yards, workhorse style, but with diminishing returns statistically and only fleeting glimpses of the vision, velocity, and big-play flair that made him such a transcendent star as a sophomore.
The month of September was a sustained anticlimax. LSU's quarterback situation was in flux, and Les Miles' abrupt ouster just four games in felt like official confirmation that, yes, this season is a bust. At that point, what could possibly still be in it for a player who only has millions to lose?
Consider that, as of Saturday afternoon, Fournette had just two touchdowns on the season with a long gain of just 35 yards. Meanwhile, sophomore Derrius Guice had emerged in his absence as the most potent big-play back in the SEC, if not the nation — through six games Guice had 11 runs of 20 yards or longer, more than any other FBS back. It was entirely possible that when Fournette returned, if Fournette returned, he would be reduced to a role player, 1b) in a rotation that revolved increasingly around his former understudy.
Twenty-four hours later that sentence is plainly idiotic. True, strictly speaking, Fournette and Guice did split time against the Rebels, logging 16 carries apiece out of deference to the former's gimpy ankle. But the quantity was irrelevant: Almost immediately, all of the singular qualities that elevated Fournette onto the short list of the most awe-inspiring runners in a generation were on full display, unfolding in an even higher gear than we remembered.
For the first time this year, we saw the burst:
And the vision:
And the violence, obviously — my god, the violence.
And finally, on a 78-yard sprint in the third quarter, the astonishing, man-among-boys ease of it all, from hitting the second level at full steam to stiff-arming a would-be tackler to the ground like a child (seriously, this poor kid doesn't stand a chance) to leaving the rest of the defense in the dust.
The result of all that on paper, as you probably know by now, was a single-game LSU record for rushing yards, on a ridiculous 17.8 yards per carry. But Fournette's appeal has always been more visceral than statistical, the kind of raw talent that leaves you with the impression that if the numbers don't quite back it up then that's the numbers' problem.
In this case, the stats only served as context for what everyone could see with their own eyes: Fournette is still Fournette, maybe more so than ever before, with all that that entails. And neither he nor his team are about to go quietly.
NOTEBOOK
Around the conference.
Alabama 33, Texas A&M 14
No surprises here: By kickoff Alabama was favored by as much as 19 points, a huge spread for a game between top-10 opponents, and won by 19, right on schedule. Aside from a brief scare in the third quarter, after A&M strung together back-to-back touchdown drives to close the first half and open the second, the biggest game of the weekend was just another by-the-book Bama beatdown.
Still, as the Crimson Tide continue to define and solidify their identity on offense, a couple of big-picture observations stood out. One, for an attack that's still on pace to set school records for both yards and points per game, it's worth reinforcing just how young this group is. I'm not just talking about Jalen Hurts: Against A&M, only two seniors (tight end O.J. Howard and wide receiver Gehrig Dieter) saw significant time on offense at all, along with only three juniors — linemen Cam Robinson and Bradley Bozeman and receiver ArDarius Stewart. (Another senior starter, guard Alphonse Taylor, sat out for the second straight week due to a concussion; his return remains TBD.)
The rest of the lineup was composed entirely of freshmen and sophomores with at least two years of eligibility remaining beyond 2016. Hurts, Damien Harris, Bo Scarbrough, Calvin Ridley, Jonah Williams, et al, are only beginning to scratch their potential as a unit, which is truly terrifying.
And two, if there was any doubt about the extent to which Alabama now identities primarily as a "spread" team, let it be put to rest. Of course, the Tide have been incorporating spread concepts for years, especially since Lane Kiffin's arrival as the chief play-caller in 2014. But as Hurts has become more and more entrenched by the week, the scheme has evolved to the point that Bama is almost exclusively a spread team: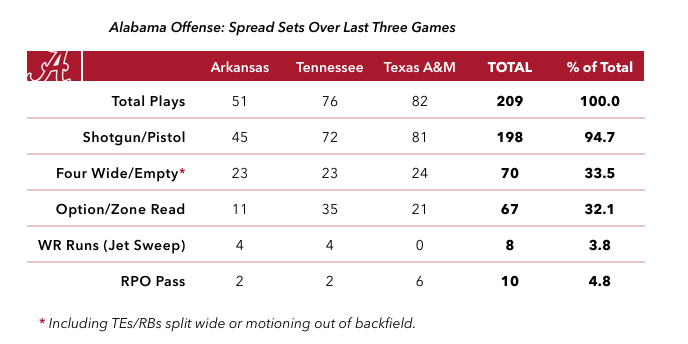 Note that those numbers don't include scrambles, screens, designed QB sweeps and draws, or anything else that might qualify as "spread" tendencies; it's just the bread-and-butter, which is spread personnel and, with Hurts, zone-read concepts by default.
Alabama's first three plays on Saturday — an RPO dump-off to Howard, an outside zone play to Harris, and a zone-read keep by Hurts, all run from three-receiver sets — are a fair approximation of the entire offense right now.
This sequence is a fairly representative slice of Alabama's entire offense right now. (Which is on pace to set school records.) pic.twitter.com/ZQJQKpKwmM

— Matt Hinton (@MattRHinton) October 24, 2016
The persistent question is still whether Hurts is advanced enough as a passer (or will be soon) to keep the sticks moving with any kind of consistency against a defense that manages to shut down the run. For now, the passing game exists overwhelmingly as a complement to the ground game; Hurts has been good for a deep shot or two per game off play-action but remains much more raw on film than his numbers indicate.
His completion percentage and overall efficiency are inflated by a steady diet of short, safe throws into the flat, as well as "tap" passes on jet sweeps — glorified handoffs that are recorded in the box score as passes. But that concern is based on the premise that at some point Alabama will need him to function at a higher level than he has so far, and at the rate the Crimson Tide are moving the ball on the ground that's not exactly a safe assumption.
•    •    •
On the other side of the ball, the Bama defense is vastly more experienced, so much so that it's no exaggeration to suggest at least half the starting lineup should already be in the NFL. Even for a lineup overflowing with blue-chip depth at every position, though, losing senior safety Eddie Jackson for the season is a significant development on multiple levels.
Defensively, Jackson is an All-SEC stalwart with more career starts (23) than any other member of the defense except Jonathan Allen and more career interceptions (10) than any other active player in the conference; on special teams, he's arguably the league's most dangerous return man. With the ball in his hands, Jackson has five touchdowns over the past two years on INT and punt returns alone.
His replacement in the secondary, junior Hootie Jones, was (of course) a prized recruit in the 2014 class whose lack of production to date can be chalked up mainly to his having to bide his time behind the likes of Jackson and Landon Collins. But it's not Jackson's talent that will be missed as much as his experience and leadership — he was the de facto "quarterback" of the secondary, responsible for play calls and alignment.
A few weeks back, Nick Saban said Alabama didn't call certain defenses late in the Ole Miss game because Jackson and his counterpart in the front seven, linebacker Reuben Foster, were both out with minor injuries. After Hurts, he's possibly the player the Tide could least afford to lose.
Every team is dealing with crucial absences this time of year, some more than others. But they're not all vying for a national title with minimal margin for error. Jackson's is Bama's first notable, long-term injury, and unless Jones is an instant revelation the vacancy he leaves behind is the only conceivable vulnerability as the season hits the November stretch.
Auburn 56, Arkansas 3
Auburn rushed for 543 yards in this game — just to make sure that registered: Five. Hundred. Forty. Three. — coming up a hair short of the Tigers' 545-yard effort in the 2013 SEC Championship for the title of most prolific rushing performance ever in an SEC game. No Arkansas defense has ever yielded more. The 53-point margin of victory was Auburn's largest against a conference opponent in 46 years. Need I go on?
Because the offensive numbers spoke so loudly for themselves, and in such explosive contrast to the Tigers' sickly production at the start of the year, naturally they dominated the reaction from the rest of the country.
For anyone who watches Auburn on a regular basis, though, the defense was a revelation in its own right, turning in what might have been the single best performance of Gus Malzahn's tenure: Including sacks, the Razorbacks finished with fewer rushing yards (25) on fewer yards per carry (0.8) than Auburn has allowed any FBS opponent since 2005.
Even that doesn't quite do justice to the carnage inflicted by the Tigers' defensive line, which racked up an astounding 15 quarterback hurries on top of 11 tackles for loss. (The TFL total includes four sacks, three of them coming in the first quarter.) Arkansas QB Austin Allen was so badly brutalized that he had to be helped off the field on two separate occasions, prompting legitimate concerns for his well-being behind a line that's already allowed 21 sacks this season — most in the SEC, and 50 percent more than the Razorbacks allowed in all of 2015 before the calendar has even turned to November.
In retrospect, Auburn's two early losses to Clemson and Texas A&M look like necessary growing pains for a team that has subsequently surpassed all expectations en route to a four-game winning streak. And while it's too soon to speculate where that leaves the Tigers relative to Alabama — a month ago, Malzahn was on the brink of losing his job; who knows where the pendulum will be a month from now? — it's hard not to notice that a) The remaining schedule leading up the Iron Bowl is very favorable, and b) For what it's worth, advanced stats continue to like Auburn a lot more than the traditional human polls: The Tigers rank among the top 10 this week according to Jeff Sagarin, Kenneth Massey, S&P+, and ESPN's Football Power Index.
Middle Tennessee 51, Missouri 45
Expectations in Columbia were already about as low as they could be after back-to-back debacles against LSU and Florida. So watching the defense get baked to a crisp by a Conference USA school on Homecoming only confirmed what Mizzou fans already knew: At 2-5, this season is a lost cause as far as tangible progress in the win column is concerned — merely matching last year's 5-7 finish is beginning to look ambitious — and there's no reason to think it's going to get better before it gets worse. This might be Missouri's lowest point as a program since the turn of the century.
The good news in the weeks ahead is that the Tigers' next three games (against Kentucky, South Carolina, and Vanderbilt) are all winnable, potentially building toward a season-salvaging, optimism-generating upset over Tennessee or Arkansas to close the regular season.
Sophomore QB Drew Lock was functional against MTSU, a step forward off nightmarish outings in Baton Rouge and Gainesville. The ground game generated two 100-yard rushers, Damarea Crockett and Ish Witter. Missouri actually leads the SEC in total offense, thanks to a couple of merciless outings against Eastern Michigan and Delaware State. Each week seems to offer some new glimmer of hope, even in defeat. But the fact that it's rarely the same glimmer from one week to the next is not encouraging.
SUPERLATIVES
The best of the week…
Alabama DL Jonathan Allen. Any one of a half-dozen Bama defenders could have qualified for this slot, which goes to Allen only in part due to his typically stellar stat line against Texas A&M: Six tackles, four QB hurries, one sack, one touchdown — you know, another routine day at the office for the headliner of the nation's most headline-friendly defense. But there is nothing routine at all about this:
Good lord, son. I've watched that play a hundred times and I'm still not sure it actually happened. How could it have? Like, physically? Allen is listed at 294 pounds, which usually comes with some significant implications, gravity-wise. The potential and productivity of this unit continues to know no bounds.
Texas A&M DE Myles Garrett. Arguably the most impressive aspect of Allen's performance is that it easily overshadowed Garrett's, no small feat considering the amount of time A&M's edge-rushing star spent in the Alabama backfield en route to collecting four tackles for loss. Garrett still didn't look 100 percent back from the gimpy ankle that slowed him down the past several weeks; then again, for someone with his spectacular burst off the line of scrimmage, "slow" is a relative term.
Auburn DE Carl Lawson. Lawson only shared in one of Auburn's four sacks against Arkansas, but that only scratches the surface of his impact: With seven QB hurries to his credit, Lawson got to be better acquainted with Austin Allen on Saturday night than most of Austin's friends. After two injury-shortened seasons in 2014-15, Lawson is well on his way to fulfilling his five-star recruiting hype with at least one sack in four straight games.
LSU RB Leonard Fournette. I dunno, he looks pretty healthy to me.
Catch of the Year of the Week: K.C. Crosby, South Carolina. With apologies to ArDarius Stewart, top honors this week go to Crosby, who went all out against UMass to haul in the first career touchdown pass from true freshman Jake Bentley:
Based on the rest of Bentley's afternoon, it looks like that will be the first of many, although presumably few of them from here on will earn the same marks for degree of difficulty.
MISCELLANEOUS POWER RANKINGS
The top 10 things in the SEC this week.
1. Alabama's Front Four. Week-in, week-out, simply unstoppable in every facet. Bama leads the nation in rushing defense, yards per carry allowed, and sacks, and somehow that still doesn't fully capture how dominant this group has been. (Last Week: 1)
2. The Legend of Leonard Fournette. Back with a bullet after what might turn out to be the most legendary performance of Fournette's career, surpassing even the 2015 humiliation of Auburn. He is who we thought he was. (LW: Unranked)
3. Gus Malzahn's Recently Restored Mojo. With Auburn's offense in disrepair and his personal stock at a low ebb following a 1-2 start, Malzahn counterintuitively gave up play-calling duties and reaped the benefits: Under offensive coordinator Rhett Lashlee the Tigers look as explosive as ever. If they survive this weekend's trip to Ole Miss, the Iron Bowl will likely be a winner-take-all collision for the SEC West. (LW: Unranked)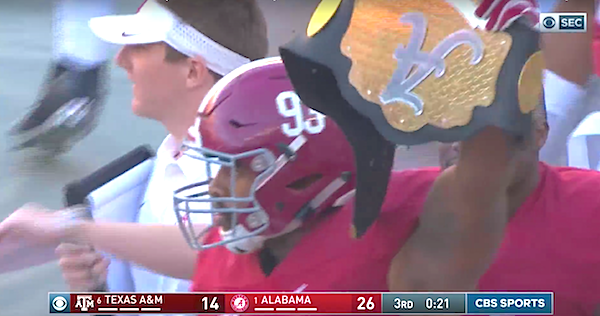 4. B4. Bama's Non-Offensive Scoring Streak. This is the first week that The Streak — now at 10 games and counting dating to last season — has been ranked in its own right, apart from Alabama's defensive line, as it has emerged as a widely recognized narrative. But it's still being almost entirely driven by the front four, as we saw against Texas A&M with Jonathan Allen retaking the coveted Ball Out Belt for the second time this season. (LW: Unranked)
5. The Orgeron Effect. LSU's win over Ole Miss was a personal triumph for Coach O, whose dismal three-year record in Oxford remains the tallest obstacle standing between him and the full-time gig in Baton Rouge. Just like his predecessor, though, ultimately his fate will come down to what happens against the Crimson Tide. (LW: 3)
6. Kentucky Above .500. In early September the Wildcats were laughingstocks. Following an ugly, 0-2 start, though, they've taken four of their past five, including Saturday's dramatic, 40-38 win over Mississippi State decided on a 51-yard field goal as time expired. Mark Stoops is a much happier man at 4-3 than he would be at 3-4.
It's A Party! It's A Party! pic.twitter.com/hoTIAJFBha

— UK Stoops Troops (@UKStoopsTroops) October 23, 2016
Meanwhile, it's a safe bet Dan Mullen is not enjoying 2-5 nearly as much. (LW: Unranked)
7. Texas A&M's Pass Rush. Sacks don't come easy when you give up 287 yards rushing, or when your top two pass rushers wind up spending time on the bench due to injury. Still, the Aggies managed to take down Jalen Hurts three times Saturday (none of them credited to Myles Garrett or Daeshon Hall), continuing their own streak of recording at least three sacks in every game this season except one. (LW: 4)
8. Ole Miss' Powder Blue Helmets. In one sense, the Rebels looked mostly awful in all phases at LSU, and not only when attempting to tackle Leonard Fournette.
This is a *spectacular* hold. pic.twitter.com/BDBAu6DDbk

— Matt Hinton (@MattRHinton) October 23, 2016
In another, more literal sense, though, they looked great, despite coming out on the losing end in the powder blues for the second week in a row. Remember: Look good, feel good; feel good, play good. Eventually this has to prove true. (LW: Unranked)
9. The One That Got Away. Former Rebel turned Blue Raider I'tavius Mathers accounted for 263 total yards and two touchdowns in Middle Tennessee's win over Missouri, including a career-long 71-yard TD run in the second quarter.
For the season, Mathers ranks fifth nationally with 940 rushing yards, only 101 fewer than Ole Miss' entire team in 92 fewer carries. (LW: Unranked)
10. The Vol Renaissance. Tennessee was off this week, and presumably wasn't feeling very optimistic on the heels of last week's momentum-crushing debacle against Alabama. Once they lick their wounds, though, the Volunteers are in an enviable position in the SEC East, with four likely wins on deck against South Carolina, Kentucky, Missouri, and Vanderbilt, and Florida now having to play at LSU to preserve its lead in the division standings. Regardless of what happens with the Gators, if the Vols win out (and they should) they'll finish with 10 wins for the first time since 2007. (LW: Unranked)