SEC
Monday Down South: New year's resolutions for the 2019 season
We're back! The 2019 college football season kicks off this Saturday, incredibly, making this week the last moment of pure optimism before the carefully assembled scaffolding of preseason hype — the polls, the lists, the hot-seat gossip and Heisman hopefuls — begins to quiver and crack under the weight of reality. You've spent the past 6 months scouring the predictions, absorbing the narratives and weighing the odds. You're more familiar with the new faces than any healthy person should be and more familiar with the old faces than with your spouse.
Again this year I'll be here each Monday throughout the season to recap the previous weekend in the SEC, and before my own assumptions yield to chaos I thought it would be useful to establish a few guidelines to keep the unfolding season in perspective. To that end, here are 5 resolutions for the new year that I hope will stop me from getting too carried away from one week to the next:
1. Don't take Alabama's dominance for granted.
We all know the drill here, right? Bama is Bama.
In 2019, that means exactly what it always means. As usual, the Crimson Tide will open the season with the highest expectations, the most monolithically talented roster, and — along with their new bête noir, Clemson — the most obvious path to the College Football Playoff. As usual, they're going to be heavily favored in every game they play, right up to and possibly including the now-annual collision with Clemson in the postseason. As usual, the only goal is the big crown or bust.
In at least one sense, though, the outlook is unusual: For once, no matter how grisly the final scores, no matter how invincible they look along the way, at no point will the Tide's eventual coronation feel inevitable. How can it, after the past 3 years?
We know better now, or at least we should.
The 2016 team was undeniably the best in the nation, and arguably one of the best in the modern history of the sport, right up until it wasn't; after demolishing everything in its path en route to the national title game, Bama let the crown slip away against Clemson after blowing a 10-point lead in the fourth quarter. The 2017 team, again, was undeniably the best in the nation, right up until it wasn't; after cruising to an 11-0 start, the Tide fell apart in the regular-season finale against Auburn, barely made the playoff cut after missing the SEC Championship Game, and ultimately needed an improbable rally to redeem themselves in overtime of a National Championship Game they trailed throughout. The 2018 edition, armed at last with a bona fide Heisman-caliber quarterback, was the most inevitable of them all, the defining juggernaut of the Nick Saban era … right up until it crashed and burned in the most lopsided defeat of Saban's tenure.
Last year's flop at the finish line doesn't have much bearing on how Bama will fare in the January rematch everyone and their mother expects again this year. But it was a timely reminder that the predictable championship romps of the BCS years are long gone, and that nothing in college football, not even Alabama's claim to the throne, is ever written in stone.
Winning a national championship is hard. Keep that in mind as you watch the Tide lay waste to a schedule that includes zero notable nonconference opponents, doesn't present a serious road threat until midseason (at Texas A&M on Oct. 12), and might not feature a single Playoff-level opponent — give or take LSU on Nov. 9 — until the conference championship game against (presumably) Georgia. Injuries notwithstanding, as long as Tua Tagovailoa is upright you can probably take to the bank that they're going to be in the championship mix in the end. You know, as usual. Just remember that what happens then is anybody's guess.
2. Be patient with Georgia.
Kirby Smart has built a year-in, year-out recruiting machine in Athens that rivals the one he left in Tuscaloosa, and after pushing Alabama to the brink in high-stakes, winner-take-all situations each of the past 2 seasons, the Bulldogs have every reason to believe this is the year they finally kill the beast. All of the pieces for another sustained run are in place. But don't be surprised if it takes them a little while to gel into top beast-killing form.
There are several looming vacancies in the lineup — most notably at wide receiver, where UGA is essentially starting over from scratch, and at linebacker, where a handful of holdovers from last year's 2-deep are being pushed by an influx of young, unproven talent on the rise. (There's also the matter of backup quarterback in the wake of Justin Fields' transfer to Ohio State, but that's not so much a question mark as it is a deal-breaker; if Jake Fromm goes down for any extended period, Georgia's Playoff hopes go with him.) Of course, there's no shortage of intriguing candidates: Almost everyone competing for a significant role at both positions was a 4- or 5-star recruit, and the nature of that type of competition means that whoever emerges on top will be marked for future stardom. The questions for a team in win-now mode is just how far into the future we're talking, and just how steep the learning curve will be in the meantime.
The schedule doesn't get interesting until a Week 4 visit from Notre Dame, followed by a trip to Tennessee 2 weeks later, both of which could get a little more interesting than Dawgs fans bargained for if the young'uns are still finding their legs. It doesn't get really interesting until the November stretch against Florida (likely the decisive game in the SEC East), Missouri, Auburn and Texas A&M. If we're still waiting for the passing game or the pass rush to click into place by the time the Cocktail Party rolls around, it's time to worry.
3. Don't rush to judgment on Will Muschamp's fate at South Carolina …
Muschamp is entering the make-or-break phase of his Carolina tenure in Year 4, which, let's face it, is pretty much par for the course after posting a 12-12 SEC record in years 1 through 3. And while it might be premature to begin speculating about the hot seat, it is also a less-than-ideal moment to be staring down the barrel of a schedule that looks like this: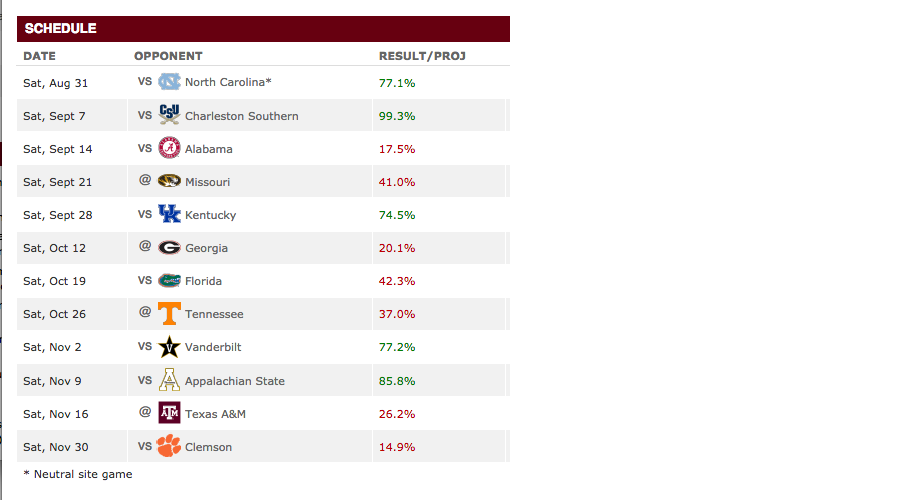 That's the toughest schedule in the nation, according to ESPN's Football Power Index and most other metrics, and one that threatens to render the progress the Gamecocks have made on Muschamp's watch unrecognizable. Everything about it is stacked against them: 3 of the 4 toughest SEC East games are on the road, as is the annual cross-division date with Texas A&M; your rotational opponent from the West is Alabama; your in-state rival is the defending national champion. The presumptive wins are nowhere near as certain as FPI's odds suggest, either. Kentucky has won 5 consecutive against South Carolina and is coming off a 10-win season. North Carolina is a wild card. Even the token November patsy from the Sun Belt, Appalachian State, is a consistent winner that's made a habit of scaring the living daylights out of major-conference opponents.
Muschamp might well be right when he says this team is his best yet, and the advanced metrics happen to agree: Both FPI and S&P+ project South Carolina as a top 20 outfit. Against that schedule, though, both FPI and S&P+ also project them to finish 6-6, barely scratching the surface of bowl eligibility. In other words, it shapes up as the kind of year when Gamecocks fans would do well to remind themselves, for their coach's sake, that it's not whether they win or lose, but how they play the games.
4. … or Gus Malzahn's at Auburn.
Malzahn's perpetual hot-seat status — now entering it's … what, fourth consecutive season? — is well-documented, to the point now that a not-insignificant percentage of Auburn fans can probably quote the buyout clause in his contract by heart. No one on The Plains was satisfied with last year's 8-5 record, the 3rd time in 4 years the Tigers have finished outside of the AP top 20 (unranked, in this case) after opening the season in the top 10. In the 5 seasons since their miracle run to the BCS national title game, in 2013, they've exceeded 8 wins only once.
Those expectations haven't budged: Auburn is 16th in the preseason Coaches' poll, roughly in line with the consensus of most preseason magazines. FPI and S&P+ forecast the Tigers in the top 10. As far as the final record goes, though, any hints of optimism come with a major caveat: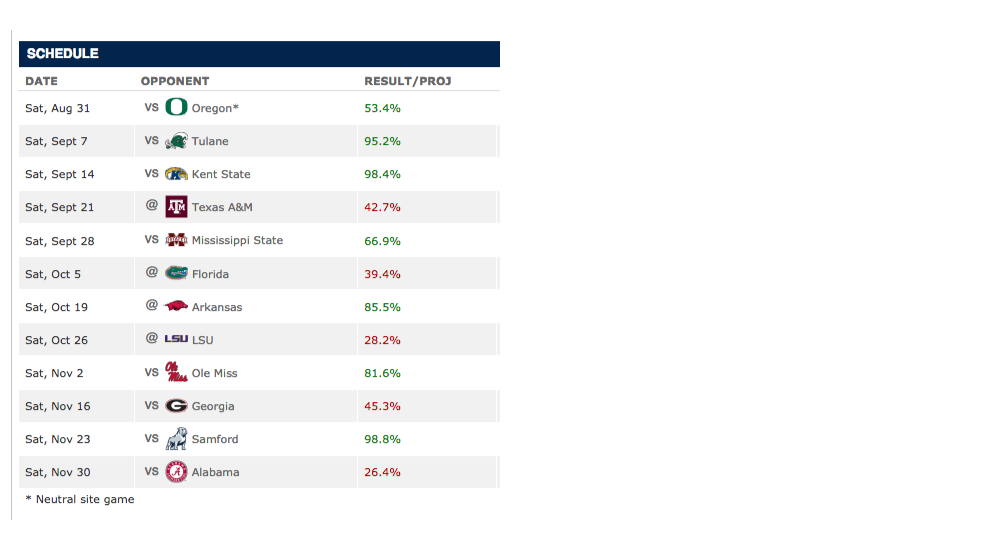 Again, that's an 8-5 projection for a team that comes in at No. 9 in FPI's national rankings. Fully half of Auburn's schedule will pit them against top 10 opponents (per FPI), including midseason road trips to Texas A&M, Florida and LSU and a not-to-be-taken-lightly opener against Oregon, a Pac-12 favorite and Playoff dark horse. That game alone, like last year's neutral-site opener against Washington, will go a long way toward setting the tone for the rest of the season. Are the Tigers playing for keeps in the SEC, or just to keep their heads above water and their coach employed? But any discussion about Malzahn's job security should come with the recognition that whether they're the No. 9 team in the country or No. 49, the final record might look the same either way.
5. Don't set the bar too high for the new quarterbacks.
At least 5 of the league's 14 teams will be breaking in a new QB this season, almost all of whom will be graduate transfers in their first season on campus: Arkansas (Ben Hicks, newly arrived from SMU, or Nick Starkel, from Texas A&M), and Missouri (Kelly Bryant, Clemson) have already cast their lot with veterans who come with extensive starting experience at their previous schools, while Mississippi State (Tommy Stevens, Penn State) and Vanderbilt (Riley Neal, Ball State) are auditioning candidates who could add to the list. Only Auburn, which is still deciding between Joey Gatewood and Bo Nix, can say for certain it will be replacing an outgoing starter with a guy it actually signed out of high school. The trend is real.
Don't worry — this isn't another mind-numbing complaint about the "transfer portal," whatever that is. It's a reminder that, as exciting as the prospect of new blood behind center might be, the vast majority of guys who opt out of a familiar situation for an unfamiliar one are leaving for a good reason: Their prospects of remaining on the field in the former case were slim to none.
Bryant, owner of a 16-2 record as a starter at Clemson, famously found himself on the wrong end of Trevor Lawrence's rapid ascendance last September; at Mizzou, he'll be thrust into a new system — one conceived around the pro-style skill set of his predecessor, Drew Lock, rather than Bryant's mobility — with considerably less surrounding talent, and with only marginal interest from the NFL scouts he's hoping to impress. Hicks, who was recruited to SMU by his new coach at Arkansas, Chad Morris, was briefly benched early last season and saw his overall efficiency rating drop significantly compared to 2017; his main competition in Fayetteville, Starkel, started 5 games in 2017 at Texas A&M (including the season opener at UCLA) but found himself the odd man out last year behind Kellen Mond. Neal had a respectable run at Ball State, accounting for 61 total touchdowns (46 passing, 15 rushing) throughout 32 career starts, but didn't even crack the top 100 nationally last year in efficiency for a team that finished 102nd in scoring. Stevens, a career backup at Penn State, wasn't likely to win the full-time job.
That's not to say they're doomed to fail. Alabama won a national championship with a grad-transfer QB who left his previous school in search of playing time; LSU rode a grad-transfer QB to a surprise top 10 finish last season, in the same year his grad-transfer predecessor was the only SEC quarterback to hear his name called in the draft. Bryant, in particular, has played at a high level for a championship contender. But that was in a much more favorable situation than he'll have this fall at Mizzou, and the rest of the transfer class is facing an even steeper climb to relevancy beyond their own fan base. At this stage in their careers, winning and holding down a starting job should be success enough.
Superlatives
The best of the week year.

Throughout the season this space will be reserved for the best performances of the weekend.  This week, it's preseason awards time.
Offensive Player of the Year: Tua Tagovailoa
Listen, believe me, I'd love nothing more than to be the guy who bucks the chorus and tells you everything you think you know is wrong and backs it up. If I could make a case for anyone else, I would, strictly in the name of breaking up the monotony of preseason praise for the most decorated returning player in the nation. But … yeah, no. It's Tua. Obviously, it's Tua.
With no lingering caveats about his health, the only real questions left are whether 1) Tagovailoa can sustain the absurd statistical pace he set in his first season as a starter, and more important, 2) he can cement his legacy in hardware after watching both the Heisman and the national championship slip from his grasp at the finish line. It's a testament to his brilliance — and to the inevitability of his early departure for the draft — that anything less will feel like underachieving.
Defensive Player of the Year: Grant Delpit
#LSU safety Grant Delpit is one of my early favorites from summer scouting. A do it all type safety that wears many hats on their defense. pic.twitter.com/4KUAIkBcpx

— Jordan Reid (@JReidNFL) July 7, 2019
So much of the conversation around Delpit over his first 2 seasons at LSU has involved casting him as The Next … in a long line of versatile, heat-seeking Tiger safeties: The Next Jamal Adams, The Next Eric Reid, occasionally even The Next Tyrann Mathieu, when folks have had an Abita or two too many. Entering Year 3, though, Delpit is already on the verge of becoming a household name in his own right, coming off a breakthrough season that established him as the league's preeminent ballhawk and ended with him becoming just the 3rd player in school history (along with Mathieu and Leonard Fournette) to be named a consensus All-American as a true sophomore. The honor reflects a skill set unmatched by any other active college DB, combining range in deep zone coverage, anticipation in man-to-man, instincts in space, physicality in run support, fearlessness around the line of scrimmage, and tenacity as a blitzer in one NFL-ready package.
Specialist of the Year: Braden Mann
Winning the Ray Guy Award should speak for itself, but in Mann's case simply acknowledging that he was the best punter in college football in 2018 doesn't quite do him justice. He was the best punter by a mile, which is about the distance most of his efforts seemed to travel: Mann launched 28 punts that covered at least 50 yards, most in the nation, with half of those covering at least 60 yards, a single-season FBS record; altogether, he became the first FBS player since the turn of the century to average 50 yards per attempt over a full season. He also dropped 19 punts inside the opposing 20-yard line — a primary reason that Texas A&M led the nation in punting efficiency, according to efficiency guru Brian Fremeau — and (by the way) drove 57 of his 80 kickoffs for touchbacks.
This year, Mann has said he's working to improve his hang time to cut down on the number of returnable punts (opponents managed 21 returns last year, most in the SEC) as a result of his out-kicking the coverage. As punting problems go, that's a good one to have.
Fat Guy of the Year: Andrew Thomas
A good left tackle is one you never have to think about, but in Thomas' case his résumé in his first 2 seasons at Georgia shines all on its own: In short order, he's graduated from blue-chip recruit to Freshman All-American in Year 1 to first-team All-SEC as a sophomore. At that rate, All-America notices and 1st-round draft hype as a junior are just par for the course before he settles in for a long, lucrative career at the next level.
Breakout Player(s), Offense: Seth Williams and Anthony Schwartz
Seth Williams has a bright future for Auburn. Talented young player. Two touchdowns today for the freshman from Tuscaloosa pic.twitter.com/hovpJMmVxw

— Matt Zenitz (@mzenitz) November 3, 2018
Auburn's injury-plagued offense was nothing to write home about in 2018, especially the passing game, where Williams and Schwartz were pressed into the regular wide receiver rotation as true freshmen. Amid the frustration, though, the duo also flashed enormous potential, combining to average 18.6 yards per catch with 12 total touchdowns. Williams, a 6-3, 224-pounder with dynamic ball skills, emerged over the second half of the season as a 1-on-1 nightmare for smaller corners, specializing in contested catches in the red zone; all but one of his 26 receptions on the season went for a first down or touchdown. Schwartz, a track star who might be legitimately the fastest player in college football, looked like a natural in the jet-sweep role, a mainstay of Gus Malzahn's playbook. As long as Malzahn can keep both on the field at the same time (Schwartz is questionable for the opener with a broken hand) their production as sophomores is due for a surge.
Breakout Player, Defense: Chauncey Rivers
The "Breakout" category is typically reserve for underclassmen, not 5th-year seniors, but Rivers' path to Mississippi State's starting lineup has been hard-won to say the least. Year 1: Dismissed from Georgia after playing sparingly as a true freshman. Year 2: Relegated to junior college. Year 3: Academically ineligible at MSU. Year 4: Stuck in a rotational role behind All-SEC pass rusher/human-pterodactyl hybrid Montez Sweat. At this stage in his career, the most notable line on Rivers' résumé is still his featured turn on Last Chance U.
That's #5 Chauncey Rivers, from Last Chance U, showing great lateral movement skills to get around Jonah Williams after his initial rush is stopped. Gets the sack on Tua. pic.twitter.com/C7mGzusb0D

— Fed Scivittaro (@MeshPointScout) November 10, 2018
Still, in limited snaps last year Rivers was quietly one of the most productive members of the Bulldogs' loaded defensive line, racking up 7.5 tackles for loss with 3 sacks, all of them coming in the last 4 games. And with Sweat gone, the edge role and the potential NFL payday that comes with it is his for the taking. If he makes good, finally, the drop-off on MSU's reconstructed d-line will be much less steep than the mass exodus of last year's starting four suggests.
Rookie of the Year: D.J. Dale
Dale isn't the highest-rated member of Alabama's incoming recruiting class, by a long shot, or even the highest-rated defensive lineman. But he was the undisputed winner of the spring, earning first-string reps from the jump and emerging as the dark-horse favorite to replace Quinnen Williams as the Crimson Tide's starting nose tackle while blue-chip classmates Antonio Alfano and Justin Eboigbe remained mired on the depth chart. At 6-3, 314 pounds, Dale is built less in the mold of the smaller, quicker Williams than he is of another former first-rounder, Daron Payne, and he wasted no time justifying the comparison.
Competition at nose is steeper in preseason camp with the arrival of another pair of massive, massively hyped freshmen, Ishmael Sopsher and Byron Young, both top 100 overall prospects in the 2019 class. (Dale is also working back from a minor knee injury.) Given his promising head start, though, all signs point to Dale anchoring the front for the next 3 years in vintage Bama fashion.
Sleeper of the Year: Lynn Bowden Jr.
Bowden was overshadowed in 2018 by Kentucky's face-of-the-program tailback, Benny Snell Jr., who shouldered such a heavy workload that he often seemed to be carrying the entire offense on his back. To the extent that the Wildcats were reluctant to put the ball in the air unless absolutely necessary, that was true. It's also true, though, that when offense bogged down — which it frequently did — Bowden tended to be the guy responsible for getting it un-bogged: See his clutch touchdowns at Missouri (on a 67-yard punt return in the 4th quarter, Kentucky's only TD of the game before the game-winner on the final play); at Texas A&M (on a 54-yard run, Kentucky's only offensive TD in an eventual overtime loss); and in the Citrus Bowl win over Penn State, in which he housed another punt in the first half…
Lynn Bowden 58 yard punt return TD!!! #Kentucky #CitrusBowl pic.twitter.com/5r9P8zSGD8

— #FlashSZN (@ftbeard_17) January 1, 2019
… then set up the clinching score in the second by turning a quick hitch route into the Wildcats' longest reception of the season.
For the year Bowden finished 4th in the SEC in all-purpose yards, eclipsing the century mark in that category in 5 of the last 6 games. This season, what he lacks in exposure he should gain in opportunity: Snell's early exit leaves Bowden as Kentucky's only remotely proven skill player, and as the primary candidate to assume his role as the focal point of the offense.
Comeback Player of the Year: K'Lavon Chaisson
The jury's still out on Tennessee OL Trey Smith, who the Vols hope will return to all-conference form after missing the second half of his sophomore season due to blood clots; he's practicing in a limited capacity but has yet to be cleared for full contact. That leaves the honor to Chaisson, a former top 40 recruit with elite pass-rushing potential and a green light from LSU doctors after suffering a torn ACL in last year's season opener. On paper, Chaisson is still a blank slate with just 4 career starts and 5 TFLs to his name. In the locker room, he's a proven commodity: Coaches were sufficiently impressed by Chaisson's attitude and effort in recovery to assign him the No. 18 jersey for the upcoming season, officially marking him as a team leader as a redshirt sophomore. If he fulfills those expectations, his breakout season in Baton Rouge could well be his last.
Most Valuable Transfer: Isaiah Zuber
Yes, all eyes are on the latest batch of grad-transfer quarterbacks, at Mississippi State and elsewhere. Regardless of who winds up throwing the passes, though, the Bulldogs were in desperate need of new blood on the receiving end, where the returning crop of wideouts did departed QB Nick Fitzgerald absolutely no favors the past 2 seasons. (Four of Mississippi State's top 5 receivers from 2018 are back; how many of them can you name without looking them up?)
Enter Zuber, a 5th-year burner via Kansas State whose output in 2017 and '18 — while mostly overlooked in the Big 12 — would have easily made him MSU's top receiver both years. Once he gets up to speed in his new offense he's the Bulldogs' best chance at finding the game-breaker they've been missing since Fred Ross.
Best Position Group: Alabama's wide receivers
Acknowledged: LSU's 2-deep in the secondary consists almost entirely of former 5-star recruits with likely NFL futures. Auburn's starting 4 on the defensive line could arguably pass for a pro front right now. Georgia's offensive line is the largest in the nation in terms of sheer mass and potentially the deepest, too. Alabama's starting DBs are … well, Alabama's starting DBs.
But Alabama's wideouts are on another level entirely. The core group — juniors Jerry Jeudy, Henry Ruggs III and DeVonta Smith, plus electric sophomore Jaylen Waddle — returns intact after collectively averaging 17.9 yards per catch with 38 (!) touchdowns, numbers that frankly understate the impact of putting all of them on the field at the same time. Consider that Ruggs, for example, a potential 1st-round pick with legitimate track speed, who's scored an absurd 17 touchdowns on just 58 career receptions, who routinely does stuff like this …
We see you, Henry Ruggs. We see you. pic.twitter.com/GQNmmxa5rQ

— CBS Sports (@CBSSports) November 24, 2018
… and this …
OH MY.
Henry Ruggs only needs one hand. pic.twitter.com/BxGBaUM6Pr

— CBS Sports (@CBSSports) November 4, 2018
… and this …
Henry Ruggs III to the HOUSE. @AlabamaFTBL is showing why they're the No. 1 team in the country. pic.twitter.com/MW8T7V4bpp

— CBS Sports (@CBSSports) September 22, 2018
… and this …
Henry Ruggs III with the BURNERS (called back idc) pic.twitter.com/eCXv74yf1m

— Michael Kist (@MichaelKistNFL) October 13, 2018
… finished as the team's 3rd-leading receiver, behind Jeudy, a no-brainer All-American on pace to surpass Julio Jones and Amari Cooper for the title of Best Receiver In School History, and Waddle, whom the film-eaters at Pro Football Focus graded out as the best true freshman WR in the nation and a first-team All-American in his own right. Consider also that all of the above were underclassmen in 2018, their first season together as starters. The prospect of an older, more experienced group lining up in 3- and 4-receiver sets this fall is absolutely terrifying.
Most Likely to Improve: LSU's passing game
I'm as skeptical as anyone about Ed Orgeron's commitment to the spread offense, but strictly from a personnel perspective it's easy to see why the Tigers would look at Alabama's evolution and think "why not us?" So QB Joe Burrow is not Tua Tagovailoa, but he was a better passer in 2018 than the raw numbers indicated, he improved as the season went on, and he should be much more comfortable this fall with a full year under his belt. Unlike last year, the receiving corps now boasts a true go-to option (junior Justin Jefferson), a couple of young breakout candidates (sophomores Ja'Marr Chase and Terrace Marshall Jr.), and a handful of 4th- and 5th-year vets with significant starting experience (Stephen Sullivan, Derrick Dillon and Dee Anderson).
Skepticism aside, even if they don't put the ball in the air any more often, they're almost certain to improve their efficiency when they do. The bigger question is how much of that progress will translate against the likes of Florida and Alabama, where it could be the difference in another good year and a historic one.
Most Likely to Regress: Kentucky's defense
Josh Allen's departure might have doomed the Wildcats to this category all on its own, but losing the most decorated defender in school history is just scratching the surface. In addition to Allen, Kentucky also bid farewell to 9 other starters from last year's overachieving unit, including virtually the entire secondary — the new cornerbacks have no relevant D-I experience, and one of the few holdovers at safety, Davonte Robinson, was just ruled out for the season to injury. There are enough familiar faces in the front 7 to stave off a wholesale collapse, most notably senior LB Kash Daniel and sophomore DE Joshua Paschal, a former 4-star recruit returning from a medical redshirt in 2018. Can the remodeled D hold its own as an average or slightly above-average SEC outfit? Sure. Can it come anywhere near holding opponents below 20 points per game for the second year in a row? Don't count on it.
Game of the Year: Florida vs. Georgia (Nov. 2)
The SEC West looks like the usual dogfight, in which there is one alpha (Alabama) at the front of a pack of hungry challengers determined to cancel each other out. The East, on the other hand, figures to be straightforward: To the Cocktail Party victor go the spoils.
Florida might still be a year or 2 from mounting a sustained Playoff run at UGA's expense, but the fact that its trajectory under Dan Mullen is already pointing firmly in that direction, only a year removed from the utter chaos he inherited from Jim McElwain, is proof enough that the Gators are ahead of the curve entering Year 2. The schedule sets up nicely for them to arrive in Jacksonville at 7-1 or, depending on how they fare at LSU, conceivably even 8-0 — prime position for challenging Georgia's monopoly on the division. No other game before the conference championship itself will have as much impact on who makes it to Atlanta or what's at stake when they get there.
* * * * *
And just for the heck of it, here's my own personal (that is, not reflective of the opinion of anyone else at Saturday Down South) preseason All-SEC team. If an obviously deserving player from your neck of the woods didn't make the cut, it can only be because I harbor a deep, irrational bias against him personally — especially if he happens to play defensive line, cornerback, or quarterback — and your team generally, and certainly not because some of these decisions were tough calls between more deserving candidates than I could accommodate.
OFFENSE
Quarterback: Tua Tagovailoa • Jr, Alabama
Running Back: D'Andre Swift • Jr., Georgia
Running Back: Ke'Shawn Vaughn • Sr, Vanderbilt
All-Purpose: Lynn Bowden Jr. • Jr, Kentucky
Wide Receiver: Jerry Jeudy • Jr, Alabama
Wide Receiver: Bryan Edwards • Sr, South Carolina
Tight End: Albert Okwuegbunam • Jr, Missouri
Line (OT): Andrew Thomas • Jr, Georgia
Line (OT): Jedrick Wills Jr. • Jr, Alabama
Line (OG): Solomon Kindley • Jr, Georgia
Line (OG): Donnell Stanley • Sr, South Carolina
Line (C): Darryl Williams • Sr, Mississippi State
Honorable Mention – QB: Jake Fromm (Georgia); Joe Burrow (LSU); Kellen Mond (Texas A&M); Jake Bentley (South Carolina); Kelly Bryant (Missouri). … RB: Najee Harris (Alabama); Larry Rountree III (Missouri); Clyde Edwards-Helaire (LSU); Tavien Feaster (South Carolina) … WR: Jaylen Waddle (Alabama); Henry Ruggs III (Alabama); DeVonta Smith (Alabama); Justin Jefferson (LSU); Van Jefferson (Florida); Seth Williams (Auburn); Jhamon Ausbon (Texas A&M); Johnathon Johnson (Missouri). … TE: Jared Pinkney (Vanderbilt). … OL: Alex Leatherwood (Alabama); Prince Tega Wanogho (Auburn); Isaiah Wilson (Georgia); Damien Lewis (LSU); Lloyd Cushenberry III (LSU); Drake Jackson (Kentucky); Trey Smith (Tennessee – health pending).
DEFENSE
Line (DE): Raekwon Davis • Sr, Alabama
Line (DE): Nick Coe • Sr, Auburn
Line (DT): Derrick Brown • Sr, Auburn
Line (DT): Justin Madubuike • Jr, Texas A&M
Edge (OLB): Anfernee Jennings • Sr, Alabama
Linebacker: Dylan Moses • Jr, Alabama
Linebacker: Cale Garrett • Sr, Missouri
Linebacker: Leo Lewis • Sr, Mississippi State
Cornerback: Kristian Fulton • Jr, LSU
Cornerback: C.J. Henderson • Jr, Florida
Safety: Grant Delpit • Jr, LSU
Safety: Xavier McKinney • Jr, Alabama
Honorable Mention – DL: Rashard Lawrence (LSU); Marlon Davidson (Auburn); Dontavius Russell (Auburn); McTelvin "Sosa" Agim (Arkansas); D.J. Wonnum (South Carolina); LaBryan Ray (Alabama); Chauncey Rivers (Mississippi State); Benito Jones (Ole Miss). … LB: De'Jon Harris (Arkansas); K'Lavon Chaisson (LSU); Michael Divinity (LSU); Jacob Phillips (LSU); Erroll Thomas (Mississippi State); David Reese II (Florida) … DB: J.R. Reed (Georgia); Shyheim Carter (Alabama); Trevon Diggs (Alabama); Patrick Surtain II (Alabama); Javaris Davis (Auburn); Nigel Warrior (Tennessee); Marco Wilson (Florida); Brad Stewart (Florida); DeMarkus Acy (Missouri).
SPECIALISTS
Kicker: Rodrigo Blankenship • Sr, Georgia
Punter: Braden Mann • Sr, Texas A&M
Kick Returner: Noah Igbinoghene • Jr, Auburn
Punt Returner: Jaylen Waddle • So, Alabama
Honorable Mention – K: Evan McPherson (Florida); Anders Carlson (Auburn). … P: Zach Von Rosenberg (LSU); Max Duffy (Kentucky); Tommy Townsend (Florida). … KR/PR: Lynn Bowden Jr. (Kentucky); De'Vion Warren (Arkansas).