SEC
Monday Down South: SEC ready to ring in the new year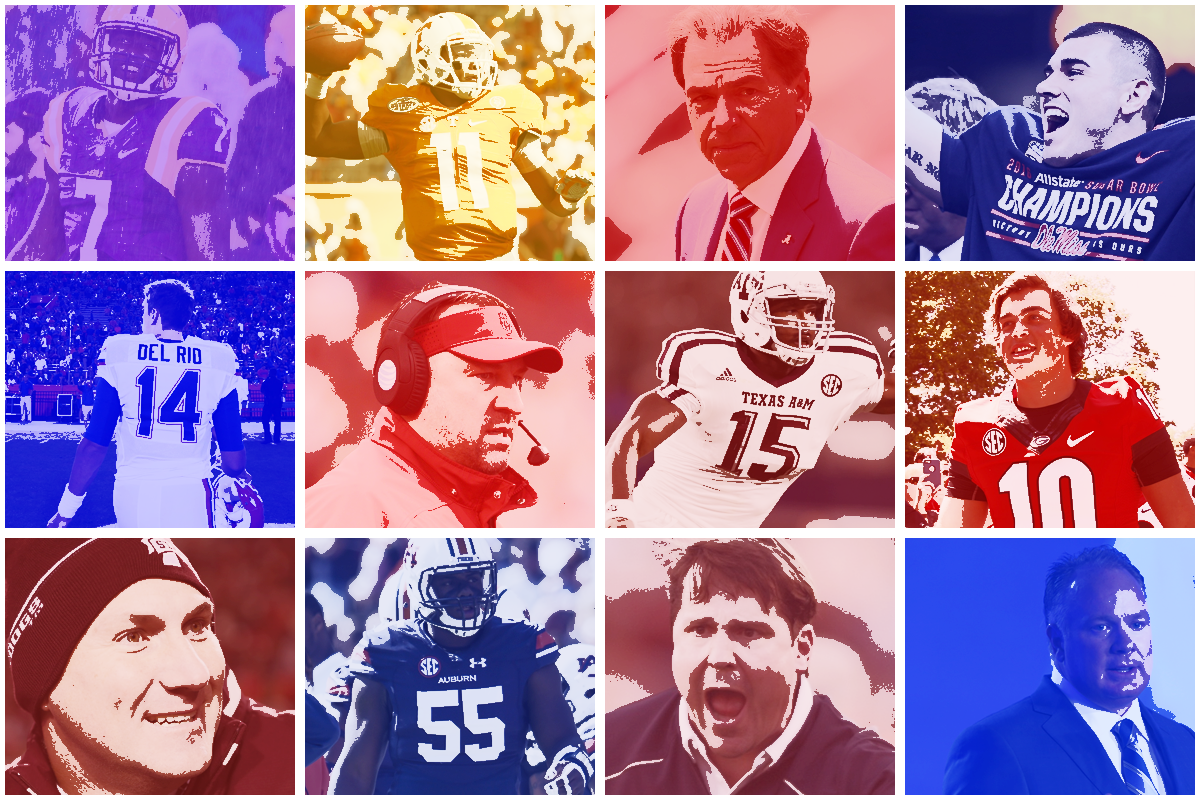 Monday Down South
SEC ready to ring in new year with bowl-like buzz
By Matt Hinton
August 29, 2016
Each Monday during the season, we'll put the previous weekend's games into context in our weekly wrap-up. For the first installment, though, we'll begin by looking forward, not back, toward opening weekend.
If you've tuned into ESPN lately you've probably heard the Worldwide Leader touting this weekend's slate of games as "the greatest opening weekend in the history of college football," and promotional considerations aside, yeah, they're totally right. It is.
Just look at this slate: After eight long, barren months in the offseason wilderness it's like fans are being rewarded for their perseverance with a 96-hour smorgasbord. If you've ever complained about too many well-heeled teams fattening up on early-season cupcakes, this weekend is for you. If you've ever felt nostalgic for the jamboree of compelling matchups that used to define New Year's Day, this weekend is for you.
Day
Time
Teams
TV
Thurs, Sep. 1
7:30 PM
App State vs. Tennessee
SEC Network
Thurs, Sep. 1
8:00 PM
South Carolina vs. Vanderbilt
ESPN
Sat, Sep. 3
12:00 PM
S. Alabama vs. Mississippi St.
SEC Network
Sat, Sep. 3
12:00 PM
Missouri vs. West Virginia
FS1
Sat, Sep. 3
3:30 PM
LSU vs. Wisconsin
ABC
Sat, Sep. 3
3:30 PM
UCLA vs. Texas A&M
CBS
Sat, Sep. 3
4:00 PM
La Tech vs. Arkansas
SEC Network
Sat, Sep. 3
5:30 PM
Georgia vs. UNC
EPSN
Sat, Sep. 3
7:30 PM
Massachusetts vs. Florida
SEC Network
Sat, Sep. 3
7:30 PM
S. Miss vs. Kentucky
ESPNU
Sat, Sep. 3
8:00 PM
USC vs. Alabama
ABC
Sat, Sep. 3
9:00 PM
Clemson vs. Auburn
ESPN
Mon, Sep. 5
8:00 PM
Ole Miss vs. FSU
ESPN
All times eastern
In fact, in one way the concentration of meaningful games to kick off the new campaign may be even better than the winter binge that ends it. At least at the start of the season there's no fatigue, no sense of missed opportunity, no suspicions that one side or the other has mentally checked out after a disappointing season or the appointment of an interim coach. Teams are hungry. Players are (mostly) healthy. Fans are optimistic. For one more week, at least, every goal is intact. Everyone is, conceivably, at the start of something big.
That's always true this time of year. But rarely do the games themselves promise a stage big enough to match the rhetoric, and as usual no conference is poised to capitalize on that stage as emphatically as the SEC.
Seven SEC teams — half the conference — will be pitted against an opponent from one of the other Power 5 conferences, five of whom are ranked in both major preseason polls. Four of those games are in neutral sites, intensifying the bowl-like buzz.
The Alabama-USC collision in Dallas is a scout's dream, a battle between perennial recruiting powers that boast more blue-chip talent on their respective rosters than any other team. (Not to mention a pair of marching bands beefing over Fleetwood Mac.)
For the winner, the Georgia-North Carolina match in Atlanta will double as the opening argument in a darkhorse playoff campaign. In Orlando, Ole Miss aims for national traction against Florida State; in Wisconsin, LSU opens what it hopes will be a banner year in Lambeau Field. On campus, bedlam awaits ranked opponents at Texas A&M (hosting No. 16 UCLA) and Auburn (vs. No. 2 Clemson).
No other conference has the same kind of collective opportunity to write its own narrative for the rest of the season at the outset, even if apostles of Ess Ee See supremacy won't find much to advance their cause in the point spreads: Alabama (-10.5) and LSU (-10) are predictable favorites, but Auburn (+7) and Missouri (+9.5 at West Virginia) are clear underdogs, and Ole Miss (+4.5), Texas A&M (-3), and Georgia (-2.5) are in for toss-ups.
There are no expectations of a repeat of last year's 9-2 run in bowl games — a surprise in an ostensibly down year for the SEC — and if things go badly the postmortems could just as easily break the other way. An 0-3 turn against the ACC is more likely than 3–0.
On the other hand, who can deny the potential of a big weekend to reinforce the league's swaggering rep the way bowl season has for much of the past decade? Forget about bragging rights; perceptions of the conference's overall strength are crucial to its chances of sending a second team to the playoff, or of sending, say, a two-loss conference champion.
With the exception of Tennessee, every SEC team with realistic designs on being part of that discussion in December is opening with a high-profile game against similarly ambitious competition. It's a long season, and in the end no one will be defined by how they looked the first time out. But first impressions certainly count.
NOTEBOOK
Around the conference.
Georgia vs. North Carolina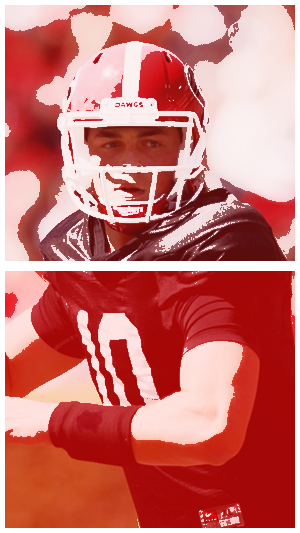 In most cases, the notion of dumping a senior quarterback with a 10-win season under his belt for a true freshman who's yet to take a college snap would be unthinkable. In Georgia's case, though, it seems almost inevitable: Jacob Eason arrived in Athens in January looking every bit the part of a five-star phenom and has reportedly earned the lion's share of first-team reps this summer over incumbent Greyson Lambert. All signs point to Eason taking the first snap against North Carolina, and even if he doesn't the wait probably won't be very long.
Assuming Eason eventually grows into the player he's supposed to be — i.e. the second coming of Matt Stafford — the investment will be worth it despite the initial growing pains. But make no mistake: There almost certainly will be growing pains. As I've written before, teams relying on even the most-touted, best-prepared true freshman behind center are advised to keep their enthusiasm in check.
Take the most obvious example: In Stafford's first season at Georgia, in 2006, it took the future No. 1 draft pick more than a month to lock down the starting job, and by the time he did the Bulldogs had already been effectively eliminated from the SEC East race following back-to-back midseason losses; from there, they lost twice more before rallying to a 9-4 finish — not bad,  but hardly a banner season by the Bulldogs' standards, either.
For a true freshman, though, that's pretty close to a best-case scenario. Since the turn of the century, Stafford is one of only nine first-year QBs in 16 years to start a majority of games for a team that finished in the top 25: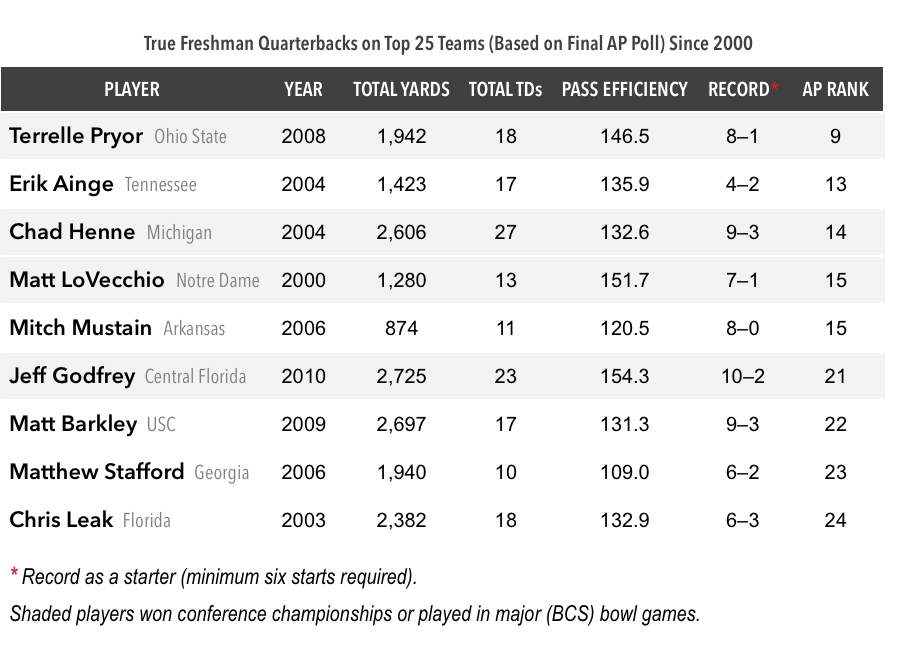 That's not bad company if you ignore LoVecchio and Mustain, who were accessories at best to their respective teams' success and both wound up transferring into obscurity; among the rest, Stafford went on to become a top draft pick, Leak won a national championship, Barkley set multiple conference passing records, Pryor was the MVP of a pair of BCS bowl wins, and Henne played seven years in the NFL after starting all four in Ann Arbor.
Still, it's an exceedingly small list, and it's getting to be kind of an old one, too: There hasn't been a new addition in six years, or a new addition from the SEC in 10.
Last year's hottest new arrival, UCLA's Josh Rosen, came close, spending most of his debut season at the helm of a ranked team (UCLA opened at No. 13 and rose as high as No. 7 on the strength of a 4–0 start), but ultimately landed outside of the Top 25 after the Bruins dropped three of their last four games.
Deshaun Watson was 5-0 as Clemson's starter in 2014 before his debut season was cut short by injuries. Otherwise, at least relative to the expectations at places like Georgia, the recent precedent is not encouraging.
Now, if any newcomer is in position to defy the trend in 2016 it's Eason, who has the hype, the arm, and the supporting cast to emerge as an instant star. If he beats out Lambert, it will be for a good reason. And if Georgia finishes in the basic vicinity of preseason expectations (the Bulldogs are 18th in the AP poll, 16th in the Coaches') with the freshman playing a significant role then the immediate future will look very bright. Beyond that? Don't get carried away.
Alabama vs. USC
All of the above will also apply to Alabama if — and I can't believe I'm actually about to write this, but here we are — if Nick Saban decides to hand the starting quarterback job over to a true freshman, Jalen Hurts, a real possibility according to close observers of the situation and certainly not idle speculation meant to gin up a little drama in the absence of verifiable facts. No, certainly not.
How real? Impossible to say without honest input from coaches, which we don't have. But Hurts did earn solid reviews in the spring as an early enrollee, and no one in a position to know has suggested he's not a serious contender, so until further notice we have to assume his hat remains squarely in the ring.
That said, based on how previous QB competitions have played out on Saban's watch the odds-on favorite remains fourth-year junior Cooper Bateman, for the simple fact that he has the most experience in the program and on the field. (Bateman attempted 52 passes last year and started in Bama's loss to Ole Miss; neither Hurts nor redshirt freshman Blake Barnett has taken a snap in a live game.)
In these situations Saban has consistently deferred to the longest-tenured option over underclassmen who were considered more talented at the time: Greg McElroy over Star Jackson in 2009, AJ McCarron over Phillip Sims in 2011, Blake Sims over Jacob Coker in 2014, Coker over Bateman last year. In a couple of those cases the competition extended into the first few games, but once the final decision came down it was always on the side of experience. I imagine even the portion of the fan base clamoring for Hurts would agree that that approach has worked out pretty well. Boring, yes. But reliable — exactly what the QB1 role at Alabama demands.

Whether or not he takes the first snap against USC, Hurts could get some significant game action to make his case. Maybe he's just that good; maybe the kid is such an instant revelation Saban has no choice but to hand him the keys and pray he doesn't drive the Tide's repeat bid into a ditch. It's possible. It's also possible Saban will swear off Little Debbies and switch to Pepsi in press conferences. I'll believe it when I see it.
Clemson at Auburn
Not that anyone matches up favorably against Deshaun Watson, but this is an especially lopsided match for Auburn, which has only question marks at the skill positions where Clemson's deep, dynamic attack has an abundance of answers. Is Sean White's grip on the starting QB job firm enough to prevent another revolving-door scenario with Jeremy Johnson and/or John Franklin III? Can Kerryon Johnson be an every-down answer at tailback after the premature exits of Roc Thomas and Jovon Robinson? If not, who's left? If you're not an Auburn fan, can you even name more than one of the Tigers' wide receivers?
The one area where Auburn can expect to stand toe-to-toe, and may even boast an advantage, is along the defensive line. Inside, the Tigers bring back 2015 starters Montravius Adams and Dontavius Russell alongside blue-chip freshmen Derrick Brown and Antwuan Jackson Jr.; outside, oft-injured senior Carl Lawson will headline a phalanx of athletic pass rushers that, if nothing else, should confound opposing tackles with the sheer number of available bodies in the rotation.
Watson is as slippery in the pocket as they come, as Alabama learned in January, and seemingly unflappable. But if anyone on Clemson's schedule is capable of hounding the Heisman front-runner into an uncharacteristic mistake, it's the fully healthy version of Lawson that Auburn has sorely missed the past two years.
Ole Miss vs. Florida State
Ole Miss only has one lingering question on offense, but it's a big one, literally and figuratively: Who's going to play left tackle? Eventually, the position is reserved for Greg Little, the massively hyped freshman who has been compared (inevitably) to Laremy Tunsil and was widely expected to slide into the vacancy left by Tunsil's departure to the NFL. So far, though, first dibs at the position in camp have been claimed by redshirt freshman Alex Givens, who doesn't boast much recruiting hype but has held on to his spot with the starting five.
How long that pecking order holds might hinge on how well Givens holds up on the blind side against FSU's Demarcus Walker, who had 10.5 sacks as a junior and forced three fumbles. If he can keep Chad Kelly clean Ole Miss enough ammunition at wide receiver to keep pace with just about anyone. If not, given the absence of a reliable ground game to fall back on, the Labor Day parties in Oxford might be sobering up a lot earlier than they'd hoped.
South Carolina at Vanderbilt
It's only the first game, but is it too soon to overreact to Vanderbilt's chances of making a bowl game — and Derek Mason's chances of returning to Nashville in 2017 — if the Commodores don't get off to a 1-0 start? Because Vandy doesn't get many opportunities for conference tilts it's actually supposed to win: In this one, Vegas lists the Dores as 3.5-point favorites, only the second time since 2013 they've been favored in an SEC game by any margin.
Just eye-balling the rest of the schedule, Vanderbilt probably has two games (vs. Middle Tennessee State and Tennessee State, both at home) it will likely be favored to win and four more (vs. Georgia Tech, Western Kentucky, Kentucky, and Missouri, all on the road) that look like toss-ups; at minimum, a Vandy win in any of those games wouldn't qualify as a significant upset. But a Vandy win in all of those games? That's a much taller order, and starting in an 0-1 hole against Carolina would leave the Commodores with zero margin for error on those trips if they hope to get to 6-6. Not that making a bowl game is a prerequisite for Mason to keep his job, but presumably he'd like to prevent the question from coming up at all.
Elsewhere in the division, Mark Stoops faces a similar dynamic in Kentucky's opener against Southern Miss, where the Wildcats are favored by a touchdown. Despite flashes of progress, Stoops' first three seasons in Lexington have yielded just four conference wins, and just one in the months of October and November; even with the benefit of a 4-1 start in 2014 and a 5-1 start last year the Wildcats stalled out just short of .500. Another 5-7 effort would not bode well for Stoops' future, and it's very difficult to find six wins on this year's schedule if the Golden Eagles aren't one of them.
PRESEASON POWER RANKINGS
The 10 best things in the SEC this week.
1. Alabama's Front Four. The perennial front-runner is going to be tough to budge from this spot. Last year Bama led the nation in rushing defense (again), generated the most consistent pass rush in Nick Saban's tenure, and had a pair of defensive linemen drafted in the second round. This year, the front is arguably better: Jonathan Allen, Da'Shawn Hand, and Da'Ron Payne are all former five-star recruits with first-round potential, and Tim Williams is set to emerge as the most productive edge rusher in college football.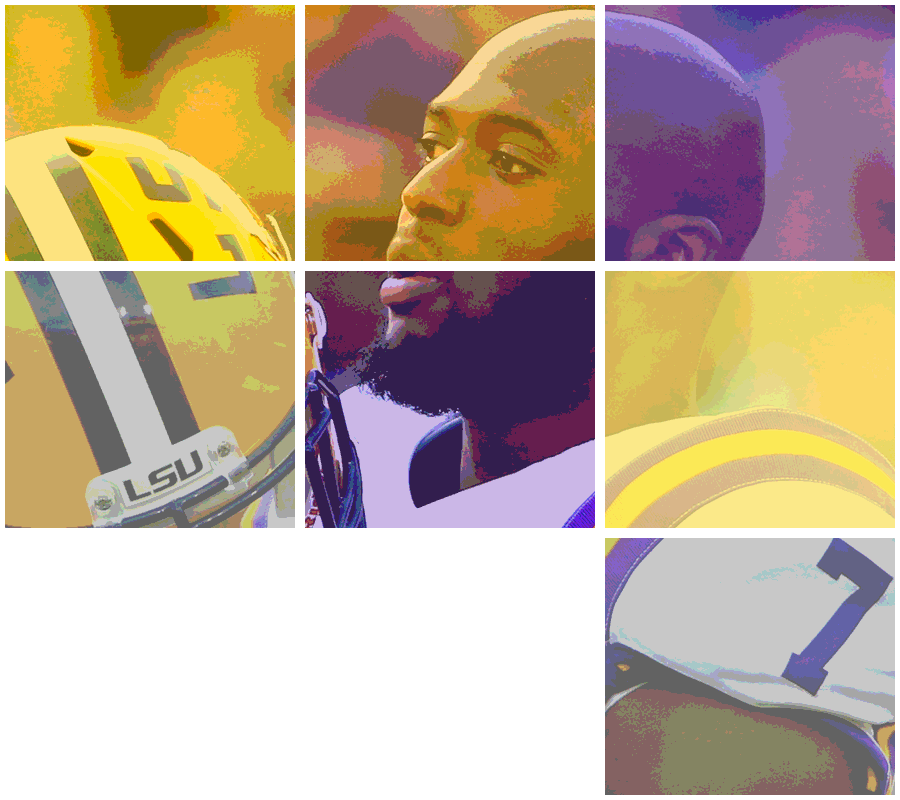 2. The Legend of Leonard Fournette. Fournette's combination of speed, power, and violence with the ball in his hands is already the stuff of myth, an iconic tale to be passed down among the generations. If he logs enough carries, Fournette could join Herschel Walker this year as the only SEC backs with 5,000 career rushing yards — no one else has come close to that number — but like Herschel, his greatest talent is leaving you with the sense that, even if the stats somehow don't reflect his dominance, then the fault lies with the stats.
3. The Return of Nick Chubb. Georgia's star tailback may not be in for a full workload against North Carolina, or for the accolades that were in his sights prior to the gruesome knee injury that cut short his sophomore season. But given the initial fears, the fact that Chubb is back in pads and taking live hits during preseason practice is a triumph in itself.
4. South Carolina's Garnet-on-Garnet Uniform Combo. The throwback lids looked so fresh in last year's season finale against Clemson — and throughout preseason camp— why would the Gamecocks ever consider wearing anything else?
5. Myles Garrett, Weirdo. Not that Texas A&M's star pass rusher needs a distinctive personality, what with the kind of paychecks he'll be cashing by this time next year. But for a 20-year-old in a sport that often blunts unique voices, Garrett's vocal obsessions with dinosaurs, poetry, and oldies music (not to mention his apparent indifference to social media) qualifies him as a genuine eccentric.
6. Tennessee's Unrestrained Optimism. Tennessee may or may not live up to the massive preseason hype, and it's debatable whether the hype is even fair — after all, this is a program facing top-10 expectations despite having played a grand total of three games as a ranked team in the past seven years. But come on: After a decade in the woods, isn't this league so much more fun when the Vols are relevant?
7. O.J. Howard's Untapped Potential. For three years, Alabama's blue-chip tight end offered fleeting glimpses of his ability amid prolonged absences from the game plan, which made Howard's MVP turn in the national championship win over Clemson both a pleasant surprise and a great excuse for him to take his talents to the NFL with his stock reaching a new high. Instead, he's back for one more go-round in Tuscaloosa, where his fate is in the hands of an inexperienced quarterback and Lane Kiffin's ability to remember he exists.
8. Will Muschamp's Uncontrollable Rage Face. The most reliably entertaining sideline routine in the game is due for more NSFW air time this year with Muschamp back in a head-coaching role, but only until it gets prematurely canceled under a new rule that allows refs to eject unruly coaches from the field.
9. The Return of J.D. Moore. Moore's season-ending injury last year coincided with the November slump that knocked Fournette from the top of the Heisman race and nearly cost Les Miles his job. This year, Moore is back at 100 percent and ready to resume his role as one of the few old-school, lead-blocking fullbacks still deemed worthy of a full-time role.
10. Drew Lock's Clean Slate. 2015 was a disaster for Lock, who opened the season as one of the most touted freshman passers in the nation and finished with the worst pass efficiency rating (90.5) of any FBS quarterback with at least 200 attempts. (How bad was Missouri's offense overall? In eight conference games, the Tigers failed to score a touchdown in four of them and found the end zone just once in three others.) As a sophomore, Lock gets to start over with a full season his belt, a new offensive coordinator, a better surrounding cast, and the confidence that no matter what happens this year, it can't be any worse.
---
Follow Matt Hinton on Twitter: @MattRHinton
Photo Credit: USA TODAY SPORTS