SEC
Monday Down South: Tua Tagovailoa redefined Alabama football. How it ended simply sucks
Tua Tagovailoa's college career is over, and of all the conceivable endings to his brief, brilliant tenure at Alabama, the one that actually arrived Saturday was the worst of them all.
No Heisman. No Playoff run. No last bite at the apple on a championship stage. No triumphant send-off in front of an appreciative home crowd. No chance to go out with the dominant flair he played with week-in, week-out over the past 2 years.
None of the above. Instead, the end came with an abrupt wave of pain in front of a middling crowd in Starkville, Miss., late in the second quarter of a routine blowout, on what was supposed to be his last series of a game in which he nearly didn't play at all and arguably should not have. It came on an injury cart.
There's something uniquely cruel about a top athlete suffering a potentially life-altering injury in their prime, and for college athletes who've yet to cash in on their talent the effect is magnified. Practically speaking, Tagovailoa's dislocated hip might not prevent him from going on to have a productive NFL career (Lord willing), but it is going to cost him money. Pre-draft workouts are out of the question. His rookie season is in the air. The team that takes a chance on him now – a tragic turn of phrase about a guy who as of just a few days ago was considered as sure of a thing as they come – will have to reckon with the odds that he'll never be quite the same. That means a likely fall from the top of the class, if not out of the first round altogether; that means millions of dollars, evaporated in a matter of seconds.
If that doesn't speak to the basic justice of compensating "student-athletes" in an era of booming revenues, I don't know what does. But the money, like the debate over whether Tua should have even been on the field, is beside the point compared to his larger impact. As a college quarterback – as much as any college quarterback ever, I'd argue – Tagovailoa exuded a sense of almost limitless potential, almost from the moment he arrived. Right from the start, the arrow was always pointing up: He was the top-rated QB prospect in the country as a recruit, a rising star in Year 1, a supernova in Year 2, and a bankable veteran in Year 3, an evolution that felt as effortless and inevitable as his deep ball.
Statistically, Tagovailoa stacks up against any college passer of his era or any other. With the truly great ones, though, seeing is believing, and with Tua his potential was obvious right away. After 2nd-and-26 against Georgia, there was no doubt that he would pass Jalen Hurts as QB1; once he did, there was no doubt that he was bound to break every school passing record there was to break with room to spare. He very nearly did in just 24 starts, reorienting the entire program around his left arm in the process. Alabama is a different team with a very different mindset today than it was before Tagovailoa replaced Hurts at halftime of the 2017 National Championship Game. The top of the draft and a long, decorated NFL career seemed like the natural extension of that trajectory.
The really cruel part, on top of the pain and suffering, on top of his suddenly uncertain future, is that a player for whom the sky was the limit ultimately had that limit imposed on him by something other than his own talent. The assortment of nagging injuries that prevented him from playing at 100 percent at the end of last season and in last week's season-defining loss to LSU are a part of that story, if only because those setbacks kept the most legacy-cementing hardware (the Heisman, the national championship) just out of reach. We'll never know now whether he could have done enough over the next few weeks to make either trophy a reality in 2019. That feels like a much more disappointing fate than if he'd seen the season through and come up short.
If there's a glimmer of hope in this grim situation, it's that team doctors "anticipate a full recovery," and there is some initial optimism that the time table will give Tagovailoa to a chance to play in 2020 if the recovery goes according to plan. That remains to be seen. (Initial speculation re: Tua's outlook has varied widely, given that a) no one outside the program really knows the extent of the injury; and b) there are too many variables involved in both the injury itself and the recovery process to make a confident prediction.) As for the legacy he leaves behind, the nightmare ending does nothing to diminish his status as one of the truly transcendent talents of his time and the greatest quarterback in Alabama history. On that point, we don't need to see anything else.
Notebook
Around the conference.
Alabama 38, Mississippi State 7
Tua's injury was pointless and unnecessary in every way, and there's something to the case that he should have been held out of this game to give his gimpy ankle another week to heal going into the Iron Bowl. He wasn't himself for much of the LSU game, and Alabama certainly didn't need him to put the kibosh on Mississippi State. He might as well have taken off this weekend's FCS cupcake date against Western Carolina, too. That's not even hindsight: "Tua should not play in this game" and "Bama should take Tua out of this game" were both widely available, common-sense takes before disaster struck.
Still, it's a little too convenient to heap blame on Saban or anyone else for what amounts to a freak accident. For one thing, the hip injury had no apparent connection to the existing ankle injury; unless the argument is that the ankle made Tagovailoa less likely to outrun pursuing tacklers (wishful thinking), the takedown that caused the dislocated hip could have had the same result if he'd been completely healthy. And as far as everyone involved was concerned, clearly he was healthy enough — he finished strong against LSU, trainers cleared him to play against Mississippi State, he chose to play against Mississippi State, and before getting hurt he looked like his usual, highly efficient self. Saban indicated at halftime that the plan was to let Tua finish out the first half in a 2-minute situation and call it a day, which sounds … fine. It sounds cautious, in fact. It's a division game; pulling a starter who's playing well in the second quarter is not a normal or obvious move.
The fact is that football is a brutal sport where these things sometimes happen, and sometimes they happen to the very best. Alabama has been besieged by injuries since before the season even started, as have most other teams. On some level, it's tempting to imagine a timeline in which Tagovailoa spends 2 weeks chilling on the headset, comes back fresh for the Iron Bowl, and finishes the season on his terms, if only Bama had kept him under wraps. But the game isn't played under wraps, and the assessment that Tua's ankle didn't put him at increased risk doesn't mean that the risk suddenly drops to zero. The injury itself has major ramifications; the fact that he was in position to suffer it is the worst possible luck.
It couldn't be foreseen, and it doesn't fall on anyone's shoulders. It just sucks.
Georgia 21, Auburn 14
Georgia's defense spent 3 quarters confirming its status as one of the elite units in the country, pitching a shutout until well into the 4th. Georgia's offense continues to leave an uncomfortably thin margin for error.
When I look at a box score, one of the things I keep an eye out for is what I think of as "wasted yards:" Yards gained on offensive possessions that don't result in points. By that standard, Georgia's drive chart on Saturday was a marvel of efficiency in that it involved almost no wasted yards whatsoever — the Bulldogs either scored or went absolutely nowhere:
The 3 touchdown drives covered 230 yards (including penalties) in 22 plays. The other 11 possessions before the game-ending kneel-downs: 35 yards on 39 plays with 9 3-and-outs. After the first quarter UGA literally didn't gain a first down that didn't show up on the scoreboard.
Auburn, on the other hand, had a whole bunch of wasted yards: 46 on the game's opening possession, resulting in a missed field goal; 30 on a 2nd-quarter drive that ended on a turnover on downs; 48 on a drive that yielded a fumble inside the UGA 40-yard line; 26 on a drive that ended with a punt from the UGA 39; 38 on a late drive to tie that stalled out on downs at the UGA 34. The Tigers couldn't make anything stick until the 4th quarter, by which point it was too little, too late.
Saturday's win was on the extreme side of the trend, but Georgia's other big wins this season over Notre Dame and Florida have followed the same basic outline: In all 3 games the Bulldogs scored between 21 and 24 points, played suffocating defense for the better part of 3 quarters, and clung to a 1-score victory in the 4th after giving up a late touchdown (or two) that put a seemingly safe lead in doubt. Is that a sustainable way of winning games against the likes of, say, LSU? With the SEC East wrapped up, they officially have 2 weeks to figure it out before their winner-take-all clash with the Tigers* in Atlanta.
*Yes, technically LSU has to beat Arkansas this weekend to sew up the West; fingers crossed, but I think it's safe to take that one for granted.
LSU 58, Ole Miss 37
On the opposite end of the spectrum, we have a good, old-fashioned SEC West slugfest featuring 61 first downs, 95 points and 1,328 yards of total offense. Even attempting to rattle off the offensive milestones in this game would take too long — the combined yardage total was the 3rd-most ever in an SEC game — so let's look at the bonanza from another perspective:
Total Possessions: 26 (not including end of half/game)
Possessions Ending in Plus Territory: 23
Possessions Resulting in Points: 15
Possessions Resulting in Points in 4 Plays or Less: 8
Possessions Resulting in Points in 2 Plays or Less: 5
Possessions Resulting in Punts: 3 (all by Ole Miss, all in the first half)
That's a dang track meet, occasionally interrupted by the odd giveaway or turnover on downs. And from a defensive perspective, it's a real, red-alert issue for the Tigers with the postseason looming.
That would be the case even if the defense hadn't been a concern before. For a team with LSU's goals, getting torched for 600-plus yards to a struggling, largely one-dimensional Ole Miss offense is not the kind of performance that's possible to shrug off as just one of those nights in any context — on the ground alone, the Tigers yielded more rushing yards (402) than any LSU defense has allowed in any game since 1991.
And here's No. 2: This time it was 60 yardspic.twitter.com/AJiNr8uJxm

— Jeff Nowak (@Jeff_Nowak) November 17, 2019
But in the context of the rest of the season, though, the collapse looks even worse. The Tigers woke up Sunday ranked in the bottom half of the SEC in scoring defense, total defense, and yards per play allowed. The unit that was shredded by the lame-duck Rebels is the same one that had previously been torched to various degrees by Texas (530 yards, 38 points), Florida (457 yards, 28 points), and Alabama (541 yards, 41 points) in big-game settings. The wins in Austin and Tuscaloosa, especially, followed the same script as Saturday night: Race out to a big halftime lead behind Joe Burrow's arm, then hang on for dear life as the game descends into a back-and-forth shootout in the second half.
Unlike in Austin and Tuscaloosa, Saturday night's game was never within an onside kick of going the other way; LSU went up 28-0 midway through the 2nd quarter and never led by less than 14 points thereafter. By the end, though, the story was essentially the same: A reeling defense giving up yards and points in bunches, forcing the offense to continue answering the bell in a game that should have been in the bag much earlier. With the talent on hand, there's still time to round into form for the SEC Championship Game and beyond. But for now the reputation is well-earned: With this bunch, no lead is safe.
Playoff Realpolitik
The good news for LSU: Losses by previously undefeated Baylor and Minnesota on Saturday essentially guaranteed the Tigers are going to make the Playoff cut barring a complete meltdown in their final 2 games.
We'll start this week with the assumption that the field is down to 6 teams that control their fate: Clemson (11-0), Georgia (9-1), LSU (10-0), Minnesota (9-1), Ohio State (10-0) and Penn State (9-1). Six others still have at least a vaguely realistic shot with some help: Alabama (9-1), Baylor (9-1), Oklahoma (9-1), Oregon (9-1), Utah (9-1) and Wisconsin (8-2). Taking all plausible outcomes into account, the most likely pecking order looks like this: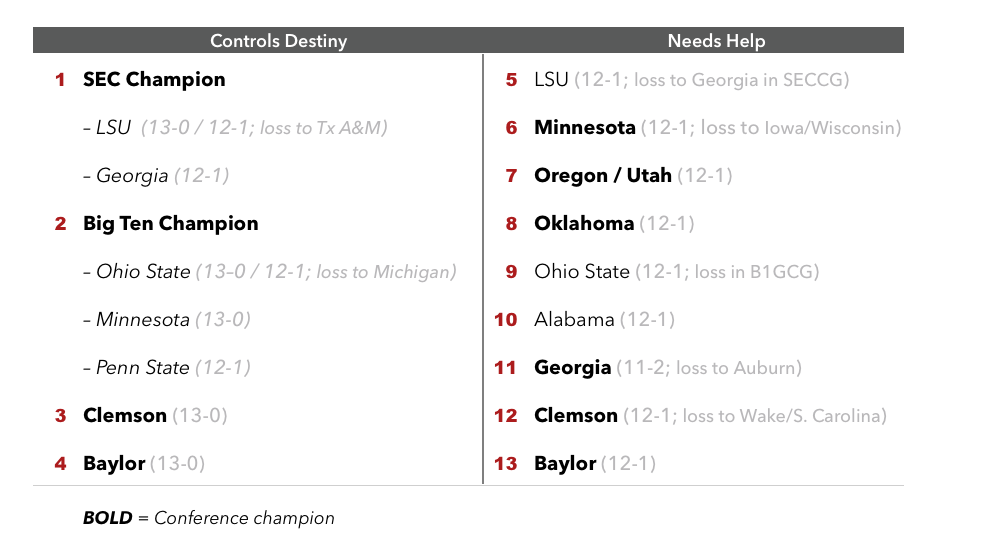 As always, that outlook comes with a few assumptions that admittedly might or might not hold true:
1. LSU can afford a loss: The Tigers' résumé is solid enough at this point to withstand a lapse against Texas A&M in the regular-season finale or Georgia in the SEC Championship Game. The only hypothetical scenario that will eliminate them — again, taking a win over Arkansas for granted — is losses to A&M and Georgia.
2. Georgia cannot: The Bulldogs cleared their most significant hurdle at Auburn, but Texas A&M still looms this weekend as a make-or-break threat. (For this exercise we'll count 2-8 Georgia Tech in the season finale as a gimme.) UGA can spoil LSU's perfect season in Atlanta, but the committee has repeatedly demonstrated in the past that a 2-loss team has the deck stacked against it, especially when one of those losses is at the hands of South Carolina. A blowout win in Atlanta could change this dynamic.
3. Minnesota still controls its destiny: Any 1-loss Big Ten champion will make the cut, and that includes the Gophers, who lost their first game Saturday at Iowa but still have to beat Wisconsin to clinch the B1G West and the winner of this weekend's Ohio State-Penn State blockbuster to win the conference. Add those 2 wins to Minnesota's existing win over Penn State, and that's an undeniable résumé.
4. Alabama does not: With no chance at a marquee win or a conference title, the Tide's best argument was its standing reputation as a blue-chip powerhouse that would be the head-to-head Vegas favorite against almost any other team. Tagovailoa's absence puts a serious dent in that case. A lot has to go right for Bama at this point, including a lopsided thrashing of Auburn in 2 weeks. Don't count on it.
5. Clemson is not losing to South Carolina: I know what it says on the chart, but the chart is obligated to take all possibilities into account. Since their close call against North Carolina on Sept. 28 the Tigers have been locked in.
Texas A&M 30, South Carolina 6
South Carolina is 1-4 since its double-OT upset at Georgia in Week 6 (the lone win in the meantime coming against Vanderbilt) and imagine what the Gamecocks' season would look like if that one had gone the other way. As it stands, Carolina is 4-7 with only the inevitable loss to Clemson standing in the way of a very long offseason.
In August, it would have been hard to imagine writing that paragraph at this point in the season as anything other than a prelude to the end of Will Muschamp's tenure. But AD Ray Tanner issued an unequivocal statement of support last week, which is not the kind of thing an athletic director does just before dropping the axe, and there's no reason to believe that Saturday night's debacle in College Station or the pending one against the defending national champs is going to change that premise. (At any rate, it's certainly not going to change Muchamp's prohibitive buyout.)
The Gamecocks were resigned to a mediocre season from the outset against the toughest schedule in the nation; they've had to navigate that schedule with a true freshman quarterback after losing an entrenched senior starter to a season-ending injury in Week 1. Those are the exact ingredients for a 4-win season.
The deeper issue is that the performance itself over the past month is harder to defend than the record. In its 4 post-Gerorgia losses Carolina has blown a 4th-quarter lead vs. Florida, eventually losing by 11; lost by 20 points at Tennessee in a game they were favored to win; lost to Appalachian State, another game they were favored to win, despite holding the Mountaineers to just 202 yards of total offense; and now been blown out at A&M in a game that if anything was more lopsided than the score suggests. (The Aggies held the ball for nearly 42 minutes and outgained Carolina by 280 yards.)
Freshman QB or not, when the offensive highlight of the night belongs to the punter …
https://twitter.com/SECNetwork/status/1195889529649020934?s=20
… that's a team trending in the wrong direction.
With a reprieve comes the understanding that the bar in 2020 has to be higher — it's a bowl-game-or-bust kind of year, despite a schedule that's only marginally friendlier than this year's. At the time, the win at Georgia looked like a potential game-changer, proof that the Gamecocks were still competitive, if nothing else. But the team that got steamrolled at Tennessee and A&M in the meantime has looked almost nothing like the one that stunned the country in Athens. As Year 4 winds down the goodwill that came with that win seems a lot further away than it should.
Superlatives
The best of the week.
1. Jonathan Greenard, DE, Florida
Greenard wreaked all kinds of havoc in the Gators' 23-6 win at Missouri, finishing with 5 tackles for loss, 2 sacks and a QB hurry in an all-around dominant effort by the UF defense. Mizzou went 3-and-out 6 times and crossed midfield just twice prior to garbage time.
For his efforts, Greenard was named the national Defensive Player of the Week by the Walter Camp Foundation and surged back into the SEC lead with 12 TFLs on the season despite being sidelined/slowed by a midseason injury. Another big outing against Florida State in 2 weeks ought to put the Louisville transfer squarely in the running for All-America teams and SEC Defensive Player of the Year.
2. Joe Burrow, QB, and Ja'Marr Chase, WR, LSU
The shootout win over Ole Miss was a spectacle and a milestone night for the Tigers' offense and the headliners of their prolific passing attack on multiple levels.
Burrow (32-of-42, 489 yards, 5 TDs/2 INTs) set LSU records for consecutive completions in a game (17) and passing yards in a season (3,687). He added to his season TD record. With that, he also accelerated his pursuit of the single-season SEC marks for both yards and touchdowns, both of which are within reach over the next 2 weeks.
Chase (8 catches for 227 yards, 3 TDs) set the school mark for touchdowns in a season (13) en route to eclipsing 1,000 yards for the year in 9 games. Along with Jordan Jefferson, that makes LSU just the 3rd team in SEC history with 2 1,000-yard receivers in the same year, joining Florida's Jabar Gaffney and Reche Caldwell (2001) and LSU's Jarvis Landry and Odell Beckham Jr. (2013).
RB Clyde Edwards-Helaire, by the way, continued his second-half surge with a carer-high 172 rushing yards on 7.5 per carry, his 3rd consecutive game over the century mark.
Altogether the Tigers finished with 714 total yards, 2nd-most in school history and a record vs. an SEC opponent; that improved their season average to 556.0 yards per game, just a hair behind Texas A&M in 2012 (558.5 ypg) for the single-season SEC record. They still have at least 4 games to play.
3. John Rhys Plumlee, QB, Ole Miss
The true freshman more than held his own in the shootout, accounting for 335 total yards and 4 rushing TDs — the last 3 of them covering 46, 60 and 35 yards, respectively — in a historic performance in its own right: With 212 yards rushing, Plumlee is the first player to run for 200 yards vs. LSU since Cam Newton's breakthrough game against the Tigers in 2010, and the first player to run for 200 yards vs. the No. 1 team in the AP poll since Vince Young's legendary night against USC in the 2006 Rose Bowl.
4. Derrick Brown and Marlon Davidson, DL, Auburn
Even in a losing effort, the bulwarks of Auburn's front were up to their usual standard against Georgia, combining for 11 tackles, 2 TFLs, and a pair of swatted passes on a money-making afternoon for both.
Auburn DE Marlon Davidson is an absolute BEAST #UGAvsAUB pic.twitter.com/23Zj6PqkLo

— Kevin Boilard (@247KevinBoilard) November 16, 2019
As a team Georgia finished with 251 total yards on just 3.9 per play, its worst output in both categories since a November 2017 loss … at Auburn.
5. Tua Tagovailoa, QB, Alabama
Before his grisly exit, Tua was flawless as usual in Bama's 38-7 win over Mississippi State, connecting on 14-of-18 attempts for 256 yards and 2 TDs while leading the Tide to 5 touchdowns on 5 possessions. Sending him out for a 6th might already rank as the biggest regret of Nick Saban's career.
Honorable Mention: Texas A&M LB Anthony Hines III, who had 6 tackles and 3 TFLs in the Aggies' win over South Carolina. … A&M RBs Cordarrian Richardson and Isaiah Spiller, who combined for 259 yards against the Gamecocks on 30 carries. … Alabama RB Najee Harris, who accounted for 139 scrimmage yards and 4 of Alabama's 5 touchdowns at Mississippi State. … Alabama LB Shane Lee, who finished with a team-high 10 tackles and an interception against the Bulldogs, the first of his career. … Auburn CB Javaris Davis, who swatted 3 passes in the Tigers' loss to Georgia. … Georgia RB D'Andre Swift, who churned out 106 yards at Auburn on 17 carries. … Kentucky QB Lynn Bowden Jr., who accounted for 214 total yards (110 rushing, 104 passing) and 2 TDs in the Wildcats' 38-14 win over Vanderbilt. … Georgia punter Jake Camarda, who punted 11 times vs. Auburn for a 50.7 average with 4 punts downed inside the Tigers' 16-yard line. … And Florida punter Tommy Townsend, who averaged 45.8 yards on 8 punts at Mizzou — including a 71-yarder, the longest by an SEC punter this season — and pinned the Tigers' inside their own 15-yard line 4 times.