SEC
Monday Down South: A tale of two Vols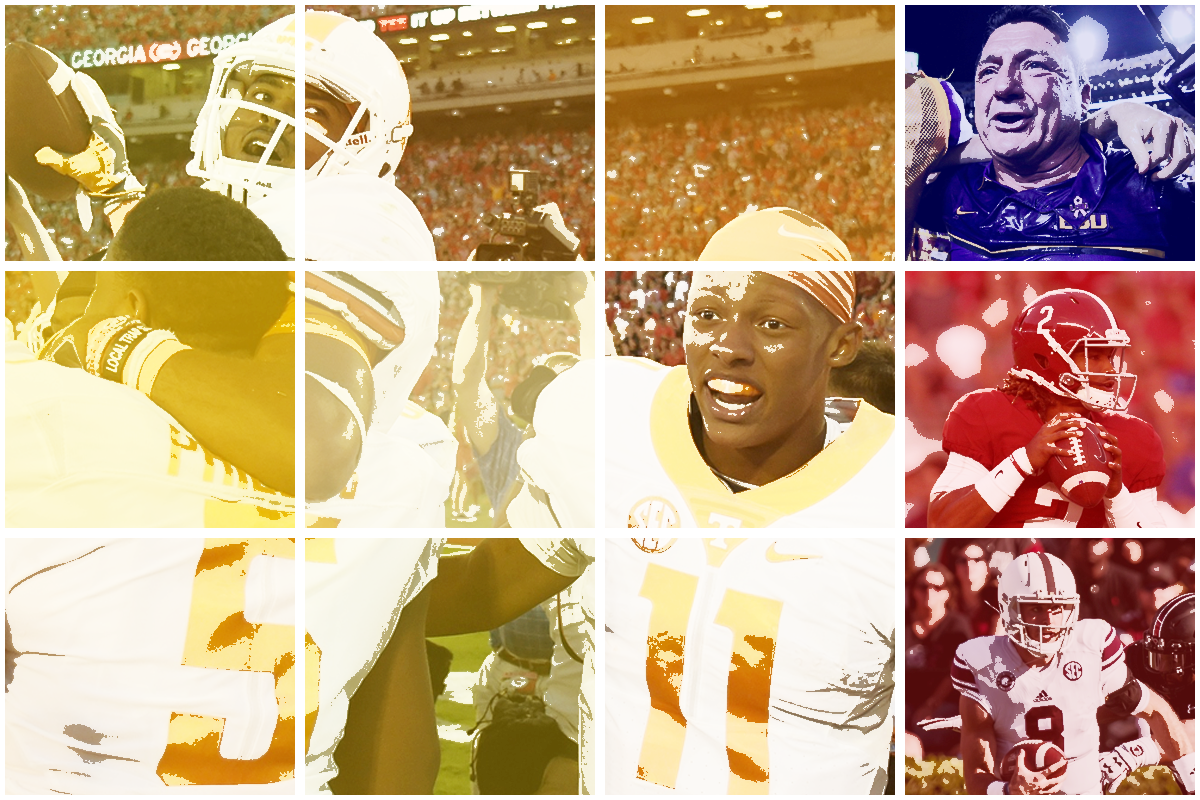 Whatever else the numbers have to say about Tennessee's 5-0 start, you have to give the Vols this: They certainly lead the nation in adrenaline. If melodrama won championships, they'd be hamming it up atop every poll this week en route to one of the most historic campaigns on record.
And even though it's early still to be thinking about posterity, after Saturday's impossible, Hail Mary triumph at Georgia, historic is beginning to feel just about right. By itself, Joshua Dobbs' game-winning heave to Jauan Jennings is the kind of play that will endure in the collective consciousness of both fan bases for so long it eventually transcends its original context and evolves into an avatar for the Tennessee-Georgia rivalry through the ages.
But a large part of that context is just how wild the first half of Tennessee's season had been already — so wild that a Hail Mary to win a crucial division match was only the culmination of a month-long stretch that also saw the Volunteers play in front of the largest crowd ever to witness an American football game, vanquish a 11-game losing streak against a despised division rival, and rally to win four games (including the stunner in Athens) in which it trailed at some point by double digits.
In the course of those games the pendulum often swung so randomly from euphoria to despair and back again that, midway through their most important win in a decade, the Vols were jeered loudly by their own home crowd. They responded by thoroughly dominating the proceedings from that point on.
They've been so volatile that it's tempting to embrace volatility as their defining trait, in the most charitable possible sense. Fans of a certain age are already indulging in comparisons to the charmed 1998 team that turned a handful of skin-of-the-teeth victories into Tennessee's first and only national championship since the Eisenhower administration. Incredibly, the '98 season also happens to be the last time the Volunteers opened with five consecutive wins.
If you have a rooting interest, that sense of history and possibility only adds to the height of the emotional tightrope Vols fans have found themselves traversing in every game. If you're a neutral observer, watching them trip, waver, and stumble yet somehow never fall is a big part of the intrigue. Either way, with each passing week it's getting harder and harder to deny that in the end this team keeps turning to be a hell of a lot of fun.
And now we celebrate! #VolsOnTop #TENNvsUGA #VFL pic.twitter.com/tBo8ErWqlM

— Chuck Smith (@chucksmithnfl) October 2, 2016
Of course, fun does not equal good, and trophies aren't handed out the strength of heart-stopping aesthetics. Beyond the zero in the loss column, the case for Tennessee as a serious, long-haul contender to win the SEC or crash the playoff field is a tougher sell: At the moment, the Volunteers don't crack the top 25 nationally in a single major offensive or defensive category, or come in higher than fifth in the conference. Statistically, they're barely distinguishable from last year's team, except in areas (like rushing offense) where they've regressed. And much like last year, the 2016 Vols have yet to put together a complete game over four quarters.
Now, it's true that so far, at least, the implications of that inconsistency have flipped 180 degrees — the 2015 team notoriously blew fourth-quarter leads in losses to Oklahoma, Florida, and Alabama, and also squandered a 14-0 lead in an eventual loss to Arkansas. This time around, essentially the same group of players seems to have mastered the art of the rally, having already overcome a 10-point deficit against Appalachian State (13-3 after three quarters), a 14-point deficit against Virginia Tech (14-0 after first quarter), a 21-point deficit against Florida (21-0 in second quarter), and now a 17-point hole against Georgia (17-0 in second quarter).
It's easy to say they've progressed from finding dramatic ways to lose close games to finding dramatic ways to win them and leave it at that.
Without underlying improvement, though, there's still plenty of doubt about whether that cluster of second-half comebacks represents a tangible step forward or just a confluence of unusually lucky bounces that can't possibly keep bouncing the Vols' way.
This week, Tennessee opened as a 6.5-point underdog at Texas A&M, another 5-0 outfit with a sketchy track record of its own; baggage notwithstanding, the Aggies have taken four straight by at least 11 points apiece and have yet to trail in the second half this season. Win or lose in College Station, unless the Volunteers pull an unexpected blowout the spread will likely be larger for next week's Third Saturday clash with Alabama. If Tennessee keeps falling behind by three scores, obviously a couple lucky bounces aren't going to cut it.
On the other hand, if the Vols finally come out looking like the crisp, productive outfit we saw in the second half of their wins over Florida and Georgia over the course of a full game, there's no telling where the ceiling may be. When it clicks, they have the firepower to run away from anyone, including the Crimson Tide. But even if all they manage to do is keep close, that's when things have the potential to get really intersting.
NOTEBOOK
Around the conference.
ALABAMA 34, KENTUCKY 6:
Alabama beat Kentucky by 28 points: What else do you want to know? Aside from the lion's share of carries going to a relative unheralded freshman back, Joshua Jacobs, we learned about as much about the Crimson Tide on Saturday as we would from a preseason game in the NFL. (About Kentucky we arguably learned even less. At least the margin was presentable enough that no one was openly calling for Mark Stoops to be tarred and feathered on Sunday morning.)
There was one item of note: With Ronnie Harrison's fumble return for a touchdown in the second quarter, Bama extended its streak of scoring at least one non-offensive TD to seven consecutive games, an amazing run dating to last year's Cotton Bowl win over Michigan State. (Bama's seven defensive/special teams TDs this year leads the nation.) And although no one seemed to notice, Harrison's touchdown also continued another trend — the truly bizarre phenomenon of guys dropping the ball at the goal line for no apparent reason.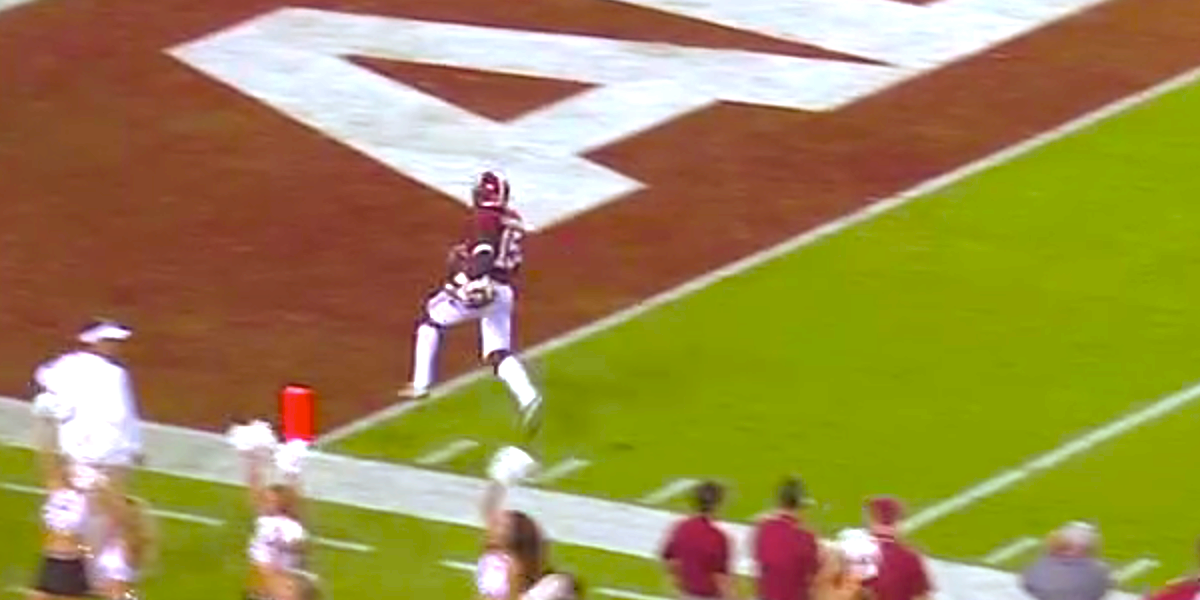 An AP photo confirmed from a different angle that the ball was pretty clearly out of Harrison's left hand before it crossed the plane; it subsequently rolled out of the end zone, which (after further review) should have nullified the touchdown, restored Bama's lead to 10-3, and awarded the Wildcats possession via touchback. Not that it would have made any difference in the final outcome, but you know, them's the rules.
Ultimately none of that happened — play wasn't even stopped for a review — and the score stood. Fortunately for Harrison, I'm sure Nick Saban rarely notices this sort of thing on film and will be reluctant to bring it up.
OLE MISS 48, MEMPHIS 28:
As with Bama, it's hard to say we learned anything about Ole Miss in a performance that unfolded almost exactly according to the pregame script: The Rebels piled up 624 yards of total offense, forced four turnovers, and covered the 16-point spread with a field goal to spare. That's about as routine as it gets.
Still, while most of the production came (as always) via Chad Kelly's right arm, for the second week in a row one of the most encouraging takeaways from the blowout was the emergence of a running game in sync with the Rebels' high-flying rep.
Before Saturday, Ole Miss hadn't produced a 100-yard rusher this season; against Memphis, it had two, with Eugene Brazley (124 yards) and Akeem Judd (108) turning in career highs. And before you chalk those superlatives up to inferior competition, note that as a team the Rebels churned out more yards (263) on Saturday, on more yards per carry (6.0), than any non-option attack has managed against Memphis since 2012.
Compare that to last year's loss to the Tigers, when Ole Miss was manhandled up front, trailed throughout, and ran for just 40 yards.
None of which is to suggest that Hugh Freeze is on the verge of running his offense like it's a service academy. But part of the reason the Rebels gacked up big leads against Florida State and Alabama in the blink of an eye was their inability to balance empty-backfield gunslinging with some semblance of ball control — even trailing by double digits, FSU and Bama both created game-changing turnovers by teeing off on Kelly on plausible running downs.
That hasn't been the case the past two weeks, and not only because Georgia and Memphis don't have the same juice in the pass rush. If Ole Miss can run just well enough to keep the chains moving when it really needs to, it's tough to beat.
REORIENTATION
Time to rethink … LSU's Offense (Again).
At this rate, LSU's offense might as well take up permanent residence in this space: In September alone the Tigers' outlook careened from desperation (following the opening-day flop against Wisconsin) to tentative hope (accompanying Danny Etling's promotion to starting quarterback) and back again, bottoming out in last week's last-straw loss at Auburn. So of course the arrow is pointing up again this week, this time in the wake of an efficient, 42-7 romp over Missouri that exceeded even the wildest preseason dreams of how good this team can be. Accumulate enough talent in one place, and no amount of frustration can change the fact that every week is a chance for a breakthrough.
Beyond the coaching change, though, there were at least four reasons to hold out hope that Saturday night's demolition derby was more than just an emotional one-off:
1. It was a group effort. Three different LSU backs (Derrius Guice, Darrel Williams, and Nick Brossette) turned in career highs on the ground, collectively piling up more rushing yards (418) than LSU has gained against an SEC opponent since 1976. Meanwhile, the most feared back in America spent the night watching from the sideline in street clothes, conspicuous in just how little his absence seemed to matter.
2. It was a (relatively) balanced effort. Etling didn't have a touchdown pass, but he didn't commit a turnover, either, and successfully complemented the Tigers' dominance on the ground with an efficient night through the air. Nine of his 19 completions went for first downs.
3. It was a sustained effort. Amid an avalanche of historic stats, this one leapt out: All six of LSU's touchdown drives covered at least 75 yards: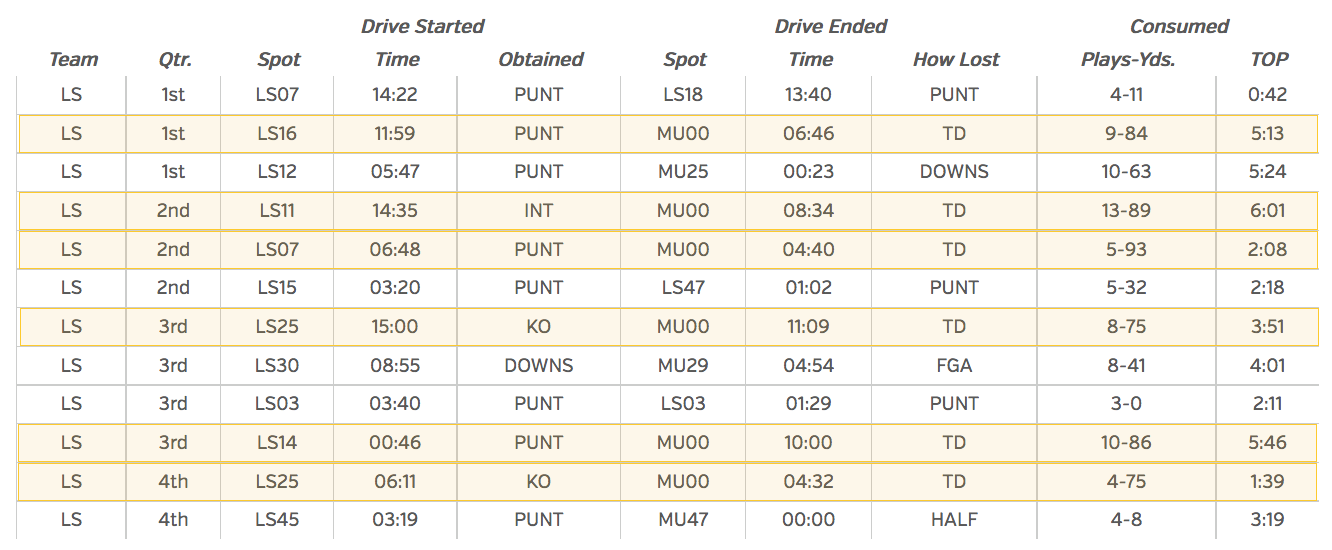 Note that in addition to the scoring drives, LSU also put together a pair of sustained marches into Mizzou territory that resulted in a turnover on downs and a missed field goal, respectively. With the defense holding up its end of the deal, altogether the Tigers amassed an incredible 25-minute edge in time of possession.
4. Missouri's defense is pretty good! At least, it's no pushover — by most accounts Mizzou's front seven is the strength of the team, and in their first SEC game the Tigers held Georgia to 101 yards rushing on just 2.7 per carry. It's one thing to pile up 600 yards on some outmanned outfit from the Southland Conference; this was a start-to-finish annihilation of a real opponent.
The most obvious implications for the rest of the season concern Leonard Fournette, whose impending return from a gimpy ankle suddenly seems a lot less urgent than it did on Saturday morning. He is expected to play this weekend at Florida, and presumably to start. But as of Saturday night the standing assumption that has informed everything written about LSU's offense over the past two years — namely, that its ideal game plan is all Fournette, all the time — has been pretty well refuted.
Guice and Brossette are legitimate big-play threats with valuable roles to play. (In fact, Guice just passed Fournette as the team's leading rusher for the season on significantly fewer carries.) If keeping them involved and keeping the headliner in one piece means limiting Fournette to, say, 15 to 20 touches per game rather than the 25 to 30 he's accustomed to, then a more democratic workload might actually make sense.
That's not a sentence I ever would have anticipated writing last week. But no one could have expected the Tigers to explode the way they just did with No. 7 reduced to a spectator, so here we are.
MISCELLANEOUS POWER RANKINGS
The best things in the SEC this week.
1.  Alabama's Front Four. The most dominant position group in college football against Kentucky's offensive went just as you'd expect: The Wildcats finished with 161 yards of total offense, lost two fumbles (both on sacks), and didn't crack the Bama red zone until well into garbage time, on their final possession of the game. Top individual honors this week go to rush end Tim Williams, who was credited with three tackles for loss, a sack, a forced fumble, and two QB hurries … all in the second half, after he sat out the first. (Last Week: 1)
2. The Vol Renaissance. Yes, Tennessee is Back. Still, somehow, for at least one more week. (LW: 2)
3. The Orgeron Effect. No one embraces thankless interim gigs with the Red Bull-sponsored enthusiasm of Coach O. But no matter how well the players respond to him — and they couldn't have responded much better against Missouri — his chances of getting the nod full-time as long as his disastrous record at Ole Miss is only a Google search away are about as good as an LSU quarterback's chances of winning the Heisman. (LW: Unranked)
4. Georgia's Freshman Skill Players. Had Tennessee's final play gone any other way, the headline out of Athens would have been the baby Bulldogs' coming age: Besides Jacob Eason, UGA also got above-the-fold contributions from running back Brian Herrien (15 carries for 74 yards), tight end Isaac Nauta (five catches for 83 yards, both team highs) and wide receiver Riley Ridley, who was on the receiving end of the apparent game-winning touchdown pass from Eason with 10 seconds to go. There are no moral victories here, but once the shock subsides Georgia fans are going to feel a lot better about the immediate future than they did after last week's 45-14 flop at Ole Miss. (LW: Unranked)
5. Texas A&M's Pass Rush. The Aggies gave up a 75-yard touchdown on South Carolina's first play of the game, then spent the rest of the game making the Gamecocks' quarterbacks (both of them) pay accordingly. The official damage came to three sacks, five QB hurries, and a forced fumble, and Carolina didn't reach the end zone again in a 24-13 decision. (LW: 4)
6. Trayveon Williams Takes It to the House. Another week, another boom-or-bust stat line for A&M's explosive freshman, who went for 112 yards from scrimmage against Carolina with a big chunk of that coming on a 49-yard touchdown:
Trayveon Williams cannot be stopped! 49-yard touchdown for the freshman. pic.twitter.com/HUjyaOVBGq

— Lawrence Smelser (@LawrenceSmelser) October 1, 2016
For the season, Williams is averaging a hair over 9 yards per carry with four 30-plus-yard TD runs in the past three weeks. (LW: Unranked)

7. Cameron Sutton Suits Up. Tennessee's All-SEC cornerback remains out indefinitely with an ankle injury, but that didn't stop him from going through pregame warmups with his teammates at Georgia — helmet, crutches, and all:
Whatever's about to happen here, Cam Sutton is ready. (LW: Unranked)
8. JF3 In the Open Field. In the grand scheme of things a long touchdown run against Louisiana-Monroe in garbage time doesn't mean much. But Auburn fans have been waiting for weeks to watch John Franklin III leave tread marks on an opposing defense, and once he spotted an seam on his first carry of the game he didn't waste any time getting from one end to the other:
Trayveon Williams cannot be stopped! 49-yard touchdown for the freshman. pic.twitter.com/HUjyaOVBGq

— Lawrence Smelser (@LawrenceSmelser) October 1, 2016
That covered 80 yards for Franklin's first career touchdown as a Tiger. But based on his acceleration here I'm guessing not the last. (LW: Unranked)
9. Ole Miss' Wide Receivers. Six members of the league's deepest receiving corps logged at least three receptions against Memphis, none of whom broke 100 yards individually on a night when Chad Kelly threw for 361. That's teamwork. (LW: 5)
10. The Legend of Leonard Fournette. Through five weeks, the generational star around which the rest of LSU's offense oriented itself in the first place hasn't come close to matching the gravitational pull he exerted as a sophomore. If the emergence of the Tigers' younger backs means Fournette's workload is set to decline, let's hope he's healthy enough to make up in quality what he loses in quantity before he's off to the next level for good. (LW: 6)
Note: Previously version incorrectly stated that Tennessee's win streak over Florida was 12 games. The streak was 11 games.