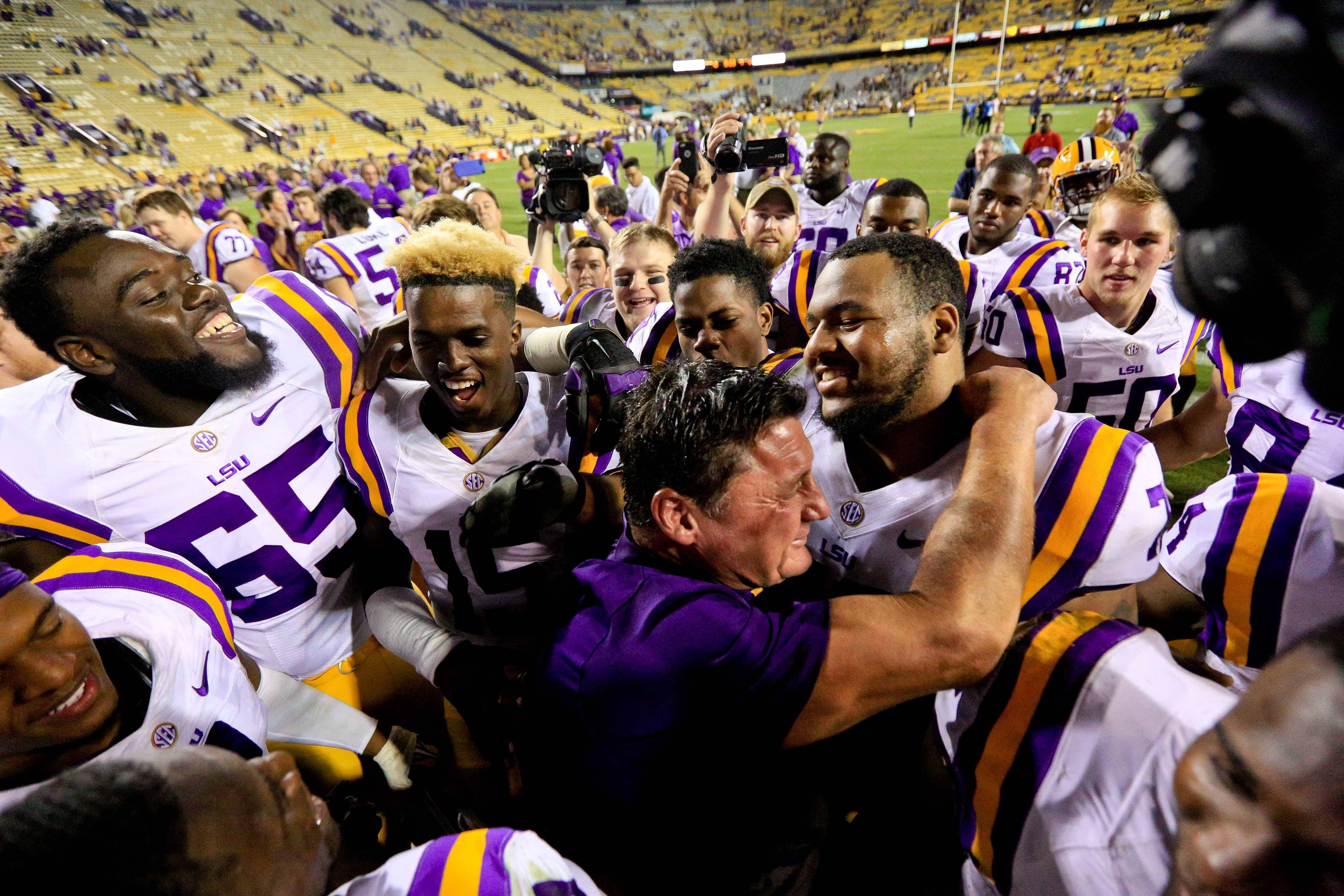 LSU TIGERS
SEC on alert? LSU played up to its preseason expectations against Missouri
Watch out, Florida. There's something dangerous coming your way.
You too, Ole Miss. And be on alert, Arkansas. And even Alabama had better be wary.
The LSU everybody was expecting this season was on display in Saturday's 42-7 romp over Missouri at Tiger Stadium. Even far from full strength, sans Leonard Fournette, LSU (3-2, 2-1 in the SEC) had a dominant running game balanced by the threat of a passing game and supported by a rugged, elite defense.
This was the team that was supposed to challenge Alabama for the SEC West. All it took was a midseason firing of one of the most successful coaches in LSU history, Les Miles, to get the team to, at least for a night, finally play like what we were expecting.
Ed Orgeron's first game as LSU's interim head coach was, to put it mildly, a resounding success.
5 takeaways
1. Offensive tweaks worked: We wondered what LSU's offense would look like with Steve Ensminger in charge instead of Cam Cameron. The result? The Missouri defense was spread the width of the field, either through multi-wide receiver sets or two-tight end, two-receiver sets, allowing more seams for running backs Derrius Guice and Darrel Williams to run through. The result: 418 rushing yards and 634 total yards, the most ever for LSU in an SEC game.
2. Leonard Fournette wasn't missed: We've been telling you since August camp that LSU could more afford an injury to its superstar running back than it could injuries at other positions. That proved to be the case as both Guice (17 carries, 163 yards) and Williams (21 carries, 130 yards) broke the 100-yard mark and scored three touchdowns apiece. Imagine how much better the Tigers would have been with arguably the best running back in college football back there. But even without him, Guice and Williams are an awfully tough tandem.
3. Missouri fool's gold: One always has to be careful of statistics when they are compiled against inferior competition. That was the case with Mizzou (2-3), which came into the game leading the SEC in total offense but with many of those numbers coming against Delaware State, an 0-4 member of the FCS, and MAC member Eastern Michigan. Against LSU, Missouri was a bit overmanned all over the field.
4. The LSU secondary is good: One area where LSU was particularly dominant was in the secondary, which played its best game by smothering the visitors' receivers. Drew Lock, the SEC's leading passer entering the game, was just 17-for-37 for 167 yards and an interception by LSU's Tre'Davious White. The LSU secondary benefited from the return of cornerback Kevin Toliver, who missed the 18-13 loss to Auburn because of injury but was particularly effective against Mizzou.
5. Orgeron brings energy: Maybe the change happened right on time. With fiery interim head coach Ed Orgeron in charge, LSU played with a passion that had been missing during the 2-2 start that led to the firing of Miles. With an intense crowd of over 102,000 fans watching in Death Valley, LSU jumped on Missouri early and the visitors never seemed to have a chance.
Report Card
Offense: A+ — LSU broke a school record for yards in an SEC game. How can that not deserve an A+? Sure, there are still things to work on in the passing game, although Danny Etling (19-for-30, 216 yards) was effective. But with defenses spread out and taking defenders out of the box, an elite rushing attack gets even better.
Defense: A+ — Missouri was averaging 569.5 yards per contest entering the game, and LSU held the Tigers to less than half that, 265 yards, with 81 of those yards coming on a meaningless fourth-quarter touchdown drive after LSU began emptying the bench. Missouri went three-and-out on its first three possessions and it never got much better.
Special Teams: C — There was a kickoff out of bounds and Colby Delahoussaye missed a 47-yard field goal, so it wasn't perfect. But LSU punter Josh Growden had another solid day (47.7 yard average on 3 punts), so LSU is getting better in that regard.
Coaching: A+ — Can you imagine a better first game than this? LSU was better prepared than its opponent and had improvement in all major areas and played with passion and focus. What's not to rave about?
Overall: A — This was everything Orgeron could have hoped for from his game plan. LSU tweaked its offensive approach without losing its physical identity. Dave Aranda's defense continued to improve in his scheme and benefited from having an offense that moved the ball enough to allow the defense to rest. LSU looked like an elite program.
Game Plan
On offense, LSU's approach was to force Missouri to defend the width of the field with some new, or under-utilized formation looks — multiple wide outs and one-back, two-tight end, two-receiver sets — to create creases for the running game. It worked well as Missouri was forced to respect passing threats enough to create holes for the running game. Defensively, Aranda trusted his secondary to keep a prolific group of wide receviers covered, and the approach paid off as Lock rarely had open receivers to throw to.
Game balls
Offensive line: A much-maligned group early this season, the fivesome of K.J. Malone, Will Clapp, Ethan Pocic, Josh Boutte and Maea Teuhema consistently blew open holes for Guice and Williams to glide through, often getting to the second level with little resistance. When Clapp was banged up, Garrett Brumfield relieved him and the line continued dominating.
CB Tre'Davious White: The senior led a smothering secondary performance with his second interception of the season and two more passes broken up. Between White, Toliver and Donte Jackson, LSU's secondary made Missouri's receivers a complete non-factor.
RB Derrius Guice: Williams was also very good, but Guice gets the game ball because he did his damage early when the game was still in doubt. His first touchdown, a 42-yard TD run in the first quarter, was an electrifying scamper worthy of any Fournette highlight reel. He started left, cut back right, made a tackler miss, then danced down the sideline, leaping into the end zone as a would-be tackler missed a dive at his feet.
Read More
Sports betting in Louisiana is officially live in the great state of Louisiana. Whether it is betting on who will win the SEC this year or the next New Orleans Saints football game... if you live in Louisiana, you can now do it from your mobile phone.