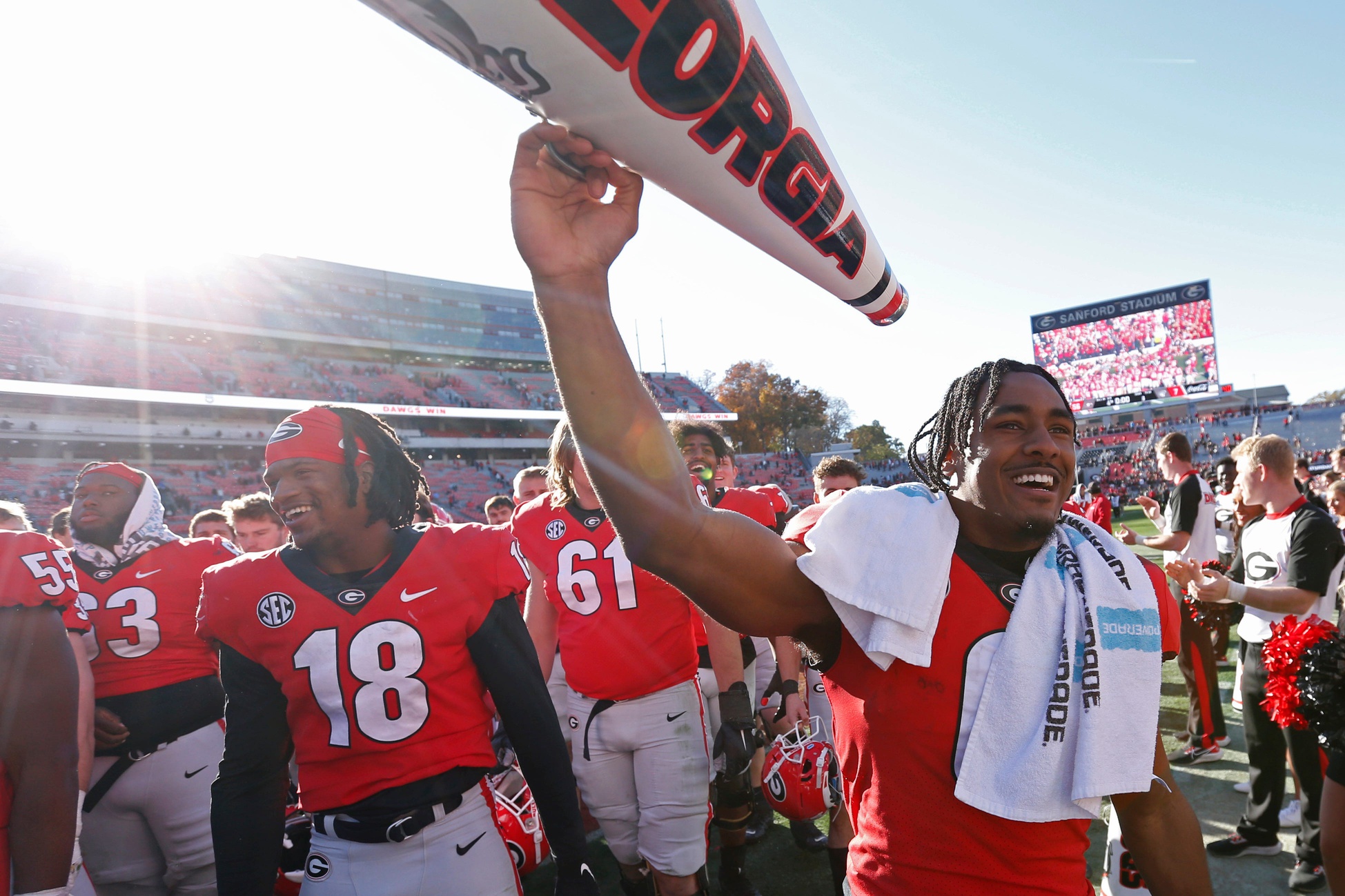 SEC
My All-Bang The Drum Team for 2022: 1 player I'll lead the bandwagon for on each SEC team
I can admit that I'm biased.
There are certain guys that I find myself pulling for. It can be for a variety of reasons. Maybe I like their game and I feel like more people should. Maybe I like their attitude and the role they've embraced for their team. Maybe they just have an incredible nickname that needs to be said as much as humanly possible.
The All-Bang The Drum Team is my way of admitting biases. I'll defend the players on this list. If they have a bad game, I'll say they'll get All-SEC positional honors the following week.
I'd like to consider myself the driver of each of their respective bandwagons. Sometimes, that blows up in my face (Jahleel Billingsley). Other times, that banging of the drum grows louder and louder as the season progresses (Hendon Hooker).
I'm not going to bang the drum for guys that I think are going to have terrible seasons. I'm also not assuming everyone listed will earn an All-SEC honor at season's end.
Speaking of that, I should lay out some of my made-up parameters for the All-Bang The Drum Team:
1 player per team
No first-team All-SEC selections from last year
No quarterbacks
It's not that I dislike quarterbacks. I just figure those guys don't need any help getting momentum going in their direction and I'll probably have several columns written about individual ones if and when they take off.
So here are the members of my 2022 All-Bang The Drum Team.
Alabama — Jahmyr Gibbs, RB
If you read my "1 bold prediction for every SEC offense" piece, you already know that I'm high on the Georgia Tech transfer. Like, real high. I predicted that he'd hit 2,000 scrimmage yards. I'm not worried about his size. I think he's built to thrive as a 3-down back catching passes and running against 3-man fronts in Bill O'Brien's offense. Gibbs has home-run play ability every time he touches the ball, and given the lack of proven depth behind him, it wouldn't be surprising to see him ascend into a lead role in a hurry. He's got the makings of the next great Alabama back.
Arkansas — Dominique Johnson, RB
I swear this isn't just a running back list. There's a reason Trelon Smith transferred to TCU. It was because guys like Johnson and Rocket Sanders emerged. Add in the lightning quick AJ Green and yeah, the Hogs' backfield is loaded. I picked Johnson because I think it's vastly underrated what he does at 230 pounds. He might not hurdle dudes like a 230-pound Najee Harris did at Alabama, but he always breaks tackles and falls forward. In Kendal Briles' up-tempo system, you need a thumper like him who can wear down a defense when they're already on their heels. There are some extremely Chris Rodriguez-like tendencies with the Arkansas tailback.
Auburn — Tyler Fromm, TE
I grew up with an older brother who was an All-State baseball player with Mark Grace-like traits and in case that wasn't enough, he was an All-Area basketball player with Chris Mullin-type traits. In other words, I have a slight idea of what it's like to be Tyler Fromm, AKA the younger brother of Jake Fromm. Younger siblings gotta stick together. Fromm established a role in an Auburn offense that finally utilized tight ends in the passing game. Most notably, he caught the pass on the play that all Bo Nix believers will show until the end of time:
Unreal play from Bo Nix to find Tyler Fromm in the end zone. Un. Real. #AuburnMade #WarEagle

— Matty Manbaby (@mattthew_jordan) October 3, 2021
Fromm isn't going to be the primary tight end target with John Samuel Shenker back, but the beauty of Fromm's role is that he can be used in the slot and he can help out a group of pass-catchers with question marks galore. Sooner or later, perhaps, he can make a catch without the broadcast crew reminding everyone who his older brother is.
Florida — Rashad Torrence, S
I realize they play different positions, but I have this feeling that Torrence is going to be for Florida in 2022 what Alontae Taylor was for Tennessee in 2021. That is, a reliable, play-making guy who does multiple things well as a defensive back that a new regime develops an immense appreciation for. Much like Taylor was one of the big reasons why Tennessee's defense surpassed some incredibly low expectations, Torrence could be just that for Florida. He's going to be needed to make plays coming downhill, and he'll be tasked with capitalizing on mistakes in the passing game. Even amidst a messy 2021 for the Florida defense, Torrence already showed he could do those things. With perhaps a bit more stability (and motivation), I'm bullish on his 2022 outlook.
Georgia — Kenny McIntosh, RB
James Cook is gone, but it'll be easy to forget that with McIntosh in the fold. If you take away the snap minimum, McIntosh had PFF's highest receiving grade among all FBS running backs. Like with Cook, Todd Monken will line McIntosh up all over the field to create mismatches. There will be a handful of moments this year when we say, "oh, that's cute. They thought they could cover McIntosh with a linebacker" and McIntosh will do something silly like this:
KENNY MCINTOSH ONE-HANDED 😳 pic.twitter.com/CL1mhCt0iT

— SEC Network (@SECNetwork) November 6, 2021
(You, reader of this column, have my permission to scream at your TV "WHEEL ROUTE!" whenever something like that happens.)
McIntosh will make his presence felt in the ground game, too. He averaged almost 6 yards per carry last year. Kendall Milton could play the Zamir White role and have a slight edge in overall touches, but with White and Cook off to the NFL, that's 273 carries available. McIntosh is in for a huge year after patiently waiting behind the ever-loaded group of standout UGA backs.
Kentucky — Tayvion Robinson, WR
This is your warning, non-Kentucky fan. At some point while watching Kentucky highlights early in the season, you're going to see a slot receiver with the last name "Robinson" make a play and you'll say out loud, "wait. I thought Robinson was in the NFL?" You're right. And wrong. Wan'Dale Robinson was a second-round pick by the New York Giants after spending 1 year breaking records in Lexington. Tayvion Robinson is Kentucky's new Power 5 transfer receiver. It's actually Tayvion who has a bit more experience catching passes at the Power 5 level. He was the Hokies' leading receiver, and soon, he should take on that role at Kentucky. He might not be as explosive as Wan'Dale, but like the Kentucky single-season receptions leader, Tayvion's route-running toughness will allow him to pile up targets at an absurd rate. He'll quietly rise to the SEC leader board in catches and yards by season's end.
LSU — Noah Cain, RB
I've had Cain stock for awhile now. Despite a somewhat frustrating 3 years at Penn State, I never sold it. I'm optimistic new surroundings with better offensive line play and a better passing game will allow a healthy Cain to thrive. Back home in Baton Rouge, Cain figures to share the workload with John Emery. It's fitting that both were decorated 2019 recruits who haven't quite had the start to their careers that they were hoping for, whether that was because of injuries or weird academic hiccups. I've always been a fan of Cain's running style, and I think he's got that unteachable nose for the goal line that makes him a major force in the red zone. Soon, he'll be a fan favorite back in the Bayou.
Mizzou — Isaiah McGuire, DL
I know that Mizzou's front got dragged for most of 2021 because of its inability to stop the run, but McGuire was better than he got credit for. The only returning SEC edge rushers with higher overall PFF grades are Will Anderson and Nolan Smith. Not too shabby. McGuire was a force down the stretch last year, especially in that South Carolina win wherein he racked up 2 TFLs, 1 sack, 1 forced fumble and 1 fumble recovery en route to SEC Defensive Lineman of the Week honors. I feel like because of how bad Mizzou's run defense was, it got totally overlooked that McGuire finished the year with 14 tackles for loss. Sure, Will Anderson figures to dominate that stat again in 2022, but don't be surprised when McGuire next on that list.
Missouri Isaiah McGuire Quick get off, pass rush plan, and does a good job of attacking shoulders. A name to monitor! pic.twitter.com/WzzQFyk963

— Robert Cardona (@CARDONAFAM29) May 3, 2022
MSU — Jett Johnson, LB
You can't not root for a guy named "Jett." That's partially why he's on here. But more importantly, he does everything you'd want as a leader in the middle of Zach Arnett's 3-3-5 defense. He slips past offensive linemen and blows up plays in the backfield. He can cover well in space (he's got the highest PFF coverage grade of all returning inside linebackers). Most importantly, he doesn't miss tackles. Johnson has a very Grant Morgan-like path in his career. After being a lightly recruited, in-state guy, he stuck it out when he dealt with a coaching/scheme change even though he wasn't getting any playing time and then he blossomed once he finally got a chance for legitimate reps. Johnson is a major reason why MSU could sneak up on teams and have one of the league's better defenses.
Ole Miss — JJ Pegues, DT
If you don't know Pegues' story, here's a rundown. He's an Oxford native who spurned new Ole Miss coach Lane Kiffin and went to Auburn, where he became a viral sensation for hurdling dudes as a 300-pound wildcat quarterback/tight end. As a sophomore, he switched to defensive line. As a junior, he transferred back home to play for Kiffin, who said back in 2020 that Pegues could be a top-5 pick if he made the switch to a 3-technique defensive linemen. Now, Pegues is in an ideal spot to use his freakish athleticism for his hometown team.
JJ Pegues showing up in the @OleMissFB spring game. pic.twitter.com/jcokZKsyXY

— Cole Cubelic (@colecubelic) April 23, 2022
And if Kiffin lined him up on some goal line packages, well, I think we'd all appreciate it.
South Carolina — Dak Joyner, FBP
What does "FBP" stand for, you ask? FOOT. BALL. PLAYER.
Need I say more? OK, I will. Joyner is more loyal to South Carolina than most adults are to their significant others. What do I mean? Joyner was a 4-star quarterback recruit. Even when he was buried on the depth chart at QB, he stayed at South Carolina. When the Will Muschamp regime asked him to switch to receiver, he eventually did while fulfilling backup quarterback duties instead of leaving Columbia to play quarterback elsewhere. When Muschamp's staff left, Joyner stayed on board for the Shane Beamer era to play in a hybrid role (he had 24 catches, 17 carries, 9 pass attempts and 2 kick returns). In the Mayo Bowl, Joyner played a career high 44 snaps, with which he finished a perfect 9-for-9 passing for 160 yards and 2 scores.
Dak Joyner to Jaheim Bell for Six!!!#SpursUp #MayoBowl pic.twitter.com/BfYcBdc0nZ

— SportsGrid (@SportsGrid) December 30, 2021
That apparently prompted schools to tamper with Joyner in hopes they could get him to transfer and play quarterback. Joyner turned them all down and returned to Columbia for Year 5.
FOOT. BALL. PLAYER.
Tennessee — Cedric Tillman, WR
If you're sensing a trend here, you're smart. I love the late bloomers. I have a ton of respect for the guys who put their heads down and just get better. Tillman was the epitome of that. He's the SEC's top returning deep threat for my money after he went on an absolute tear once Hendon Hooker became the full-time starter. Both of them are back and they'll get a full offseason to work together as first-teamers. They should both put up video game numbers together. The dude put up a combined 352 yards against Alabama and Georgia, which was part of a 7-game stretch to close the season wherein Tillman averaged 6.9 catches, 124 yards and 1.4 touchdowns. He also broke the program record for consecutive games with a touchdown catch (7), which previously dated back to 1995.
If there's a conversation about the nation's leading receiver in 2022 and Tillman's name isn't brought up, the conversation is incomplete.
Texas A&M — Antonio Johnson, DB
I sound like a broken record here because I've written and talked about Johnson a lot. I'm not saying he's Tyrann Mathieu because I'm not sure anyone will impact the game in the manner that he did, but Johnson has some Honey Badger in him. Mike Elko lined Johnson up everywhere, and with good reason. You want him to be a slot corner ? Sure. Cam Smith is the only returning Power 5 corner with a better coverage grade than Johnson. You want him to play near the line of scrimmage? Sure. He had PFF's No. 6 run grade among all FBS corners. You want him to rush the passer? Sure. He'll run right through you.
That's a heckuva hit by a DB. A&M's Antonio Johnson. pic.twitter.com/cBy3YZR2Kj

— Brandon Zimmerman (@BZSEC) November 20, 2021
(There was a play in which Johnson had a head of steam and he would've executed the same sort of hit on Bo Nix, but it was whistled dead just before he got to the Auburn quarterback. It was like an electrifying missed dunk.)
Johnson is going to have a ton of new surroundings in front of him, and he'll have a new defensive coordinator in DJ Durkin. Fingers crossed that Johnson plays with the same game-changing speed and does his best Honey Badger imitation.
Vanderbilt — Patrick Smith, RB
You might be saying to yourself, "Really? Another running back? What's so special about a dude named Patrick Smith?"
Um, his nickname is "Cheeks." That's what's so special.
His running style is also needed on a Vandy offense that struggled in the trenches. The only returning SEC backs with a higher average yards after contact than Smith are Chris Rodriguez and Devon Achane (via PFF). Keep in mind that Smith did that as a true freshman behind a bad offensive line. He's got speed to occasionally break a big play, which will come in handy for a team who probably won't have a ton of 13-play, 80-yard touchdown drives. Smith's emergence would be a welcome sight, and it would give everyone an excuse to yell "CHEEKS!"