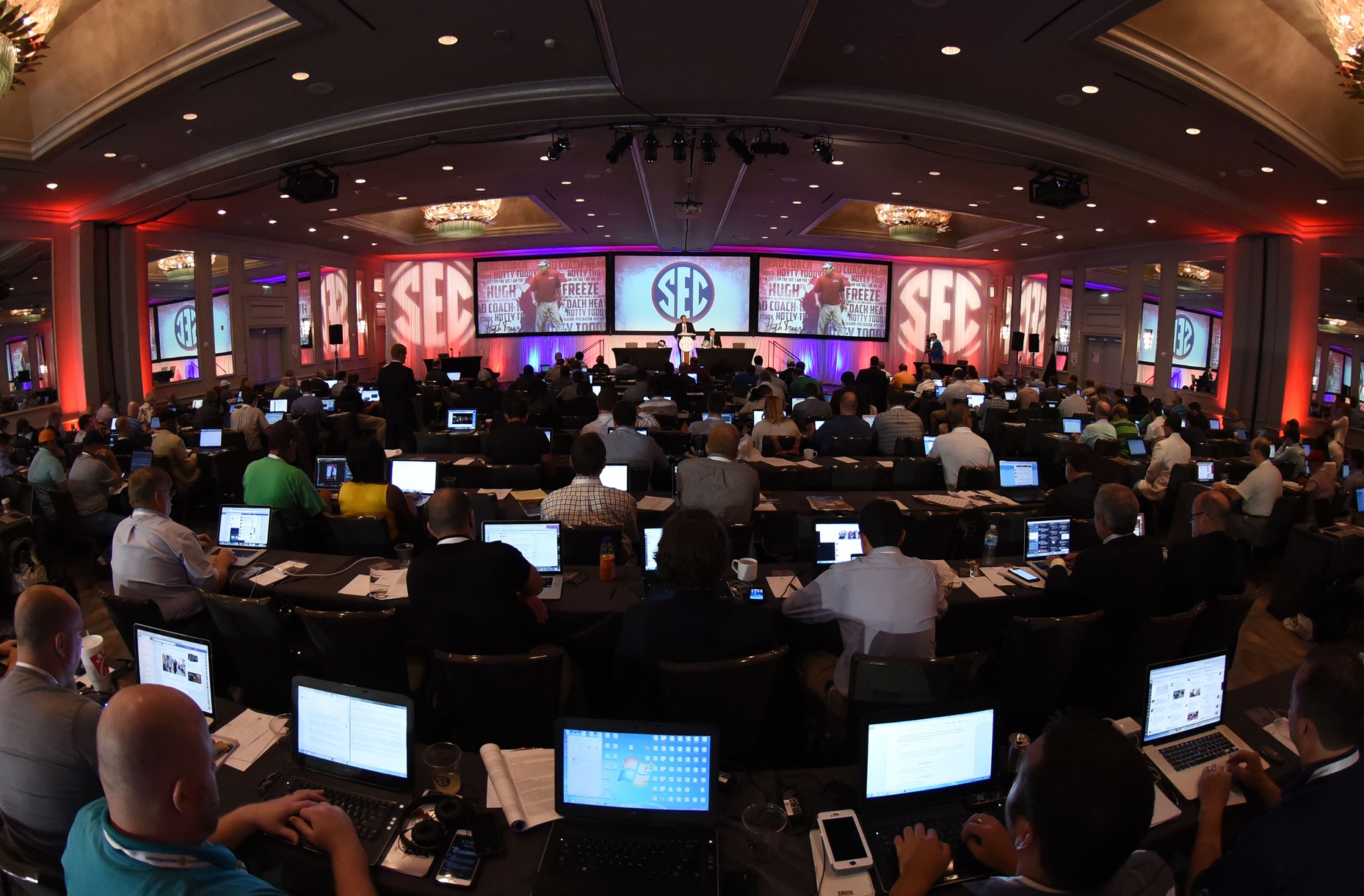 SEC
National media projects SEC bowl games after Week 5
It was a good week in the SEC, and it appears that order has been restored to the conference.
LSU came back this week with a bang under interim head coach Ed Orgeron, thumping Missouri, 42-7.
Per the usual, No. 23 Florida won an uncomfortably close battle over Vanderbilt, while Alabama extended its streak over Kentucky in Bryant-Denny Stadium.
Auburn, Arkansas and Ole Miss all dominated non-conference opponents. Tennessee squeaked out a close one over Georgia, thanks to a thrilling Hail Mary from Josh Dobbs to Jauan Jennings.
Kentucky, Mississippi State, South Carolina and Vanderbilt were all still left out of the SDS projections. In fact, the Gamecocks and Commodores were left out of everyone's projections.
The Wildcats got a single vote from ESPN, while the Bulldogs got two from ESPN. Missouri got a nod from everyone except for ESPN analyst Mark Schlabach.
Here are the consensus bowl projections after Week 5.
ALABAMA
CBS Sports: Peach Bowl* vs. Houston
ESPN: Peach Bowl* vs. Michigan (Mark Schlabach); Peach Bowl* vs. Washington (Brett McMurphy)
SDS: Peach Bowl* vs. Washington
ARKANSAS
CBS Sports: TaxSlayer Bowl vs. Florida State
ESPN: Texas Bowl vs. West Virginia (Schlabach); Citrus Bowl vs. Indiana (McMurphy)
SDS: Music City Bowl vs. Michigan State
AUBURN
CBS Sports: Liberty Bowl vs. Texas
ESPN: Belk Bowl vs. Virginia Tech (Schlabach); Liberty Bowl vs. TCU (McMurphy)
SDS: Texas Bowl vs. Oklahoma State
FLORIDA
CBS Sports: Music City Bowl vs. Michigan State
ESPN: TaxSlayer Bowl vs. North Carolina (Schlabach); Outback Bowl vs. Nebraska (McMurphy)
SDS: Outback Bowl vs. Nebraska
GEORGIA
CBS Sports: Outback Bowl vs. Nebraska
ESPN: Music City Bowl vs. Minnesota (Schlabach); Music City Bowl vs. Iowa (McMurphy)
SDS: Belk Bowl vs. Wake Forest
KENTUCKY
ESPN: Independence Bowl vs. NC State (McMurphy)
LSU
CBS Sports: Belk Bowl vs. Virginia Tech
ESPN: Outback Bowl vs. Penn State (Schlabach); Belk Bowl vs. Florida State (McMurphy)
SDS: TaxSlayer Bowl vs. Nebraska
MISSISSIPPI STATE
ESPN: Liberty Bowl vs. TCU (Schlabach); Texas Bowl vs. Oklahoma State (McMurphy)
MISSOURI
CBS Sports: Texas Bowl vs. Oklahoma State
ESPN: Birmingham Bowl vs. Tulsa (McMurphy)
SDS: Liberty Bowl vs. TCU
OLE MISS
CBS Sports: Citrus Bowl vs. North Carolina
ESPN: Citrus Bowl vs. Nebraska (Schlabach); TaxSlayer Bowl vs. Notre Dame (McMurphy)
SDS: Citrus Bowl vs. Wisconsin
TENNESSEE
CBS Sports: Cotton Bowl† vs. Stanford
ESPN: Orange Bowl† vs. Louisville (Schlabach); Orange Bowl† vs. Louisville (McMurphy)
SDS: Sugar Bowl† vs. Oklahoma
TEXAS A&M
CBS Sports: Sugar Bowl† vs. Oklahoma
ESPN: Sugar Bowl† vs. Oklahoma (Schlabach); Sugar Bowl† vs. Baylor (McMurphy)
SDS: Cotton Bowl† vs. Houston
*Playoff semifinal
†New Year's Six game