SEC
2021 NCAA Men's Basketball Tournament television schedule released featuring new format
After missing out completely on the 2020 NCAA Tournament, college basketball fans will take March Madness anyway they can get it this year but the upcoming version will be undergoing an interesting change that has some fans up in arms.
On Wednesday, the NCAA announced the complete schedule for the 2021 NCAA Men's Basketball Tournament.
If you were unaware, the entire tournament will be held in Indianapolis this year with every game being broadcast by TBS, CBS, TNT or truTV.
CBS will broadcast the Final Four and championship game. The Final Four is scheduled to be played Saturday, April 3, with the National Championship to be played on Monday, April 5.
While the same broadcasting partners we've all come to expect will be showing the games on television, the decision has been made to start Round 1 of the 2021 NCAA Tournament on Friday, instead of the typical starting date of Thursday.
This means Round 1 will be played on Friday and Saturday with Round 2 being played on Sunday and Monday for the 2021 NCAA Tournament.
The delayed start date will also result in the Sweet 16 starting on a Saturday with the Elite Eight ending on a Tuesday.
Here is a breakdown of the complete schedule: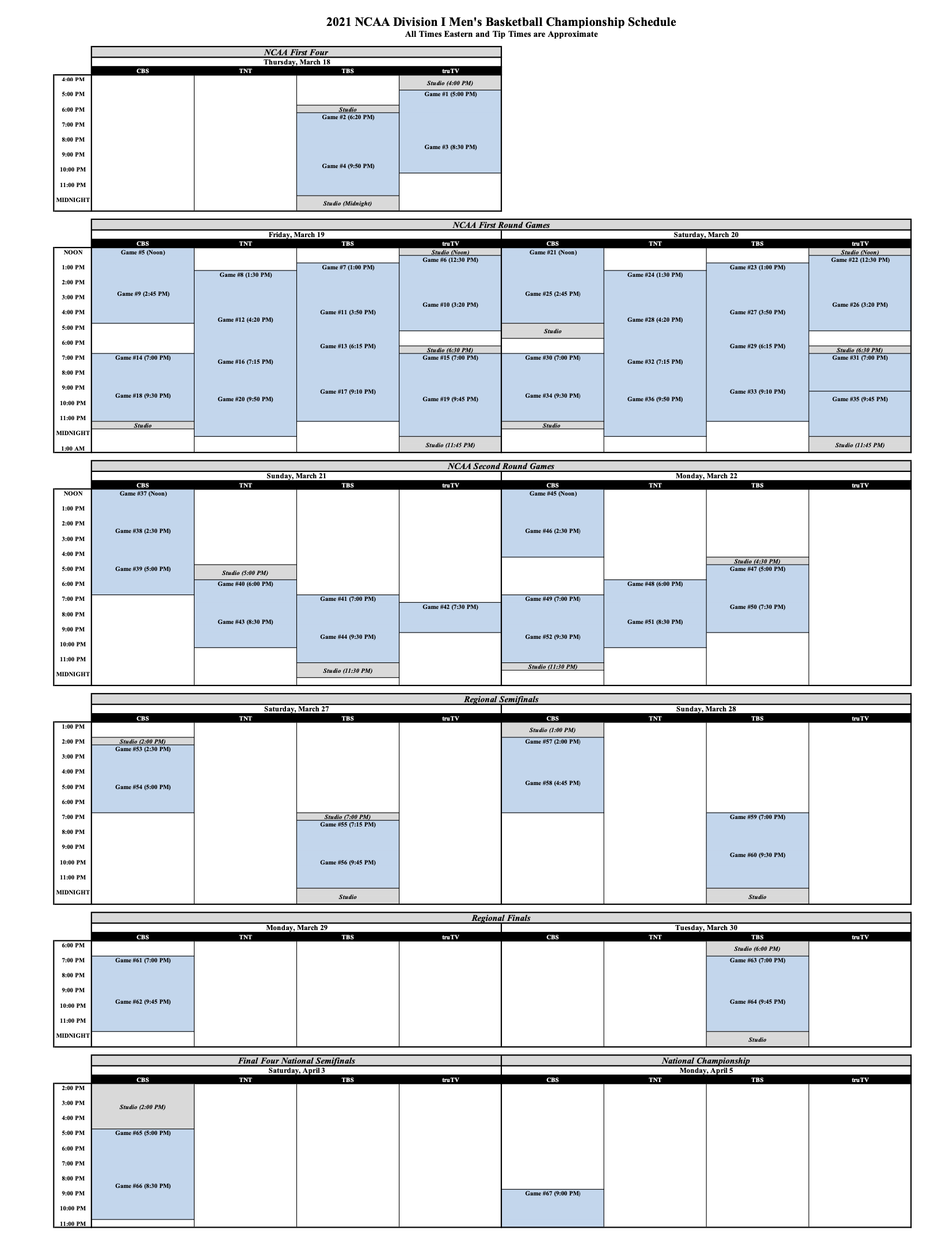 Following the news, some fans were disappointed with the change in the format of the tournament.
I'm not kidding when I say the tournament moving from Thursday through Sunday to Friday through Monday is the worst thing to ever happen to me. @ncaa is a terrorist organization https://t.co/FaaAgzsC8L

— Tyler (@berndt95) February 10, 2021
I don't understand why the NCAA Tournament has to shift from Thursday/Saturday, Friday/Sunday to Friday/Sunday, Saturday/Monday this year… but I also haven't understood why a lot of things have been done the way they have the last year. So what's new.

— Nate Slack (@nateslack5) February 10, 2021
oh brother that new NCAA Tournament format stinks

— Luke Mayeux (@LukeMayeux) February 10, 2021