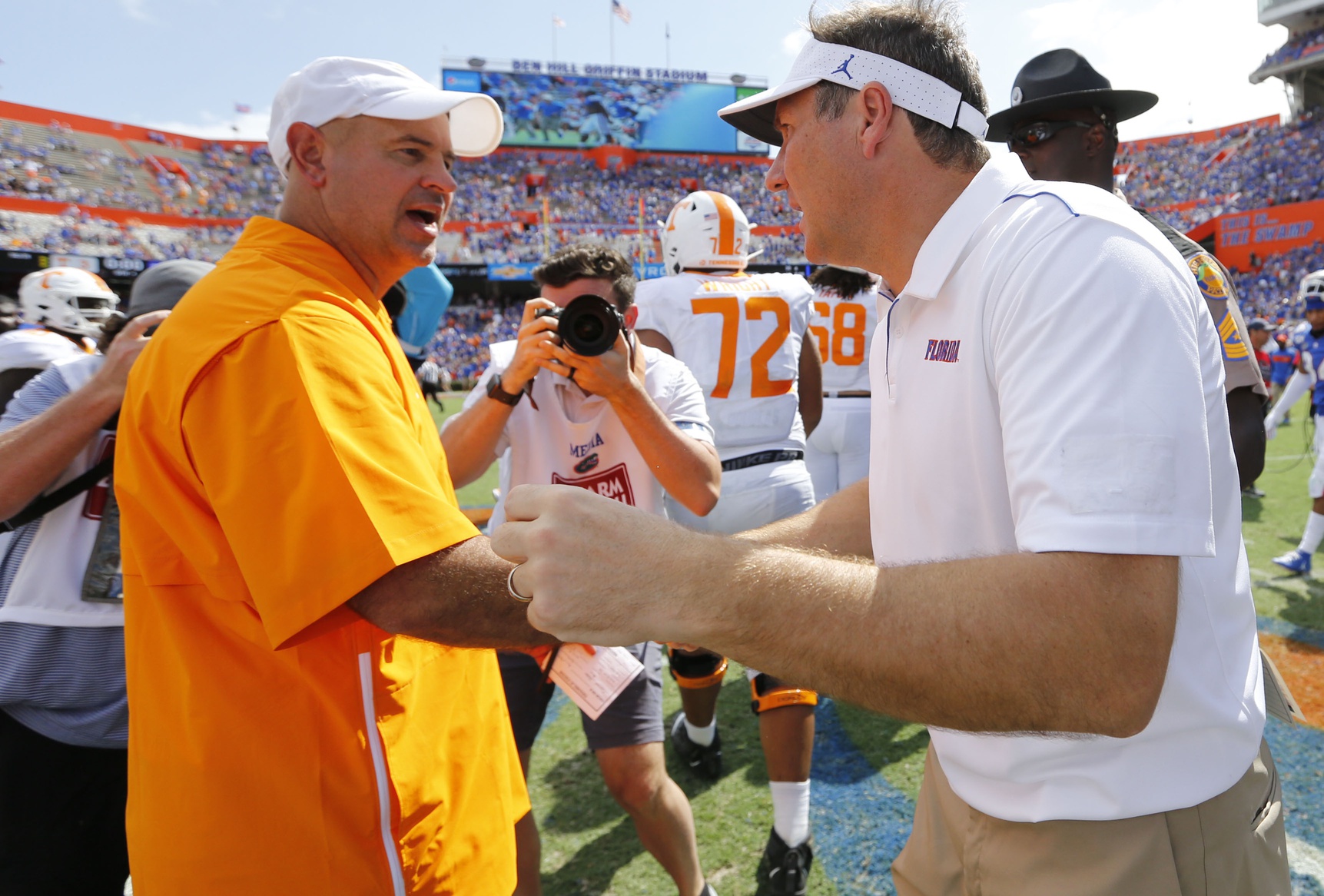 SEC
Nearly 5 years later, we can already say that the 2017 coaching cycle was a total train wreck
I've grown to hate grading coach hires.
Analyzing them is one thing. That, I love. If you want a list of candidates within an hour of a job becoming available, I'm your guy. If you want to discuss how a new coach's offense will mesh with the current personnel, tell me the time and the place you want to break that down.
But grading hires? Meh, no thanks.
I get it. It's part of the job. We're asked to make wholesale judgments based on a coach's track record and not necessarily how they'll handle the peaks and valleys of the job that awaits. The latter is nearly impossible.
"Hate" might be a strong word, but after a decade writing about college football, I realized that it's OK to not have an immediate definitive take on whether a hire will succeed or fail.
There's no better example of this than the 2017 coaching cycle.
If you recall, 12 different Power 5 programs made head coaching hires following the 2017 season. Well, I suppose that number is 13 if you include Matt Luke shedding his interim tag and getting the full-time gig in wake of the Hugh Freeze fallout at Ole Miss. In case you forgot, here's who took a Power 5 gig following the 2017 season:
Jimbo Fisher, Texas A&M
Scott Frost, Nebraska
Dan Mullen, Florida
Chip Kelly, UCLA
Willie Taggart, Florida State
Kevin Sumlin, Arizona
Jonathan Smith, Oregon State
Herm Edwards, Arizona State
Joe Moorhead, Mississippi State
Jeremy Pruitt, Tennessee
Chad Morris, Arkansas
Mario Cristobal, Oregon
Matt Luke, Ole Miss
Of those 13 head coaches, only Fisher, Frost, Kelly, Edwards and Smith are currently at their respective schools. In other words, only 5 of 13 reached Year 5. Two of those remaining 5 — Frost and Edwards — enter Year 5 firmly on the hot seat while Kelly's seat cooled after a late 2021 push. Fisher will get a Year 6 because A&M isn't about to fork over $86 million to fire him at season's end (that's a real number) and Smith is quietly one of the on-the-rise coaches after he led the Beavers to their first winning record in Pac-12 play since 2012.
Cristobal is the outlier here because he's the only one of those 13 coaches who decided to leave for another Power 5 job. As in, without getting fired.
It sort of begs the question — how many of these fanbases would actually speak positively about their 2017 hires? I'd say at least 1 (Smith) and you could debate Fisher, Cristobal and Kelly. Even if Oregon fans appreciated Cristobal while he was in Eugene, I'd hardly argue a top-15 season and a post-Year 4 exit to Coral Gables would be considered a unanimous success, especially on the heels of Taggart's 1-and-done.
Of those 13 Power 5 coaches from the 2017 cycle, 6 of them were gone by the end of Year 3, including 4 (Taggart, Moorhead, Morris and Luke) who didn't coach in the 2020s. Instead, they got hefty buyouts after their short stints (before offset money was factored in):
Moorhead — $7 million
Luke — $9.6 million
Morris — $10 million
Taggart — $18 million
Including Mullen ($12 million) and Sumlin ($7 million), the fired coaches from that group of 13 were owed a combined $63.6 million in buyouts so far. That's not including the $12.6 million that Pruitt would've earned if he was fired without cause, nor does it factor in the offset money in those contracts.
Speaking of coaches who got buyouts, I may or may not have had my Moorhead hiring column appear in this Old Takes Exposed video, which was made to show how every 2017 move was being called "a home-run hire."
New @captionedvideo: So far, almost every CFB hire has been a "home run." Congrats to all! pic.twitter.com/TCH30zoW7a

— Freezing Cold Takes (@OldTakesExposed) December 5, 2017
Note that Old Takes Exposed made that video while the 2017 cycle was still in full swing. We got Cold Take'd before they coached a game! That's how overly optimistic the 2017 cycle was.
(I'll go to my grave saying that Moorhead deserved more than 2 years at MSU, regardless of what happens with Mike Leach. Still, I ate some crow for saying that Moorhead be a home run … and that he would win 10 regular season games in Year 1.)
What made me think about this cycle and the erased optimism was when Tennessee got its notice of allegations from the NCAA. A coup to get Jeremy Pruitt fired without paying that $12.6 million buyout resulted in the NCAA uncovering 18 Level-I violations, which was more than the 16 games he won during his 3 years in Knoxville. I debated with colleagues whether it was the worst SEC hire of the 21st century. In my opinion, though, it wasn't even the worst SEC hire of the cycle.
Why? Arkansas agreed to pay Morris $18 million for 2 years of work in which he failed to win an SEC game. That'll be hard to top. At the time, though, nobody would've seen an ending like that.
Bill Bender, who does great work for Sporting News, ranked all the hires in the 2017 cycle. In terms of just the Power 5 moves, here's what his ranking was back in 2017:
Jimbo Fisher, Texas A&M
Scott Frost, Nebraska
Chip Kelly, UCLA
Dan Mullen, Florida
Kevin Sumlin, Arizona
Willie Taggart, FSU
Jeremy Pruitt, Tennessee
Chad Morris, Arkansas
Joe Moorhead, MSU
Mario Cristobal, Oregon
Jonathan Smith, Oregon State
Matt Luke, Ole Miss
Herm Edwards, Arizona State
I'm gonna give my guy Bill some credit here. In a cycle that ended up being loaded with turnover, his top 3 are at least all still at their respective schools (for now). Fisher ended up being the correct pick almost by default. The fact that he got over the Nick Saban hurdle and signed the highest-rated recruiting class of the 21st century suggests his best years could be forthcoming. He might not have gotten A&M to Atlanta yet, but in 2020, he led A&M to its best AP Poll finish since 1939. That has to count for something.
Personally, my 2017 ranking would've had Moorhead at least in the top 5 and perhaps even higher. I, too, would've been low on Cristobal, AKA the guy who was fired at FIU and was an in-house promotion after Taggart bolted for FSU after 1 season.
It seems only fair that I examine the 2017 cycle with some revisionist history based on the way these last (nearly) 5 years played out. Here's a re-ranking of the 2017 cycle based on the way these coaches fared:
Jimbo Fisher, Texas A&M
Mario Cristobal, Oregon
Jonathan Smith, Oregon State
Dan Mullen, Florida
Chip Kelly, UCLA
Herm Edwards, Arizona State
Joe Moorhead, MSU
Matt Luke, Ole Miss
Scott Frost, Nebraska
Jeremy Pruitt, Tennessee
Willie Taggart, FSU
Kevin Sumlin, Arizona
Chad Morris, Arkansas
I know, I know. How could 3 coaches be worse than Pruitt? So easily we forget that Pruitt at least delivered an 8-win season and had a winning record in SEC play in Year 2. That was quite the turnaround after 2017 was a dumpster fire that included a winless SEC season and a fiasco of a coaching search that ended with Pruitt getting the job.
Yes, Pruitt was bad at cheating and he bungled Tennessee's quarterback room in horrific fashion, but the Vols at least won a Florida bowl game. If they escape his 18 Level-I violations without a bowl ban, I'd argue that the initial hire wasn't as bad as some made it out to be. It was just an awful extension.
If Cristobal had stayed at Oregon instead of leaving for his alma mater, I would've put him at No. 1. But part of revisionist history is examining what a coach did to elevate the program, and it's hard to say a guy leaving a proud program after 4 years made that job more appealing. That's why I had Smith ahead of Mullen. Sure, Smith might not have won multiple New Year's 6 Bowls like Mullen, but that wasn't the bar to meet at Oregon State. Mullen didn't elevate his program's talent level, and he ultimately failed to change the national reputation of the Gators with their never-ending, post-Steve Spurrier era need to find some stability at head coach.
What's crazy is that if you were ranking 2017 coaching cycle hires strictly based on wins, there's a pretty steep drop-off after Cristobal, Fisher and Mullen:
1. Cristobal, 35 wins
T2. Mullen, 34 wins
T2. Fisher, 34 wins
4. Edwards, 25 wins
5. Kelly, 18 wins
T6. Pruitt, 16 wins
T6. Smith, 16 wins
8. Frost, 15 wins
9. Moorhead, 14 wins
T10. Taggart, 9 wins
T10. Luke, 9 wins (excluding 2017 interim season)
T10. Sumlin, 9 wins
13. Morris, 4 wins
Yes, a pandemic-shortened 2020 season impacted those totals. Still, though. Cristobal was the only coach in that group to win a conference title. Those 13 coaches earned a combined 2 top-5 finishes and just 8 AP Top 25 finishes.
Nobody in their right mind would've predicted that kind of turnout for the 2017 coaching cycle. And to be fair, there were some solid Group of 5 hires mixed in like Billy Napier, Josh Heupel, and Sonny Dykes, all of whom have since moved on to Power 5 programs. But as a whole, the 2017 coaching cycle was wildly disappointing.
Consider that a reason why it's unlikely the 2021 cycle will meet our high expectations. Those expectations are high because there were vacancies at 8 programs who played for a national title in the 21st century (Michael Vick-led Virginia Tech played for a natty on Jan. 4, 2000):
Oklahoma
LSU
Notre Dame
USC
Oregon
Florida
Virginia Tech
Miami (FL)
History tells us that between Cristobal, Napier, Brian Kelly, Brent Venables, Marcus Freeman, Dan Lanning, Brent Pry and Lincoln Riley, not everyone will be a home-run hire. Some will be whiffs, others will make solid contact and a few will knock it out of the park. Program prestige doesn't guarantee success, and neither does a promising Year 1.
That 2017 cycle should forever serve as a cautionary tale. Even the obvious moves like Frost returning to his alma mater, as great of a story as it was, wasn't necessarily destined for success. This sport doesn't care who you are or what you've done. Anyone can be chewed up and spit out.
Sometimes all it takes is too much faith in a quarterback (Frost with Adrian Martinez) or too much faith in a coordinator (Mullen with Todd Grantham). Sometimes the rebuild is too much (Taggart at FSU) or the previous success was overvalued (Morris having 1 good year at SMU).
It's much easier to talk ourselves into hires than not because we assume that everyone will learn from the mistakes of their predecessors. In reality, we never truly know how a hire will turn out. All we can do is look back. It's not too early to look back on the 2017 cycle and come to a consensus conclusion.
It was one giant swing and a miss.