SEC
Ole Miss-Florida State to kick off new era of big-boy football in Orlando
ORLANDO — There are many neutral-site games to look forward to on college football's big opening weekend.
The SEC is heavily involved. Alabama — the defending national champion — takes on USC at AT&T Stadium. LSU will do battle with Wisconsin at Lambeau Field. Georgia is facing North Carolina at the Georgia Dome.
But while those three matchups are scheduled for Saturday, Ole Miss and Florida State are preparing for a pseudo-Monday Night Football affair that should generate a ratings bonanza. The Rebels are threatening to unseat the Crimson Tide in the SEC West, while the Seminoles have a shot at the College Football Playoff.
The site is freshly named Camping World Stadium in Orlando. Just call it the new-and-improved Citrus Bowl.
Home to a pair of bowl games every postseason, the Russell Athletic Bowl and the Buffalo Wild Wings Citrus Bowl, the venue is back in the business of neutral-site contests. Major changes needed to be made, though.
The entire lower bowl was ripped to shreds in 2014, as it was outdated and dilapidated. Now there are 360-degree concourses, a party deck in the north end zone and multiple video boards in much more fan-friendly locations. Creature comforts expected of a modern venue — chair backs, more leg room — are now the norm.
Better lockers rooms, training facilities and press boxes are bound to make football coaches happy, too.
According to Steve Hogan, the CEO of Florida Citrus Sports, Camping World came to the rescue just in time — financially and otherwise. Naturally, the brand makes a lot of sense for college football's following.
"It was a natural partner," Hogan told Saturday Down South. "When you think about what Camping World is, it's high-end RVs. If you go to any football stadium on a weekend, on a Saturday afternoon, you're going to see a parking lot full of RVs and tailgating."
Please excuse us while we use this game pic FOREVER AND EVER. Got anything better? Share it with us using #LoveFL. pic.twitter.com/ZIG5dBk2Kk

— BWW Citrus Bowl (@BWWCitrusBowl) January 11, 2016
New name, better experience
It will take awhile for fans to get used to the new name. Especially for SEC devotees, as the former name was a critical component of arguably the greatest quote in SEC history. Florida coach Steve Spurrier said Peyton Manning returned for his senior season at Tennessee "to be a three-time star of the Citrus Bowl."
"I think any time you change names of sports venues, there's a learning curve," Hogan said. "There's a comfort level that comes with it. It's okay to have that tremendous history and reverence for names like that because that means you're doing something right. I think that it's a bit of hallowed ground here, at least in our town. That's okay. Camping World will become known, but the fact that people remember some of the history around the Citrus Bowl Stadium name is cool also."
This week, it was announced the Citrus Bowl in Orlando, Florida would be renamed Camping World Stadium. The K… https://t.co/Ub6D7wpsTB

— Lydia Buffington (@madambuffington) May 1, 2016
The renovation actually reduced capacity at Camping World Stadium by a few thousand. This was no accident.
Because the coverage of live sports on television has gotten so good — particularly for football — over the years, venues have been forced to dial up their on-site product. It's all about a premium experience.
Benches have been replaced by seatbacks and cup holders. Cold hot dogs and warm beer are now shunned in favor of foodie menus and microbreweries. Entertaining a family of four used to cost over a hundred bucks. But these days, after tickets and parking and food and drinks and souvenirs, it might run over a thousand.
Bigger isn't necessarily better. Sometimes smaller means fuller. Empty seats are simply an eyesore on TV.
"I think that's obviously the trend, especially in pro sports," Hogan said. "You see where the stadiums were 20 or 30 years ago in the NFL and where they are today, mostly I would say they've really tightened up in terms of what the capacity is. A lot more fan amenities but tighter. They have the ability to flex up. We're really happy with where we are."
"We have the ability to flex up to 65,000 seats, which was a minimum target of the College Football Playoff National Championship."
Currently at about 61,000 when full, the decision to downsize Camping World Stadium didn't jeopardize its chances of hosting the grandest of events. Football and otherwise, the venue is a very attractive option.
"We have the ability to flex up to 65,000 seats, which was a minimum target of the College Football Playoff National Championship, so that was very much intentional on our part," said Hogan, adding that Orlando could vie for a game as early as 2019.
"Setting up at about 61,000 fixed was okay for us, and part of that is because there's a lot of great events that you can book in the 30-45,000-seat range that can look great on television and in person, create a nice vibe in person in a 61,000 permanent-seat facility, versus the old days of a 70-75,000-seat facility. We're happy with that."
Rich history, better future
The old Citrus Bowl had a glorious football past. A handful of professional teams — non-NFL, of course — called Orlando home: the Blazers of the WFL, the Renegades of the USFL, the Thunder of the WLAF, the Rage of the XFL, the Tuskers of the UFL. Even the Fantasy of the heavily criticized Lingerie Football League.
The NFL used to put on preseason games in Orlando, as recently as Buccaneers-Jets prior to the 1997 slate.
The Florida High School Athletic Association stages its state-championship games at the centrally located facility. With eight classifications, four schools each are crowned on back-to-back weekends in December.
However, with the facility dying a slow death and badly in need of modernization, Orlando had become less of a draw for stadium events. The NFL stopped coming to town. Concerts and the like make a lot of their money on high-end suites — the old Citrus Bowl didn't have enough of them. It was time for an overhaul.
On Wall Street, fear and greed tend to drive prices up or down. Fear had finally forced Orlando to adapt.
"It was absolutely fear of losing business," Hogan admitted. "It was a reality to our market. In our market, for better or for worse, it's a tourism market. It's a tourism-driven market, and sports tourism was a growing success story in the marketplace.
"This venue in particular for decades has been a little bit of an engine, if you will, of sports tourism through the postseason and some neutral-site games back in the '80s and '90s. This market very much understood that. What it had spent generations building was at risk with the coming transition from the BCS to the playoff era."
The last neutral-site game of consequence to be played in the building was Notre Dame-Navy back in 2000.
"It was a reality that we had already checked out of a lot of that business and that the bowl games were next up," Hogan said. "This community stood up and said that's unacceptable. We're going to be competitive in this space and then go attempt to be more aggressive beyond what we already have. That was absolutely reality. It's well documented, and the community responded to it."
Opening night fireworks just the beginning
With Ole Miss and Florida State set to play before a national television audience on the Monday of Labor Day weekend, Camping World Stadium couldn't have picked a better game — a little bit of luck helped, too.
Due to all the logistics involved, neutral-site matchups have to be planned years in advance. It's not like Hogan and Co. could look at the preseason Top 25 and pick a couple of hot programs to play that fall. Fortunately for Orlando, both the Rebels and Seminoles are expected to be legitimate contenders in 2016.
The winner will make an early impression on the College Football Playoff committee. That's not hyperbole.
"We're so fortunate that this game appears to be just an absolute blockbuster."
"It's an interesting side story about kickoff games these days, because to do them you have to get in front of them by so many years that you're really rolling the dice a little bit with what you're going to get when the games are here," Hogan said. "We're so fortunate that this game appears to be just an absolute blockbuster.
"You think about the Monday night slot in prime-time exclusive. It's the only thing on TV, really, that night. You saw a lot of success with that window last year with Ohio State and Virginia Tech, so this should, by all accounts, be potentially the ratings winner of the weekend. We're excited about that."
With Chad Kelly, Ole Miss has perhaps the best quarterback in the SEC at the controls. While FSU is yet to choose a starting QB, running back Dalvin Cook is on the short list of most dangerous weapons in the land.
"They're Top 10 teams last year, so they're tracking for that," Hogan said. "Had two great recruiting classes. Everything is colliding."
Hottest ticket in town
One thing that won't be a problem for the fine folks at Camping World: selling tickets. The Rebels, like most SEC schools, have a fervent fan base that isn't afraid of a long road trip. Plus, it's the Seminoles. Ole Miss has only played them one time, back in 1961 — way before Florida State was truly Florida State.
The 'Noles just held their spring game in Orlando last month due to construction at Doak Campbell Stadium.
From Hogan to coach Jimbo Fisher and everyone in between, nobody really knew what to expect in terms of attendance. But almost 50,000 garnet-and-gold supporters entered the gates. Quite an impressive turnout.
Mayor Jacobs joined @FSU_Football fans for the spring kick-off game. Check out the photos: https://t.co/K1c2Jftp30 pic.twitter.com/wU8ebJSqbi

— Mayor Teresa Jacobs (@Mayor_Jacobs) April 14, 2016
"We're not going to have a public sale for this game," Hogan said. "I've never encountered that in my history here. There won't be a Ticketmaster sale. There will certainly be a robust secondary market for this game, but we're going to be out of tickets before we can put them on public sale. That's exciting."
"You think about what it's like the go to The Grove on game day. I expect that they're going to turn out in huge numbers."
What the crowd will look like on game day is anyone's guess. Both schools will receive an equal allotment of tickets. Nevertheless — as Hogan intimated — what happens on the secondary market once supply and demand take shape is impossible to predict. Most FSU alumni will be closer. That may not matter, though.
"This game is being played in Florida, and Florida State has, probably, every advantage to put more people in the building," Hogan said. "Without a doubt, Ole Miss is a strong traveling school, robust fan base — legendary. You think about what it's like the go to The Grove on game day. I expect that they're going to turn out in huge numbers. How that actually slices up, 50-50 or 60-40, I don't know. But you would think that Florida State would have an advantage to have a few more people in the building. We'll just have to wait and see."
Jumping in the playoff mix
The Fiesta, Orange, Rose and Sugar have been the four "major" bowls. Hogan sees a similar kickoff model.
There are only a handful of facilities that offer what Camping World Stadium now offers for these highly coveted neutral-site extravaganzas. Orlando joins Atlanta, Arlington and Houston as the primary options.
First, you need a part of the country where college football is king. While UCF may be the local program, there are plenty of Seminoles and Hurricanes in addition to all the SEC influence in the area. Orlando is also a fertile recruiting ground — out-of-state coaches must make their presence felt here.
AT&T Stadium is unique — a behemoth. But Camping World can compete with the Georgia Dome and NRG Stadium and Raymond James Stadium, site of next season's playoff championship game.
Hogan's planning didn't stop once the ink was dry on Ole Miss-Florida State. Alabama is scheduled to face Louisville to kick off the 2018 campaign. Florida and Miami will rekindle their rivalry once 2019 arrives.
"I just think the neutral venue of it and what it creates ends up adding a little something to it," he said. "It's exciting for the program, exciting for the kids."
How to sell decision makers on the benefits of a neutral site versus a traditional home-and-home series varies from program to program. Financially it has to add up, plus schools don't want to say goodbye to a possible moneymaker and leave their home schedule full of cupcakes and uninspiring in-conference opponents.
"I think recruiting is a no-brainer," Hogan said, "not only for putting your program in front of kids that don't get to see it and touch it all the time. If you're Alabama coming into Orlando, playing in the center of the state, where everybody can see and recruiters can easily get to. Louisville, for that matter, any of these other schools, I think that's important. Ole Miss, in this case this year."
Obviously, money has to be there on both sides of the table. Camping World needs to recoup its investment.
As a result, the SEC is most likely going to be a part of any kickoff-game conversation in Orlando going forward. It's no coincidence that Ole Miss, Alabama and Florida are already on the books. They'll sell.
The Russell Athletic Bowl and Buffalo Wild Wings Citrus Bowl are an easy case study. Look at TV ratings. Look at ticket sales. Look at dollars spent in the community. When the SEC is involved, everybody wins. The ACC, outside of Florida State, isn't reliable. Big Ten, Big 12 and Pac 12 teams all carry some risk.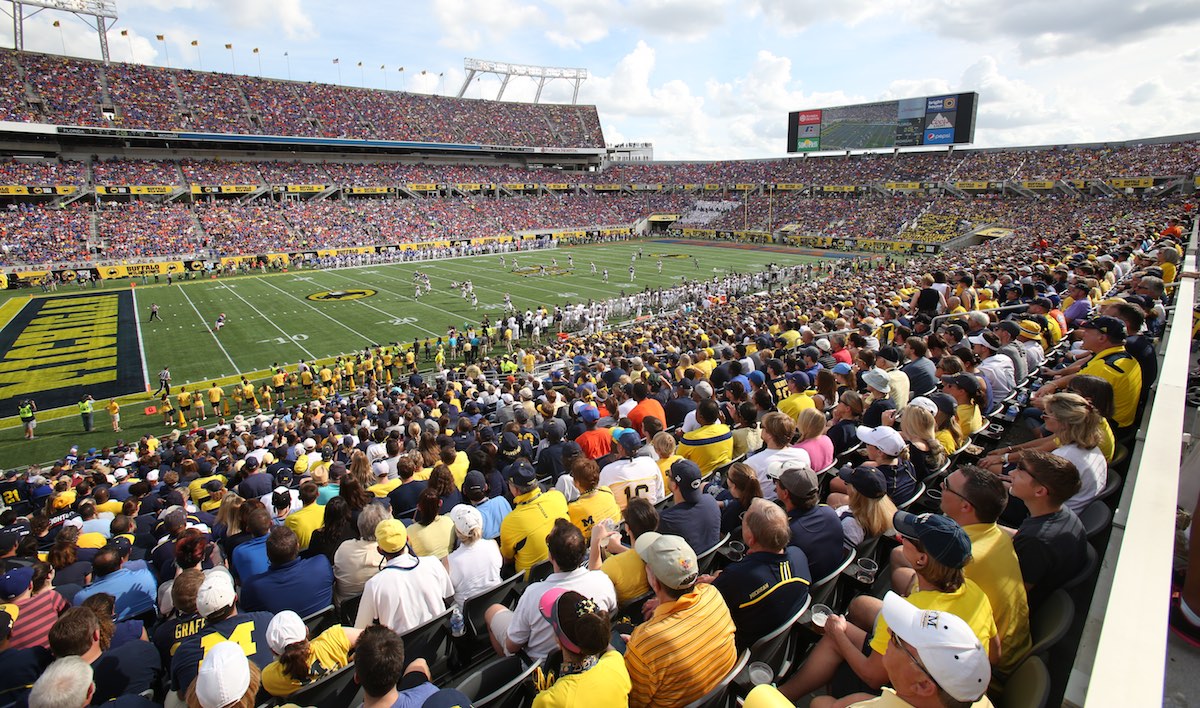 The 2016 Buffalo Wild Wings Bowl / Photo Credit: Florida Citrus Sports
"You can certainly make some sense of some ACC teams — Florida State, Miami," Hogan said. "In our marketplace, playing the right school from the Big Ten, Big 12. Pac 12 might be hard to make sense of there, although we've theorized some games from there with an SEC team."
Fans from other parts of the country can complain about SEC bias all they want. In the end, it's business.
"It makes it easier," Hogan said. "We have a lot of natural relationships with the SEC schools after a 20-plus-year relationship in the postseason. Clearly, huge fan bases, passionate followings do great on TV. They're our home-run partner.
"SEC-Big Ten has worked out nicely on New Year's Day for a long, long time. ACC has been great. We've got a lot of options, but when you look out over that number of years, it would be impossible to do without the SEC being involved in these, in some form or fashion, on one side of the ball or the other."
Long-term goal: Jumping in the Playoff mix
Coming off Year 2 of the wildly successful College Football Playoff, the "New Year's Six" is set through 2025 — a 12-year rotation in the semifinals for the Cotton, Fiesta, Orange, Peach, Rose and Sugar Bowls.
However, the contract has a provision for a look-in at the six-year mark in 2019, meaning the arrangement could be revisited. Hogan and his team opted against entering the fray the first time around, deciding to concentrate on the two bowls they already had. Kickoff games like Ole Miss-FSU were also a huge priority.
Never say never, though. If Hogan isn't at the bargaining table in 2019, he most certainly will be in 2025.
"We feel really good about where we are," he said, "but certainly we will look at the future. If things change and the system changes at the six-year look-in, or even at the 12-year transition, we're going to have to take a solid look at that."
Orlando had almost everything a semifinal city needed: mild winter weather, football-crazed citizens, top talent on the recruiting trail. The missing piece of the puzzle was the right stadium. Now Hogan has it.
"We're one of the six oldest games in the country," he said, "one of the best markets from a postseason-destination perspective, so we very much view ourselves as that quality. And if that opportunity presents itself again and the landscape changes a little bit, we'll be aggressive."