SEC
Video: Ole Miss security officer bashes in fan's face, family claims assault
Police are investigating an incident at Saturday's LSU-Ole Miss game that allegedly left one fan hospitalized with a concussion and multiple fractures.
According to MSnewsnow.com, a man named Chris Barnes is featured in this video posted to Facebook. Shown in what appears to be an animated conversation with two security officers, Barnes eventually takes a hard right hand to the face, causing a stir among the fans seated nearby.
IMG_1308My husband, a two time Veteran of the US Army National Guard, was wrongfully assaulted on campus during the Ole Miss vs LSU game by a POLICE OFFICER. He was hit twice in the face and then arrested. THEY DID NOT GIVE HIM MEDICAL ATTENTION. Four hours later once he posted bail, he asked his friends to take him to the ER. He was diagnosed with a concussion, fractures to his orbital wall and maxillary sinus and contusions to the tissues of his eyes. This all stemmed because the officers thought he did something that someone a few rows up did and blamed him and his friends. I'm disappointed in the University police department and the Oxford police department for letting this happen. YOU ARE NOT ABOVE THE LAW. THIS IS NOT OK. Please help us get justice by calling out this police officer! I want his NAME AND BADGE! Please help me get this to the media by sharing. Thank you. Pictures posted in comments.

Posted by Holly Barnes on Sunday, November 22, 2015
According to the news report, the punch left Barnes' face looking like this: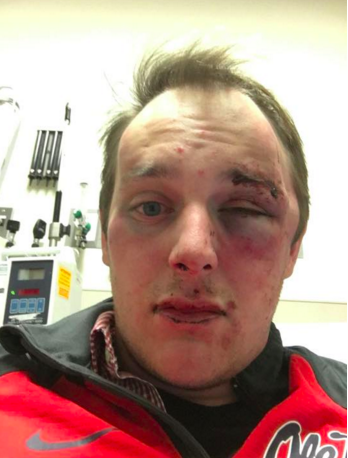 The Ole Miss police have released a statement. It sounds as if the officers involved were not affiliated with the university, but were contracted to help provide security for the game. The Ole Miss Police Department is investigating the incident:
The University of Mississippi Police Department is aware of the video of an incident taking place at the Ole Miss-LSU football game. The officers involved are not officers with the University Police Department, but are certified officers from other jurisdictions hired to work security at home football games. The University of Mississippi Police Department takes this situation seriously, and is currently investigating the incident. We encourage anyone that witnessed the event to contact the department at 662-915-7234 or email us at upd@olemiss.edu.