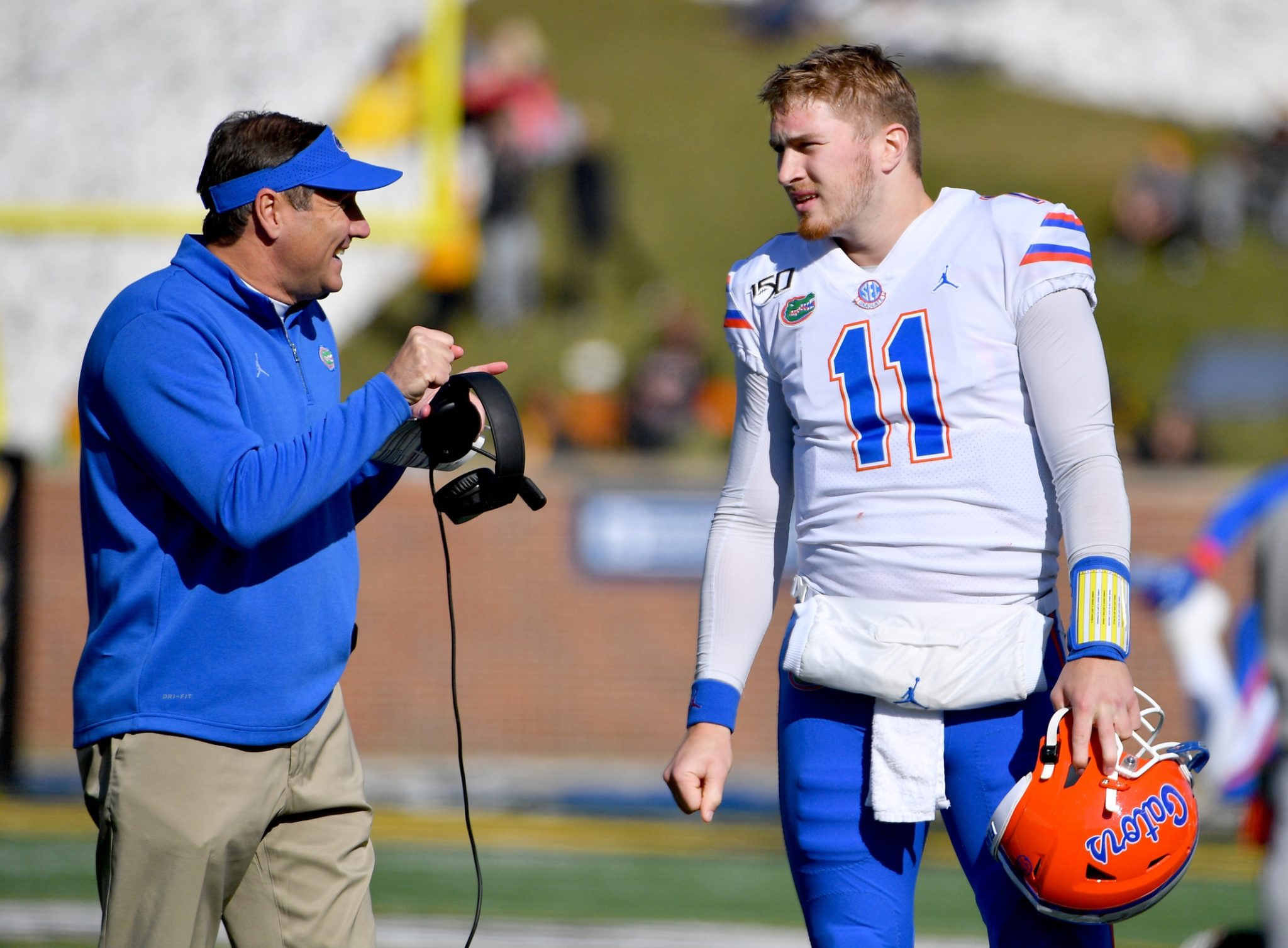 SEC
Placing early Heisman bet? Why you should avoid these favorites (completely) and consider these 5 candidates
I probably sound like a broken record, but I'll just say it anyway.
If you bet on Trevor Lawrence to win the Heisman Trophy right now, you're basically setting money on fire.
That's not my way of shooting out some Colin Cowherd-like take. I don't think Lawrence is overrated at all. He's the real deal, and if he's not the No. 1 pick in the 2021 NFL Draft, I'll be surprised. But winning the Heisman is a far different feat from becoming the No. 1 pick.
Oh, why do I sound like a broken record? Because I said the same thing about Lawrence last year. And just in case you think that was some sort of SEC homer take, I said it about Tua Tagovailoa, as well. Both were the obvious preseason favorites to win the Heisman at +250 (in late May). My advice, if you listened, paid off. Both were brilliant, and neither even made it to New York.
Betting on one of the 2 preseason favorites to win the award doesn't make sense. For this year, that means putting your money on Lawrence or Justin Fields is short-sighted. As of right now, those 2 are the overwhelming preseason favorites according to the oddsmakers:
2020 Heisman Trophy Odds👀

Via @WilliamHillUS

Justin Fields (+350)
Trevor Lawrence (+400)
Jamie Newman (+1000)
Spencer Rattler (+1200)
Sam Ehlinger (+1800)
D'Eriq King (+2000)
Mac Jones (+2200)
Travis Etienne (+2200)
Chuba Hubbard (+2200)
Myles Brennan (+2800)
Ian Book (+2800)

— Cover 3 Podcast (@Cover3Podcast) May 7, 2020
I'll say it again. Do. Not. Bet. Preseason. Heisman. Favorites.
The odds are awful any way you look at them. Besides just not getting the best bang for your buck, the numbers in the past decade are staggering. Dating to when Mark Ingram won in 2009, there was just 1 instance in which a preseason top-2 Heisman candidate actually won the award.
Year
Heisman winner
Preseason odds
2011
Robert Griffin III
15/1 (10th)
2013
Jameis Winston
33/1 (19th)
2014
Marcus Mariota
6/1 (2nd)
2015
Derrick Henry
25/1 (12th)
2016
Lamar Jackson
50/1 (19th)
2017
Baker Mayfield
8/1 (3rd)
2018
Kyler Murray
20/1 (7th)
2019
Joe Burrow
200/1 (29th)
Why is that the case? A couple of reasons. This has become such a narrative-driven award. This is no longer the lifetime achievement award reserved for upperclassmen like it was in the 20th century. Dating to when Tim Tebow became the first sophomore to win the award in 2007 (finally), 7 of the last 13 Heisman winners were sophomores or redshirt freshmen.
Is it surprising that coincided with the rise of social media? No. Everyone has a platform to pick apart the favorites. And also, the out-of-nowhere underclassmen candidates now have a platform to be seen by all.
Lawrence last year was a perfectly good example of that. He led an undefeated team to a national championship berth and had an extraordinary season, but he didn't even get invited to New York, and he finished 7th in the Heisman voting. In Lawrence's draft-eligible year, he's going to be picked apart even more.
The same could be true of Fields, who will have a challenging task of repeating the 51-touchdown season he put up in 2019 … which didn't even earn him Heisman runner-up honors. The only way Fields earns that honor is if he follows the Baker Mayfield path. That is, make a significant step up after finishing 3rd the previous season (I'd argue the offseason arrest knocked Mayfield down a peg and turned him into the "him against the world" candidate instead of what we usually see from decorated seniors).
So then what am I saying? Betting on the Heisman this early is dumb? Well, yeah. Sort of.
But look. I get it. Now more than ever, you find yourself just wanting some skin in the game. You want to put a future on a Heisman candidate and be the next Matt Porter, AKA the guy who put a $50 bet on Burrow to win at 200-to-1 last June and cashed a $10,000 ticket.
You might not become the next Porter, but I have 5 guys who could follow the Heisman narrative and lead to your next payday (odds via WillHill Sportsbook). You'll notice a theme. I stick with quarterbacks — 9 of the past 10 winners came at that position — and preferably ones who start the season on ranked teams. All of these guys showed potential last year and have circumstances around them that could suggest a major uptick in production.
So, let's get into it:
1. Sam Howell, UNC QB
Odds — 30/1
Why he could win — If a true freshman in 1990 put up a 38-7 TD-INT ratio, we would have talked about him like he was the second coming of Dan Marino. Thirty years later, we should be talking more about how impressive Howell was as a true freshman with Mack Brown. He had multiple touchdown passes in every game, and he finished the season with a solid 8.6 yards per attempt.
Even better? He plays for an offense that ranks No. 9 in percentage of returning production. Howell kicks off the season with an ESPN game against UCF and a neutral-site showdown against Auburn. UNC is in the much more favorable Coastal Division, which means that if he can lead the Heels to the ACC Championship, he could have a massive pre-Heisman matchup against Clemson.
Howell has the skills and all the right surroundings to become the 8th sophomore/redshirt freshman to win the award in the past 14 years.
2. Kyle Trask, Florida QB
Odds — 30/1
Why he could win — Yes, I'm high on the improvement of Trask. I don't think he'll put up Burrow-like numbers or anything, but I think he could stand to become the SEC's next player who goes from good to great. After jumping into the starting gig midseason and hitting the ground running, he has an entire offseason to continue to learn Dan Mullen's offense. The guy who started for the first time since 9th grade should benefit from that.
Think about this, though. If this is Florida's year to get over the hump and beat Georgia, that's going to be a huge boost to Trask's Heisman odds. Putting up points against that Bulldogs defense would turn plenty of heads. And if you were wondering about Emory Jones limiting his statistical upside, I think that's baked into those 30-1 odds. Barring an injury, I wouldn't bank on Jones stealing 10 touchdowns or 100 passing attempts from Trask.
Trask doesn't have to leave the state for his biggest games of the year — unless they make it to an SEC championship — and he has what should be an improved offensive line after it struggled at times in 2019. He'll have the benefit of throwing to one of the best targets in the country in Kyle Pitts, and he still has Trevon Grimes and what'll hopefully be a healthy Kadarius Toney to turn bubble screens into 70-yard touchdown passes.
The circumstances surrounding Trask following his mid-season switch to starter are definitely conducive to a Heisman-winning quarterback.
3. Dylan McCaffrey, Michigan QB
Odds — 75/1
Why he could win — You're about to get mad for me even suggesting that a Michigan player could win the Heisman. But hear me out.
In the post-Shea Patterson Michigan offense — something that Michigan fans are excited to see — McCaffrey can become a household name overnight. Well, his last name is already well-known. If he takes off, which isn't a crazy thought after flashing some potential as a runner the past 2 years, that's gasoline on a fire.
Dylan McCaffrey 💨

2017 #AllAmerican Bowl 🇺🇸 QB @dcaf20 showing off his wheels. #GoBlue 〽️

— All-American Bowl (@AABonNBC) October 14, 2018
If you think being a first-year starter will hold him back, perhaps you missed what Cam Newton, Jameis Winston, Johnny Manziel and Kyler Murray did in the 2010s. These days, that's part of the Heisman narrative.
Can you picture how we'll talk about McCaffrey if this is finally the year that Michigan beats Ohio State and gets to a Big Ten championship? His odds would soar if that happened. Even though I don't think the Wolverines will finally get over the hump, taking a chance on a 75-to-1 candidate makes sense in that spot.
Fair or not, some voters would treat this as a chance to "right the wrong" of Dylan's brother, Christian, not winning the award in 2015. If you're looking for a Heisman narrative, McCaffrey certainly would have it in spades.
4. Tanner Morgan, Minnesota QB
Odds — 125/1
Why he could win — Wait a minute. You mean to tell me that I can get 125/1 odds on a quarterback who was graded (PFF) as the No. 7 passer last year? Morgan is an NFL prospect who had a 30-7 TD-INT ratio and he averaged 10.2 yards per attempt. That was in Year 1 as a full-time starter for a Minnesota team that had arguably its best season in decades.
Baked into those odds are the fact that Morgan will no longer have star wideout Tyler Johnson, and perhaps more important, offensive coordinator Kirk Ciarrocca left for Penn State. But returning is Rashod Bateman, who is on the short list for top receivers in America. And while Ciarrocca left, Minnesota isn't changing systems. Morgan thrived running those RPOs, which should still be the case again in 2020.
There's no way his odds should only be at 125/1. That's a much more worthy flier than getting +350 on Fields or Lawrence.
5. Micale Cunningham, Louisville QB
Odds — 150/1
Why he could win — The quarterback formerly known as "Malik" Cunningham is up there for "most underrated returning players in college football." Why? It's not just because he torched Mississippi State in the Music City Bowl. Burrow and Fields were the only ones who were better than Cunningham with a clean pocket (PFF).
Cunningham, who was banged up in fall camp, finished the year with 11.6 yards per attempt on 178 passes, and he also ran for nearly 500 yards and 6 touchdowns. He's dangerous when he gets the ball in space. We saw more of that once Cunningham stopped splitting reps with Evan Conley and he took over as the full-time starter in the middle of last season.
Now entrenched as Scott Satterfield's guy, Cunningham will work exclusively with the first-teamers. That's an extremely good thing with Satterfield at the controls. Louisville ranks No. 21 nationally and No. 8 among Power 5 teams in percentage of returning production. And if you're wondering about the potential Clemson roadblock, Lamar Jackson didn't need to beat the Tigers or even win the division to win the Heisman in 2016. If Cunningham can have a big night against Clemson en route to one of those 45-touchdown seasons — his pace last year wasn't far off that had he been the healthy Day 1 starter — the path is there.
It might not be Burrow's 200-1 odds, but winning $7,500 for a $50 flier on Cunningham is all sorts of appealing.