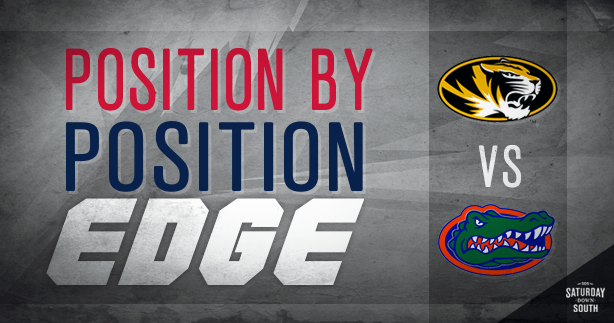 SEC
Who has the edge? Florida vs. Missouri
The last two teams to represent the SEC East in Atlanta meet Saturday. Both teams are coming off bye weeks, one scheduled (Missouri) and one created by Hurricane Matthew (Florida).
The Gators are determined to stay alive in the division race, especially now that Tennessee has a loss. Missouri is near the bottom of the division at 0-2, but has shown improvement from last year's 5-7 squad on offense.
Despite one team being in the conversation to win the division and the other winless in conference play, the position matchups show that the two squads are closer than they appear:
When Florida has the ball
Florida QB Luke Del Rio vs. Missouri pass defense: Del Rio last played in Week 3 when he suffered a knee injury on a low hit by a North Texas defender. He was on track to return for the LSU game, but as every SEC fan is well aware, that game was postponed. While backup quarterback Austin Appleby proved he can throw the deep ball, everyone is expecting the Florida offense to pick back up with Del Rio as the starting signal-caller.
In Del Rio's three games, he averaged a 61.4 completion percentage on 33.7 attempts per game for 254 yards, but he'll be facing a better passing defense than UMass, Kentucky and North Texas. Missouri allows 232 passing yards per game on average, which ranks No. 9 in the SEC.
Sacks will be a key stat to watch. Florida is near the top in pass protection, having allowed only five sacks, but four came in the past two games (Tennessee, Vanderbilt). Missouri only has nine sacks through five games, but the Gators know they're in for a challenge going up against Tigers DE Charles Harris (3.5 sacks, 4 quarterback hurries).
Edge: Push
UF RB committee vs. MU run defense: Florida's four-man running back committee isn't getting it done. Entering Week 7, the Gators are No. 10 in the SEC in rushing offense (160.8 yards per game). At the start of LSU week, all eyes were on sophomore RB Jordan Scarlett, who leads the team in carries (55 rushes for 274 yards), but only averages 11 carries per game. Of all four backs, Scarlett looks the most ready to take on a feature back role, but coach Jim McElwain has been mum on altering the approach to the running game.
Mizzou's run defense is ranked No. 11 among SEC teams, allowing a total of 945 rushing yards in five games. Close to half (418) of those rushing yards came two weeks against LSU. It shows that the Tigers are vulnerable to the ground game, but the Gators don't have Derrius Guice in their backfield.
Edge: Push
UF WR Antonio Callaway vs. MU CB Aarion Penton: When Florida is passing the ball, the matchup to watch will be Callaway vs. Penton. The Gators' top pass-catcher (averaging 5 catches for 92.8 yards per game) is looking to bounce back from his 3-catch, 36-yard performance at Vanderbilt, season lows in both categories.
Penton is second in the SEC with eight passes defended through five games. He also has a team-leading two interceptions.
In Callaway's short career, the issue has been whether Florida's quarterback can get him the ball. If the ball gets to No. 81, no SEC cornerback has been able to shut him down.
Edge: Florida
When Mizzou has the ball
Missouri QB Drew Lock vs. UF pass defense: After Tuesday's practice, Florida CB Teez Tabor was asked about facing the SEC's No. 1 passer, Lock. His answer somewhat shaded Lock, acknowledging there are multiple talented passers in the conference. When pressed on Lock being No. 1, Tabor gave one of his classic cocky responses:
"I think we're No. 1 too," Tabor said.
He has the numbers right. Saturday will feature the No. 1 passing offense in the conference (350.6 yards per game) against the top passing defense (139.8 yards per game).
Even the pass protection numbers are strength vs. strength. Missouri has only allowed three sacks this season, the fewest among SEC teams. Florida is No. 3 in sacks in the SEC by notching 19 sacks over five games.
This should be the most fun matchup to watch on Saturday.
Edge: Push
MU running backs vs. UF run defense: The Tigers have relied much more on the pass than the ground game. RB Ish Witter is the leading rusher on the team (68 carries, 257 yards), and he accounts for roughly one third (51.4) of the team's averaging rushing yards per game (158). Witter gets an average 13.6 carries per game while freshman Damarea Crockett gets eight carries per game.
Florida has the division's best run defense, and No. 2 overall in the conference, allowing 90.6 yards per game on the ground. Tennessee QB Joshua Dobbs and Vanderbilt RB Ralph Webb gave the Gators trouble in recent weeks, but they are two of the conference's better ball-carriers. The Gators should be able to get back to their run defense dominance.
Edge: Florida
MU wide receivers vs. UF defensive backs: The Tigers have five of the SEC's top 26 receivers, led by J'Mon Moore (27 catches, 450 yards, 6 TD). The Gators don't assign any corner to one receiver, so regardless of where Moore lines up he'll be facing a future NFL player in either Tabor (right) or Quincy Wilson (left).
Tabor and Wilson will likely be able to cover Moore close enough that Lock will be forced to look elsewhere. And that will be the big question: Can the Gators cover all of Missouri's other options in the passing game? Against SEC foes, the Gators have faced a pass-heavy Kentucky, a balanced Tennessee and a Vanderbilt team that can't pass at all. They were dominant against the Wildcats and Commodores, but struggled to cover the Volunteers.
LSU shut down Lock and Mizzou's passing game (188 yards, touchdown). The Gators are certainly comparable to LSU in pass rush and pass coverage. Mizzou's receiving corps, however, is comparable to Tennessee's.
Edge: Push
Special teams
If the offenses struggle, the game could showcase two of the SEC's better punters. Florida's Johnny Townsend leads the league in average yards per punt (50.2) while Mizzou's Corey Fatony checks in at No. 4 (43.8). Fatony, however, has more punts inside the 20-yard line than Townsend (13 to 9).
Townsend might be able to boot it farther, but Mizzou is the team with better punt return numbers. The Tigers are No. 4 in the SEC, averaging 13 yards per return with one touchdown. The Gators are only averaging 3.7 yards per punt return and do not have a touchdown.
Both teams have a new kicker this season. Mizzou's Tucker McCann got off to a rough start but gained some confidence after hitting a 46-yard field goal against Georgia. He's yet to log an attempt from 50-plus yards. On the other sideline, Florida's Eddy Pineiro is 4-of-6 from 40-plus yards and 1-of-1 on his only 50-plus kick, a 54-yard field goal.
If the game were to come down to a kick, the Gators have the advantage.
Edge: Florida