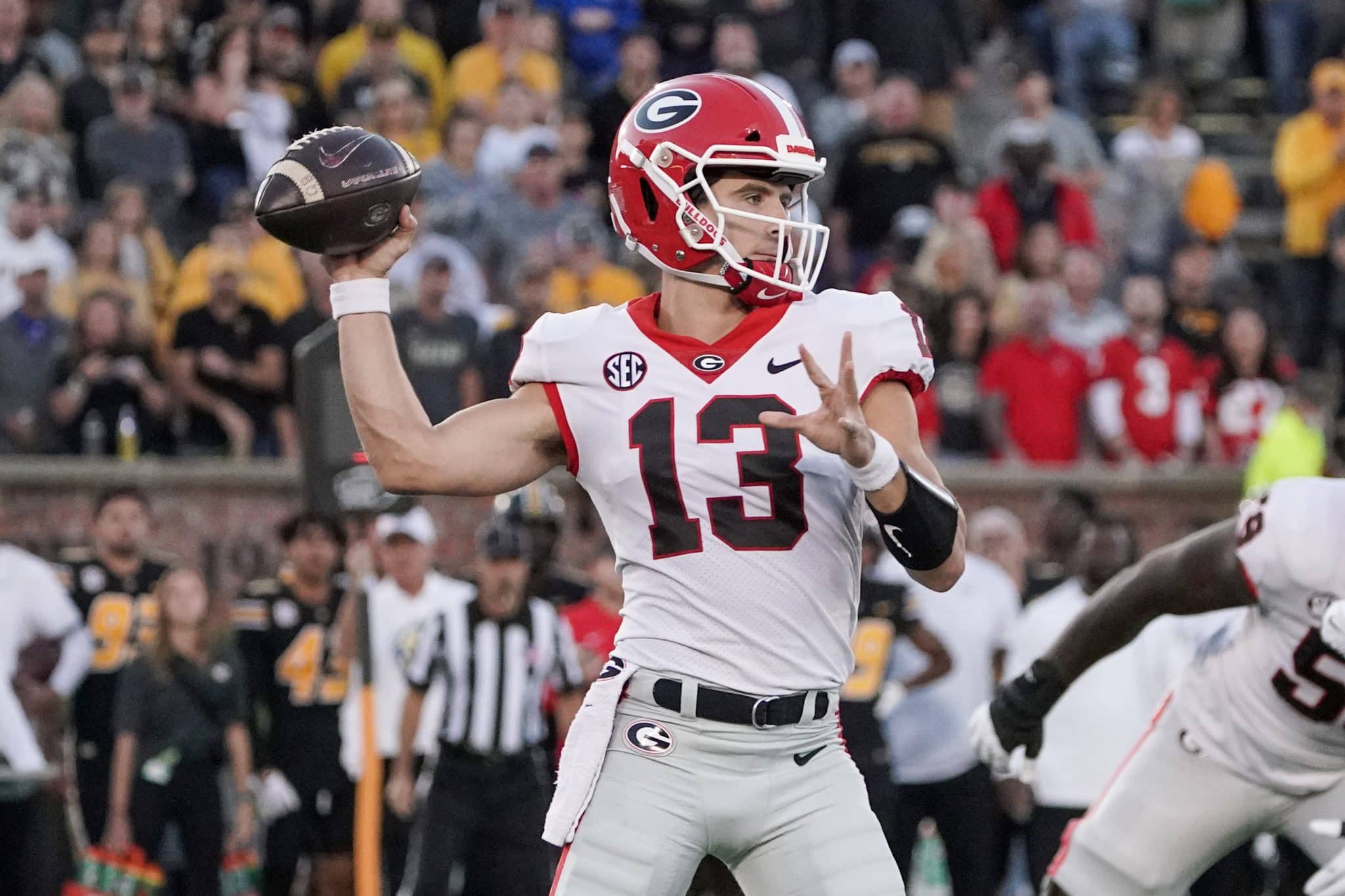 SEC
Predicting every SEC team's final record after Week 5
Everything that we knew heading into Week 5 might have been wrong. Week 5 showed us that Alabama's QB situation is in flux, Georgia has played some thoroughly average football, Mississippi State is dangerous, Ole Miss is legit and plenty more.
Where does the SEC untangle after Week 5? Here's how we see the regular season stacking up for the league.
West
Alabama: 11-1
Mix two parts of really good football, one part of fairly awful football, and one injured quarterback and you get … who knows? The Tide still have to go to Knoxville, Baton Rouge, and Oxford. Can they win there without Bryce Young or with a limited Bryce Young? The wealth of explosive playmakers says yes. The craziness of the SEC says maybe not always. We'll hedge our bets at 11-1.
Arkansas: 8-4
Going to Mississippi State and BYU in the next 2 weeks could be rough. Yes, the last 5 games on the schedule are a little easier, but the Hogs have to survive those games first. As things stand, feels like a split over the next 2 and finish 8-4.
Auburn: 5-7
Even when things went right for the Tigers, they didn't really go right. A 17-0 lead became an ugly home loss. Three of their next 4 games are on the road — at Georgia, Ole Miss and Mississippi State. All 3 look like probable losses at this point, and home games with Arkansas and A&M aren't exactly smooth sailing.
LSU: 7-5
LSU had a nice rebound from that ugly Florida State loss to open the year. They'll have to execute much better to have a shot against Tennessee next week, but road games with Arkansas and A&M don't look quite as fearsome as they did a few weeks ago. We'll stick with 7-5 for Brian Kelly's resilient Tigers.
Mississippi State: 8-4
By tearing apart Texas A&M, State definitely improved the floor for their season. Games at home against Arkansas and at Kentucky will be tough, but with a home game against Auburn and an FCS game ahead, the Bulldogs feel likely to snag a couple more wins along the way. We already are looking forward to an electric Egg Bowl.
Ole Miss: 10-2
The Rebels did nothing to hurt their cause in beating Kentucky, and still have a shot at extending their terrific start. That said, road games at LSU and A&M late this month could be stumbling points. If not, Alabama and at Arkansas look challenging. At this point, losses to the Tide and one other team seem likely.
Texas A&M: 9-3
Brutal loss by the Aggies, but after next week's game at Alabama, the second half of the A&M schedule might be the softest in the SEC. Road games at South Carolina and Auburn aren't very intimidating, and the toughest home game will be Ole Miss. Play like they did against Mississippi State and the Aggies could end up 7-5. But as it is, we'll call for 9-3.
East
Florida: 7-5
Home games with Missouri and LSU look a little more challenging than they did, but there's a solid 7 wins out there and maybe an 8th for Billy Napier's squad. Having only 3 conference road games, with one at Vandy, certainly doesn't hurt UF.
Georgia: 12-0
One bad game was no big deal. Two bad games? Still probably no big deal. Auburn isn't beating this team, and neither is Vandy. The home game with Tennessee is followed by trips to Starkville and Lexington. Those 3 games definitely look in play, but for now, the Bulldogs would have to be favored in all 3.
Kentucky: 9-3
Kentucky played awful and nearly won. Assuming the nearly won part is representative, the Wildcats could win 10. If the playing awful part is more representative, this could be an 8-4 team. We'll split the difference for now, and note that UK needs to take care of Carolina and Mississippi State at home.
Missouri: 5-7
On the one hand, Missouri almost delivered the upset of the season. On the other hand, what does almost count for? In our rankings, it counts for a 5th win. But a bowl season would still take a significant upset somewhere along the line. Georgia could have been it, but until that win happens, it's a losing season in CoMo.
South Carolina: 5-7
Carolina took care of business in an awkward setting. Could they pick off Kentucky or Florida on the road? It's not impossible, but we wouldn't call for either at this point. On the upside, winning that home game with Texas A&M coming off a bye week could be more plausible than we originally thought.
Tennessee: 9-3
Could LSU upset the Vols? If it's the LSU squad that played the first 20 minutes or so against Auburn, absolutely not. But if LSU can put together a complete game, UT will have real trouble in Baton Rouge. With road games at South Carolina and Vandy to finish SEC play, if Tennessee can get past the horrid trio of Alabama, Kentucky, and Georgia, they're rolling. That said, let's see how the Vols play at Baton Rouge before making the jump to calling for 10 wins.
Vanderbilt: 3-9
The Commodores were probably glad for an off week, but this life doesn't get any easier when Ole Miss comes to town. The home game against South Carolina might be Vandy's best shot at avoiding another 0-8 finish in the league.