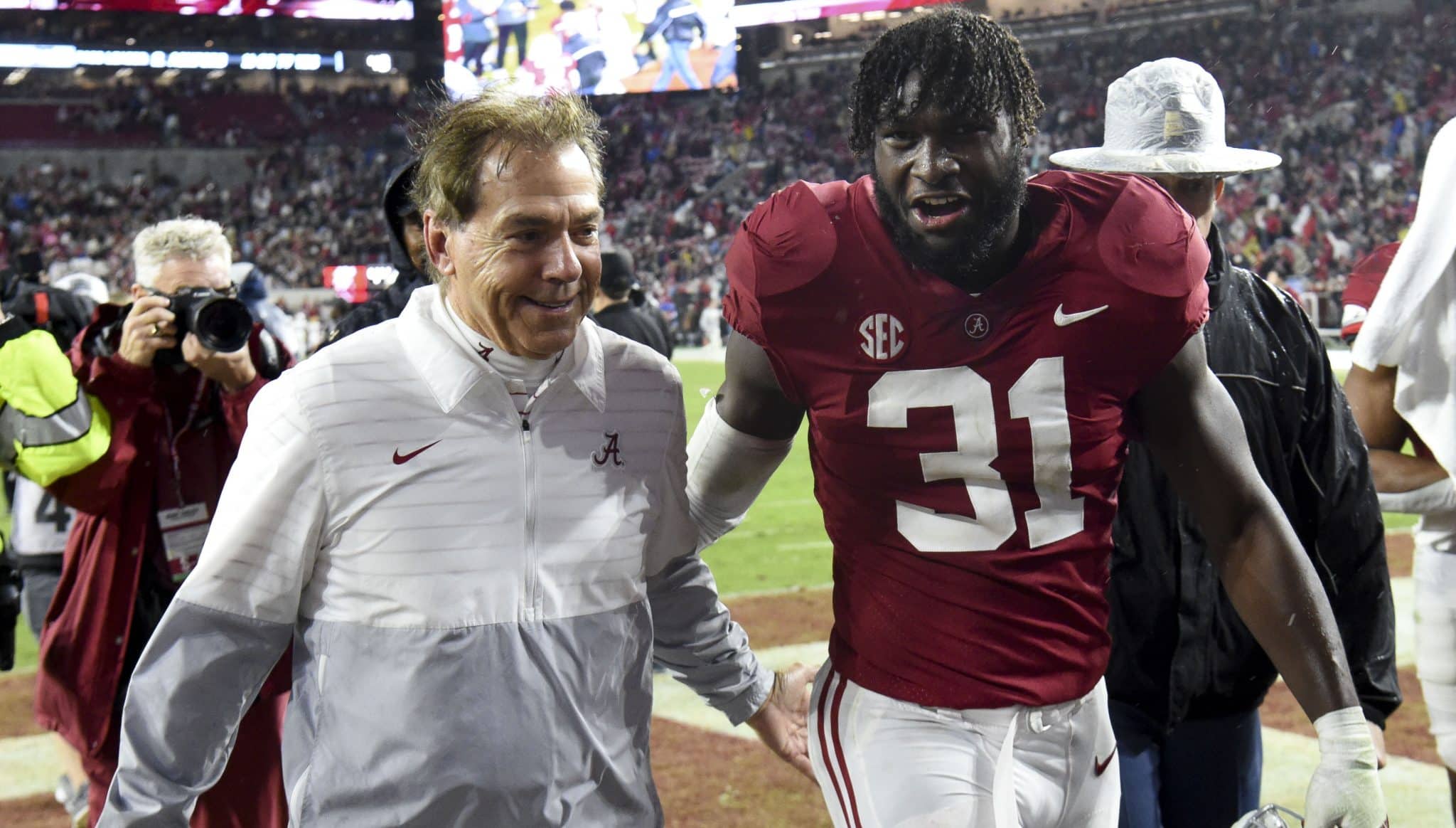 SEC
Predicting the Playoff field following conference championship weekend
Well, it's settled.
Maybe. Not really. Who knows?
What we do know is that at some point during Sunday's selection show (at noon ET on ESPN), we're going to find out what the 4-team Playoff field looks like.
How far will TCU fall? Or rather, will the Horned Frogs fall at all? How much will Ohio State rise? Is Alabama 1 of the top 4 teams in the country? Are we going to get a Michigan-Ohio State rematch?
We'll get answers to those questions on Sunday. Finally.
Here's what I think the top 4 will look like:
4. Ohio State
Yes, the Buckeyes were extremely fortunate that USC lost in the Pac-12 title game Friday night. They slipped in by default, really, though obviously beating Notre Dame and Penn State helped the 1-loss résumé, as did the +21.4 average scoring margin against Power 5 competition. The selection committee clearly wasn't impressed by that Michigan showing by virtue of leaving the Buckeyes out of the top 4 in the pre-conference championship rankings. In the biggest game of the year, Ohio State got smacked. That's why it won't move up to No. 3 past a TCU squad that went 12-0 in the regular season and nearly pulled off an overtime victory against top-10 Kansas State at a neutral site. So the Buckeyes will get in instead of Alabama … but the reward is a trip to Atlanta to face Georgia.
3. TCU
I believed TCU was into the field heading into the weekend, so I wasn't out here doing some sort of a side-by-side with Alabama. The Horned Frogs went 12-1 with 7 wins against Power 5 teams with winning records (only UGA had more). More interesting was a potential side-by-side with Ohio State. The overtime loss to Kansas State in the Big 12 Championship was the first time all year that TCU couldn't pull off a late miracle, but don't get it twisted. TCU had a loss to give, especially a close one, which Ohio State didn't get with an extremely similar résumé (both had 2 wins vs. current AP Top 25 teams).
And for the "what about Alabama?" crowd, remember this. The Playoff isn't about "would TCU be favored to play Alabama on a neutral site?" They played an entire season. TCU has the better résumé. The Horned Frogs (+15.2) even had a better average scoring margin against Power 5 competition than Alabama (+14.2). Shoot, their lone mutual opponent (Texas) favors TCU because the Horned Frogs won by 7 in Austin, and that was with a healthy Quinn Ewers. TCU is in.
2. Michigan
Want a weird thought? Michigan was locked into the No. 2 spot before it even kicked off the Big Ten title game Saturday night. Why? Well, the Georgia win meant the Dawgs had the top spot and with TCU losing, it didn't seem likely that the Horned Frogs would somehow jump the Wolverines. Ergo, it's another year in which Michigan will play in that 2 vs. 3 matchup. Either way, the Wolverines weren't going to get a potential home-field advantage like Georgia with the Atlanta site, but facing TCU instead of trying to beat Ohio State again does feel like a slight win for the Wolverines. And no, I don't think Blake Corum's injury should impact Michigan's ranking. Not with the way Donovan Edwards is running.
1. Georgia
Unlike last year when UGA forked over the No. 1 overall seed in Atlanta, the Dawgs left zero doubt Saturday night in the SEC Championship. The No. 1 seed was locked up by halftime. Really, the more interesting question was whether the Dawgs could've fallen below No. 2 with a loss. Probably not. With Saturday's win, the Dawgs closed out a 13-0 slate with 5 wins against current Playoff Top 25 teams, all of which were blowout wins. Four of them were away from Athens, too. The selection committee tipped its hand with keeping the Dawgs at No. 1 after Michigan clubbed Ohio State. Saturday afternoon's development made that decision as easy as possible. The Dawgs will be returning to Atlanta in 4 weeks for the Peach Bowl Playoff semifinal.