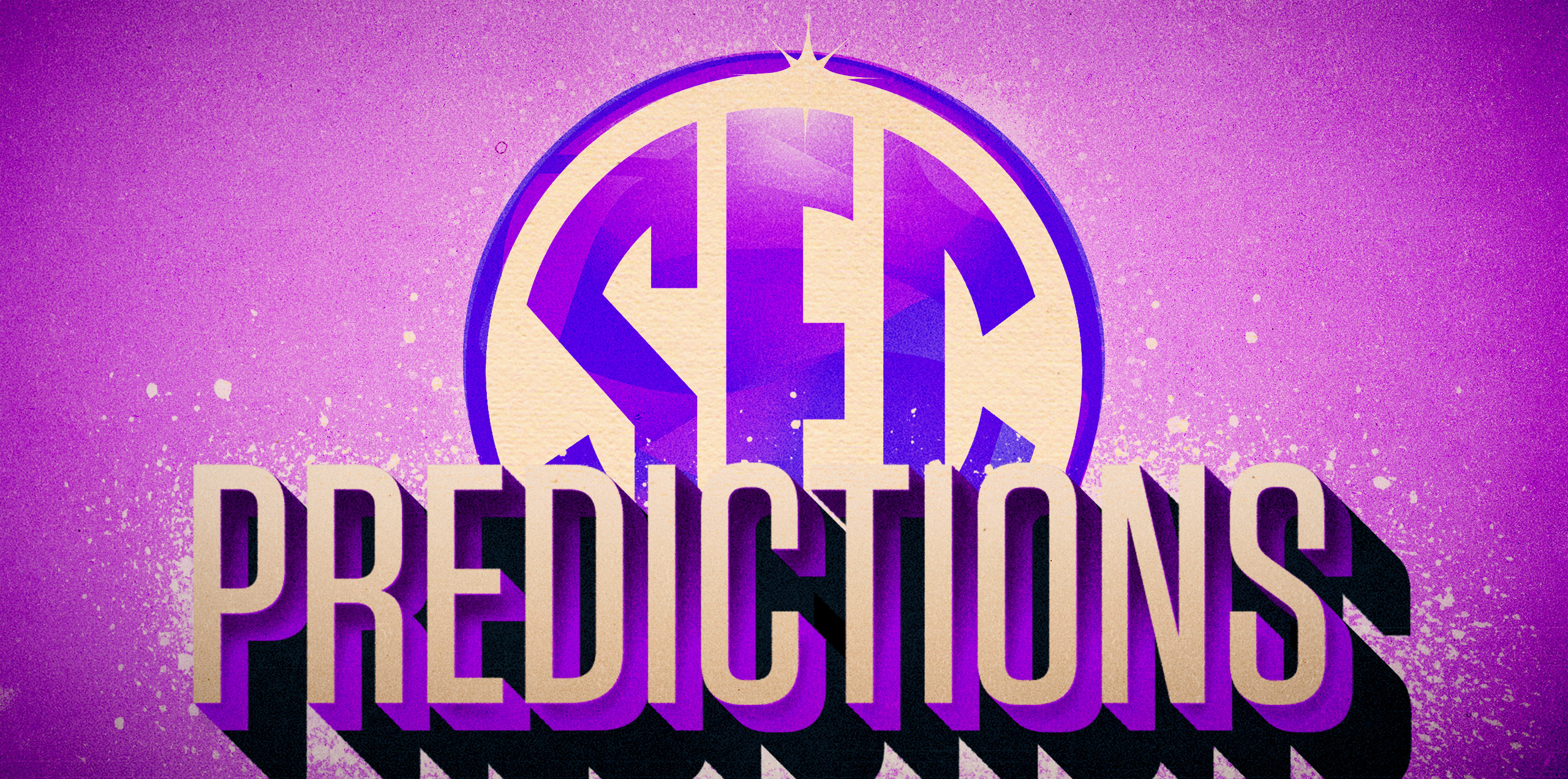 SEC
SEC Week 14 predictions (and bets)
Like it does every year, the college football season has just flown by us. The latest sign of that comes with the fact it's time to share the final SDS predictions column of the regular season.
If you missed this column the first few weeks of the season, SDS news desk editor Michael Bratton (@MichaelWBratton) and SDS Podcast co-host Chris Marler (@VerneFUNquist) make their weekly predictions for every game involving SEC teams.
Michael went 2-1 last weekend to bring his season total to 43-42-2 against the spread. Chris went 3-0 to improve to 41-42-3 on the season.
Here is how the guys predict Week 14's Rivalry Week games to plays out:
Ole Miss at Mississippi State (-2.5)
Michael: Arguably the nation's most underrated rivalry, the Egg Bowl is the perfect kickoff to the SEC's rivalry weekend slate of games. Despite a 1-4 record in its last five contests, Ole Miss seemingly has all the momentum heading into this matchup. Much of that has to do with John Rhys Plumlee, who I've been touting as a game-changer all the way back in September, but he isn't alone when it comes to emerging talents on the Rebel roster. Meanwhile, the majority of Hail State fans appear to be done with Joe Moorhead and his inconsistent offense and his team's lack of effort and toughness in the SEC. That being said, any coach could get his Bulldog squad up for the Egg Bowl and with this game at home, look for Mississippi State to come out ready to play. Ole Miss may be loaded with young talent but Matt Luke's team has yet to prove they know how to win a tight game. I like a back and forth game but I'm taking the home team to win and cover.
Mississippi State 35 Ole Miss 30
Chris: Say what you want about Matt Luke being the right guy in Oxford, but he has done a phenomenal job at turning this thing around and building a new culture around this program. Outside of Coach O in Baton Rouge, there are few coaches in this league who truly want to win for their university as much as Matt Luke wants to win at Ole Miss. I love John Rhys Plumlee at QB and expect them to gash a Mississippi State defense that has been putrid all year long.
Ole Miss 28 Mississippi State 23
Missouri (-12.5) at Arkansas *in Little Rock
Michael: Following this week's news that the NCAA has decided to uphold Missouri's bowl ban, this is a tough game to read. Compound that with the fact we aren't sure Kelly Bryant is even going to play, considering the number of injuries he's currently dealing with, this game is tricky. This could also be the last time Bryant suits up as a quarterback so if he can go, he likely will here. Arkansas' situation under center is just as puzzling as two of the team's QBs are in the concussion protocol this week, which could lead to Jack Lindsey earning the first start of his college career. While Lindsey played well against LSU last weekend, that was in junk time and against a defense that was likely unprepared to see him on the field. It's not stunning to see speculation surrounding Barry Odom's job status given the fact Missouri has fallen apart down the stretch but his team continues to fight hard on the field, which is something Missouri's leadership should consider. If the players continue to fight, they will win this game but we could be in for an ugly game come Friday.
Missouri 21 Arkansas 13
Chris: Loser has to leave the conference. Deal? Arkansas and Mizzou limp into the final game of the regular season looking for a win and/or amnesia when it comes to the 2019 season. I expect Mizzou to come out pissed. I think the Tigers win big. Like a drunken trainwreck with daddy issues, they're going to project all their misplaced anger on the NCAA ruling directly onto the Hogs. It's gonna be just as uncomfortable to watch too.
Missouri 34 Arkansas 14
Clemson (-27) at South Carolina
Michael: Despite all the speculation surrounding Will Muschamp's job status in Columbia, while some of that may be warranted, the Gamecocks continue to fight for their coach and I anticipate that will continue come Saturday. This game means everything inside the Palmetto State and South Carolina's players will undoubtedly want this one, even with a postseason trip no longer a possibility for this group. There's no doubt Clemson has looked outstanding in recent weeks and their metrics are off charts after running the gauntlet of dwarfs the ACC had to throw at them but the Gamecocks will show them what SEC football is all about on Saturday. If the Gamecocks weren't so decimated by injuries, they likely win this game but the team's injuries will catch up to them in the end.
Clemson 35 South Carolina 21
Chris: Besides Danny Kanell and everyone on FOX, there are few people that hate the "SEC media bias" as much as Dabo Swinney. The Tigers haven't lost to the Gamecocks since 2013 and are quietly putting together one of the most impressive regular seasons in recent memory. Part of that is because of the wealth of talent in orange and white, and part is also due to a "strength" of schedule that is about as strong as an arm wrestler with osteoporosis. I've made enough enemies this year in the comment section below these articles, so allow me to make a few more…Clemson is going to win the national title this year.
Clemson 41 South Carolina 10
Georgia (-28.5) at Georgia Tech
Michael: Credit Geoff Collins for having a scrappy Georgia Tech team in his first year as the team's leader but that ain't going to be enough to remain competitive against a Georgia team on a mission to get back into the College Football Playoff. This game could not have come at a better time for the Bulldogs as last weekend's game against Texas A&M was a physical one and should provide the offense an opportunity to work on the passing game before the looming SEC Championship Game. The Yellow Jackets offense is one of the nation's least efficient units while we all know how dominant Georgia's defense has been this season and appears to be getting better with each passing week. This one could very well be a shutout.
Georgia 42 Georgia Tech 3
Chris: Outside of Falcons homes games or a blood initiation, there are few times you'll ever see this much red and black in downtown Atlanta. However, the Bulldogs will take over the A this weekend for their bi-annual public flogging at Bobby Dodd. UGA has won 10 in a row on the flats and Kirby is 11-4 ATS as an away chalk favorite. Also, the Jackets rush defense is ranked 120th in the country. Have a day D Swift.
Georgia 38 Georgia Tech 7
Louisville at Kentucky (-3)
Michael: Scott Satterfield has done a great job at Louisville this season, turning around that ship in a short period of time. The Cardinals record is impressive considering the mess he inherited but the team has proven it still has a long way to go against quality competition. The same could be said about this Kentucky squad but it's hard to judge a team that's playing a receiver at quarterback and going up against better competition to a similar standard. The key to this game will be Louisville's run defense, which is among the worst in the nation, against Kentucky's rushing attack, which is seemingly unstoppable with Lynn Bowden running the offense. There's no way Bowden is going out with a loss in this series.
Kentucky 28 Louisville 23
Chris: This will be one of the best games of the entire rivalry weekend. I just hope enough people are watching to see it unfold. You have two teams that love to run the football. And, one team that can actually stop it. Kentucky comes into the regular season finale with their one-man-band Lynn Bowden carrying the Wildcats on his shoulders. Bowden and company will face a Cardinal defense that has been horrible against the run, as they're ranked 87th in FBS giving up 183 ypg. The Cardinals have won 4 straight at Kroger Field and 6 of the last 8 overall in this series. Sadly I think that streak continues this weekend because of the lack of offensive balance in blue and white.
Louisville 30 Kentucky 27
Vanderbilt at Tennessee (-21)
Michael: Tennessee is on a roll and the Volunteers will end the season as one of the SEC's hottest teams if they can beat Vanderbilt for the first time in four years come Saturday. The way these two teams are playing, there's little chance that Tennessee doesn't end the worst streak in the annual series dating back to the 1920s, but beating Vanderbilt and blowing them out are two different things. I've been picking Tennessee to win all these games down the stretch and had confidence in doing so but at the same time, this team is constantly fighting itself and making things much more difficult than they have to be. The Commodores are bad enough to get blown out but these players not only have confidence going up against the Vols, but they also appear to have an edge to them and won't be intimidated on Saturday. Tennessee wins comfortably but I'm not expecting a blowout.
Tennessee 30 Vanderbilt 10
Chris: What an incredible turnaround for the Vols and Jeremy Pruitt this season. They've won 5 of their last 6 and have looked like a completely different team than the one who lost to Georgia St to start the season. I fully expect the Vols to end their 3-game losing streak to Vandy and restore order to the Volunteer state. However, much like Snoop Dogg, this line is way too high. Tennessee wins and gets to 7 wins, but let's not get crazy with a 3 TD favorite here y'all.
Tennessee 35 Vanderbilt 17
Texas A&M at LSU (-17)
Michael: Texas A&M could be in for a hurting here. I felt that way before the College Football Playoff committee knocked LSU down to No. 2 and that may only compound things as the Tigers immediately turned their focus to the Aggies following the team's latest win against Arkansas. Look for a message to be sent this weekend in Baton Rouge as the Tigers have not forgotten nor forgiven the events that took place last year in College Station. Texas A&M appeared to have a shot in this matchup as Jimbo Fisher's offense had the ground game going heading into the Georgia matchup but after coming out the other side with negative yards rushing, the unit's issues against quality defenses remain present. If Texas A&M can't run the ball this weekend, this thing could get ugly.
LSU 48 Texas A&M 20
Chris: "Hell hath no fury like…an angry Edward freaking Orgeron." Is that how the phrase goes? If not it should be because Coach O is going to punish the Aggies this weekend. Ever since last November's 7 OT loss in College Station the Bayou Bengals have been on an absolute warpath. And, honestly who can blame them or Coach O? I'd be pissed too if I had to coach 7 overtimes doused in a sticky Gatorade bath only to lose because of SEC Officiating. LSU will win and LSU will win big. I give the Aggies the same chance to win this game as I give to anyone trying to transcribe the postgame press conferences.
LSU 41 Texas A&M 17
Florida State at Florida (-17.5)
Michael: I was stunned to see some of the recent stats for this rivalry, including Florida's decade-long losing streak in the Swamp to the Seminoles. It just feels like the Gators have complete control in the series despite only having a one-game winning streak in the game. This series has been known to be streaky and it's time the Gators turn the tide in this series and start a streak of their own after whopping up on the Seminoles 41-14 last season in Tallahassee. With two weeks to prepare for this one, look for Dan Mullen and his staff to produce a great gameplan for this game.
Florida 48 Florida State 10
Chris: Outside of someone talking politics at the Thanksgiving dinner table there are few things more shocking than hearing that Florida hasn't beaten the Noles at home since 2009. I mean how bad was Jim McElwain?! Regardless, the Gators will win and they'll win big this Saturday capping off the most underrated and under-talked about 10 win season in the entire country. What Dan Mullen has done in year 2 in Gainesville has been simply outstanding, and I think he'll put a HUGE exclamation point on the regular season this Saturday.
Florida 31 Florida State 0
Alabama (-3.5) at Auburn
Michael: Heading into the latest edition of the Iron Bowl, most everyone is focused on the matchup of quarterbacks in this game. That's understandable, considering neither player has taken any significant snaps in this game but it's the wrong matchup to be focused on here. The winner of this game will come down to the offensive line that holds up better on Saturday. Alabama's group has its work cut out for them considering Auburn's outstanding defensive line while Auburn's offensive line has been largely ineffective over the final two months of the season when it really counted. Neither quarterback is likely capable of carrying his team to victory here but Alabama's weapons would give any signal-caller an opportunity to shine in a big game. Whichever team has the most explosive plays in this one will come away with the W and I'm predicted that will be the Crimson Tide.
Alabama 27 Auburn 20
Chris: I'll keep it short and simple with some facts whether y'all want to hear them or not. Auburn has the better defense in this game. Auburn is not the underdog in this game. And, Auburn should win this game. But, they won't.
Everyone in this country outside of Tuscaloosa wants the dynasty to be over with. Everyone in this country outside of Tuscaloosa wants a reason to keep Alabama out of the playoff and wants to scream "they didn't play anyone all year Paaaawwwwwl." However, this weekend the Tide will take a backup QB and a defense missing half its starters into Jordan-Hare and beat Auburn by 10. MINIMUM. Why? Nick Saban. And, the dynasty isn't over until he says it is. So, deal with it.
Alabama 31 Auburn 17