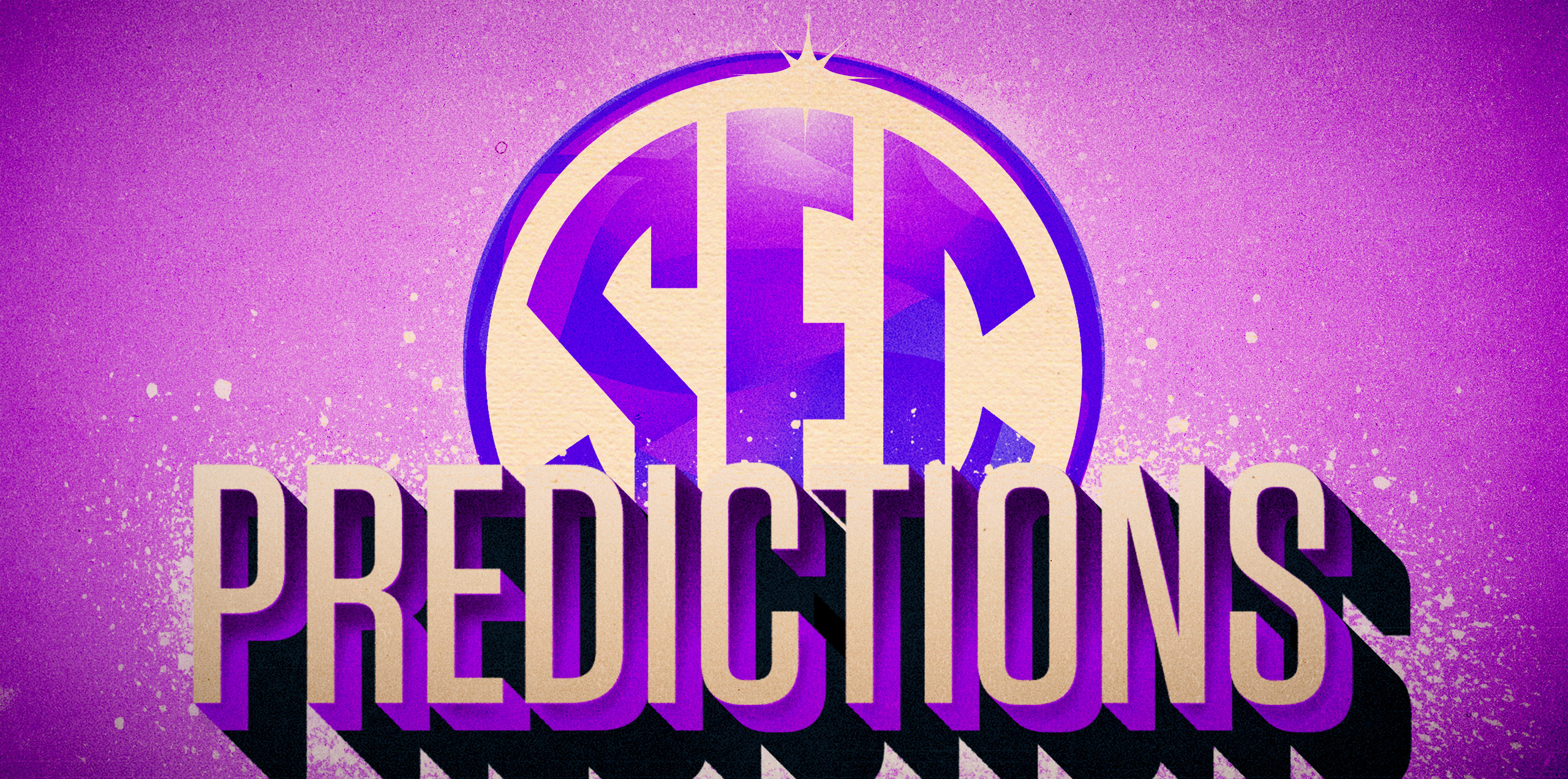 SEC
SEC Week 4 predictions (and bets)
It's that time again, time to take an early look ahead to the weekend slate in the Southeastern Conference.
If you missed it this column the first few weeks of the season, SDS news desk editor Michael Bratton (@MichaelWBratton) and SDS Podcast co-host Chris Marler (@VerneFUNquist) make their weekly predictions for every game involving SEC teams.
On the season, Michael is 14-12-1 against the spread while Chris is 7-18-2.
Here is how the guys predict the Week 4 action to play out:
Cal at Ole Miss (-2)
Michael: This may the safest bet on the board to go under this week, as each of these teams are led by physical and improving defenses and largely inconsistent offenses (the over/under for this game is 41.5). While it's early, the leaps Ole Miss has made this season have been truly impressive and a win here could very well be the difference between making the postseason or staying home and missing a bowl. In the end, I'm sticking with the better and more experienced defense in this one.
Cal 20 Ole Miss 17
Chris: The wrong team is favored here. I get that a team from the West Coast has an early kick but PAC 12 teams are used to playing with nobody watching them anyways. I'll take Cal to win straight up behind a stout defense and the best secondary in the PAC 12. No matter how unimpressive that may sound.
Cal 21 Ole Miss 20
Tennessee at Florida (-14)
Michael: There's no hiding from the fact Tennessee has looked dreadful at times this season and they have rightly earned their place as the early season laughingstock of the league. That being said, Tennessee does have plenty of talent on its roster featuring some future stars that Jeremy Pruitt and his staff have attracted to Rocky Top and those players will only continue to improve with more playing experience. The team that wins the rushing battle in this game typically finds a way to win, which should be of some concern for the Gators, as their offensive line hasn't managed to generate much push up front while the strength of Tennessee's offense is the team's running backs. Kyle Trask looked great against Kentucky but I predict Tennessee won't sit back and let him pick them apart the way the Wildcats did. Look for Trask to come back down to earth in this game, the Vols to have a lead in the second half and the Gators to come back and win in the most heartbreaking fashion imaginable. That's the Tennessee way in this series.
Florida 30 Tennessee 27
Chris: Tennessee has looked like hot garbage in 2 of their 3 games. I don't care what they looked like against UT-Chattanooga because I don't even know what a Moc is if it's not a turtleneck. Florida is starting a backup QB and is still a 2 TD favorite in this rivalry game. That seems like a lot, but after watching Tennessee embarrass themselves publicly at home I don't feel great about them not doing that same thing in the Swamp.
Florida 31 Tennessee 13
Southern Miss at Alabama (-39)
Michael: These Alabama point spreads in the Tua Tagovailoa era are just ridiculous to gamble on. They basically come down to how early the quarterback is removed from the game. The Crimson Tide could win this game by 75 if they chose to do so. Southern Miss didn't show me much in their matchup against Mississippi State and I fully anticipate Alabama scoring at least 50 on the Eagles. If you are putting money on these spreads, I wish you luck, you may need it if Tua doesn't play in the second half.
Alabama 56 Southern Miss 14
Chris: This spread seems crazy high for a team that gave up 459 yards last week especially when you consider that USM averages around 373 pass ypg. I also think Bama will try to establish an emphasis on the run game since they've seemed to struggle at times this season. All that, AND it' an 11 AM kick means I'm taking the Golden Eagles to lose by a 40 burger.
Alabama 48 Southern Miss 13
Kentucky at Mississippi State (-6)
Michael: This was my second favorite line at opening (MSU -9) as Kentucky is being vastly underrated for some reason. I give the edge to Kentucky in this matchup and like Mark Stoops' team to not only cover but to win outright in Starkville with Tommy Stevens still recovering from his shoulder injury. Without Stevens at 100 percent, Mississippi State's offense just doesn't appear capable of consistently challenging a front seven as good as Kentucky's. If Stevens is limited, Mississippi State's won't be able to take advantage of its biggest mismatch in this game, its receivers against Kentucky's secondary. Look for Wildcat freshman running Kavosiey Smoke to have a career day in Starkville, as he continues to impress week after week.
Kentucky 26 Mississippi State 24
Chris: Kentucky really outdid themselves last week finding a new way to beat themselves vs Florida. Regardless of the outcome, I liked what I saw for 3 quarters and I've liked what I've seen so far this season. The offensive line especially looks different, and I believe Kentucky is a different program than what they're getting credit for. I love them to cover, and since my record sucks why not pick them to win.
Kentucky 23 Mississippi State 21
LSU (-23.5) at Vanderbilt
Michael: This was my favorite line at opening (LSU -19) and while I liked it better at that number, it's hard for me to figure how this number is so low. LSU should manage to put up big numbers of Derek Mason's secondary, Purdue's quarterback threw for over 500 yards on this unit, with the biggest question in this matchup being Dave Aranda's defense. Vanderbilt has some legitimate weapons to attack LSU with, so covering a spread of more than three touchdowns could be tricky but if the Tigers can limit Ke'Shawn Vaughn in this game, I'm feeling good about their ability to do just that in Nashville.
LSU 55 Vanderbilt 20
Chris: The real betting odds on this game is how many drinks LSU fans can consume before an 11 am kickoff in Nashville. This is a big line for a road conference game. However, Vandy gave up 509 yards passing to Purdue. Who knows how many yards future Heisman trophy winner Joe Burrow is gonna put up on the Dores.
LSU 45 Vanderbilt 14
Auburn at Texas A&M (-3.5)
Michael: On paper, this is the trickiest line of the week. Outside of Aggie fans, everyone and their mother is going to be piling on a top 10 Auburn team to go on the road and cover this matchup — with many likely picking the Tigers to pull the outright upset. Here's the issue with that pick, Auburn's offense has not been impressive this season when it can't get the ground game going. Mike Elko has proven to be a magician when it comes to gameplanning to stop opponents from running the ball against the Aggies and if Texas A&M limits Auburn from running wild, I don't yet have the confidence in Bo Nix or Joey Gatewood to beat them through the air. Kellen Mond may have struggled at Clemson but as long as he doesn't look that shakey this weekend, I like the Aggies to hand Auburn its first loss of the season.
Texas A&M 24 Auburn 20
Chris: This is a tough environment for a freshman QB in front of 100k screaming bros from Aggieland. I don't know how Bo Nix is gonna respond to that early, but I do know the defense is gonna keep Auburn in this game, and every game this season. I picked Auburn before the season started in this game, and they've done nothing to make me regret that decision so far. Plus, the road team has won 6 of the last 7. Oh, and the under is real play here.
Auburn 23 Texas A&M 19
South Carolina at Missouri (-9.5)
Michael: This may be my favorite game of the weekend as I'm expecting an exciting, back-and-forth contest that could come down to the wire. I don't understand the line on this one and while I'm not locked in on either team winning this matchup, I will take the Gamecocks plus 9.5 all day long and twice on Saturday. South Carolina's running attack has been one of the biggest pleasant surprises of the young season and we still don't know if Missouri's run defense can hold up against a quality SEC opponent. I like the Gamecocks to have some success on the ground and with Ryan Hilinksi proving to be worth the hype, I'll take South Carolina to go on the road to the other Columbia and upset Missouri.
South Carolina 35 Missouri 32
Chris: This is the worst line of the week. I was in Columbia last Saturday, and I loved what I saw out of Freshman QB Ryan Hilinski. This team looks totally different with him at the helm. I'm still not over the fact that Mizzou lost to Wyoming and 10 points seem like a lot, but I think we'd all agree that my instincts are the last things we want to trust with these picks. That being said…
Missouri 34 South Carolina 23
San Jose State at Arkansas (-21)
Michael: I like the progress of Chad Morris' group but three touchdowns, against any FBS opponent, is too much for me to give up. The Razorbacks have so much youth on the field at all times that all it takes is one misalignment or blown coverage and disaster can strike. Colorado State continued to prove that last week as the Rams hit Arkansas with two 75-yard touchdowns during the game. I like Arkansas to win this one but giving them a three-touchdown cushion is too rich for my blood.
Arkansas 35 San Jose State 17
Chris: Arkansas is almost a 3 TD favorite over San Jose St which begs the question how bad is San Jose St? I thought 10 points was too high last week vs Colorado St, and now Vegas is literally doubling down on this game. The good news is that the Razorbacks finally found their QB and the offense looks different with Nick Starkel under/behind center. I'll take Arkansas to cover and hate every single minute of it.
Arkansas 38 San Jose State 16
Notre Dame at Georgia (-14)
Michael: Notre Dame may be ranked as a top 10 team, and they may even deserve to be top 10 for all I know, but the gap between Georgia — which I think should be ranked ahead of Alabama and Clemson — and the Fighting Irish is massive. The strengths of this Bulldog team appear to be a nightmare matchup for Brian Kelly's team and I can't fathom how this is a close contest at any point in the second half. Notre Dame's defense is going to need a performance even Rudy would be proud of if they hope to slow down the Bulldog rushing attack for four quarters. Look for the Irish to sell out early to stop the run, leaving Jake Fromm and his receivers open for explosive plays down the field. That should lead to Georgia's hulking line wearing down the Irish in the second half.
Georgia 48 Notre Dame 17
Chris: A 2 TD favorite against a top 10 team? Wow. I don't care. I'd bet on them if the line was 20 points to be honest. Notre Dame has the 121st ranked run defense and is going into hostile territory against a team who could win the SEC East without throwing a single forward pass. Vegas is hoping the public is blinded by those shiny gold helmets and those dusty old championship rings. Go Dawgs.
Georgia 34 Notre Dame 7