SEC
NFL Draft analyst: Give me Leonard Fournette, Nick Chubb before Derrick Henry
Former Alabama running back Derrick Henry totally destroyed the SEC's single-season rushing mark in 2015.
A second-round pick of the Tennessee Titans in the NFL Draft this past April, Henry rushed 395 times for 2,219 yards and 28 touchdowns — all three figures set new standards for the best conference in America.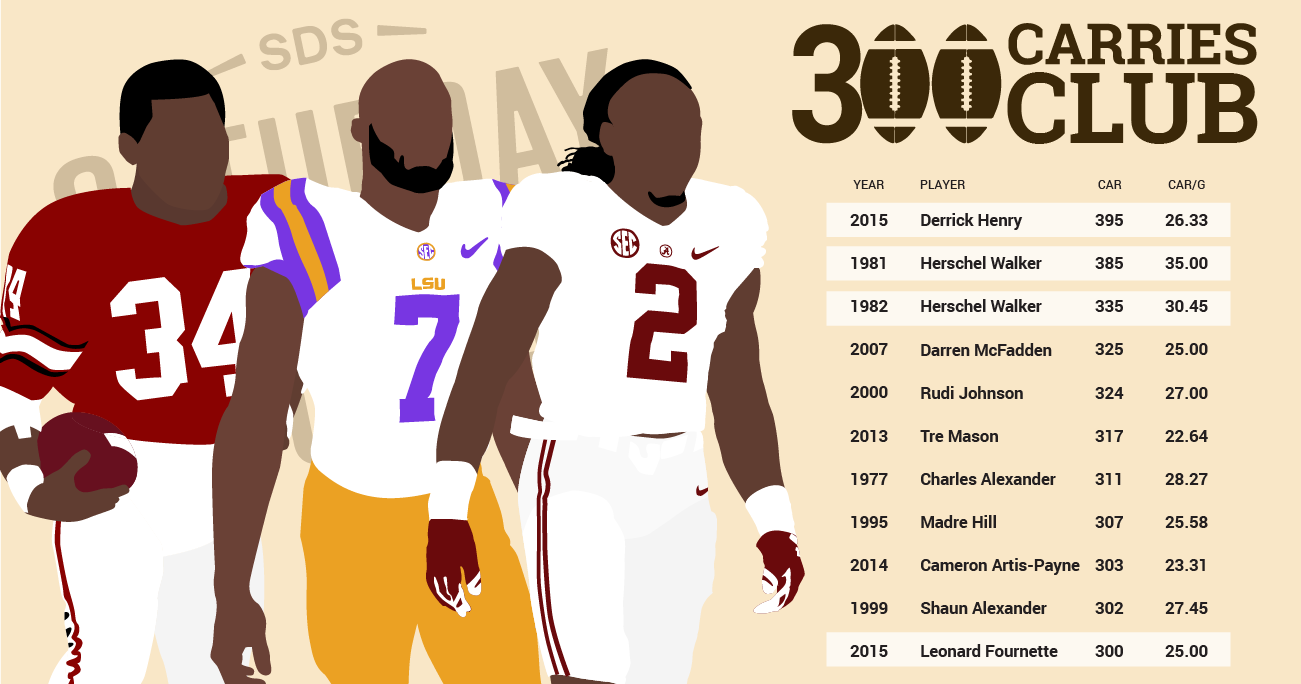 Still, according to one expert, Henry was only the third-best ball carrier in his own league last season.
Steve Palazzolo, the senior analyst for Pro Football Focus, is a bigger fan of LSU's Leonard Fournette and Georgia's Nick Chubb. If forced to make a decision, he would take Fournette and Chubb ahead of Henry.
Fournette was the early frontrunner for the Heisman Trophy this past year before his showdown with Henry.
The Crimson Tide played assignment-perfect defense and limited Fournette to 31 yards and a garbage-time touchdown on 19 carries. He hadn't run for fewer than 150 yards in a game beforehand — 'Bama swarmed him.
Meanwhile, Henry took over in the second half and finished with 38 attempts for 210 yards and 3 scores.
The Tide's 6-foot-3, 242-pounder went on to win the Heisman and a national championship, while Fournette ultimately wasn't even invited to New York. For many, Henry established himself as the SEC's premier back.
However, just because Henry was the bell cow for a superior team, that doesn't make him a superior player.
"I think Fournette can be better than Henry, and I think he was better than Henry last season," Palazzolo told Saturday Down South. "Fournette had zero room to run against Alabama's defense, as it was one of the best performances of controlling the line of scrimmage that you will see. It's unfortunate that Fournette's Heisman candidacy took such a big hit in a game where he couldn't really do much, but I think he'll bounce back and have another phenomenal season."
Palazzolo's opinion is less criticism of Henry and more praise of Fournette, who he believes is special. He grew from Year 1 to Year 2, which means the best could still be yet to come for the New Orleans native.
"The obvious part of Fournette's game that stands out is the combination of size, speed and power, but he's always had that," Palazzolo said. "He took his game to a new level as a sophomore with newfound wiggle and his ability to create yards in tight spaces. That was one of the most impressive improvements of any player in the nation. I also love how he's able to string multiple moves together. He can force a missed tackle, then quickly regain balance and make another move."
Henry drew comparisons to league legends like Herschel Walker and Bo Jackson on his record-setting ride.
That being said, come draft time, the Yulee (Fla.) High School alum wasn't nearly in the same class as a prospect. Football scouts graded Walker and Jackson like baseball scouts wax poetic about Mantle and Mays.
Henry's upright running style — coupled with recent Alabama RBs struggling in the pros — scared some people.
Georgia ball carriers, on the other hand, have no such reputation. Todd Gurley, who preceded Chubb as the primary weapon for the Bulldogs, is already considered an elite NFL player after a strong rookie campaign.
Still, don't call Chubb just another red-and-black clad back. He has some unique traits in his own right.
"Chubb is more than just a system runner," Palazzolo said. "I just think Georgia has been bringing in top talent at the position in recent years.
"Chubb was outstanding as a freshman, and he ranked third in the nation in our 'elusive rating' stat that combines the ability to make defenders miss and pick up yards after contact. Gurley ranked first. So Chubb can create on his own, and he's not really dependent on his offensive line for his production."
If Chubb makes it back from knee surgery, like Fournette, he could exceed Henry in terms of pro potential. Remember, prior to that dark day in Knoxville, Chubb was averaging a video game-like 8.1 yards per rush last season.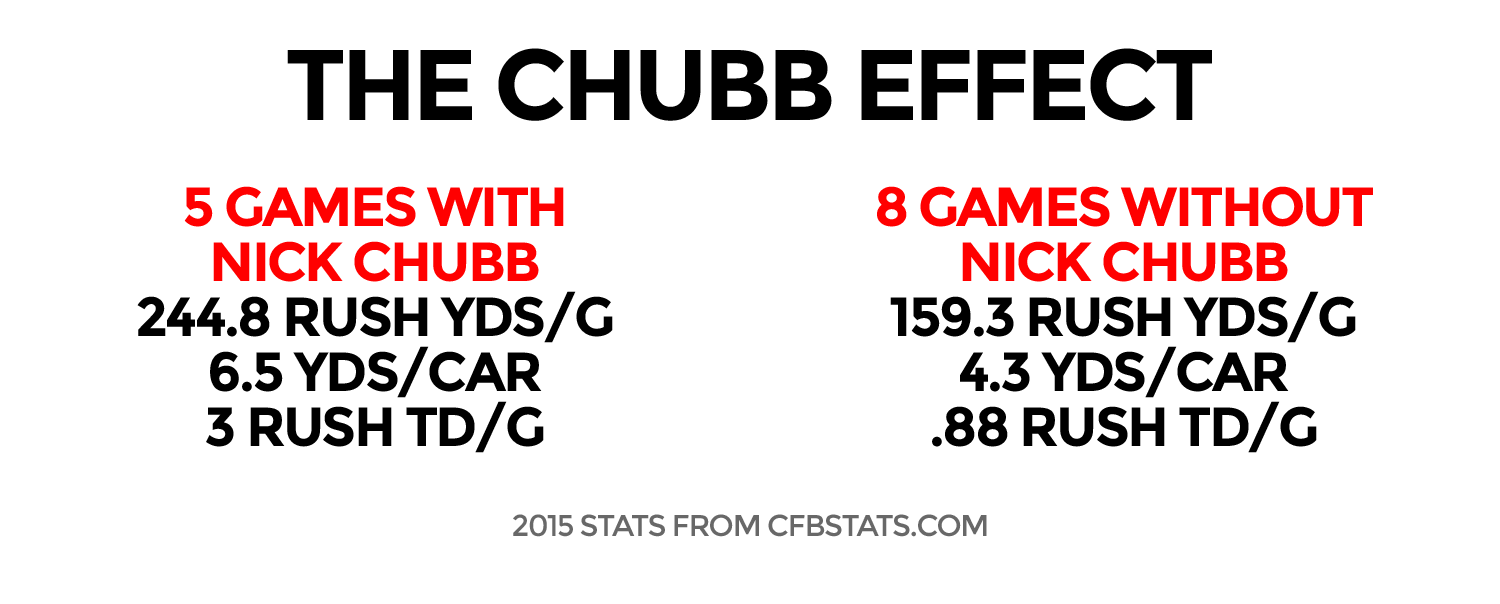 "I love how he maximizes what is given to him by the offensive line," Palazzolo said. "He'll follow his reads, then adjust to poor blocks to gain what he can and keep the offense on schedule.
"Physically, he's so difficult to tackle. He reminds of Maurice Jones-Drew the way tacklers bounce off him, though he and Jones-Drew don't share the same body type."
Sony Michel was productive as the new No. 1 option, but Chubb is the straw that stirs the drink in Athens.
The point of this column is not to suggest that Henry was overrated or somehow undeserving of the acclaim he received a season ago. His ability to be extra punishing — especially late in games — was uncommon.
Nevertheless, it's not unfair to credit a bit of his success to a nearly flawless situation in Tuscaloosa.
The best offensive line in the country opened freeway-like holes. The nation's best defense made sure he never got stiff on the sideline. And the best coach in the land, Nick Saban, fed him the football time and time again.
Neither Fournette nor Chubb was afforded such luxuries, and yet both are still potential all-time greats.
In just two seasons, Fournette is already fourth on LSU's career rushing list — ahead of the likes of Harvey Williams and Joseph Addai. If he stays healthy, he'll leapfrog everyone to the top spot in 2016.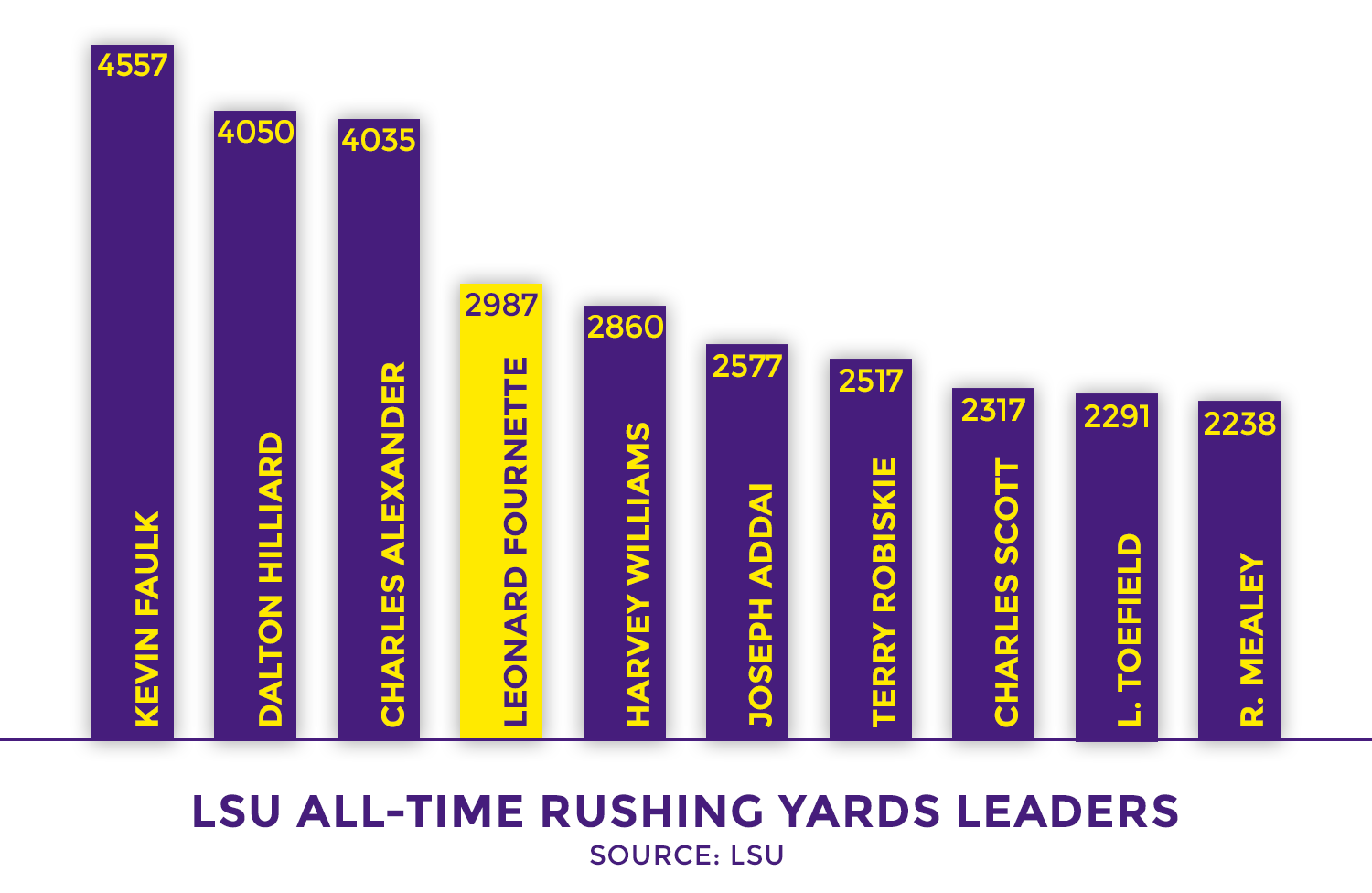 Walker owns the three best single-season rushing totals at UGA. Chubb, if he's healthy, could challenge that stranglehold.
In conference lore, we have seen 19 seasons of 1,500 yards or more. Six have happened since 2013. Walker and Darren McFadden are the only ones to do it twice. Fournette and Chubb are poised to join them.
While the NFL may be all about the passing attack nowadays, the ground game is alive and well in the SEC.
John Crist is the senior writer for Saturday Down South. You can send him an e-mail directly at jcrist@saturdaydownsouth.com or follow him on Twitter @SaturdayJC.