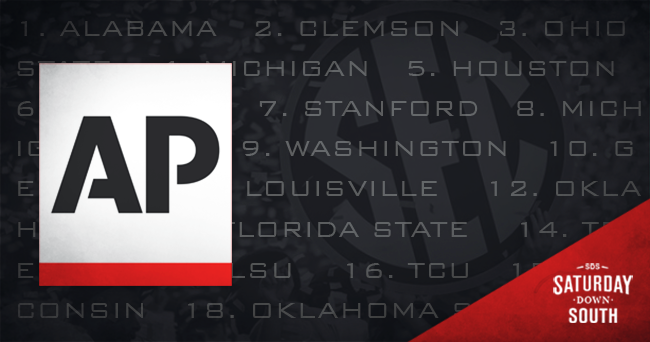 SEC
Projecting the top 25: SEC teams move into top 10
A number of top ten teams went down, and several other surprises in the college football world will lead to a major top 25 shakeup this weekend.
As of now, we are projecting five SEC teams in the top 25. Four of the five should be in the top 10.
Alabama did not play.
Michigan def. Michigan State.
Clemson def. Florida State.
Washington def. Utah.
Louisville def. Virginia.
Ohio State def. Northwestern.
Texas A&M def. New Mexico State.
Wisconsin def. Nebraska.
Florida def. Georgia.
Auburn def. Ole Miss.
Nebraska lost to Wisconsin.
Oklahoma def. Kansas.
LSU did not play.
Baylor lost to Texas.
West Virginia lost to Oklahoma State.
W. Michigan plays on Tuesday.
UNC did not play.
Florida State lost to Clemson.
Colorado did not play.
Penn State def. Purdue.
Virginia Tech def. Pittsburgh.
Boise State lost to Wyoming.
Oklahoma State def. West Virginia.
Utah lost to Washington.
Houston def. UCF.
Dropped out: No. 18 Tennessee, No. 22 Navy